Premier League All-Star Game: Setting the Starting 11's for a 2022 North vs. South Showdown After New Chelsea Owner Todd Boehly's Revolutionary Idea
Chelsea's new American owner Todd Boehly suggested a Premier League All-Star Game. Here is what the 2022 version would look like.
Chelsea's new American owner, Todd Boehly, has already made quite a splash in the Premier League. After only a few months of owning the team, he's flirted with Cristiano Ronaldo, sacked Thomas Tuchel, and brought in Raheem Sterling, Kalidou Koulibaly, Wesley Fofana, and Pierre-Emerick Aubameyang. Despite all these big moves, Boehly made his biggest waves when he suggested the Premier League should have an American sports-style All-Star Game.
The owner of the Los Angeles Dodgers shared that Major League Baseball made over $200 million on a Monday and a Tuesday with its latest All-Star festivities. Surely the EPL could generate that type of revenue (or even more) with its own mid-season exhibition of its best and brightest.
The idea generated a lot of pushback on the Premier League's home turf. However, some of us — especially Americans who've grown up with All-Star Games like the soccer fanatics here at Sportscasting — love the idea. So, we put together the starting 11 lineups for the (hypothetical) 2022 EPL All-Star Game.
Premier League All-Star Game rules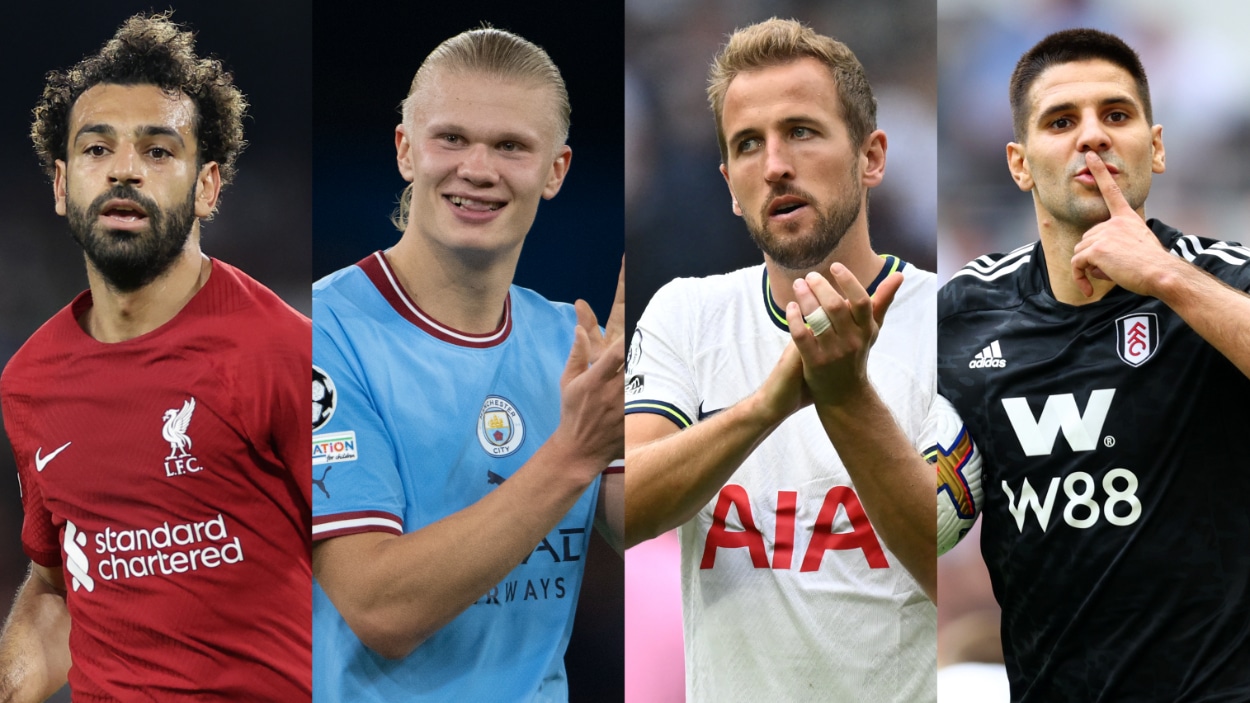 Todd Boehley suggested a North vs. South Premier League All-Star Game, so that's exactly what we've put together.
The North team will consist of the 10 EPL squads north of London. That includes Newcastle, Leeds United, Liverpool, Everton, Manchester United, Manchester City, Nottingham Forest, Wolverhampton Wanderers, Leicester City, and Aston Villa.
The South team will have all the London squads as well as the South Coast sides. This includes Tottenham Hotspur, Arsenal, Fulham, Brentford, Chelsea, West Ham, Crystal Palace, Brighton & Hove-Albion, Southampton, and Bournemouth.
The rules of the EPL starting 11 are simple. Include one player from each team, with one EPL squad having two representatives. As for the criteria for selection, that's up to Sportscasting soccer writers Tim Crean (North) and Joe Kozlowski.
Here are Tim and Joe's teams and their explanations for picking them.
The North EPL All-Star squad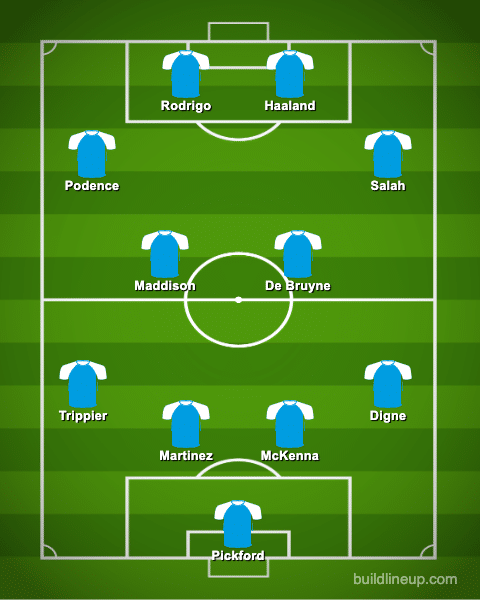 Strikers
Erling Haaland, Manchester City: The big Norwegian would lead fan, player, coach, and every other type of voting in his first Premier League season. After just six games in the world's best league, Haaland is dominating. He has 10 goals and looks like he can score at will. The 2022 EPL All-Star Game North team is all a showcase for Erling Haaland.
Rodrigo, Leeds United: Team North isn't a one-man show upfront, though. Leeds United has impressed this season (Brentford blowout notwithstanding), and the team's Spanish striker is a big reason why. He has four goals in just four games. And although he's now missed two matches with a shoulder injury, he'll be back soon in plenty of time to continue his All-Star case.
Wingers
Mohamed Salah, Liverpool: Liverpool and its biggest star, Mo Salah, aren't off to the best start to their 2022-23 EPL campaign. That said, an All-Star Game is an exhibition at heart that is designed to entertain fans. Salah makes this team as a lifetime Premier League achievement award, and on the assumption that he (and the Reds) will improve dramatically as the season goes along.
Daniel Podence, Wolves: This is the first little surprise on the North team. Fans might expect the better-known Ruben Nieves or Joao Moutinho to make the team, but Podence has played the best for Wolves this season. Plus, he's a better fit in the (see below) North manager's 4-2-4 formation than those two. Podence has two goals this year and has been Wolves most dangerous attacking force, which is why he makes this side.
Midfield
Kevin De Bruyne, Manchester City: No All-Star Game is complete without a league's best all-around player, so it's good that one EPL side per All-Star squad can have two representatives. Erling Haaland might be the most exciting player in all of soccer right now, but Kevin De Bruyne is one of the best players in the world and has to be an All-Star. The fact that he's currently leading the EP with four assists helps as well. 
James Maddison, Leicester City: A Leicester City player might not make the 2023 EPL All-Star Game, as the 2015-16 league winners are currently in last place and in danger of relegation. However, James Maddison could make next year's team, too, as he is a player likely to get a transfer in January. For now, though, Maddison is having a good season on a bad team and gets this honor. 
Defense
Lisandro Martinez, Manchester United: United looked like they were headed for disaster in Erik ten Hag's first season before the squad turned its season around and are now climbing up the table. One of the keys to this emergence was sitting Harry Maguire down and inserting Lisandro Martinez at center-back. Being one of the saving graces of Manchester United makes Martinez the team's starting All-Star. 
Scott McKenna, Nottingham Forest: Every team has to have a member on this squad, so Scott McKenna gets the nod for Nottingham Forest. The CB had a massive blunder to lose a match to Bournemouth recently. Still, McKenna was the team's backbone and consistent MVP in its promotion fight last year, so he's a good Premier League ASG representative. 
Kieran Trippier, Newcastle: Newcastle is another team that probably wouldn't have someone on this team if not for the specifications of this exercise. It's not because they have bad players. It's just that no one individual is massively standing out to start the 2022-23 season. That said, Kieran Trippier is an excellent full-back and an English National Team member, so he makes the most sense here. 
Lucas Digne, Aston Villa: French full-back Lucas Digne is one the most well-known name internationally on Villa and leads the teams in minutes this season with 630. He is the Aston Villa iron man so far and a good fit for Team North. Tyrone Mings, Leon Bailey, and Philippe Coutinho were also in consideration, but they can't get the selection over the current midfielders, center-backs, or wingers. 
Goalkeeper
Jordan Pickford, Everton: Everton is another Northern side having a brutal season, but English National Team goalkeeper Jordan Pickford is one of the few bright spots. The 28-year-old is third in the Premier League in saves (26) and, despite Everton's poor record, he's only conceded six goals. Plus, getting to watch Pickford screaming at his All-Star Game defenders and celebrating in the South's face after saves is worth his addition alone. 
Manager
Pep Guardiola, Manchester City: Come on. Who better to manage the first-ever Premier League All-Star Game than the greatest soccer manager of all time? Pep Guardiola would have the North motivated to play hard and make sure they played a beautiful brand of football worthy of this auspicious occasion. Now the whole north of England can sing, "We got [clap] [clap] Guardiolaaaa! We got [clap] [clap] Guardiolaaaaaaaaaaa!"
The South EPL All-Star squad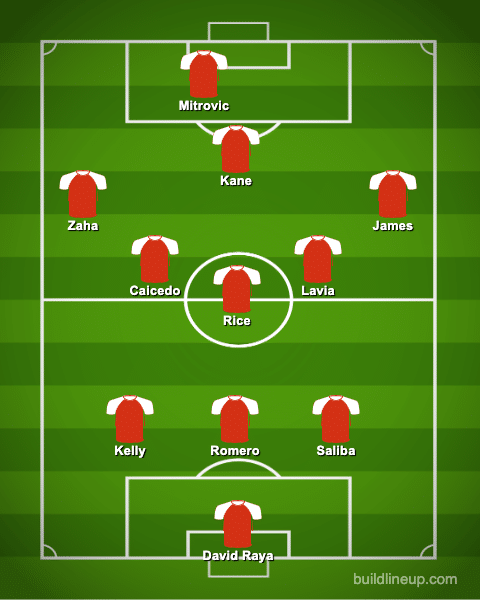 Strikers
Harry Kane, Tottenham: For all the talk about him lacking trophies, it's hard to argue with Kane's ability to put the ball in the back of the net. That reality, combined with the fact that he plays for one of the Big 6 and is an internally known name (Sorry, Ivan Toney), earns the striker a spot on Team South.
Aleksandar Mitrovic, Fulham: While you probably wouldn't expect a newly promoted side to have much star power, Alexander Mitrovic is proving that he's more than a flat-track bully. After scoring an incredible 43 goals in the Championship last season, he's stepped up to the plate in the Premier League. His physicality might not be 100% welcome in an All-Star Game, but the man knows how to score.
Midfield
Wilfried Zaha, Crystal Palace: Although Zaha is really more of a forward than a midfielder, we can overlook that for the sake of shoehorning everyone into one team. Not only is the Ivorian synonymous with Palace – he'd surely corner the market in a fan vote – but he's the exact sort of skillful player who this sort of match is built for. With lax defending and nothing really on the line, he'd be able to break out the sort of flicks and tricks we all love to see.
Declan Rice, West Ham: Beyond being the face of the club and an England international, Rice is simply a quality midfielder. He might not be the most exciting name to watch in an All-Star Game, but, in terms of quality, it would be naive to exclude him.
Moises Caicedo, Brighton: While it's easy to simply fill an all-star roster with the biggest names, Caicedo deserves his place in the spotlight. He's stepped in for Yves Bissouma without missing a beat and is already being linked to big-money moves to larger clubs. An appearance in this match could be his coming out party and a chance for the more casual fan to get to know the Ecuadorian. 
Romeo Lavia, Southampton: This midfield spot could go to either Lavia or James Ward-Prose, but I'd defer to the young Belgian based on his raw potential. The midfielder hasn't looked out of place during his first season in the Premier League (he was previously with Manchester City but never played in the league). Similar to what I said about Caicedo, I'd argue that a major part of an All-Star Game is the fun and excitement. Through that lens, I'd rather see an exciting young player than an established veteran.
Reece James, Chelsea: Similar to Zaha, James isn't a winger, but, as a right wingback, he can handle the role. While Chelsea has gotten off to a rocky start this season, the England man has done more than his fair share of the work. He's slotted in as a center-back, scored one goal while assisting another, and largely looked like the Blues' biggest attacking threat. In a league with plenty of talented rightbacks, he's earned his all-star spot.
Defense
William Saliba, Arsenal: Gabriel Jesus could have made the team as a striker, but, based on his immediate popularity, it's easy to see William Saliba dominating a fan vote. The young Frenchman isn't just a fan favorite, though. He's looked like a legitimate talent in his opening forays into the Premier League and scored a beautiful goal to boot.
Christian Romero, Tottenham: Since so many elite center-backs belong to Team North, it was admittedly tough to pick out a third defender for this squad. Romero, however, earns the nod on the back of Spurs' defensive solidity under Antonio Conte. Let's just hope he can rein in the aggression and avoid two-footing someone during this exhibition.
Lloyd Kelly, Bournemouth: The Cherries have been so bad that finding any one standout player is something of a chore. Kelly, however, has been solid when he's played – it also helps that didn't face Liverpool – and he can fill out the back line. No one really tunes into an All-Star Game to see the defense, anyway.
Goalkeeper
David Raya, Brentford: This is something of a "by default" choice since Brentford's best player has been Ivan Toney. Raya, however, is capable of making big saves and comfortably playing with the ball at his feet. In an All-Star Game, that ability to play and keep the game flowing is probably more important than anything else.
Manager
Mikel Arteta, Arsenal: While you could make the case for a few southern managers, I give the nod to Mikel Arteta. Not only does the Spaniard deserve credit for rebuilding Arsenal and transforming the club's culture, but he also plays a more attractive style of football than Antonio Conte. Thomas Tuchel has lost his job, and Graham Potter, for all his success, finished last season in 9th, all of which combined to see Arteta take charge of Team South.
Like Sportscasting on Facebook. Follow us on Twitter @sportscasting19 and subscribe to our YouTube channel.