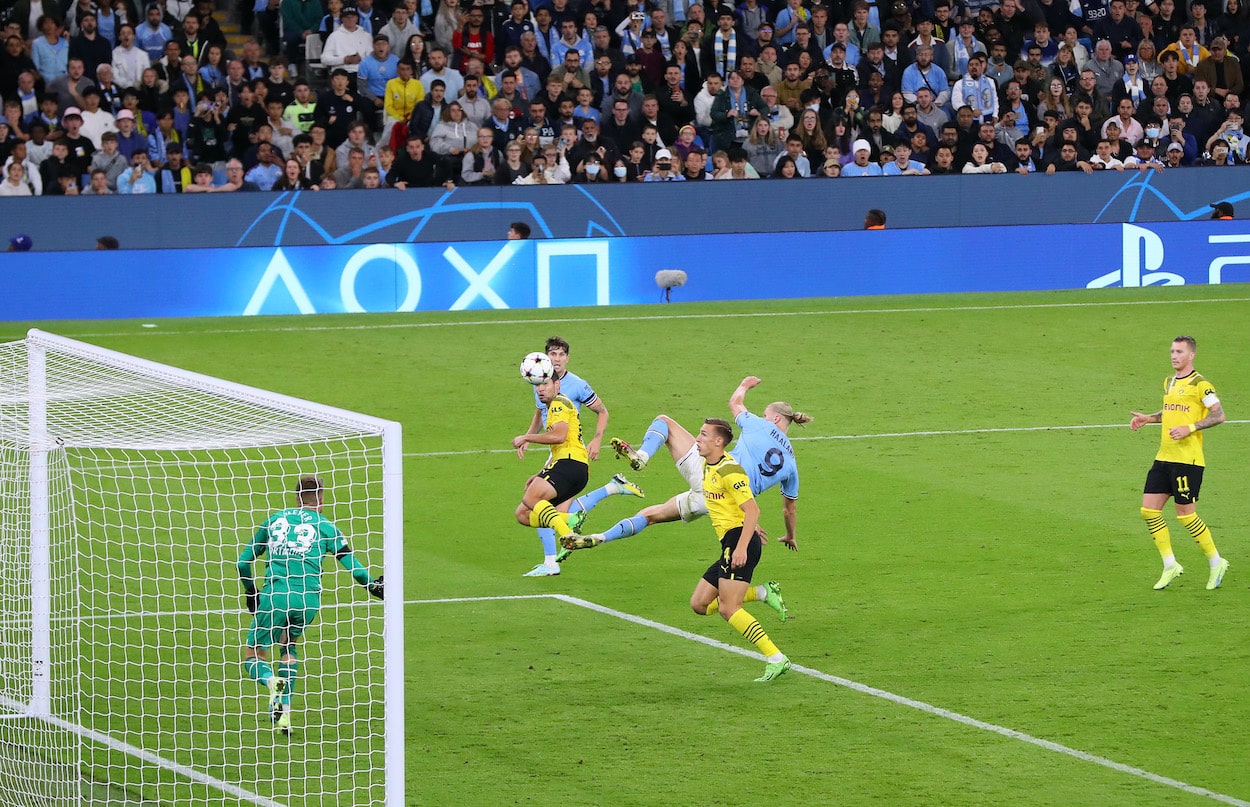 WATCH: Erling Haaland Just Scored a Goal He Called 'My Best Goal Ever' in Manchester City's Champions League Win over Borussia Dortmund
Erling Haaland just scored a goal that is an early candidate for UCL goal of the year, and even the striker admits it's one of his best.
Erling Haaland is just 22 years old and already has 148 goals in professional football. The 6-foot-4 Norwegian has scored goals in about every manner imaginable. And he's scored goals that are both impressive and important. On Wednesday, though, the new Manchester City striker scored a game-winning goal in UEFA Champions League against his old team, Borussia Dortmund, that was so impressive, even he called it "my best goal ever."
Erling Haaland best goal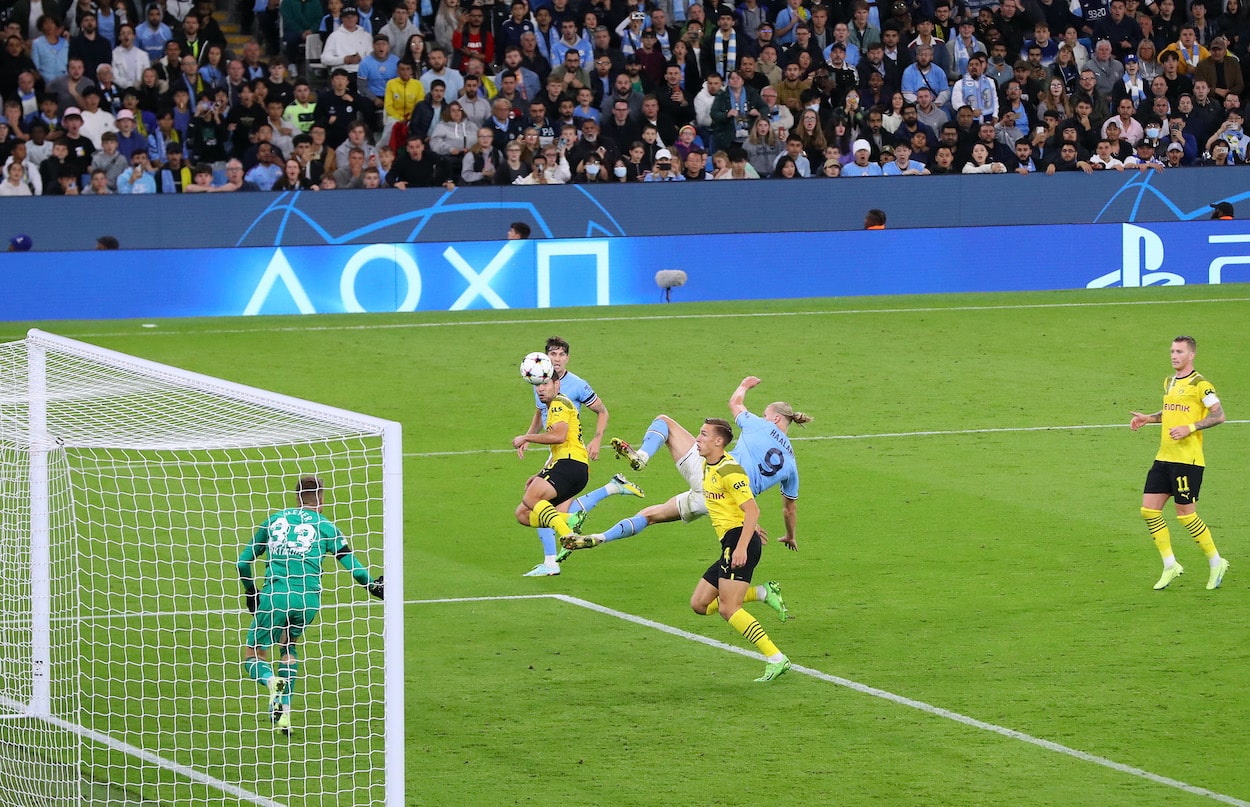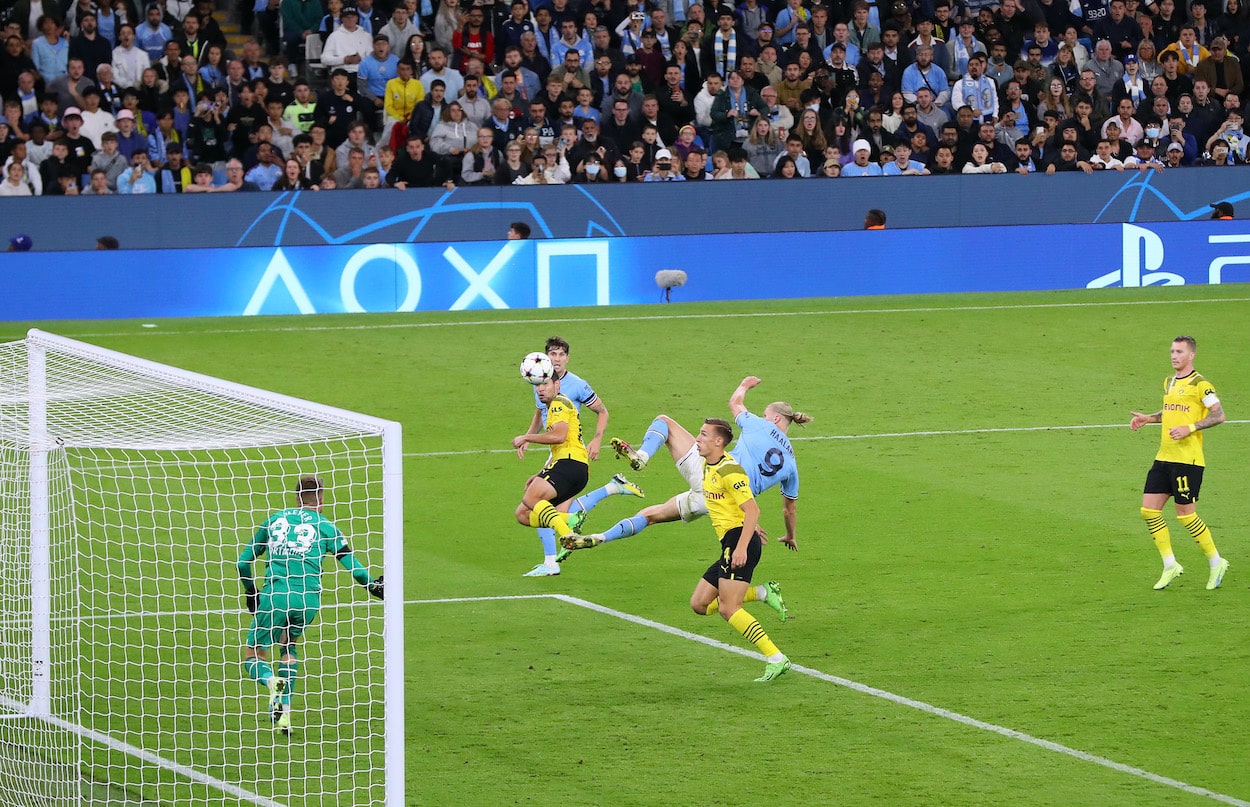 In a fateful 2023-23 Champions League draw, Erling Haaland and Manchester City ended up in the same group (Group G) with Haaland's old team, Germany's Borussia Dortmund.
The English Premier League powerhouse paid $66 million for the striker this offseason after Haaland became a star in the Bundesliga, scoring 86 goals in two and a half seasons in Germany.
In the first game between the two sides (they'll play again in Germany on October 26), Haaland and City went down to Dortmund 1-0 on a 56th-minute goal by Englishman Jude Bellingham. A wonder strike by City defender John Stones evened the match at 1-1 in the 80th minute before Haaland scored his early nominee for goal of the year.
In the 84th minute, City full-back João Cancelo launched a speculative cross into the box as Haaland sat between three defenders. As the ball hung in the air, the City striker laid out almost fully horizontal, getting his left boot on the ball at least 6 feet above the pitch. He tipped it over the head of Dortmund goalkeeper Alexander Meyer to give City a 2-1 victory and, ultimately, the win.
After the game, an interviewer from DAZN showed Haaland the goal, and even he was impressed. With a shocked face, Haaland told the reporter, "I think that's one of my best goals ever."
Man City stays undefeated in their 2022-23 UCL campaign 
The game looked bleak for Manchester City for a bit after Jude Bellingham's goal. But Manchester City once again came from behind this season and got another W.
City is developing a habit this year of giving up leads before quickly evening things or taking the lead back. In the Premier League, City went down 3-1 to Newcastle before earning a 3-3 draw, and then a 2-0 deficit to Crystal Palace turned into a 4-2 win.
City's first Group G UCL match was no contest. Pep Guardiola's side took down Spain's Sevilla with ease, 4-0, on Matchday 1.
With the win over Borussia Dortmund, City now has six out of a possible six points. And the weakest team in the group, Denmark's FC Copenhagen, on deck for October 5. Two tilts with the Danish side, a trip to Dortmund, and another Sevilla match at home remain. Barring a massive unexpected collapse, City should cruise to the Champions League knockout round.
That's where Guardiola's problems have begun in recent seasons.
As good as City has done under the legendary Spanish manager the last six seasons, the Champions League has eluded them. The EPL team has lost in inexplicable ways in the Round of 16, three times in the quarterfinals, in the semifinals, and in the finals under Guardiola.
However, Pep and company have never had a striker like Erling Haaland in these last six seasons. If the Norwegian goal-scorer keeps scoring goals like he did on Wednesday, this could be Manchester City's season in Europe.
All stats courtesy of Transfermrkt