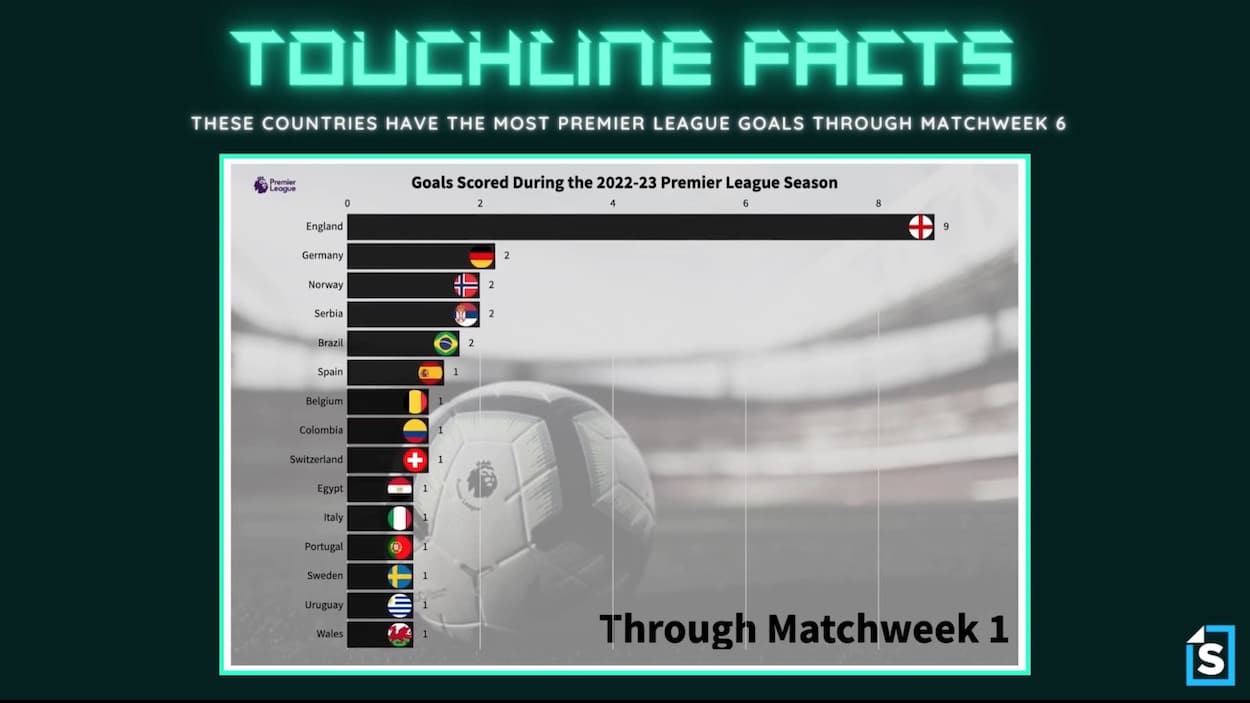 Erling Haaland Leads Norway to Surprising Spot on Premier League Goals by Country Leaderboard
Manchester City's Erling Haaland has scored a record 10 goals in his first six English Premier League matches, which has Norway in an interesting spot.
As you would expect, Englishmen are scoring by far the most goals in the English Premier League this season. There are 170 English soccer players in the EPL this season, more than five times more than the second-most prevalent nationality (Brazilians, 30). The country scoring the second-most goals so far this season, though, comes as a shock. Norway only has six EPL players but owns the second-most goals. That's because one of those six players is Manchester City star Erling Haaland.
After every Matchweek of the 2022-23 Premier League season, Sportscasting will produce an updated bar chart race that shows which countries' players are scoring the most goals in the EPL this season. Here is the bar chart race following Matchweek 6:
EPL goals by country through Matchweek 6
While Englishmen make up the majority of Premier League players and, with 46 goals, have more goals than the rest of the top five countries combined, they don't make up much of the top individual EPL goal-scorers list.
Only four of the top 15 goal-scorers are English after six weeks of the 22-23 EPL season. Tottenham's Harry Kane (five goals), Brentford's Ivan Toney (five), Manchester United's Marcus Rashford (three), and Chelsea's Raheem Sterling (three) are those top 15 players.
Brazilians are responsible for the third-most goals in the EPL thus far. They have three players in the top 15: Liverpool's Roberto Firmino (three) and Arsenal's Gabriel Jesus (three) and Martinelli (three).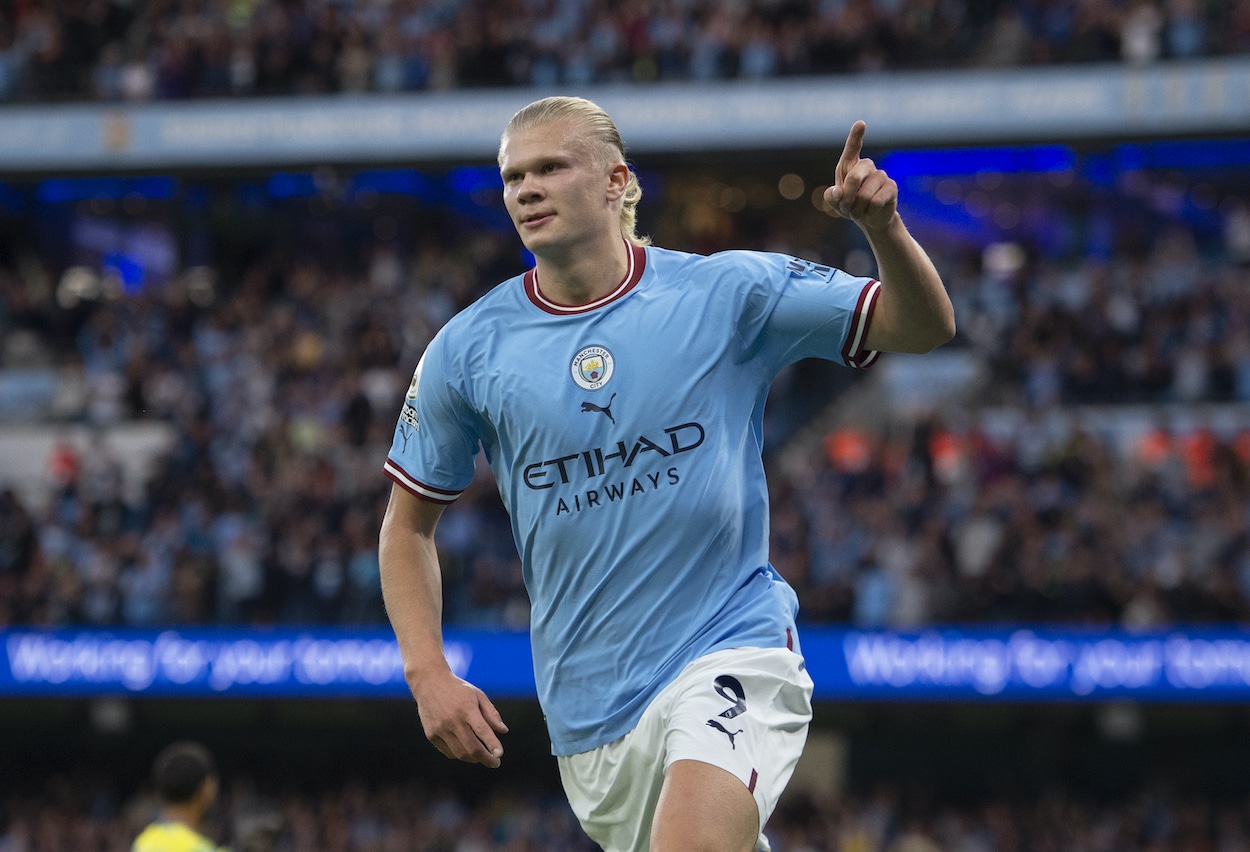 The biggest surprise right now, though, is that little Norway is sitting in second place with 13 goals. Arsenal captain Martin Ødegaard has chipped in three. But the main reason the Norwegians are doing so well is that Manchester City summer signing Erling Haaland has set the Premier League on fire through six matches, scoring 10 goals.
The 6-foot-4, 22-year-old with flowing blonde locks was actually born in Leeds, England — where his father Alfie played for Leeds United — but moved back to his ancestral homeland at three years old.
Man City — which also employed Erling's father as a defender from 2000-03 — paid Borussia Dortmund $66 million for the striker this summer, and the move has paid off in spades already. With 10 goals in six matches, Erling Haaland became the co-fastest EPL player to 10 goals in league history.
The other player who did it that fast was in a much different situation. Veteran striker Mick Quinn had played at the highest level of English football for years when he scored 10 goals in six games for Newcastle in 1992. That was the first year the Premier League, as we know it, started.
With this type of start, the questions surrounding Haaland's individual performance aren't just whether he can keep Norway near the top of the country goal-scoring table.
The next marks in the young Norwegian's sights are 26 and 34 goals. The former is the most EPL tallies by a Manchester City player in a single season (Sergio Agüero, 2014-15). The latter is the most by any player in a single EPL campaign. Two players, Manchester United's Ashley Cole (1993-94) and Blackburn Rovers' Alan Shearer (1994-95) accomplished this feat.
All stats courtesy of FBref