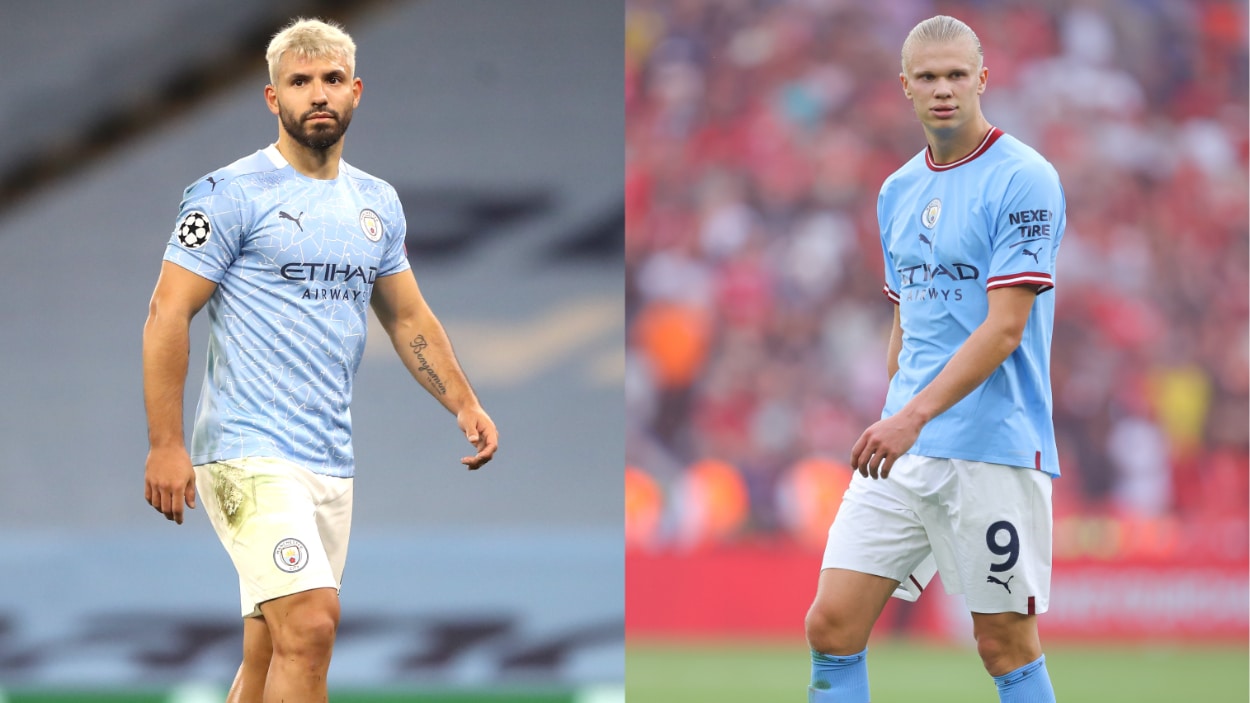 Manchester City Legend Sergio Agüero Crushes New Striker Erling Haaland: 'Welcome to the Premier League'
Erling Haaland has big boots to fill at Manchester City as the club's new striker, Man City's old striker, Sergio Agüero, let him know it.
For the last decade, Sergio Agüero has been the goal-scoring face of Manchester City. The Argentine striker arrived at a second-rate club in 2011 and helped turn City into one of the greatest soccer teams in the world. Now he is retired, and City is turning the page to a new era. This new era is starting with superstar striker Erling Haaland. After the young Norwegian's first underwhelming performance in sky blue, Agüero had a stinging critique of his replacement. 
Manchester City's new striker struggled against Liverpool, and Sergio Agüero noticed
Manchester City's 22-year-old striker, Erling Haaland, scored a goal in his first-ever appearance in Manchester City colors. The 6-foot-4 forward put one home in Green Bay's historic Lambeau Field to earn City a 1-0 win in a preseason friendly against German giant Bayern Munich. 
A week later, back in England, in a match that was closer to the real thing, City lost to bitter rival Liverpool 3-1 in the FA Community Shield. 
Haaland didn't score City's lone goal in this match. That honor went to fellow summer-signed strike Julian Alvarez. 
In fact, the son of former City defender Alfie Haaland struggled against the Reds and their all-world center-back Virgil ban Dijk. 
This fact didn't go unnoticed by retired Man City legend Sergio Agüero. The all-time great told the Manchester Evening News that it looked like Erling Haaland wasn't quite ready for prime time. 
"He was too used to Germany," Agüero said. "Haaland thought he was alone, then Virgil van Dijk arrived and said, 'Welcome to the Premier League.'"
Agüero's assessment of the $66 million striker, who came over from Borussia Dortmund in Germany this summer, is a bit harsh. While Van Dijk did do a good job, the City midfield and wingers didn't do Haaland any favors either. 
That's the kind of pressure Haaland is under now, though, trying to replace the greatest goal-scorer in Manchester City history. 
Erling Haaland had big boots to fill at Man City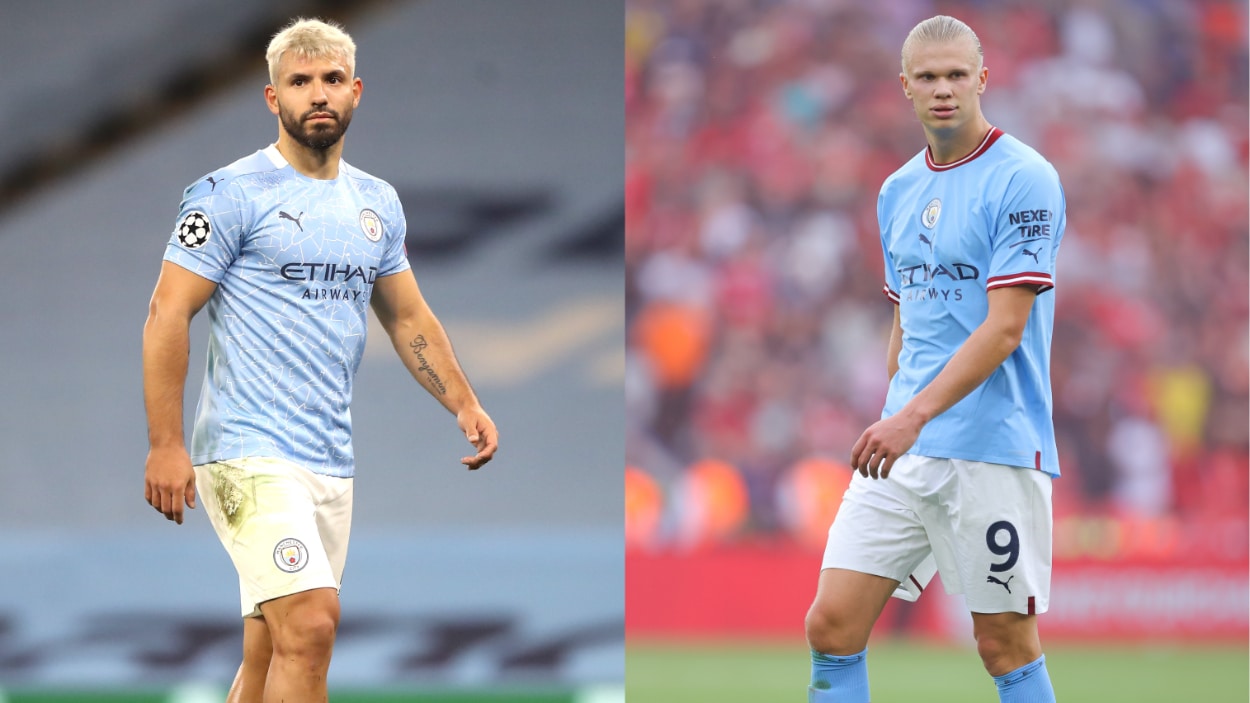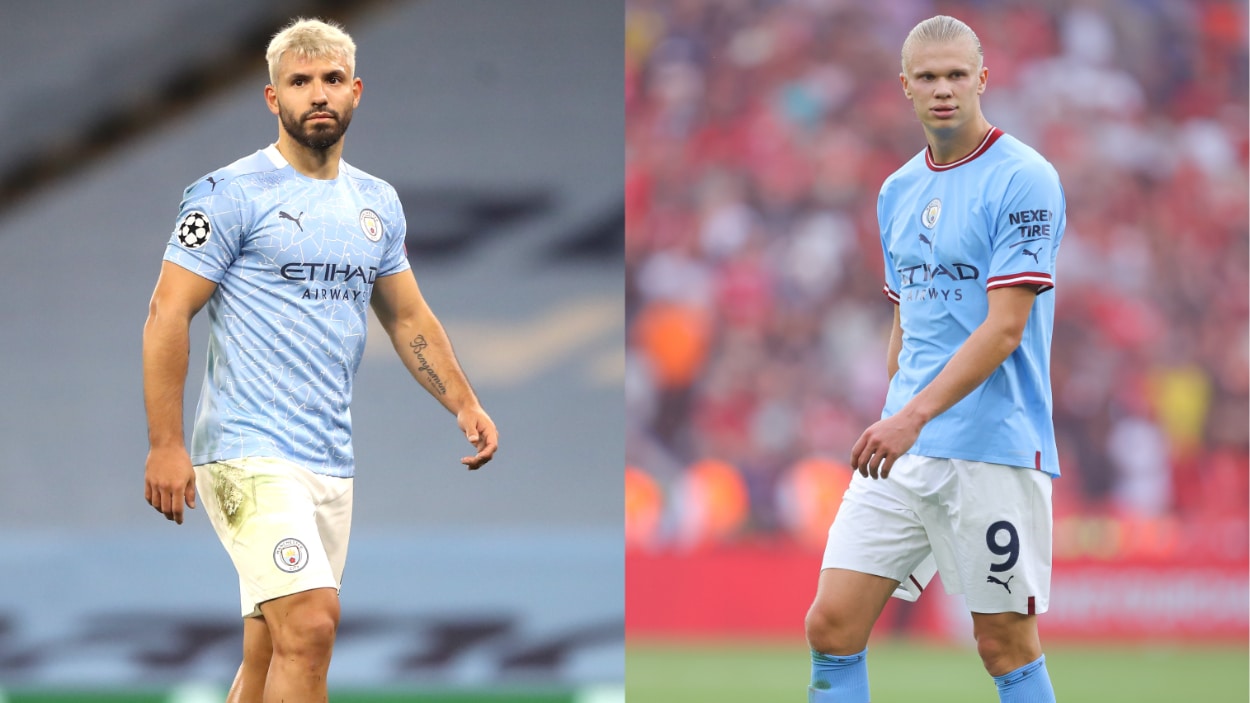 A 23-year-old Sergio Agüero came to Manchester City from Atletico Madrid in the summer of 2011 for $44 million. 
Kun Agüero, as it said on the back of his jersey, made his City debut on August 15, 2011, vs. Swansea City. He tallied two goals and an assist in that match and never looked back. 
Over the next 10 seasons, Agüero scored 260 goals in all competitions, making him Manchester City's all-time leading goal scorer. And, with his 184 Premier League tallies, the Argentine is also the greatest foreign-born EPL goal-scorer ever, nine goals ahead of Frenchman and Arsenal legend Thierry Henry. 
In addition to being one of the greatest individual players in Premier League history, Agüero is arguably the key piece of the greatest club turnaround in the EPL. Man City went from Manchester United's "noisy neighbors" to a multiple Premier League trophy-winning club. 
Agüero also scored the greatest and most dramatic goal in club — and likely EPL— history with his 2012 title-winning score at 93:20 of the final game of the season. 
This is a legacy that will live forever on the blue side of Manchester, which leaves Erling Haaland with big boots to fill, taking over Agüero's old position. The young striker will get his first chance to live up to the legend as the 2022-23 EPL season kicks off for Man City on Sunday, August 7 at 11:30 a.m. ET against West Ham in London. 
All stats courtesy of Transfermrkt