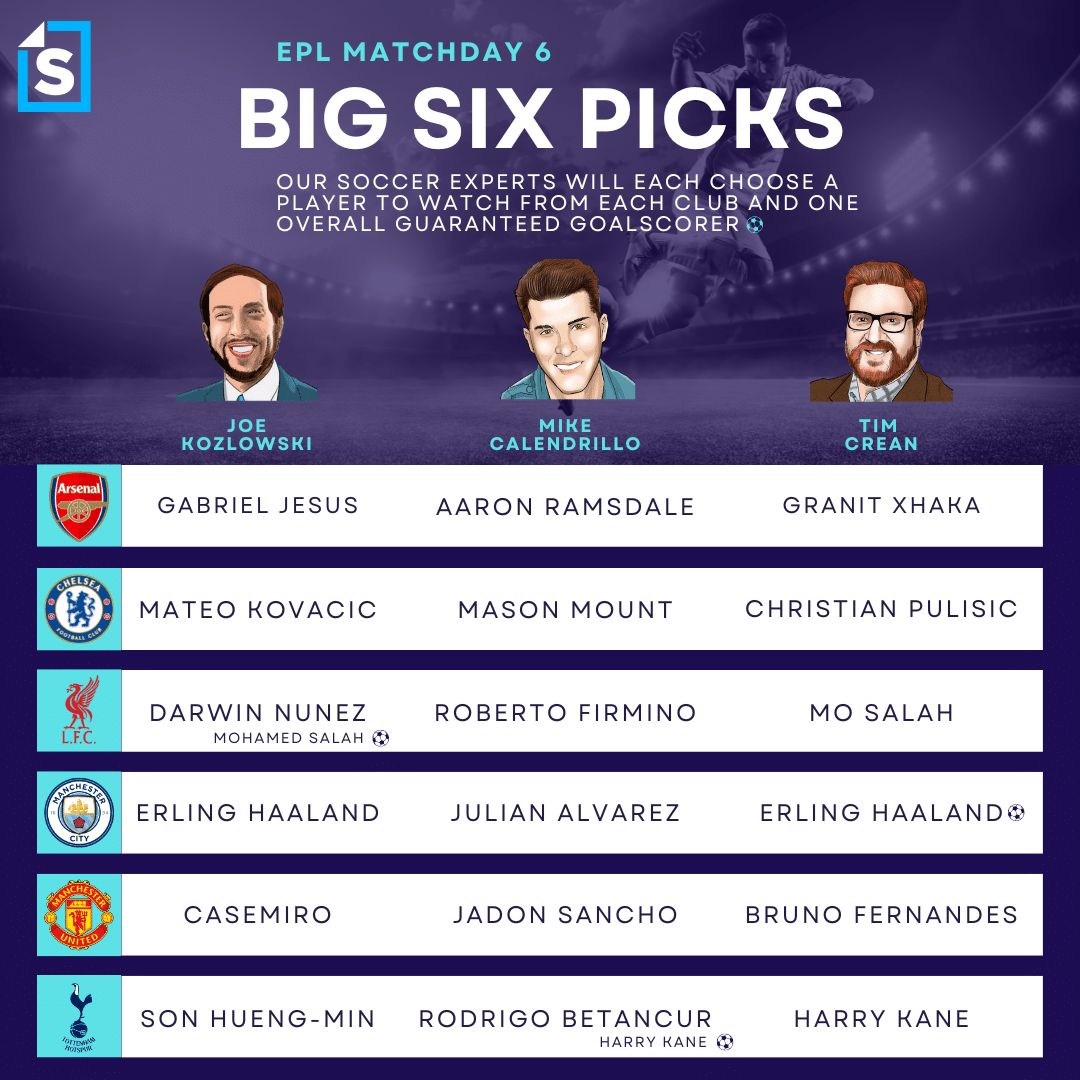 Sportscasting Big 6 Picks: Premier League Matchday 6
With Premier League action coming thick and fast, here are the key players from the biggest teams to watch this weekend.
A great deal has happened in Premier League soccer since our last edition of Big 6 Picks. We had a midweek set of matches, which saw Arsenal remain undefeated, Chelsea fall flat, and Erling Haaland continue his goal-scoring exploits. The summer transfer window also slammed shut, with English clubs towering over the rest of the continent.
To be clear, the action won't be slowing down. While transfer business will take a back seat until the new year, we've got European competitions on the horizon. Beyond the raw entertainment factor, that also adds a logistical challenge; the teams playing midweek games will be forced to rotate their squads and face an even more compressed schedule. Before those trips abroad, though, it's time for Premier League Matchday 6.
Let's take a look at the picks.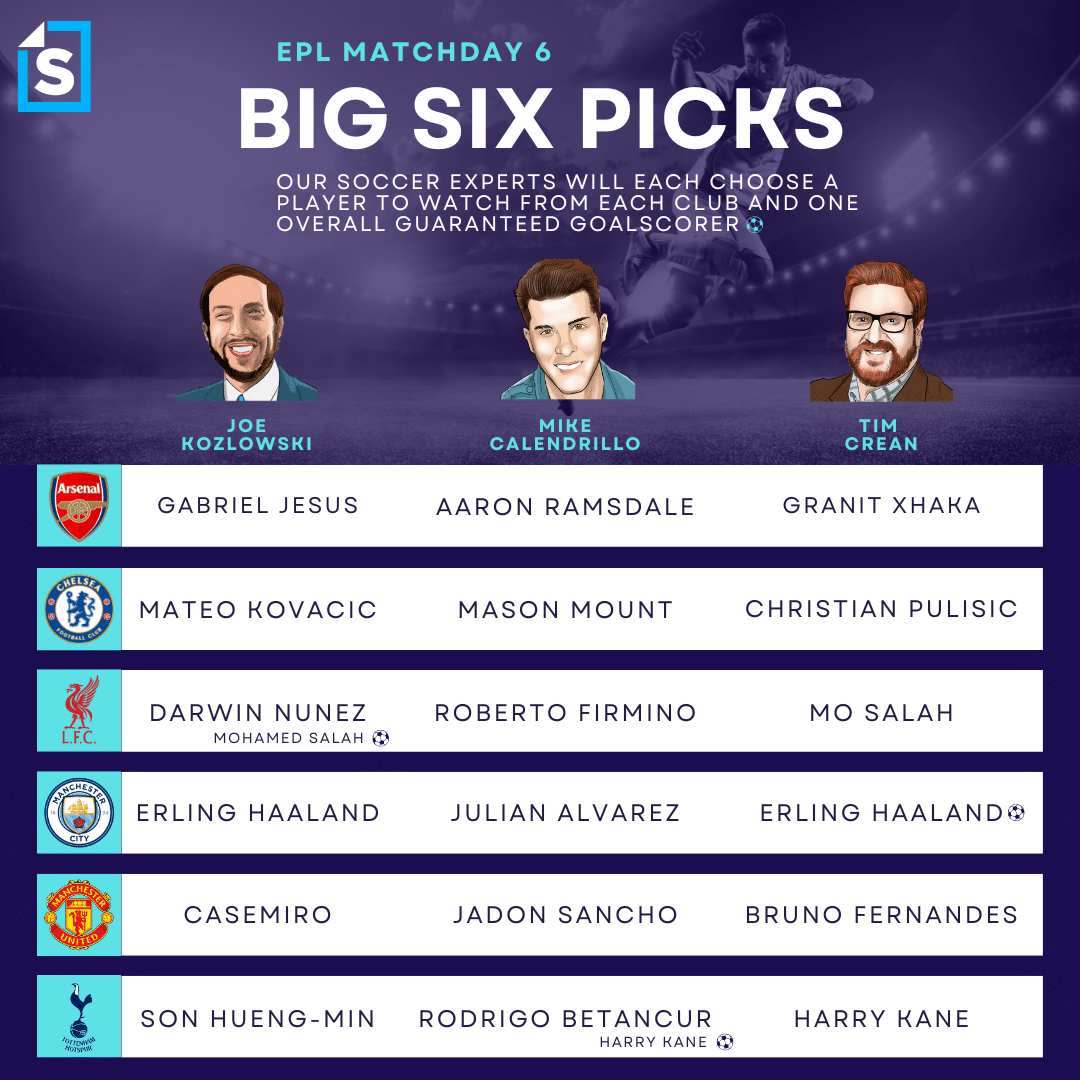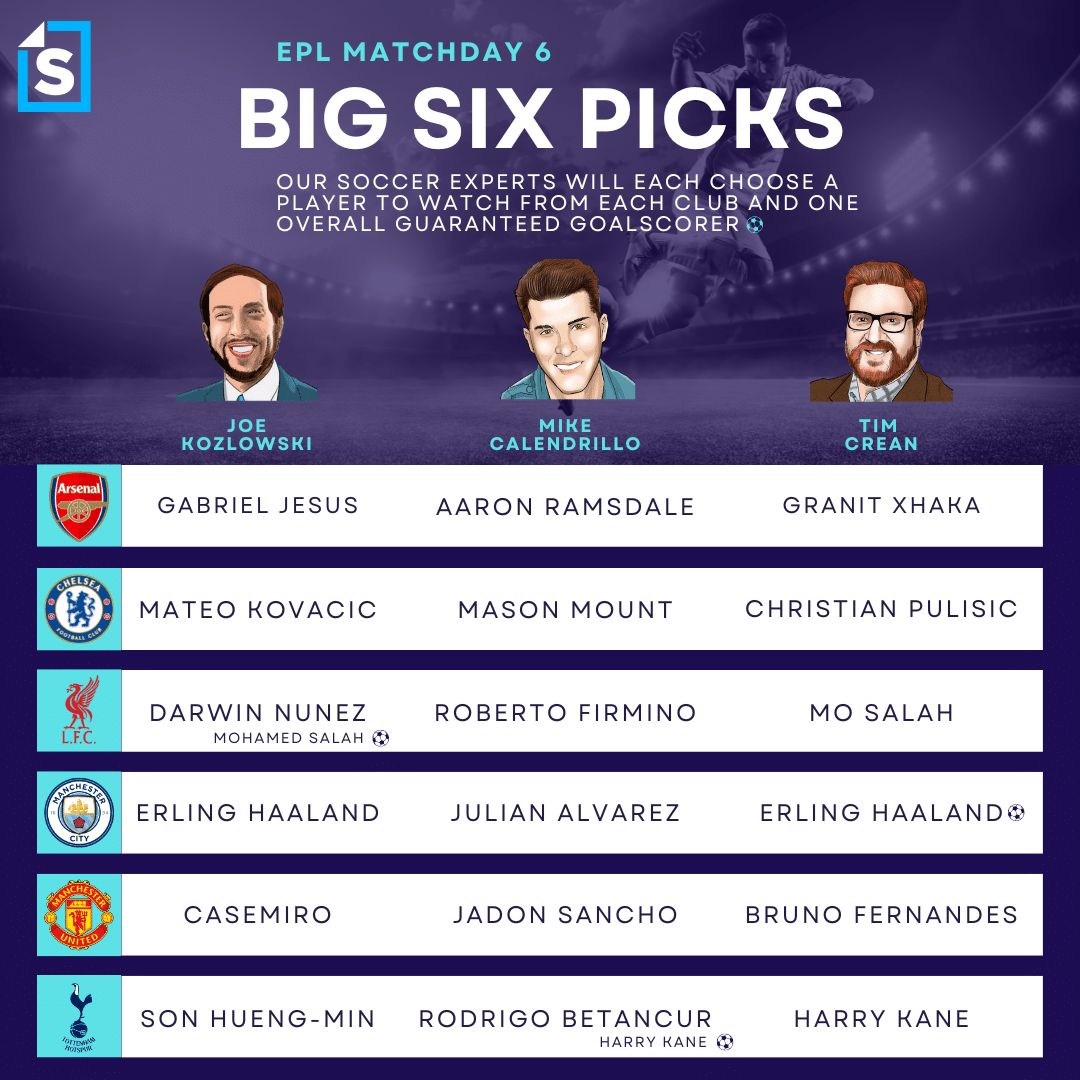 Manchester United vs. Arsenal
Joe Kozlowski: Casemiro – While United have made some additional big-money signings, the Brazilian midfielder is the biggest name to arrive at Old Trafford this summer. He's yet to start a Premier League match, but against an Arsenal attack that's been in good form, he could play an important role in solidifying the Red Devils' defensive structure.
Mike Calendrillo: Jadon Sancho – With the much-delayed arrival of Antony from Ajax, Jadon Sancho could be looking at a permanent move to left wing and/or a timeshare role with 20-year old Anthony Elanga. Therefore, it's vital that Sancho makes the most out of the next few matches and solidifies his place before Antony returns to play under his former manager, Erik ten Hag. 
Tim Crean: Bruno Fernandes – Arsenal vs. Manchester United will be won or lost in the midfield. Both squads have offensive firepower. This match will be a battle between Bruno Fernandes and Granit Xhaka. If Fernandes wins and can help put pressure on the Arsenal back line, United wins. 
Liverpool vs. Everton
Joe: Darwin Nunez – After missing three matches following his red card, the Uruguayan striker will be available once again. Should he slot back into the starting lineup, he'll have a fine chance to get the ball rolling again.
Mike: Roberto Firmino – Color me unimpressed by the Reds' scramble in the box for a 98th-minute game-winner against Newcastle. While it was nice to see youngster Fabio Carvalho score his first goal for his new club, Roberto Firmino's 61st-minute equalizer was massively important for the Brazilian. With the return of Darwin Nunez from a red card suspension, Firmino will look to remind manager Jurgen Klopp that he is still worthy of a starting spot in the Merseyside Derby. 
Tim: Mo Salah – There hasn't been a ton of good things happening for Liverpool's offense thus far this season. But when something good does happen, it is because Mo Salah makes it happen. Liverpool not only needs more of that from Salah, he needs some help creating chances as well. 
Arsenal vs. Manchester United
Joe: Gabriel Jesus – Even if we look beyond goals, Gabriel Jesus has revitalized Arsenal's attack. The trip to Manchester will be the Gunners' biggest test of the season so far, and it will be the perfect chance for the Brazilian to show his stuff. If big players step up in big games, the striker should make an impact against his old rival.
Mike: Aaron Ramsdale – In what should be Arsenal's first REAL test of the season versus Manchester United, Aaron Ramsdale has been feast or famine for the Gunners. Sure, he already has two clean sheets, but he's also allowed four goals in five games. Should Arsenal drop points for the first time this year, Mikel Arteta may be inclined to unveil USMNT star keeper Matt Turner against FC Zurich in the Europa League Group stage next week. 
Tim: Granit Xhaka – As mentioned above, Granit Xhaka and Bruno Fernandes will decide this match. If the Swiss veteran can frustrate or even shut down Fernandes, Arsenal will continue its incredible undefeated streak to start the season. 
Chelsea vs. West Ham
Joe: Mateo Kovacic – While it's easy to look at their front line, Chelsea hasn't been able to assemble an ideal midfield this season. With N'Golo Kante injured, though, Mateo Kovacic could be returning to fitness at exactly the right time. He's been making substitute appearances recently, and if he's able to play a full 90, look for the Croatian to change the dynamic in the engine room. He's not the perfect player, but he should compliment Jorginho well.
Mike: Mason Mount – Mason Mount and Kai Havertz need to get going. The duo have played a combined 777 minutes this Premier League season and have yet to record a single goal or assist. And so, I'm putting the onus on Mount because, unlike Christian Pulisic, who has yet to start a match from the opening whistle, Mount seems immovable from the starting 11. But why? Also, Thomas Tuchel's 4-2-2-2 formation stinks. 
Tim: Christian Pulisic – Knock, knock. Who's there? Christian Pulisic. Christian Pulisic, who? Christian Pulisic, who hasn't started a match for Chelsea yet while the offense is horrid and the club is losing its grip on a league title before the Summer transfer window closes. Thomas Tuchel needs to start Pulisic in the next match. Period. If he doesn't, Tuchel is not doing eveything he can to win games and should be fired. 
Manchester City vs. Aston Villa
Joe: Erling Haaland- I've resisted highlighting Haaland as much as I can since he feels a bit too obvious, but he should be must-see TV for this one. Against a weak Aston Villa team with some inconsistency at centerback, look for the striker to have himself a day. Another hat trick could genuinely be on the cards.
Mike: Julian Alvarez: Yes, Erling Haaland is a star and has kept my streak of guaranteed goalscorers alive (two weeks, so what?!). But did you see former River Plate sensation Julian Alvarez's two goals against Nottingham Forest? It's very possible that the Argentinian starts on the weekend versus Villa since City lock horns with Sevilla in their opening Champions League match on Tuesday.
Tim: Erling Haaland – Obvious, yes. Undeniable, also, yes. Erling Haaland is on an incredible roll to start his Premier League career with a staggering nine goals in five appearances for City. For any fan who likes transcendent striker play (which is pretty much all soccer fans), Haaland vs. Aston Villa should be fun to watch. 
Tottenham vs. Fulham
Joe: Son Heung-min – While I don't want to get sucked into a "what's wrong with Son?" conversation, I am curious to see how the South Korean responds to a rough patch. With the games coming thick and fast and Richarlison out-producing him, Son will have to up his game. Can he respond? Or will his challenging run continue for another matchday?
Mike: Rodrigo Betancur – Spurs were lackluster against West Ham in their midweek game. While rotation had something to do with it, Emile Hojberg deserves the other part of the blame. Hojberg rolled his ankle on a tough challenge before the end of the first half and was never the same. He should have been taken out after the first 45. But manager Antonio Conte left him in to fix his boot, drop back in possession, argue with the ref and forget to mark Tomas Soucek for the tying goal. It's time for a Betancur/Bissouma midfield pairing full of athleticism, creativity, work rate, and pressing. 
Tim: Harry Kane – Yes, this is also an obvious one, but Kane becomes more important against a squad like Fulham. American center-back Tim Ream and Manchester City castoff Tosin Adarabioyo have played well for the Cottagers this season, and Kane will have to step up and overcome their form to get Spurs the win. 
Guaranteed Goalscorer
Joe: Mohamed Salah – The Egyptian hasn't exactly been on fire this season, but I trust him to make an impact in a Merseyside Derby against a weak Everton side. As I said for Gabriel Jesus, big players step up when the spotlight is shining brightly. Expect Salah to contribute one way or another.
Mike: Harry Kane – I'm going back to the well with the HurriKANE vs. Fulham. Until Son Heung-min gets off the snide, Kane needs to score in order for Spurs to claim all three points. Can someone please help my man out?!
Tim: Erling Haaland – The big Norwegian will score multiple goals per game in every game he plays for the next 15 years. Is that hyperbole? Probably. But until he proves my ridiculous claim wrong, I'm sticking with him. 
Like Sportscasting on Facebook. Follow us on Twitter @sportscasting19 and subscribe to our YouTube channel.