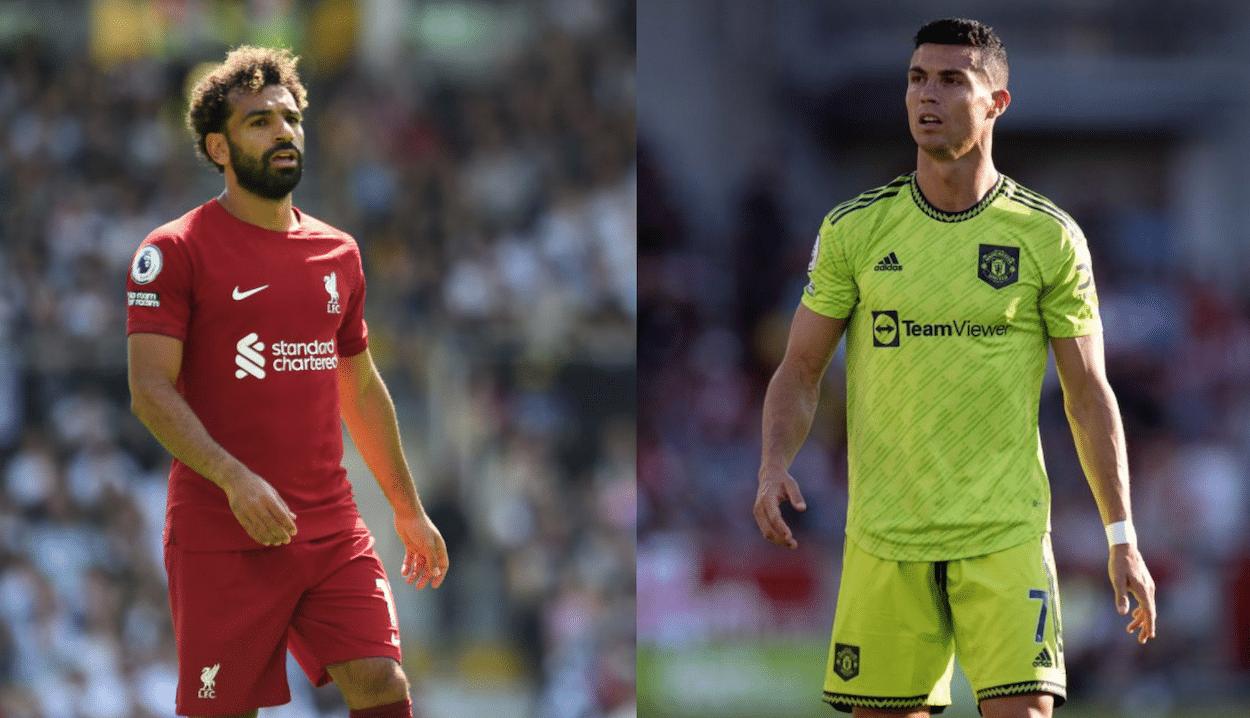 Cristiano Ronaldo, Mohamed Salah, and the Highest Paid Players on Each of the Premier League's Big 6 Teams
As you might expect, the Premier League's biggest salaries belong to players from the largest clubs.
On the global soccer stage, the Premier League has a major financial advantage. Thanks to television deals, even the smallest club in the division has plenty of fiscal might. The Big 6, however, tower above all the rest.
If you want a clear indication of that reality, let's check out the wage bill and consider how much those teams are paying their top earners in annual salary. While it might not seem fair, especially if you're a fan of a smaller club, money ultimately talks, especially in soccer.
6. Harry Kane, Tottenham Hotspur – $12,250,888.00 per season
If we're talking about good value for money, it's tough to get better than Harry Kane. While his salary isn't cheap by any means, it seems unbelievable that one of the Premier League's best goal-scorers sits this low on the list. He's Tottenham's most expensive player, but his wages are only tied for the 18th-largest in the league.
While that's somewhat understandable — his current contract has been in effect since 2018, limiting his bargaining power — it does highlight the double-edged sword of signing a lucrative deal. Kane got plenty of security but also locked himself in at a lower salary and cut off a potential move to Manchester City.
Setting those business realities aside, though, the entire white side of North London will be pleased with the deal. Harry Kane keeps scoring, and, with each passing goal, his contract looks like more and more of a bargain.
5. Gabriel Jesus, Arsenal – $16,225,398.80 per season
While it's a bit early to call this a bargain, early signs point to the Gunner getting a good deal. They needed a legitimate threat at striker, and Gabriel Jesus seems to fit that bill perfectly. The Brazilian is capable of pulling out wide or dropping deep to link possession, but he's still capable of getting into the box and scoring a goal. His impact on the Gunners' culture has also earned him a place in Mikel Arteta's leadership group.
In terms of his annual wage, Jesus is Arsenal's highest earner but only sits at 12th place in the entire Premier League. That reality could be due to his desire to leave Manchester City and become the main man in North London. While he received a raise, money wasn't the driving factor behind his move.
Regardless of the reasons, though, it doesn't look like the Gunners will be complaining about his wages anytime soon.
4. Raheem Sterling, Chelsea – $19,899,074.00 per season
Like Gabriel Jesus, Raheem Sterling left Manchester City to move to London. The winger, however, will earn more than his former teammate.
Sterling earned the higher wages, which is probably due to the fact that he's a bit more of a proven commodity; you know more or less what he'll do, while there are theoretically some questions about Gabriel Jesus' ability to be the main striker for a top team. Once again, though, there's a bit of context at play. Not only is Chelsea retooling their attack, making signing someone like Sterling an essential target, but the club has a new owner who isn't shy to splash some cash.
Will the deal work out? Or will it turn into an ugly overpayment? We'll have to wait and see.
3. Mohamed Salah, Liverpool – $21,429,772.00 per season
Mohamed Salah is the first player on this list to eclipse the $20 million mark, and it's tough to take issue with that reality. Ever since returning to England, the Egyptian has been a key part of Liverpool's success. At the risk of being simplistic, goals win games, and the winger is one of the best around at putting the ball into the back of the net.
If you combine that reality with Liverpool's offseason — they lost Sadio Mane and, faced with the prospect of also losing Salah, signed him to an extension — it's not surprising that he's earning a sizable sum of money. Was it the greatest decision when you consider the aging curve? Probably not, but, as of now, it's tough to be too critical of the club's decision.
2. Kevin de Bruyne, Manchester City – $24,488,256.00 per season
In a similar vein to Salah, it's tough to be too critical about Kevin de Bruyne's contract. The midfielder has proven to be a do-it-all player at Manchester City, capable of scoring, assisting, and keeping the attack ticking. His role becomes even more important with the arrival of someone like Erling Haaland. Even the best striker will struggle to score without good service, but KDB's presence guarantees that will never be the case.
It's also worth noting that the club has virtually unlimited funding, thanks to its ownership. Even if the Belgian wasn't worth more than $24 million per season, he wouldn't be breaking the bank.
1. Cristiano Ronaldo, Manchester United – $31,552,176.00 per season
Here's some money that isn't being put to good use. While Cristiano Ronaldo is a living legend, he's not worth this much more than any of his peers at this point of his career. The striker can still finish chances, but modern managers expect more. The Portuguese star doesn't have the legs or desire to press from the front, doesn't add to build-up play, and, if this summer is any indication, could cause unrest in the dressing room.
His high wages also underscore another risk of overpaying a player. Beyond the wasted money, salary can also be a stumbling block when it comes to moving that player. While Ronaldo himself is probably playing a role — a player of his stature is only going to be willing to join a handful of clubs — the money is an unavoidable factor. A club like Borussia Dortmund, for example, won't subsidize that sort of salary.
If the Portuguese striker's current situation is any indication, it's true that money can't buy happiness.
Salaries courtesy of Spotrac and converted to USD on 8/22/2022.