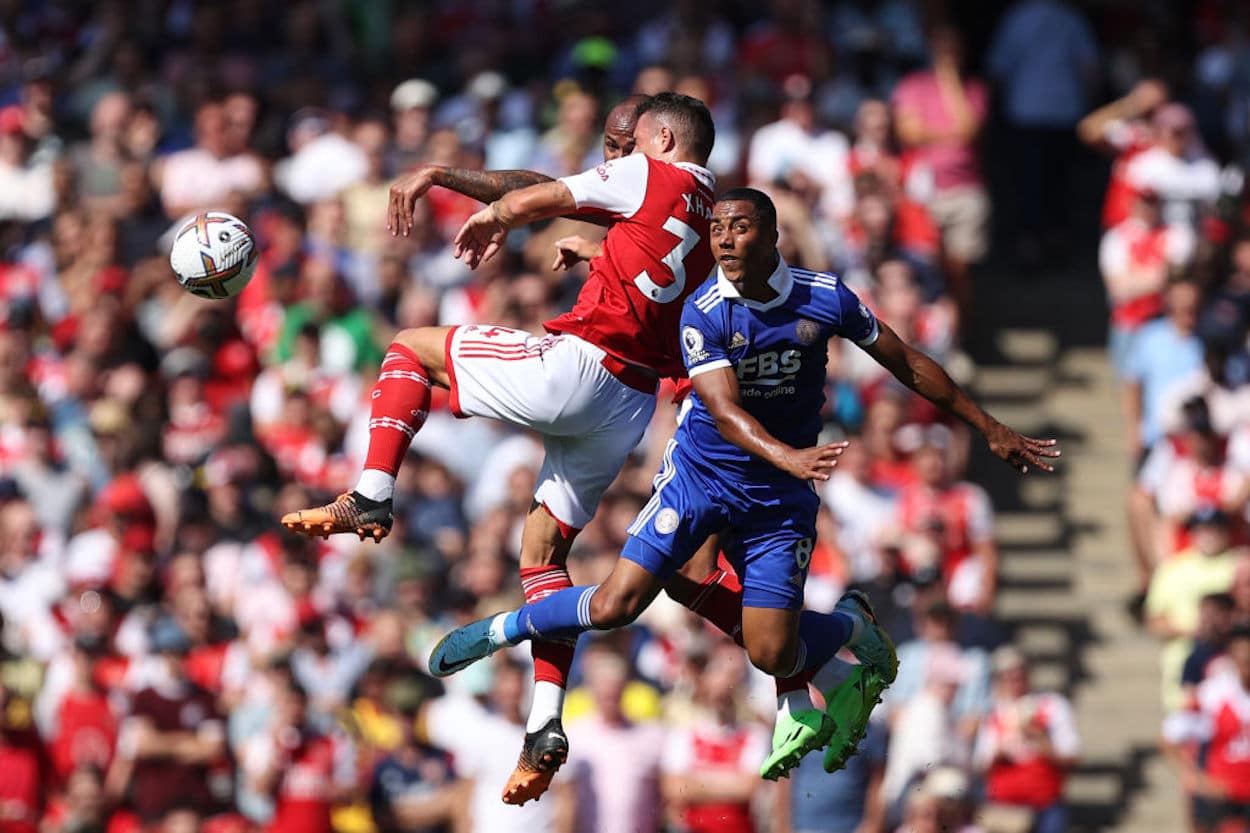 Arsenal Transfers: Granit Xhaka's Leadership Role Seems to Rule Out a Move for Youri Tielemans
While it's not exactly surprising to hear that Granit Xhaka is part of Arsenal's leadership group, that could have knock-on affects for the Gunners' transfer business.
The 2022-23 campaign has gone pretty well for Arsenal thus far. The Gunners have upped their firepower during the transfer window and burst out of the blocks with two consecutive wins. That reality, however, doesn't mean that their business is done. If you're a soccer club looking to crack the top four of the Premier League, you can't rest on your laurels.
For Edu Gaspar and Mikel Arteta, that would most likely bring in another midfielder. Leicester's Youri Tielemans seems like the most apparent option, but there could be a problem. According to a report from The Athletic, Arsenal would need to move Granit Xhaka before buying the Belgian. While that's theoretically possible, another update from The Athletic makes it seem incredibly unlikely. The Swiss midfielder has, like it or not, earned a place in the club's leadership group.
Granit Xhaka is confirmed as one of Arsenal's leaders, which suggests he won't be sold this summer
While Granit Xhaka can divide opinions, it's clear what he brings to Arsenal. The veteran midfielder is always available to play and serves a valuable role as a senior member of a young squad. Even if he can frustrate fans, Arsene Wenger, Unai Emery, and Mikel Arteta have all identified his worth and kept him in the starting lineup.
The Swiss actually served as the Gunners' captain during Emery's rein, but lost the role after blowing up at Arsenal supporters while being substituted. That hasn't prevented him from still taking up a leadership role, though. We've seen him take over the armband when other players have been substituted off, and, in David Ornstein's newest Athletic column, that status has been confirmed.
"The Athletic has learned Arteta also nominated two other players to support him in leadership roles: Granit Xhaka and new signing Gabriel Jesus," Orenstein wrote. "The 29-year-old Switzerland international is a popular and respected figure in the dressing room, and Arteta considers him a natural choice to stand in for Odegaard as skipper when required."
While that update isn't necessarily surprising, it could be worthwhile in the context of the transfer window. The North London club has been linked to Youri Tielemans, but that deal could be contingent on Xhaka's departure.
"Arsenal have already spent £117 million on five new signings this summer as they continue to back Mikel Arteta's squad overhaul, but while The Athletic understands there is a mutual attraction between Arsenal and Tielemans, a move may only be made if the Gunners can make room in their squad by moving on Granit Xhaka," Rob Tanner wrote in his own Athletic piece. "Currently, that doesn't look likely as the Switzerland international seems reborn in a more advanced role."
While anything can happen during the transfer window, Xhaka's departure seems especially unlikely, given his role in Arsenal's leadership group.
It's theoretically possible that Arsenal can replace Youri Tielemans with internal options
From a depth perspective, Arsenal would probably like to add another body in the midfield. In terms of on-field usage, though, Youri Tielemans could be replaced by some internal options.
Take Saturday's victory over Tielemans' Leicester City as an example of how things can function for Arteta's new-look squad. With Oleksandr Zinchenko and Ben White pushing into the midfield alongside Thomas Partey, Xhaka is free to push further up the pitch. While he's still not 100% natural in those more advanced areas, the Swiss has been able to make an impact in the attacking third.
While you could argue things will be different with different lineups — Kieran Tierney can't really tuck into the midfield like Zinchenko can, which would give Xhaka less freedom to push forward — the current setup mitigates the need for a player like Tielemans. His presence would improve Arsenal's overall depth and talent, but his passing range is less necessary if the two fullbacks are taking up playmaking responsibility.
That reality also gives Mikel Arteta more internal options. If the second midfielder alongside Partey is going to be the fifth attacker pushing into the box, the manager can afford to use a more adventurous player there. Perhaps Martin Odegaard could play as an attacking 8, with Emile Smith-Roe filling the Norwegian's usual spot. There's also the possibility of Albert Sambi Lokonga or Fabio Vieira slotting into the left side of the midfield.
At this point, though, Xhaka doesn't seem to be going anywhere. Perhaps allowing him to push a bit further forward will finally allow him to mitigate the weaknesses in his game and show the supporters what's won over three consecutive Arsenal managers.
Do the Gunners probably need more midfield depth? Yes, but having it arrive in the form of someone other than Youri Tielemans might not be a death sentence.
Like Sportscasting on Facebook. Follow us on Twitter @sportscasting19 and subscribe to our YouTube channel.