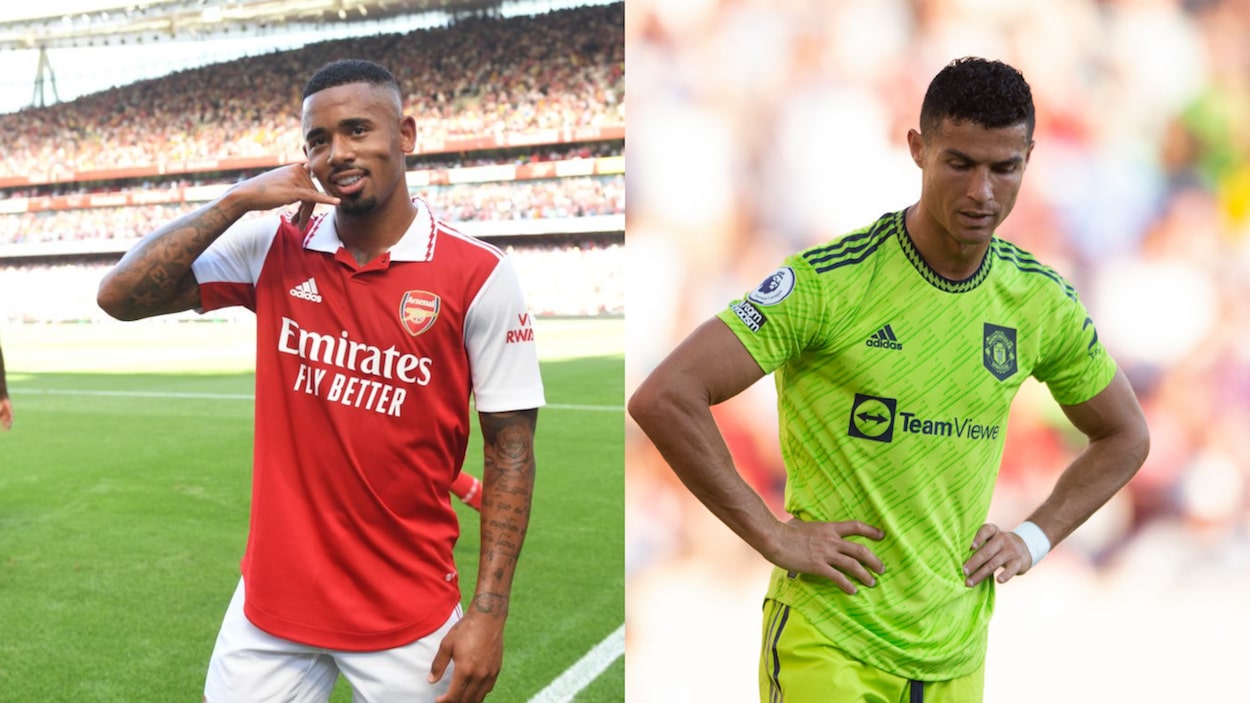 Gabriel Jesus, Manchester United, and the Winners and Losers of Premier League Matchday 2
After two weeks of Premier League action, some clear storylines are starting to emerge. Let's break them down.
While it took an extra day due to a Monday fixture, Matchday 2 of the Premier League is officially in the books. There was plenty of drama — thanks to Tottenham, Chelsea, and Anthony Taylor — a headline-stealing defeat — looking at you, Manchester United — and plenty of additional action along the way.
With that in mind, let's break it all down and look at the biggest winners and losers from the second weekend of Premier League soccer.
Winner: Arsenal striker Gabriel Jesus
Last year, Arsenal played the majority of the season without a truly effective center forward. Gabriel Jesus was identified as someone who could address that gaping hole, and, after two league matches, it seems like he's already done that.
From a pure counting numbers perspective, Jesus scored two goals and assisted on two more during Arsenal's 4-2 win over Leicester. He could have easily had a hat trick, but, believe it or not, those contributions weren't the most impressive part of his game.
The Brazilian (along with fellow Man City transfer Oleksandr Zinchenko) have changed the way the Gunners play. Jesus is capable of coming deep for the ball, drifting out wide, and dribbling past a defender but still finds his way back into the box. As Arsenal supporters can tell you after watching Alexandre Lacazette, that's quite the improvement. The new striker is also a key part of Mikel Arteta's press and, at the risk of breaking out a cliche, really does lead the team from the front.
While things won't always come this easy for Gabriel Jesus and his teammates, Saturday's win shows that he and Arsenal could be a match made in Heaven.
Loser: Manchester United
In last week's assessment, I called Erik ten Hag a loser because the defeat against Brighton underscored just how much work he needed to do. This week, though, the entire Manchester United organization earns a place on the list.
Beyond the scoreline, there's virtually nothing positive to pick out of the current situation at Old Trafford. Previous transfer business has been bad, and this summer hasn't done anything to change that reality. Ten Hag has a vision but lacks the tools to execute it. Each part of the pitch lacks quality, and while United have plenty of spending power, it seems like big-name players are unwilling to sign on the dotted line.
To make things even more painful, it seems abundantly clear that the club needs to undergo a rebuild; as Arsenal supporters can confirm, that will mean plenty of unhappy evenings as things slowly turn around. That leaves the Manchester United brass with an undesirable choice: keep struggling and try to recover on the fly (which will lead to more long-term issues), or bite the bullet and trade some short-term pain for an eventual solution.
Either way, things won't get better without the club taking at least a few more lumps.
Oh yeah, and United play Liverpool next. Good luck with that.
Winner: Tottenham Hotspur
Even if the drama wasn't everyone's cup of tea, it's Tottenham left Stamford Bridge with a point on Sunday. Given the club's recent history and the way the match unfolded, that's a victory in and of itself.
Beyond that, Antonio Conte will probably be able to use this result to further his transformation of Spurs into a team that plays in his image. At the risk of trying to get inside the Italian's head, he'll likely show his squad how much they frustrated everyone affiliated with Chelsea and pleased everyone who supports Tottenham. Buy into my philosophy, the logic theoretically goes, and you'll not only earn points but become a team your fans love, and the opposition hates to see.
Loser: Chelsea
On the opposite side of the aisle, Chelsea will feel incredibly hard done by the result. While bad calls are part of the game, having two (or three, if you want to argue that Richarlison was offside on Tottenham's first goal) go against you is tough to swallow. While I'm content to chalk the potential foul in the build-up to the first goal as a simple mistake, having Anthony Taylor and VAR both fail to punish a blatant hair-pull, however, feels a bit worse.
Pulling things out a bit further, the match also underscores some of Chelsea's other problems. N'golo Kante suffered an injury, which will rob the Blues of his essential midfield presence for some amount of time. The lack of an out-and-out striker was also apparent, as Thomas Tuchel's men dominated stretches of the game but were unable to convert that into a cushion on the scoreboard.
Above all else, though, dropping points to a last second-goal that was proceeded by a controversial call simply has to hurt. That alone would earn Chelsea a spot on this list.
Winner: Manchester City
To be fair, beating Bournemouth 4-0 doesn't really warrant that much praise. Manchester City should be defeating a newly promoted side without breaking much of a sweat. They're winners, however, due to the situation around them in the table.
If we assume that goal number one for Pep Guardiola and company is to win the Premier League, things have already taken a step in the right direction. City have claimed six points thus far, while Liverpool, their biggest rival for the title, have only claimed two. While you could argue that's an insignificant gap, as the two head-to-head meetings account for six points, the Citizens haven't made it a habit of slipping in recent years.
Among the other big clubs, only Arsenal has posted two wins through the opening two weeks of the campaign; Spurs and Chelsea took points off each other on Sunday, and Manchester United is crumbling in real-time.
All of that shapes up to a nice early cushion for Manchester City. While there will surely be plenty of twists in the title race, a four-point lead over Liverpool is pretty close to a dream scenario after two weeks of action.
Loser: Darwin Nunez
On Monday, Darwin Nunez got his chance to lead Liverpool's line and prove that he's the club's top striker. While he'll eventually claim that role and will (probably) be just fine, he failed his first audition miserably.
The young Uruguayan got absolutely played by Joachim Andersen, who frustrated the striker until Nunez lashed out. His head butt earned a red card and will come with a suspension of at least three games (the FA could tack additional punishment on, but that's not likely).
Even with Liverpool's injury issues, they should be able to handle Manchester United and Bournemouth without too much trouble. Newcastle will be a trickier test, but Diogo Jota and/or Roberto Firmino should be ready to play by then.
If anything, though, this red card will only make Nunez's life tougher. Now that he's lashed out, virtually every opponent is going to try to get under his skin. While it's probably not a long-term issue — Nunez is young and, as always, scoring goals will be the best way to fight back — that will make it his first season that much more frustrating.
Like Sportscasting on Facebook. Follow us on Twitter @sportscasting19 and subscribe to our YouTube channel.