Sportscasting Big 6 Picks: Premier League Matchday 8
While the Premier League's Big 6 aren't all in action this weekend, there's still plenty to look out for during Matchday 8.
After an unexpected break last weekend, Premier League soccer is back on the menu. While things aren't completely normal — three matches were postponed — it's still worth savoring the action. We're days away from an international break, and beyond that, the 2022 World Cup is on the horizon.
So, even though only three of England's Big 6 clubs will be in action this weekend, we've still got our picks for you. Without any further ado, let's get into it.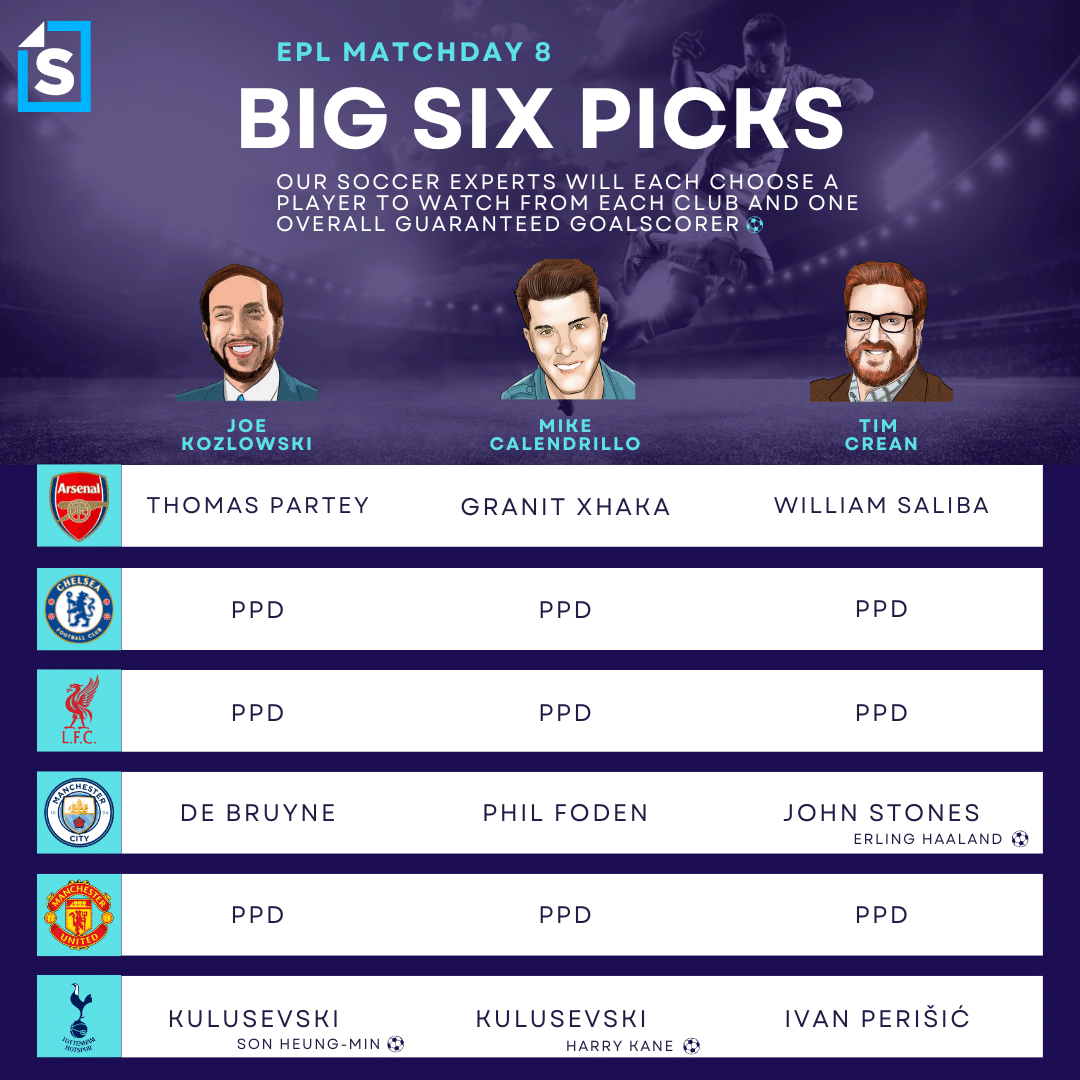 Manchester City vs. Wolves
Joe Kozlowski: Kevin De Bruyne – Wolves haven't been world-beaters this season, but Bruno Lage has proven that he's capable of setting up a sturdy defensive structure. With that in mind, keep an eye on KDB. Not only is the Belgian midfielder always easy on the eye, but he could be the key to unlocking the defense with a perfect pass.
Mike Calendrillo: Phil Foden – After not getting the start in the midweek Champions League match versus Borussia Dortmund (likely due to a horrendous haircut that sees the Stockport-product's No. 47 etched into the back of his head), I expect Pep to deploy the versatile and fully energized Foden – first on the wing, with the freedom to fill in space and shoot at will against Wolves' seesaw defense. 
Tim Crean: John Stones – Diego Costa is back in the Premier League and will likely make his debut against Manchester City. Stones is the only City defender who faced the veteran striker back in 2016-17 when Costa was a prolific scorer for Chelsea. He should be the center-back primarily responsible for marking Costa and, hopefully for City, shutting him down.
Tottenham vs. Leicester City
Joe: Dejan Kulusevski – Thanks to last weekend's postponement, Kulusevski has started Spurs' past two matches on the bench. While that's not a cause for concern – rotation is essential during this compressed campaign – it will be interesting to see how he responds to the change. Will the Swedish attacker hit the pitch ready to prove a point, as he did during his cameo against Sporting? Or will he  be a step out of synch and slip down the pecking order?
Mike: Dejan Kulusevski – Failing to capitalize on one chance after the other (mostly started by Richarlison) came back to haunt Spurs in Tuesday's Champions League match against Sporting. And as much as I love Son Heung-min, his failure to launch so far this season means he is no longer undroppable from the starting XI. Therefore, Dejan Kulusevski should start from the opening whistle. Spurs supporters will hope to see a motivated attack that comes out the gate fast and furious – and looks to put Leicester away early. 
Tim: Ivan Perišić – The former Inter Milan winger has hit the ground running with Spurs and leads the team with 1.4 xA this season. Against a Leicester City team that is struggling down in last place in the Premier League, Ivan Perišić should be able to pick out Harry Kane, Richarlson, Dejan Kulusevski, or Son Heung-min with ease.
Arsenal vs. Brentford
Joe: Thomas Partey – Thanks to last weekend's postponement, it's possible that the Ghanian could return to Arsenal's lineup with only a few matches on the sidelines. It remains to be seen if Mikel Arteta will risk the midfielder, but if he plays, it will be worth keying-in on how Partey looks. If the Gunners want to meet their goals this season, he'll need to be at his best and avoid any more lingering issues.
Mike: Granit Xhaka – Having not played a league match since their 3-1 defeat at the hands of the high-flying Red Devils on Sept. 4, I'm interested to see how Arsenal rebound after a loss. The Gunners are a mostly young team that was exposed by United. They failed to control the ball in the middle of the pitch and struggled to pass with any authority. Because of this, much of the onus will be on their veteran midfielder, Granit Xhaka – whose performance is often a precursor to how the club will fare on the day.
Tim: William Saliba – Brentford striker Ivan Toney is tied with Harry Kane for the third-most goals (five) in the Premier League this season. If Arsenal hope to avoid the same fate as Manchester United and Leeds, the Gunner's viral sensation (Saliba!) will have to play with a maturity beyond his 21 years and grapple with the crafty veteran for 90 minutes. 
Chelsea vs. Liverpool
While this match looked like this weekend's premier attraction, it's been postponed in light of Queen Elizabeth II's death. Policing concerns seem to be at the heart of this one, with the Premier League saying, "Following extensive consultation with clubs, police, local Safety Advisory Groups and other relevant authorities, there was no other option but to postpone the three fixtures. Stamford Bridge, after all, is in West London, and a date with Liverpool would have brought plenty of supporters down from Merseyside.
Manchester United vs. Leeds
This match is the other that was postponed, and while it takes place away from London, the Premier League provided the same statement about police and Safety Advisory Groups. It seems likely that, with recourses drawn south for the late monarch's funeral, there won't be enough police to manage this historic rivalry.
Guaranteed Goalscorer
Joe (1-2 record): Son Heung-min – This may seem like a bold pick, but Leicester haven't done anything to inspire my confidence. If Son is going to get off the mark, it's tough to imagine a better opportunity than a date with Brendan Rodgers' squad and their leaky defense.
Mike: (3-0) Harry Kane – Kane was unable to catch up to a primo ball into the box by Ivan Perišić that would have changed the entire complexity of Spurs' UCL match. I expect the HurriKANE to make up for it with a brace. 
Tim: (3-0 record): Erling Haaland – I've picked Erling Haaland to score in every Big 6 Picks, and he's yet to let me down. As of now, it certainly feels like the big Norwegian will score in every game he plays for the rest of his career, so I'm riding Haaland to 4-0. 
So, even though we don't have a full slate of matches this weekend, make sure to enjoy what's on offer. If you don't, you'll regret it when your footballing options are UEFA Nations League matches and a handful of friendlies.
Like Sportscasting on Facebook. Follow us on Twitter @sportscasting19 and subscribe to our YouTube channel.