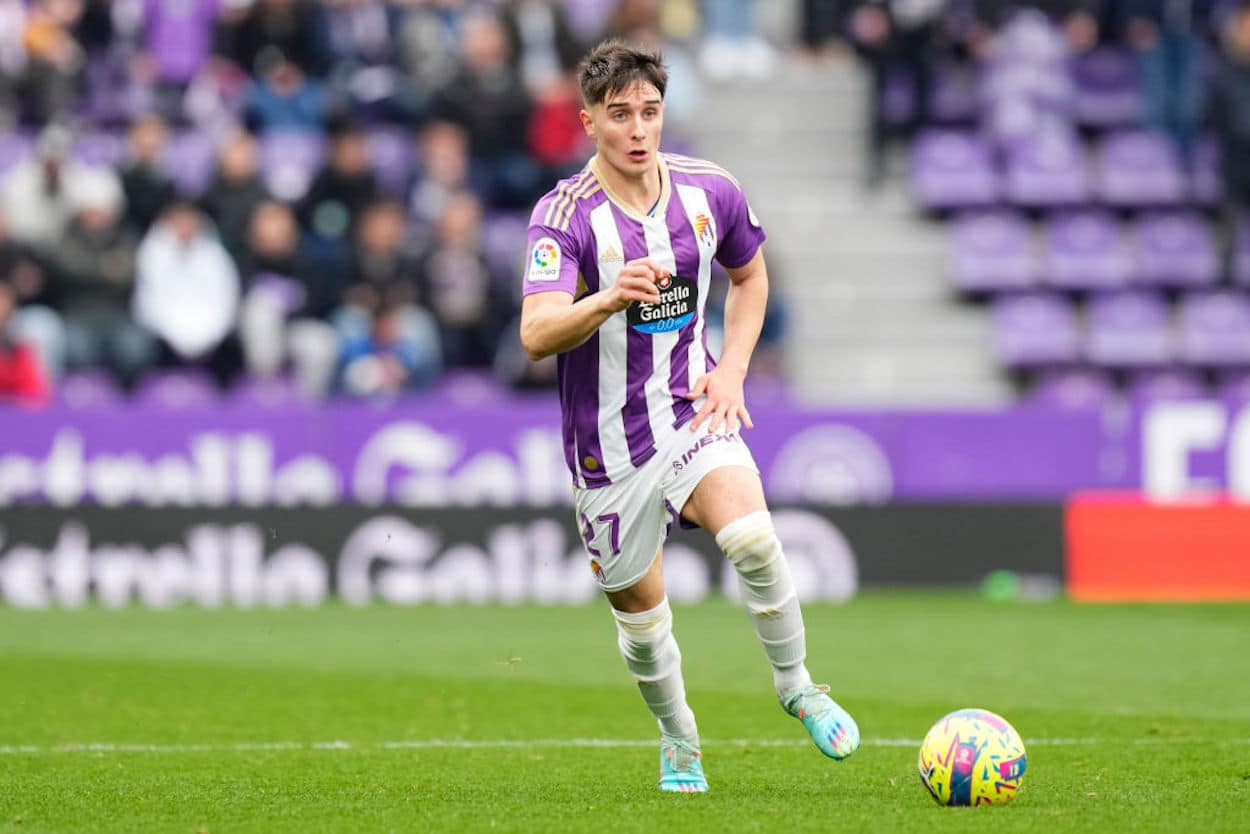 Arsenal Transfers: Ivan Fresneda Rumors Could Spell the End of Kieran Tierney's Time in North London
While it's unclear if Arsenal will pull the trigger on a potential Ivan Fresneda transfer, let's consider how it could affect the Gunners' squad.
While the narrative around Arsenal transfers has been focused on adding to the attack, there's more to a soccer team than forwards. That reality, it seems, hasn't been lost on the Gunners' brass. Rumors have begun to swirl around the club's interest in Ivan Fresneda, a young right back from Spain. Nothing concrete has materialized just yet, but the deal doesn't sound like it would be that difficult to complete.
And while transfers are exciting — a new player brings endless possibilities — there can be downsides, too. Each addition usually warrants a subtraction.
In this case, Fresneda might seem like a replacement for Cedric Soares, but there could be a larger knock-on effect. The young defender's (potential) arrival could be the writing on the wall for Kieran Tierney and his Arsenal career.
Who is Ivan Fresneda, Arsenal's rumored transfer target?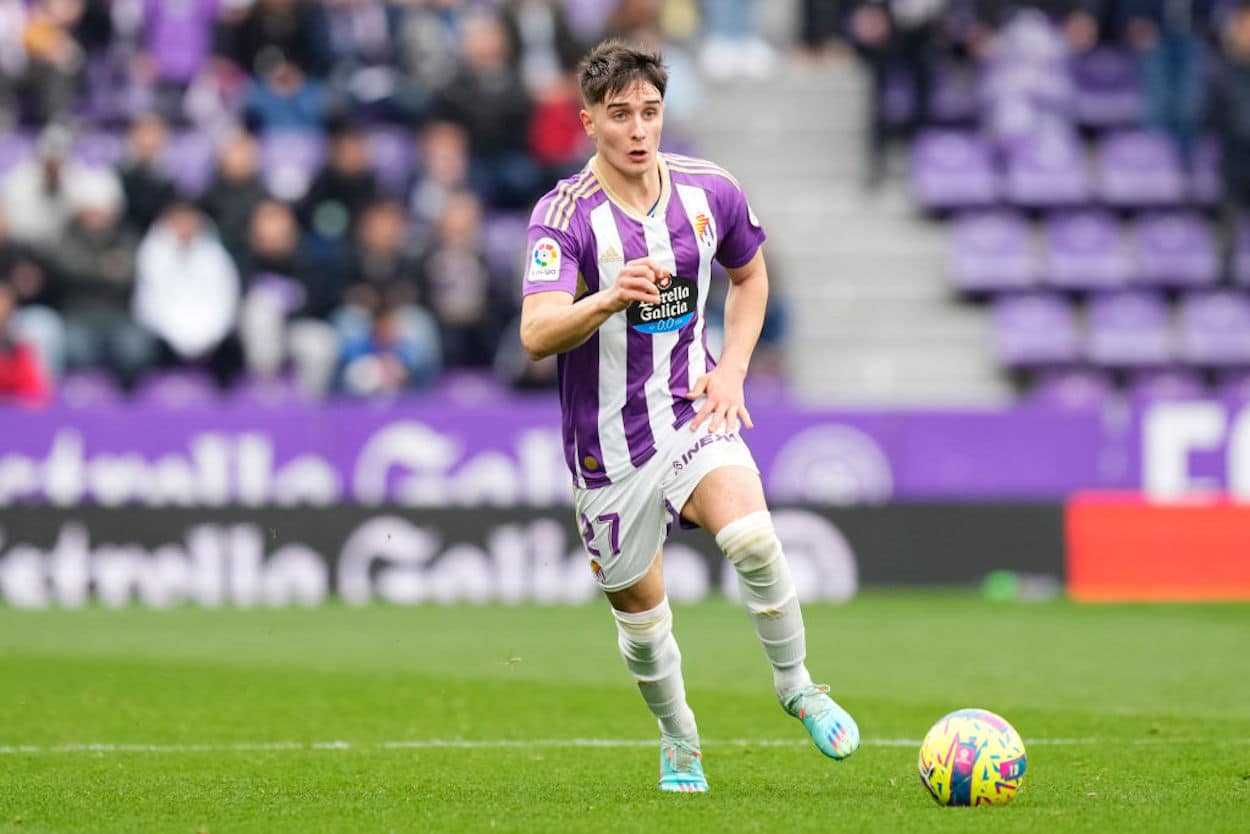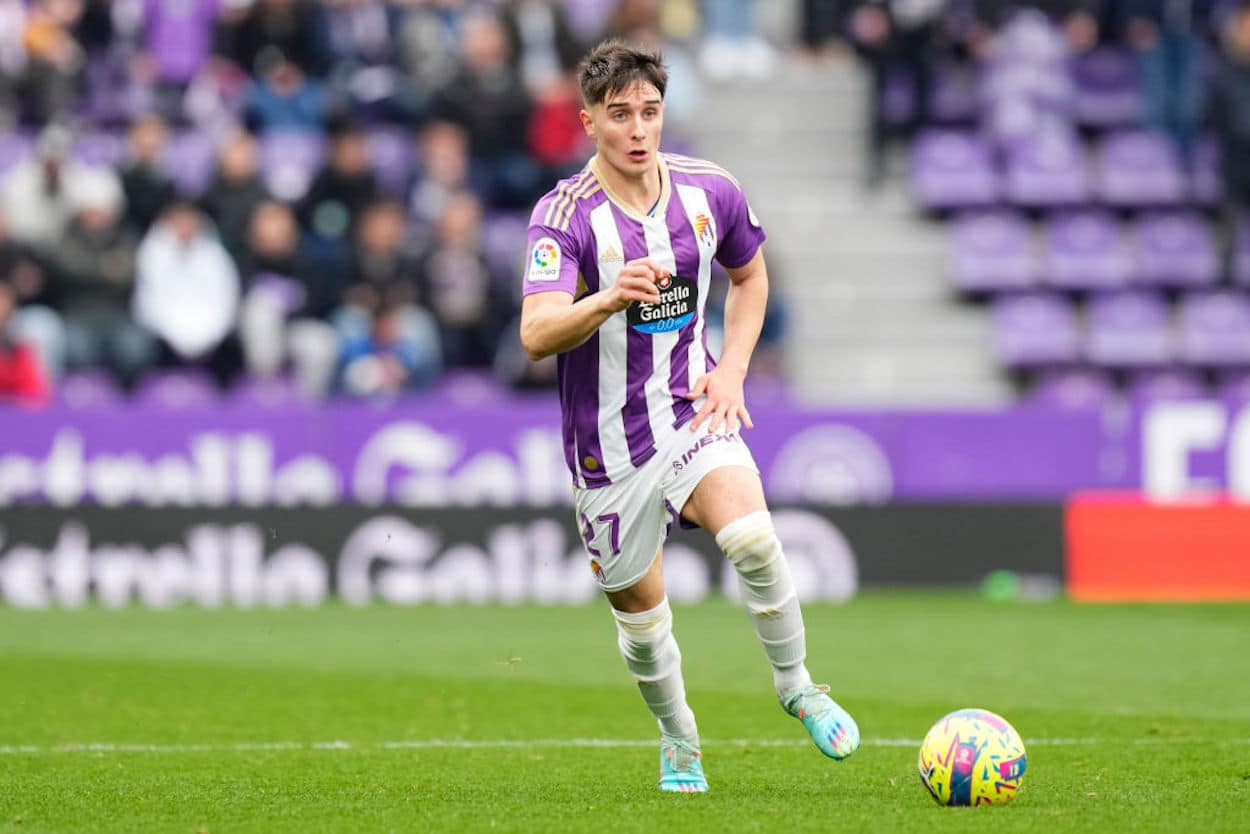 During the transfer window, the names that surface tend to fall into two categories: marquee stars and more anonymous prospects. Ivan Fresneda sits firmly in the latter category.
Fresneda, who is only 18 years old, currently plays right back for Real Valladolid in Spain's La Liga. At this point in time, his counting numbers don't look like much — FBref ranks his tackles per 90 in the 99th percentile, but most of his stats fall below the 50th percentile — although that's somewhat understandable. A teenage defender playing for a lower-end team is probably going to be under pressure more often than not.
Beyond that, there are signs of potential. Fresneda spent time in Real Madrid's academy, is a Spanish youth international, and, as noted above, is starting for a La Liga team that's fighting to avoid relegation. As Sam Dean laid out in a Telegraph piece, "Valladolid coach Pacheta said Fresneda plays with the maturity of a 30-year-old."
Elsewhere, Tom Canton of Football.London also spoke to an anonymous observer who described the defender the right back "as a midfielder masquerading as a [right back]." That sounds just like Oleksandr Zinchenko, who has revolutionized Arsenal's play, albeit from the lefthand side of defense.
It's also worth considering Mikel Arteta and Edu's collective record with transfer targets. While some thought that they were overrating the likes of Ben White, Aaron Ramsdale, and Martin Odegaard, the Gunners' brass have been proven right. If they are (theoretically) interested in Fresneda, that's another positive sign.
Rumors suggest that Arsenal could get the Ivan Fresneda transfer done easily, if they want to pull the trigger
When it comes to transfer rumors, nothing is a done deal until there's an official announcement. Just consider Arsenal's experiences this January as the perfect reminder of that. At the same time, though, the chatter around Fresneda, combined with some context clues, could suggest that the Gunners are in a good position.
According to The Evening Standard, Arsenal have already spoken to Fresneda's representatives about a potential deal. There have been some rumblings about a price, although they don't match up. TalkSport, for example, mentions a £25 million release clause, while the Daily Mail cites a figure of just under £9 million. The Athletic, who are theoretically the most reliable of the bunch, land somewhere in the middle, reporting that a €30 million release clause exists, but a deal could be struck for around €15 million.
While other clubs, like Juventus and Newcastle, are potentially in the fray, logic would suggest that the North Londoners could put together a compelling pitch to both Valladolid and Fresneda. In regards to the former, Arsenal should have cash available after the Mykhailo Mudryk deal fell through. The Gunners also have plenty of defensive cover, even if Cedric departs in January, meaning they can loan Fresneda back to his club for the remainder of the season in an attempt to stave off relegation.
In regards to the player, it should be easy to sell him on a move to London. In addition to the fact that he'd be moving from a team fighting relegation to the Premier League leaders, Arsenal could significantly raise Fresneda's wages without batting an eye.
Ivan Fresneda's arrival could be the final nail in Kieran Tierney's metaphorical coffin
Given that Arsenal already has two players capable of playing right back — Ben White and Takehiro Tomiyasu — and Fresneda is still a teenager, the potential transfer seems like it has to be one for the future. At the same time, though, it could have a very real impact on the current Gunners' squad.
If we omit Cedric from the equation, Mikel Arteta has four full-backs at his disposal: White, Tomiyasu, Oleksandr Zinchenko, and Keiran Tierney. White has monopolized the starting right back spot, while Tomiyasu can step in there as necessary, in addition to filling in anywhere across the back line. Zinchenko is the first-choice left back when he's fit due to his ability to act as an additional midfielder. Tierney, who plays a more conventional version of the position, is the second choice.
If a third right back arrives, especially one who is young and being intentionally purchased by Arteta, something will have to give. Assuming the current starters are safe, that means Tomiyasu and Tierney are on the chopping block. And, between those two, the choice seems clear.
While the Japanese is versatile — he can play at right back, left back, or center back — Tierney can only play on the lefthand side. He's also more of a traditional left back, who likes to bomb forward and whip in crosses, which doesn't mesh with Arteta's preferred tactic of controlling the match. He has, after all, already fallen behind Zinchenko in the depth chart and usually enters the pitch as a late-game substitute.
Should the Scot leave the Emirates and Fresneda arrive, the North London club would presumably slot the Spaniard in as the second-choice right back. Tomiyasu would then take over the backup left back role, in addition to acting as an option across the back line.
Furthermore, Arsenal will theoretically need to start recouping some money soon. Even with owner support, the books will need to get a bit more balanced at some point. Tierney might not be perfect for the Gunners, but he's only 25 and has a boatload of experience under his belt. Should the right club come calling, the North London club could turn a profit — or at least avoid a loss — on their £25 million investment.
And while that potential reality might be painful for some fans, that's the reality of soccer at the highest level. The squad always needs to be refreshed, and that's especially true if Arsenal want to be challenging for the biggest honors in the near future.