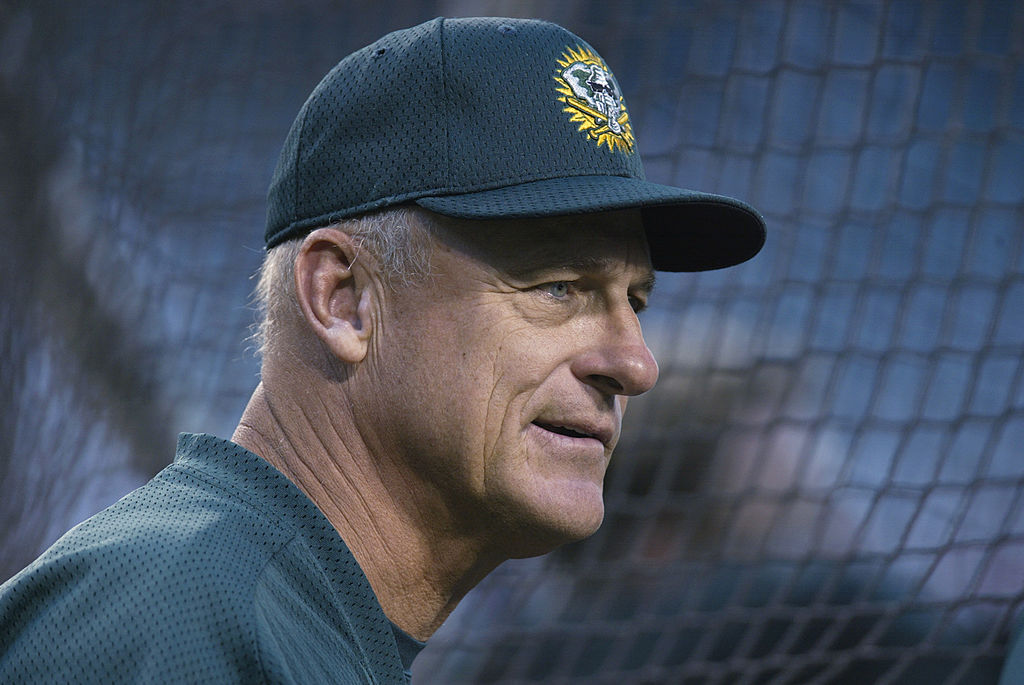 Art Howe Will Always Be Associated With Oscar-Winning Actor Philip Seymour Hoffman
Art Howe was not happy with the way he was portrayed in 'Moneyball,' but he was complimentary toward the work of Philip Seymour Hoffman.
Many sports figures have been the subject of Hollywood movies over the years, but Art Howe is one of the few whose role was taken on by an Oscar-winning actor who was playing just a supporting role.
Howe's connection to the late Philip Seymour Hoffman resurfaced this week with news that the veteran player and manager has been hospitalized after coming down with COVID-19.
'Moneyball' was a Hollywood success
Michael Lewis' 2003 book "Moneyball: The Art of Winning an Unfair Game" was the first exposure that many sports fans had to the use of analytics that has become so commonplace now. Lewis dug deep into how general manager Billy Beane built the 2002 Oakland A's, managed by Art Howe, into an improbable contender despite financial constraints not faced by big-market teams.
The book was made into a 2011 movie starring Brad Pitt as Beane and Philip Seymour Hoffman as Howe, with Jonah Hill playing the role of the assistant GM and SABRmetrics expert.
Moneyball grossed a little more than twice its $50 million production budget, but the real victory came in response from critics. The screenplay moved beyond contract figures and batting averages in humanizing the central figures. The result was six Academy Award nominations, including best actor for Pitt and best supporting actor for Hill.
Art Howe believed he got a raw deal in the movie
Art Howe has spent much of his life in baseball, beginning with an 11-year playing career that started with the Pittsburgh Pirates in 1974. Known primarily for playing second and third base for the Houston Astros, he hit .260 over 891 games.
Howe's career as a manager began in 1989 with five seasons with the Astros. He then managed the Oakland A's from 1996 to 2002, followed by two seasons as skipper of the New York Mets. He won 1,129 games and lost 1,137 for a .498 winning percentage, though he did take Oakland to the playoffs in his final three seasons.
Howe was upset over the way he was portrayed in Moneyball, saying that inaccuracies in the story contributed to him being made to look like a villain. He said he was never consulted by anyone involved in the making of the move and speculated to The Mercury News that general manager  Billy Beane influenced the negative characterizations.
"Where else would they get the information?" Howe said. "People who don't know me are going to think that's how I was. You work to build a reputation and then in two hours this movie breaks it down."
Beane denied Howe's assertion, calling the comments "misguided."
Given that baseball insiders have picked apart some factual errors in the movie, there's room to believe that Howe could have been made to appear too standoffish to Beane.
Art Howe was OK with Philip Seymour Hoffman's acting
Actor Philip Seymour Hoffman, who won an Academy Award for his starring role in Capote in 2005, died of a drug overdose in 2014 at the age of 46.
According to The New York Post, the original vision for Moneyball was something closer to a documentary, with former Oakland A's manager Art Howe even approached to play himself. Sony executives called a halt to that late in the process and decided to team Brad Pitt with director Bennett Miller. It was Miller who had directed Hoffman in Capote, so the actor suddenly took an interest in joining the project.
Reflecting back on the movie after Hoffman's shocking death, Howe said he had no animosity toward Hoffman.
"He was a tremendous talent," Howe said. "I saw his comments about his portrayal of me. He was following his script. He knew it wasn't me, but you've got to do what you've got to do."
Howe said the whole experience gave him a different perspective on Hollywood: "Ninety percent of my scenes were false. I guess someone had to be the villain. I was the villain. … Now, any time I see 'Based on a true story,' I know it's very loosely based on a true story."