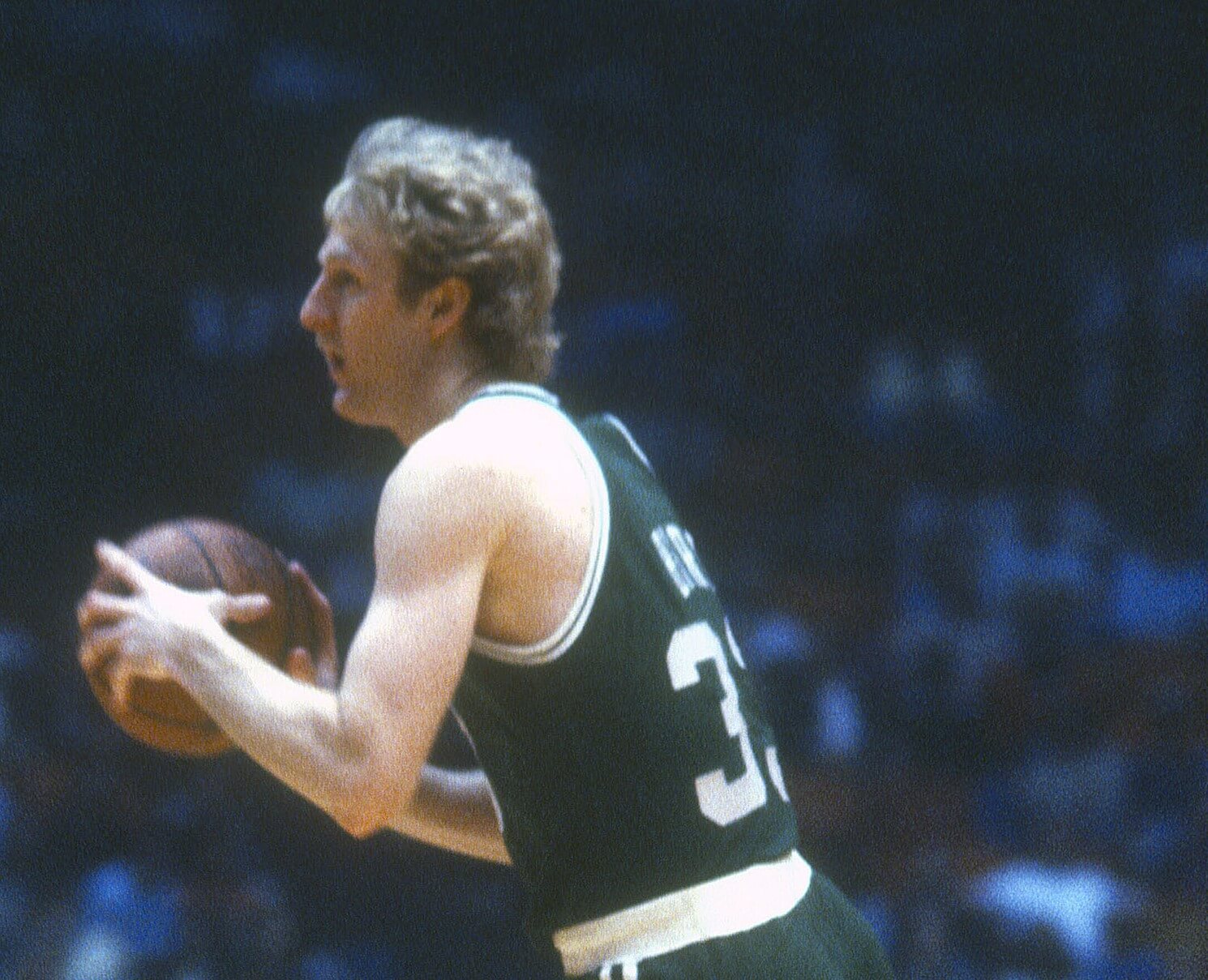 As a Rookie, Larry Bird Was Asked to Write Down How Many Wins He Thought the Boston Celtics Would Have That Season
Larry Bird showed a hint of optimism when it came to turning the Boston Celtics around in his rookie season.
Larry Bird came into the NBA with plenty of hype. Fresh off a berth in the epic 1979 NCAA title game, Bird was expected to help save a Boston Celtics franchise that collected just 29 wins in the 1978-79 NBA season.
He did just that. He also may have underestimated the impact he'd have. Head coach Bill Fitch asked Bird to write down how many victories he thought the Celtics would have during the 1979-80 season. Bird was optimistic, but he was still pretty far off.
Larry Bird made an instant impact with the Boston Celtics
The Boston Celtics made Larry Bird the sixth overall pick in the 1978 NBA Draft when the forward out of Indiana State was a junior. Bird, however, made it clear he wanted to return to college for his senior year, so the Celtics held his rights up until the '79 draft.
With negotiations coming down to the wire, Bird and the Celtics came to an agreement that made him the highest-paid rookie in NBA history. Expectations were high, but Bird delivered.
In his first NBA season, Bird averaged 21.3 points and 10.4 rebounds. He played all 82 games, averaging 36.0 minutes. Bird was named Rookie of the Year, and he helped the Celtics win 61 games. Boston went 29-53 the previous season.
In his second year, he led Boston to its first of three championships in the decade as the Celtics defeated the Houston Rockets in the 1981 NBA Finals. In 1984, Bird won the first of his three straight MVPs and led the Celtics to another championship when they outlasted the rival Los Angeles Lakers in seven games.
Bird had another MVP/championship year in 1986 after Boston beat the Rockets again in the championship round.
Bird underestimated himself and the Celtics with his win prediction in 1980
Initially, Bird questioned himself as a rookie in the NBA, but it didn't take long for him to adjust and make an impact. How much of an impact he'd make was uncertain. Fitch approached Bird before he played in an NBA game and wanted to see team expectations through the eyes of the young rookie.
"As a rookie entering a team with a lot of key veterans, I knew my place," Bird said in his book Drive: The Story of My Life. "I just wanted to get along, but I was never exactly sure what anyone was thinking, especially Bill Fitch.
"During training camp, he came up to me one day and said, 'Write down on this piece of paper how many games you think we are going to win this year.' I put down 47. I figured, 'They won 29 the year before. They'll go crazy if we win that many.'
Fitch said, 'That's awfully high. You must really think something is going to happen around here.'"
Bird bet on himself to help turn the team around, but he didn't go quite high enough. Boston's 61-21 record topped the NBA. The Celtics, however, were ousted by the Philadelphia 76ers in five games in the conference finals.