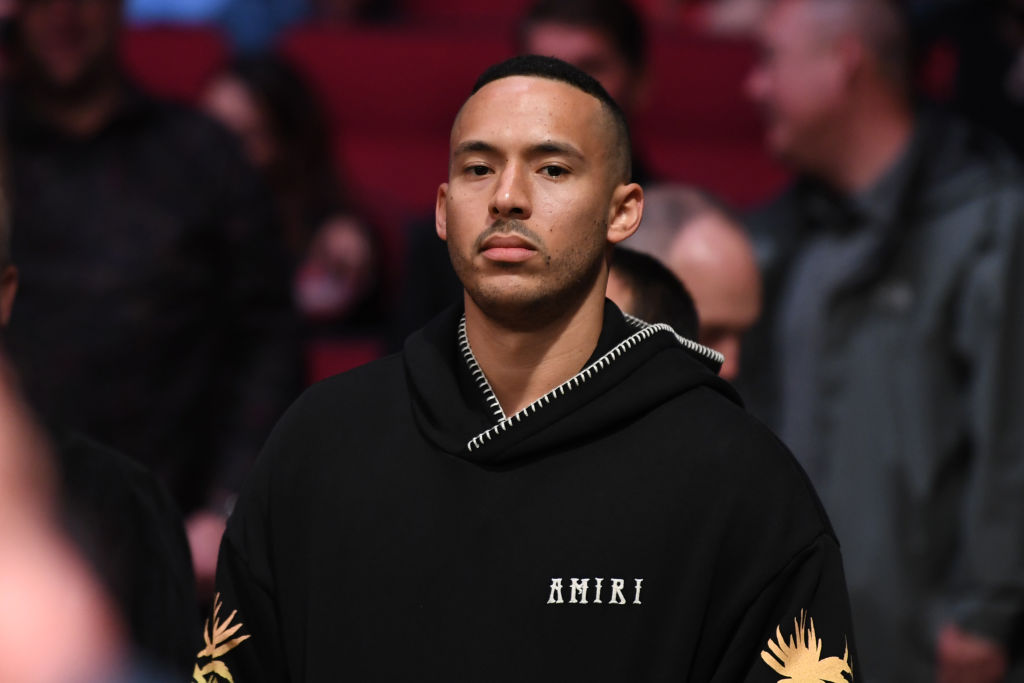 Astros Shortstop Carlos Correa Envisions a Future Fighting in UFC
Carlos Correa has established himself as one of the top shortstops in baseball. After his playing days are over, Correa wants to cross over into a career in the UFC.
In Carlos Correa's five years in MLB, he has established himself as one of the top shortstops in the American League and was a crucial part of the Houston Astros World Series title-winning team in 2017. Correa, who is a long-time fan of mixed martial arts and the UFC, envisions his future beyond baseball and that includes fighting in the octagon.
Carlos Correa's young career and involvement in cheating scandal
After being selected as the No. 1 overall pick by the Houston Astros in the 2012 MLB draft, Carlos Correa made his MLB debut in 2015 at the ripe young age of 20. Correa impressed. Appearing in 99 games, the shortstop hit 22 home runs, drove in 68 RBIs, and finished with a .279 batting average. For his efforts, he was named the AL Rookie of the Year.
Correa's numbers remained steady his sophomore year, but he had his best year-to-date in 2017, when he finished with 24 homers, 84 RBIs, and a .315 batting average for the regular season where he made his first All-Star appearance. More significantly, Correa was a big contributor in the Astros' post-season push belting five home runs as the Astros defeated the Red Sox, Yankees, and the Los Angeles Dodgers for the organization's first World Series title.
When MLB announced the findings of its investigation into whether or not the Astros cheated using technology to steal signs from their opponents during the 2017 season, Correa was identified as one of the guilty parties. He later apologized for his actions. "We were wrong for everything we did in 2017. It's not what we stand for. It's not what we want to portray as an organization, and we were definitely wrong about all that and we feel really sorry. We affected careers, we affected the game in some way, and looking back at it, it was just bad."
Carlos Correa envisions a future in the UFC
While Carlos Correa gets paid millions of dollars to play baseball, he's been a long-time fan of mixed martial arts and the UFC in particular. He even has his own podcast on the sport called "The Walkout." In an interview with MMA Junkie, when asked what MLB player would be best suited to make the transition to the octagon, Correa never hesitated.
"It would be me. I would love to cross over into the UFC. I grew up boxing and I loved it, but I realized, 'Man, in baseball, you don't get hit as much.' In boxing, I'm going to have to be constantly getting hit in the face and stomach, in the ribs, and that hurts. I stuck to baseball, and it worked out well for me. But definitely, I would love to try."
The 6-foot-4-inch, 215-pound Correa, who successfully predicted Justin Gaethje, on short notice, would beat Tony Ferguson at UFC 249, said the thought of getting inside the octagon is exhilarating, especially the concept of getting knocked out. 
"Getting KO'd, I would love to know what that feels like in the octagon. But also getting a KO. It's hard to speak about it and talk about the adjustments fighters need to make when you're on the sidelines. But when you're actually in there feeling the power from your opponent, it's tough to make those adjustments. It will be a different perspective if you're able to get in that octagon."
Another top professional athlete has successfully made the transition to UFC
While some might question whether or not Carlos Correa would be successful, there's precedent in former athletes transitioning to the UFC after their sports careers are finished. Former Dallas Cowboys defensive end Greg Hardy has done just that.
Hardy announced in October 2016 he was pursuing a career in mixed martial arts despite no previous experience and debuted as an amateur a year later. After three victories as an amateur, followed by three wins as a pro, Hardy joined the UFC. 
Since turning pro, the 6-foot-5-inch, 265-pound Hardy has a 6-2 record and has earned $783,000, which is a considerable amount of money for a less experienced fighter. The UFC's Dana White understands name recognition sells. As long as Hardy wins his fights, White will continue to pay the former NFL defensive star and pay him well. You can bet whenever Correa decides to hang up the spikes one last time, the same type of offer will be waiting for him.