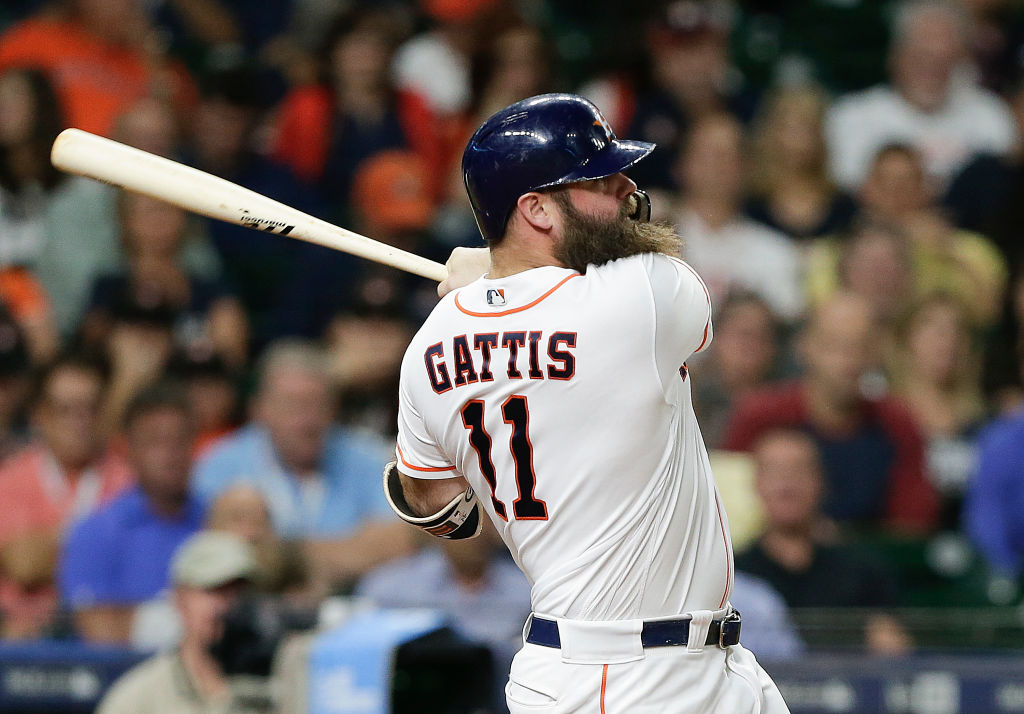 Former Astros Catcher Evan Gattis Admits Team 'F*cked up' and Deserving of Scorn from Fans
Former Astros catcher Evan Gattis delivered profanity-laced rant in an interview where he said "they f-cked up" and Astros organization deserves scorn.
With MLB on indefinite hold like the rest of the sports world, Houston Astros players have been given a temporary reprieve from answering questions about the sign-stealing scandal. That didn't stop former Astros catcher Evan Gattis from going on a profanity-laced rant in a recent interview where he said the Astros organization deserves the feelings of contempt expressed by fans and opposing players.
Astros busted for cheating scandal
In January, MLB commissioner Rob Manfred announced the Houston Astros had been involved in sign-stealing and other cheating tactics during the 2017 World Series-winning season and in 2018. 
Manfred suspended general manager Jeff Luhnow and manager A.J. Hinch for one year, and the Astros were fined $5 million as well as losing their first- and second-round picks in 2020 and 2021.
Astros owner Jim Crane wasted no time and fired Luhnow and Hinch for their roles in the cheating scheme. MLB's announcement had ripple effects on others who were part of the scandal but no longer with the Astros organization. The Red Sox fired manager Alex Cora, and the New York Mets ousted Carlos Beltran for their parts in the scheme.
Surprisingly, the Astros players escaped any punishment because of their cooperation with the league's investigation.
The failed Astros apology tour 
In mid-February, during spring training, the Astros called a press conference to address the scandal. Crane, along with players Alex Bregman, and Jose Altuve addressed questions from the media and offered up responses that left many unsatisfied for obvious reasons.
"We had a great team meeting last night and the whole organization and the team feels bad for what happened in 2017. We especially feel remorse for our fans and for the game of baseball," Altuve told reporters.
Crane offered up even less than his star second baseman.
"Our opinion is this didn't impact the game. We had a good team. We won the World Series, and we'll leave it at that." Moments later, Crane denied he ever said it didn't impact the game. 
Anyone who listened to the players or owner recognized there was no genuine feelings of remorse or regret. Crane even said it didn't impact the game. Until he said it didn't. That bizarre press conference was the last time anyone with the Astros organization spoke about the topic. Until this week.
Evan Gattis rants about Astros and how they 'f-cked up'
Former Astros player Evan Gattis, who retired after the 2018 season, offered an expletive-laden apology and explanation of what happened in an interview on The Athletic's "755 is Real" podcast.
In the interview, Gattis, who was a catcher and designated hitter on the World Series-winning team, said the players got so caught up in the sign-stealing scheme and they "f-cked up," and they deserve whatever scorn is directed at them from fans and opposing players around the league.

"Everybody wants to be the best player in the f-cking world, man, and we cheated that, for sure. We obviously cheated baseball and cheated fans. Fans felt duped. I feel bad for fans."

Evan Gattis
Evan Gattis said he understands if even the sincerest of apologies aren't well received.
"If our punishment is being hated by everybody forever, then (so be it). And I don't know what should have been done, but something had to be f-cking done. I do think it's good for baseball if we clean it up. I'll get ripped by somebody — 'That's not an apology' — and if I do apologize, that's still not going to be good enough. No s-it, it's not going to be good enough. I understand that it's not f-cking good enough to say, sorry."
Gattis gets it. He understands what they did was wrong, and it's obvious by the interview, he genuinely feels bad for it. He also understands the resulting anger everyone has toward the cheating itself and the lack of an adequate response by the Astros organization. 
Now the question is—will other Astros players currently on the team who were just as involved in the scheme ever show the same amount of regret? Time will tell.