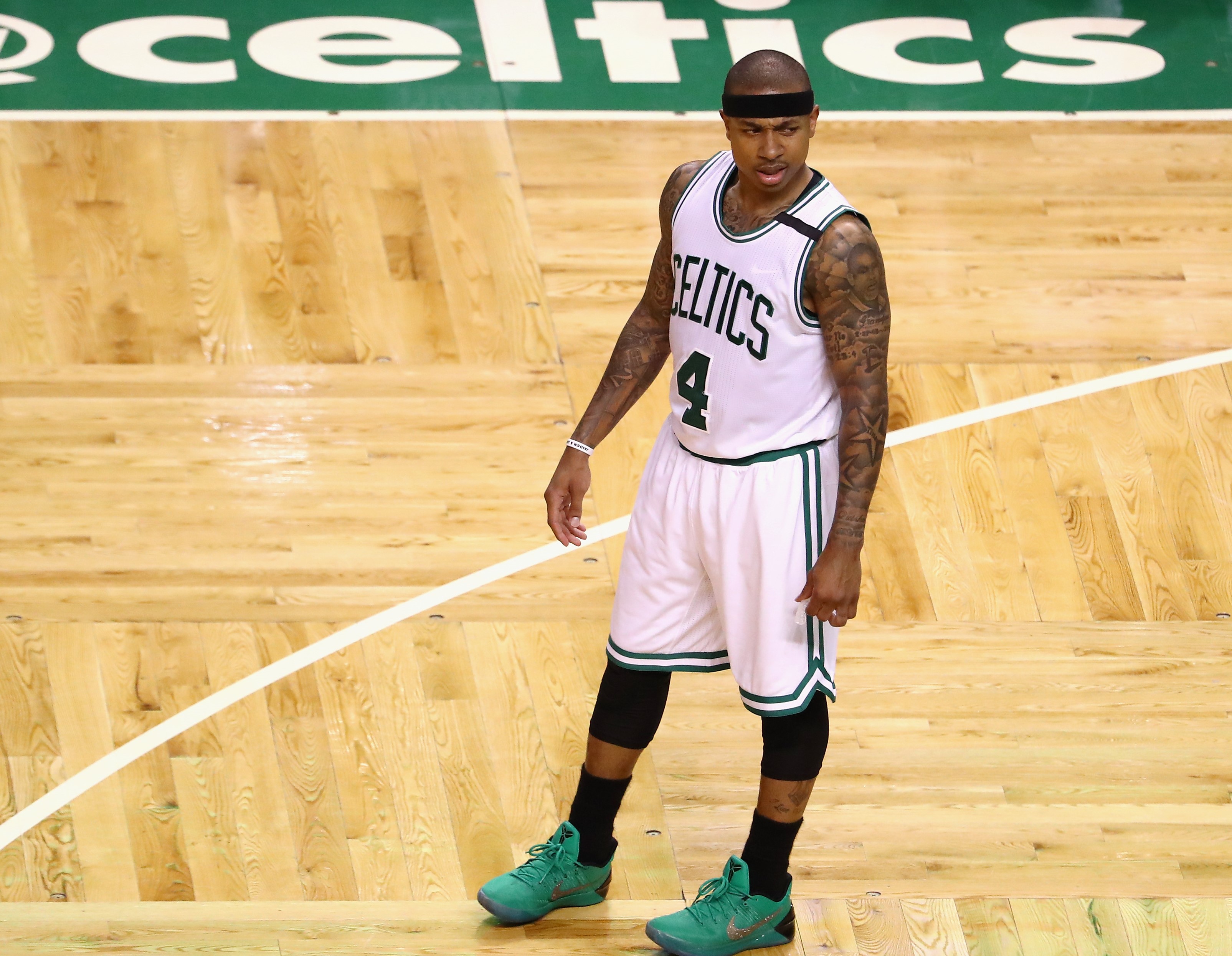 At 5-Foot-9, Isaiah Thomas Said He Figured Out the NBA With the Boston Celtics and Insisted There Was More Coming
Isaiah Thomas said he figured the game out with the Boston Celtics and would've averaged 34 points had he not gotten injured.
The Boston Celtics have been on the right end of many one-sided NBA trades during their rich history. One of the most underrated deals involved 5-foot-9 point guard Isaiah Thomas. The Celtics plucked Thomas away from the Phoenix Suns in a three-way deal in February 2015.
Thomas played two-plus seasons in Boston and made his only two All-Star appearances when he played for the Celtics. He captured the hearts of Celtics fans with his ability to score and his gritty play. During the 2016-17 season, he averaged 28.9 points before a hip injury ended his career in Boston. Recently, Thomas said he put up 29 points per game because he "figured out" the game and said if not for that hip injury, he would've averaged 34 the following season.
Isaiah Thomas put two magical seasons together with the Boston Celtics
The expectations weren't this high when the Boston Celtics traded Tayshaun Prince, Marcus Thornton, and a first-round pick that brought back Isaiah Thomas, Jonas Jerebko, and Gigi Datome in a three-way trade with the Phoenix Suns and the Detroit Pistons in February 2015. Thomas more than did his part for Boston.
In his first full season with the Celtics, Thomas, a 5-foot-9 guard out of Washington, played all 82 games and averaged 22.2 points and 6.2 assists. He earned his first All-Star appearance.
Thomas followed that season by averaging 28.9 points. He started all 76 games he played before injuring his hip and missing the postseason. Thomas never played another game for the Celtics. Boston traded him in the offseason to the Cleveland Cavaliers in a deal for Kyrie Irving.
Thomas was never the same. He played for seven different teams over the next several seasons, never suiting up for more than 40 games in a season for any of them.
Recently, during an appearance on Gil's Arena, a podcast hosted by former NBA star Gilbert Arenas, Thomas said if Russell Westbrook didn't average a triple-double during the 2016-17 season, he would've been the league's MVP.
"With all due respect, and all respect to Westbrook, too, if he didn't average a triple-double, I probably would've gotten MVP," Thomas said. "He was the first player to average a triple-double since Oscar Robertson. My team was No. 2 in the league, I averaged 29 at 5-9."
Thomas said he would've averaged 34 points had he not gotten injured
As Thomas was explaining how he might've won MVP if not for Westbrook's unique statistics, Arenas jumped in.
"Your team sucked, too," he said. "I'm just being honest, man. Even though Jayson Tatum — that's him now. That's not what he was then.'
For the record, Thomas never played with Tatum.
"I definitely had all role players," said Thomas of playing with Jaylen Brown as a rookie. "It was kind of like AI's (Allen Iverson) 2001. They complemented what I didn't do, and I helped them what they couldn't do.
"Of all the starting point guards, I averaged the least amount of minutes that year. It wasn't like it was iso ball. It was real hoop. I just figured it out. It was to the point where I knew next year I was gonna average 34. I knew it because I figured the game out.
"I promise you, once I seen it and figured the game out. My whole thing was I had 12 by halftime, 20 by the end of the third. If I had 20 by the end of the third, I was going for 35-plus."