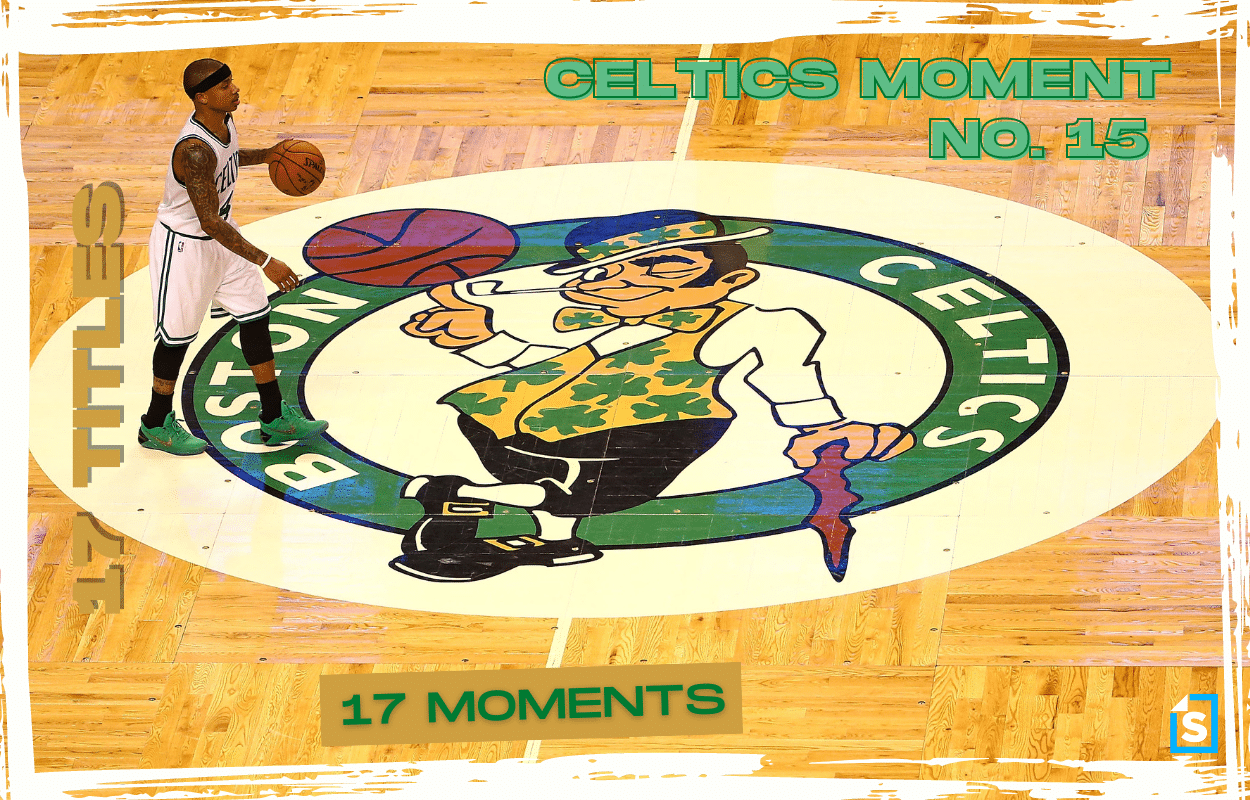 Isaiah Thomas Took Control With the Heaviest of Hearts: Boston Celtics Championship History Moment No. 15
Somehow, an exhausted Isaiah Thomas managed to lead the Boston Celtics with 53 points days after attending the funeral of his younger sister.
It's tough to find a Boston Celtics player who captured the hearts of the fans in such a short time more than Isaiah Thomas. Thomas spent two-plus seasons in Boston, where he had the only two All-Star seasons in his 11-year NBA career and became the unquestioned leader of the team.
Listed at 5-foot-9 and selected as the final pick in the 2011 NBA Draft, nothing was ever given to Thomas. The doubters were always there. Everything came together in Boston for the point guard after the Celtics acquired him in a February 2015 trade from the Phoenix Suns. With Boston, he quickly became a fan favorite.
Not only did Thomas average 22.2 and 28.9 points in his two full seasons with the Celtics, but nobody gave more than the man known as "IT." That became evident during the 2017 NBA Playoffs that began one day after the unexpected death of Thomas' younger sister Chyna.
Thomas battled emotions, heartache, and back-and-forth cross-country flights to attend Chyna's funeral and play for the Celtics. On May 2, 2017, a mentally and physically drained Thomas did what very few could ever do. He put up 53 points in an overtime playoff victory over the Washington Wizards on what would have been Chyna's 23rd birthday.
In honor of the Boston Celtics' 17 championships, we're highlighting 17 signature moments, both good and bad, that took the Celtics from a woeful 22-38 BAA debut in 1946-47 to the current iteration of the longtime powerhouse franchise that's now coming off an NBA Finals appearance. The 17-part series on the Celtics' championship history will run through the summer and take us to the beginning of the 2022-23 NBA season, one Boston hopes ends will with Banner No. 18.
Isaiah Thomas nets 53 points in emotional playoff effort against the Washington Wizards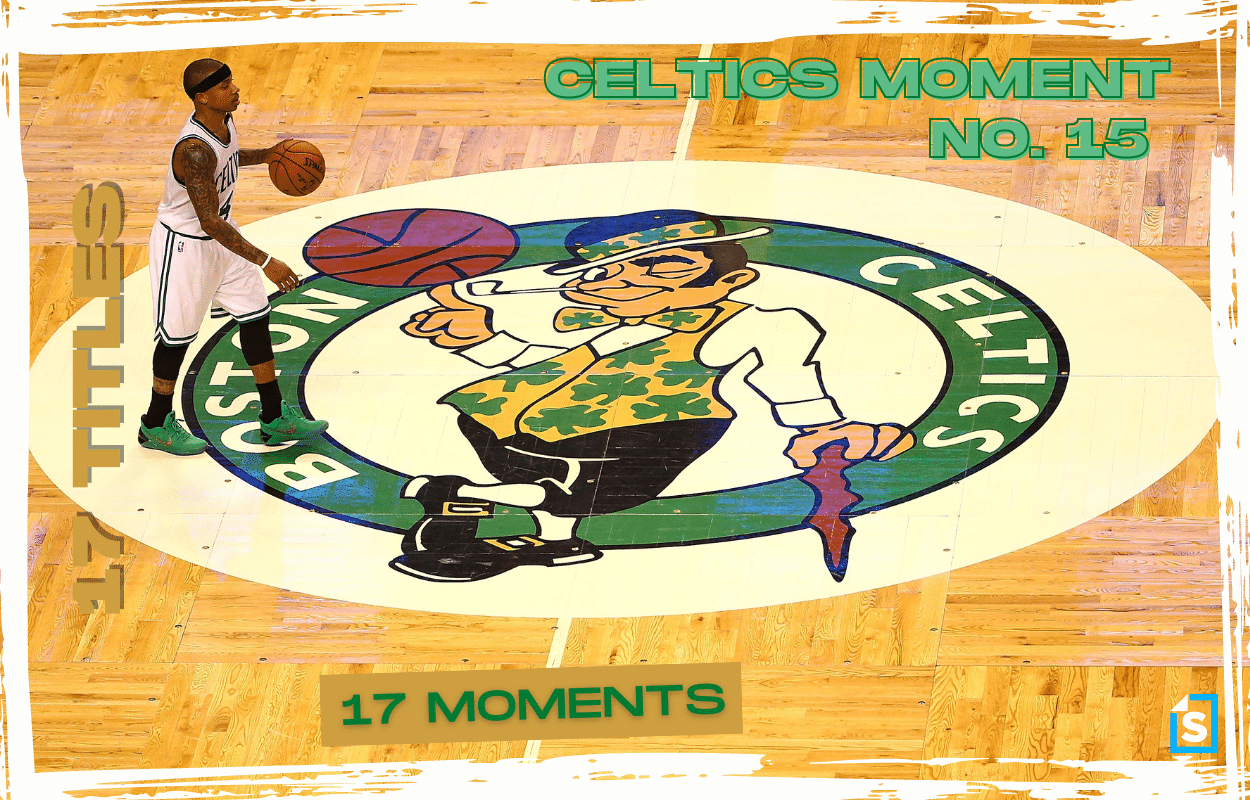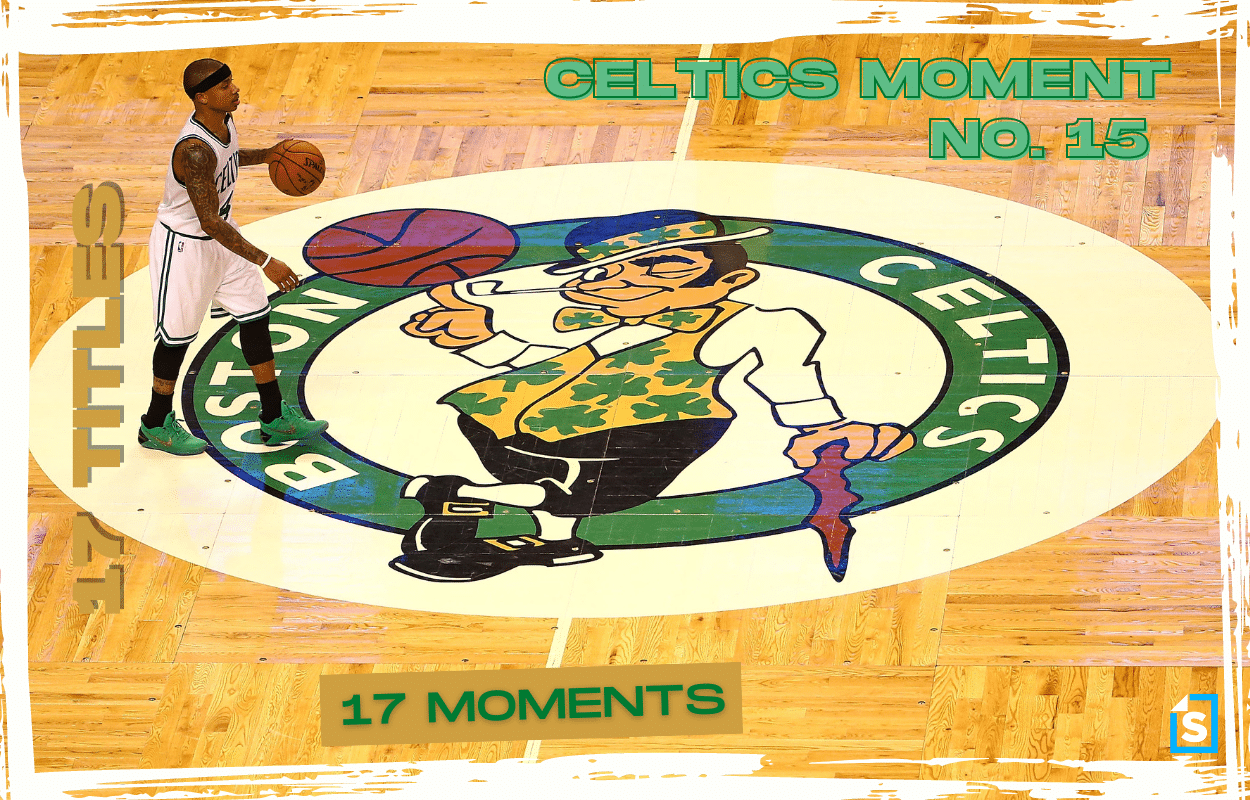 It's hard to even imagine what Thomas was going through during the 2017 playoffs. Somehow, he found a way to play in the opening round against the Chicago Bulls. The day after Chyna's death, Thomas put up 33 points, six assists, and five rebounds in Boston's 106-102 loss to the Bulls. The Celtics dropped the first two games of the series but won the next four to advance to the Eastern Conference Semifinals.
Immediately following Boston's Game 6 win over the Bulls, Thomas flew to Washington for his sister's funeral. He quickly returned just in time for Game 1 against the Wizards and racked up 33 points in a 123-111 victory.
It was Game 2 when Thomas had his signature moment.
Thomas spent hours before Game 2 in a dentist's chair. He took an elbow to the mouth in Game 1, losing a tooth in the process. Not only was Thomas in pain from the surgery, but the pain of knowing it was Chyna's birthday two weeks after her death numbed him as well.
Undeterred, Thomas sucked it all up and poured in 53 points as Boston took a 2-0 series win with a 129-119 overtime win. It was the second-most points scored by a Celtics player in playoff history. The legendary John Havlicek scored 54.
"Today is my sister's birthday," Thomas said after the game, per USA Today. "She would've been 23 today, so the least I can do is go out there and play for her."
Thomas said basketball served as a form of therapy.
"My family, my friends, they tell me to just keep going. My sister wouldn't want me to stop. The only thing about it is once I leave this gym, I hit reality, and she's not here. That's the tough part. When I'm in this arena, I can lock in, and I know everything I do is for her."

Isaiah Thomas in 2017 after scoring 53 points on what would have been his sister Chyna's 23rd birthday
The Celtics went on to win the series in seven games.
Thomas earned his spot among Celtics icons
Thomas didn't play three full seasons with the Celtics, but he'll be remembered for giving Boston all he had. While he didn't have the long-term impact of Larry Bird or Bill Russell, Thomas arguably did more with less than any Celtics player in history.
As talented as Thomas was offensively, it's the chip on his shoulder that drove him to succeed. He quieted the doubters. He proved many wrong. In Boston, he played when most people wouldn't have. Not only did he play, but he led the way during the most difficult period of his life.
He earned respect, not only for scoring 53 that night but for becoming one of Boston's greats during his short time with the Celtics. Thomas is a Boston icon. It's not because of his basketball skills. It's the desire and determination it took for him to go out there and show those skills that earns him a place among Boston's best.
"What else is there to say?" then-head coach Brad Stevens said after the 53-point night, per The Ringer. "I thought he was really gonna have to gut this out one. He not only guts it out, he ends up with (53). Pretty impressive." 
"I always dream of moments like this," Thomas said after the game. "Those are where legends are born. One day I want to be one of those guys."
You are, Isaiah. You are.
Like Sportscasting on Facebook. Follow us on Twitter @sportscasting19 and subscribe to our YouTube channel.