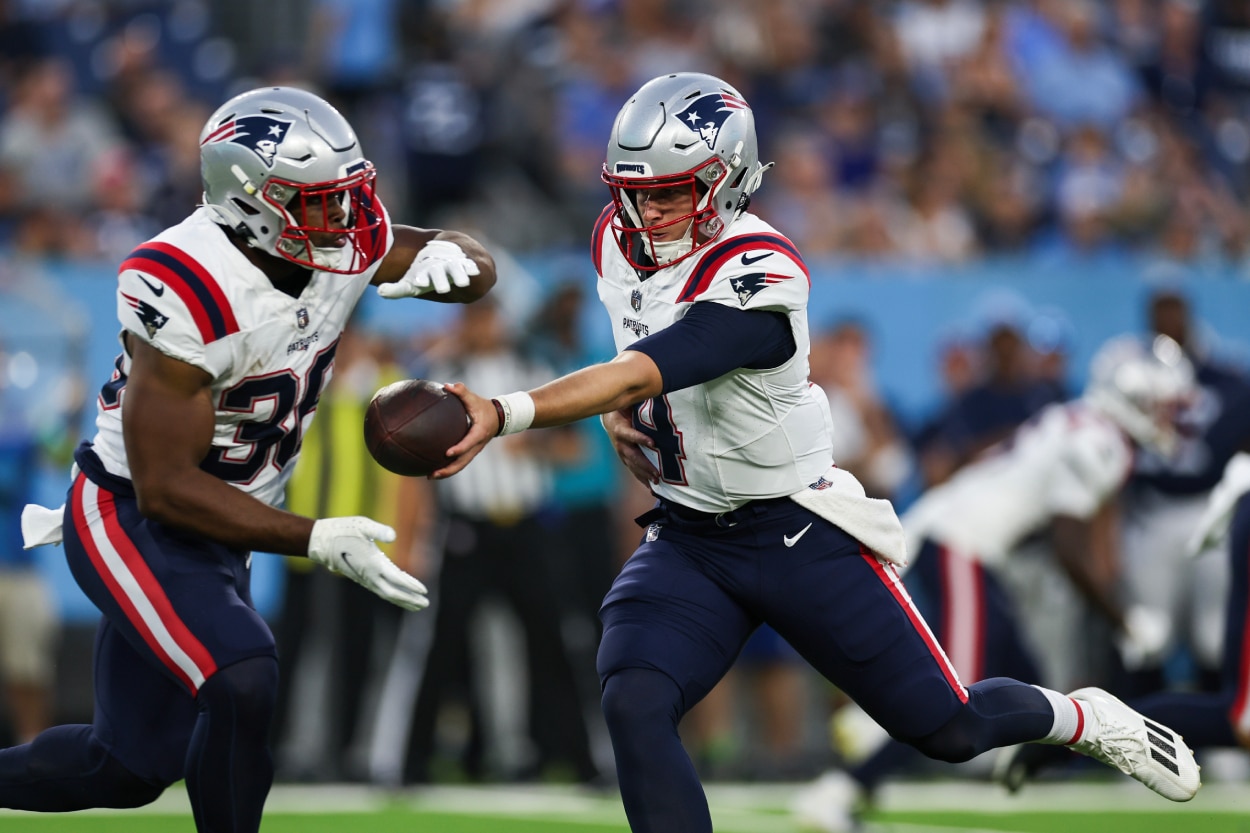 Bailey Zappe Proves Just How Fragile Life In the NFL Can Be
The New England Patriots cut fan-favorite quarterback Bailey Zappe on Tuesday.
Cutdown day can be brutal for many NFL players. While it's not always a shocker to those who get released, there are always plenty of surprises.
Quarterback Bailey Zappe didn't survive cutdown day. To many New England Patriots fans, that was a surprise. Zappe took New England by storm a year ago, filling in for the injured Mac Jones. Now, instead of battling for the No. 1 QB spot, Zappe's fighting to find life in the NFL.
Bailey Zappe more than held his own as a rookie in the NFL
Bailey Zappe wasn't supposed to see the field last year. He was New England's third quarterback who was pressed into action after longtime backup Brian Hoyer went down with an injury against the Green Bay Packers in Week 4.
Hoyer got the start at Lambeau Field because Jones suffered an ankle injury at the end of a Week 3 loss to the Baltimore Ravens. He didn't last long as he left the game in the first quarter with a head injury. Zappe was then thrown into action.
In his first NFL game, he completed 10 of 15 passes for 99 yards and a touchdown, but the Pats fell to the Packers in overtime. With Jones and Hoyer out, Zappe made his first NFL start in Week 5 at home against the Detroit Lions. In that one, he went 17-for-21 for 188 yards with a touchdown and interception. The Patriots won 29-0.
Zappe then started Week 6 against the Cleveland Browns and threw for 309 yards and a pair of touchdowns in a 38-15 win over the Cleveland Browns. After going 2-0 in his first two starts, Zappe was on top of the world, and a QB controversy brewed in New England.
Jones returned to the starting lineup at home against the lowly Chicago Bears and struggled, prompting chants for Zappe from the Patriots faithful. After completing three of six passes for 13 yards, Jones was replaced by Zappe, who threw two picks in an ugly 33-14 loss. Jones returned as the starter for Week 8 and strung together three straight wins, ending all speculation on who was the team's starter.
The Patriots released Zappe on Tuesday
While Jones headed into training camp in preparation for the 2023 season, it was his job to lose. Zappe, however, expected to give him a run for his money. After a subpar preseason, the Patriots cut Zappe loose.
What's more surprising is that the Patriots also cut Malik Cunningham, another backup quarterback, on Tuesday. After releasing QB Trace McSorley earlier, the Patriots are left with Jones as the only quarterback on the roster.
According to Dianna Russini of The Athletic, the Patriots hope to bring Zappe back if he clears waivers. It's an interesting gamble if they really want Zappe because he's 2-0 in his two starts and would be an inexpensive, young backup quarterback.
It's been an interesting NFL ride so far for Zappe, who has proven that life in the league can be quite the rollercoaster ride.