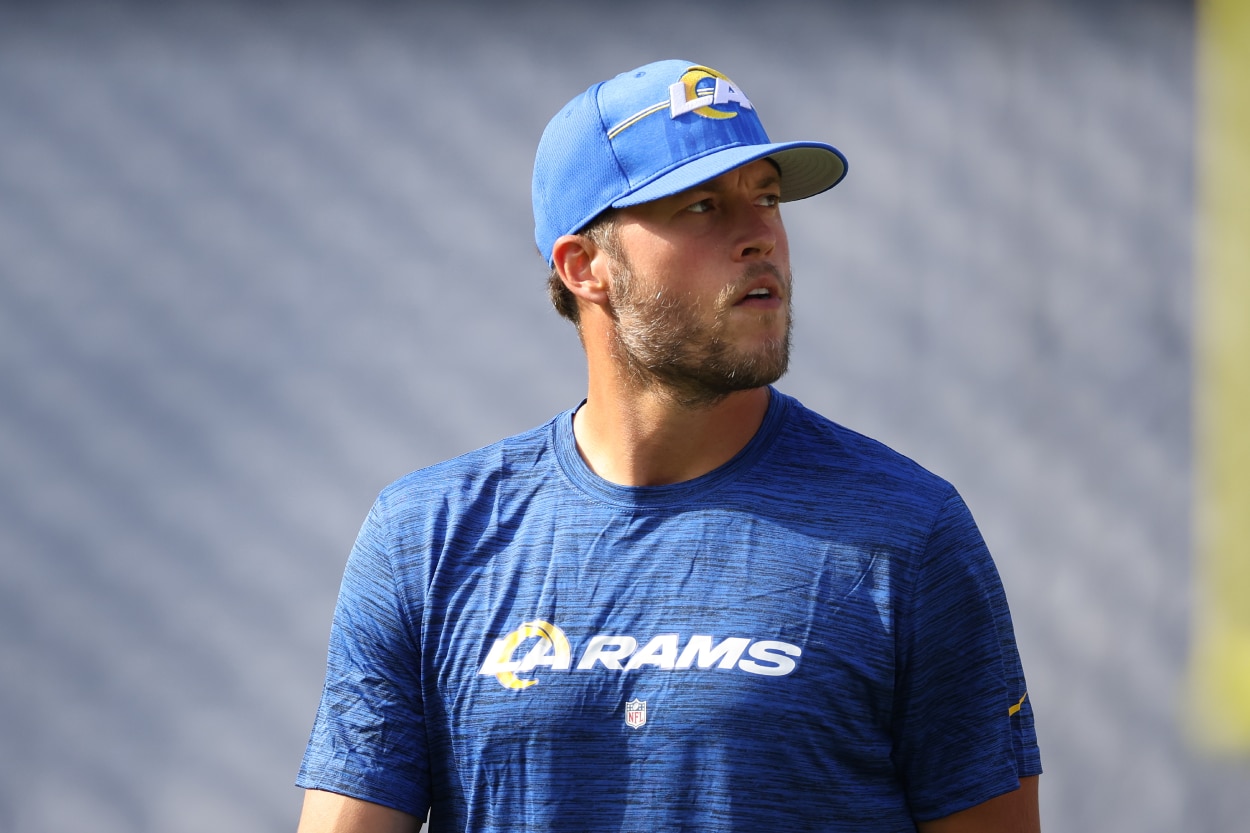 Matthew Stafford Struggling as the 'Dad' of the Los Angeles Rams
Los Angeles Rams veteran QB Matthew Stafford seems to be struggling to connect with his younger teammates.
Matthew Stafford is two seasons removed from a Super Bowl title with the Los Angeles Rams. He remains LA's starting quarterback but is having a hard time adjusting to the team's many new faces. He and the younger group don't seem to be quite on the same page as the 2023 NFL season begins.
During her recent podcast, The Morning After With Kelly Stafford, Stafford's wife, Kelly, shed some light on what he's going through as the leader of the Rams. He's become the father figure, but he isn't sure how far he should take the "dad" role.
Matthew Stafford and the Rams hope to rebound after last year's tough season
Matthew Stafford is prepping for his third season as the starting quarterback of the Rams. In his first year, he led LA to a 12-5 record and a Super Bowl title. Last year, however, was a far different story.
Stafford, who has been injury-prone in his career, played just nine games in 2022 and went 3-6. The 14-year veteran took a pounding last year before he was shut down for the season with a spinal contusion. In his nine games, he threw 10 touchdown passes and eight interceptions. He completed 68% of his passes.
The Rams finished 5-12.
Heading into the 2023 season, Stafford is healthy. Head coach Sean McVay said there will be no limits put on his quarterback.
"There will be no limitations," McVay said in May, per Sports Illustrated. "He'll be ready to roll.
"He's doing real well. It's been a long time since he's been healthy through an offseason, where he's been able to throw. I was just with him the other morning where he was in there early, working, being able to do the things that are in alignment with preparing for the season. But he's doing really well."
Stafford's wife says he's struggling to connect with his younger teammates
Stafford is 35 years old and spent the first 12 years of his career with the Detroit Lions, who made him the top pick in 2009. According to his wife, times are changing in the NFL, and her husband is struggling to connect with the younger players.
During her The Morning After With Kelly Stafford podcast, Kelly went on a rant about her husband not always getting the credit he deserves. She then spoke about him trying to get to know some of the new faces on the team.
"He's like 'The difference in the locker room has changed so significantly,'" Kelly said. "They have a lot of rookies on their team, they're very young. They're young, they're learning, but he's like 'I feel like I can't connect. In the old days, you'd come out of practice, you'd shower, and people would be playing cards, interacting, who knows what they'd be doing… But now they get out of practice and meetings during training camp, and they go straight to their phones. No one looks up from their phones.'
"He's like, 'Am I the dad? Do I take their phones? Like, what do I do here?' He's like, 'I don't want them to see me as a coach.' They say 'sir' to him and s***. He's like, 'We're on the same level here. We're both playing in this league. Let me get to know you.' He said it's so different and so hard to get to know these guys.
"He asked, I think it was one of the equipment guys, 'Do you have a book printed of all the guys' faces and their names? I need to know their names. I feel like we don't ever talk, so I'm going to find their names, and I'm going to be like, 'Hey so, and so, how was your weekend?'"
Times are certainly changing in the NFL.