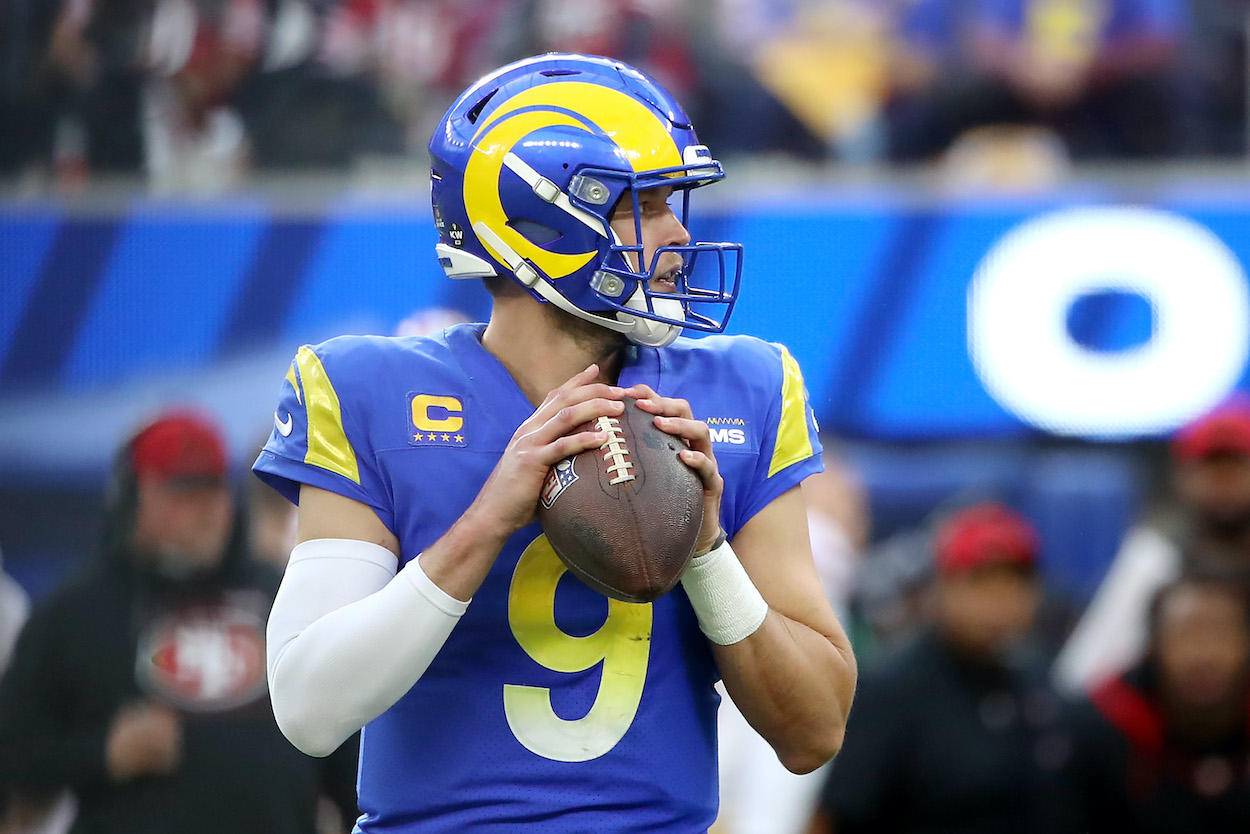 How Many Times Has Matthew Stafford Been to the NFL Playoffs and What Is His Postseason Record?
Matthew Stafford doesn't have much playoff experience throughout his career, and he's still searching for his first postseason win.
The Los Angeles Rams mortgaged their future for Matthew Stafford by trading three future draft picks and Jared Goff to the Detroit Lions in exchange for the veteran gunslinger. Stafford is supposed to be the missing piece to LA's incomplete Super Bowl puzzle, but his career playoff resume shouldn't inspire much confidence.
So, how many postseason games has Stafford played in throughout his pro career, and what is his record in those contests?
Matthew Stafford has started three career playoff games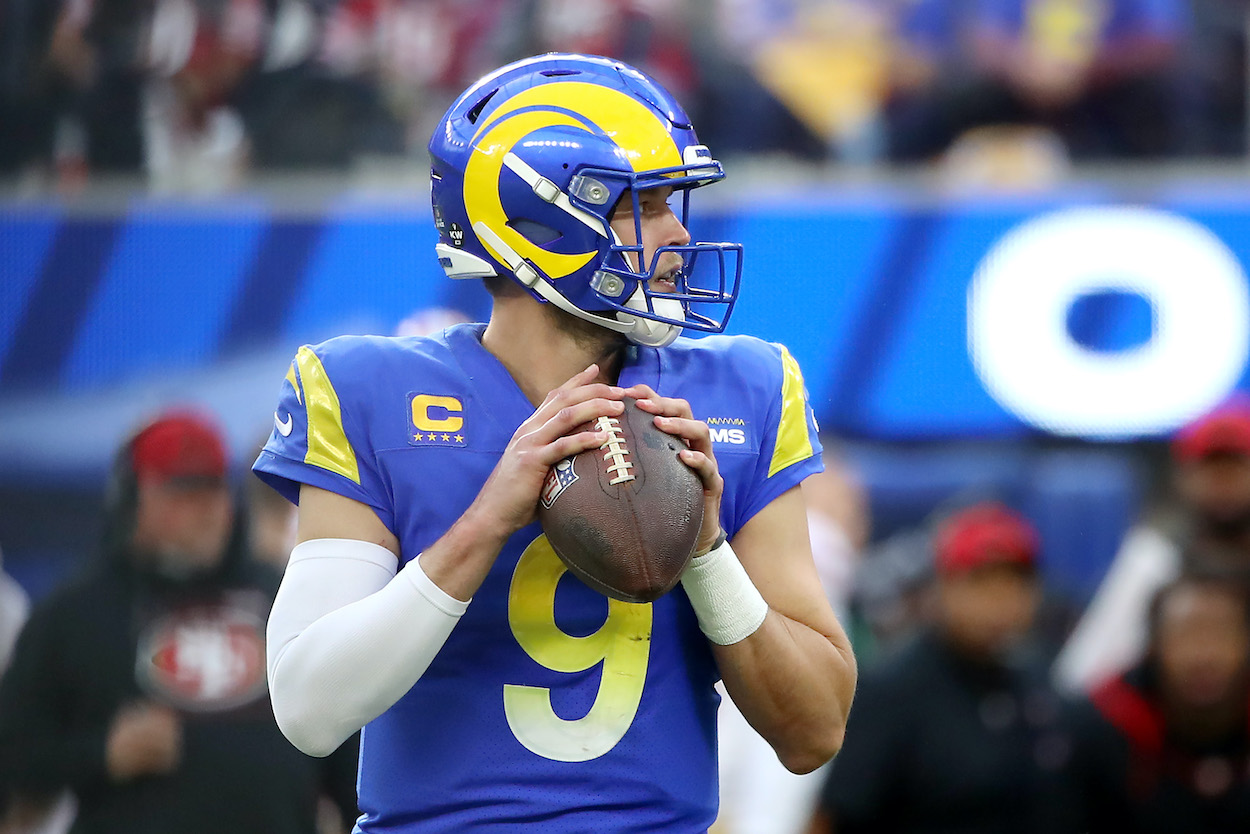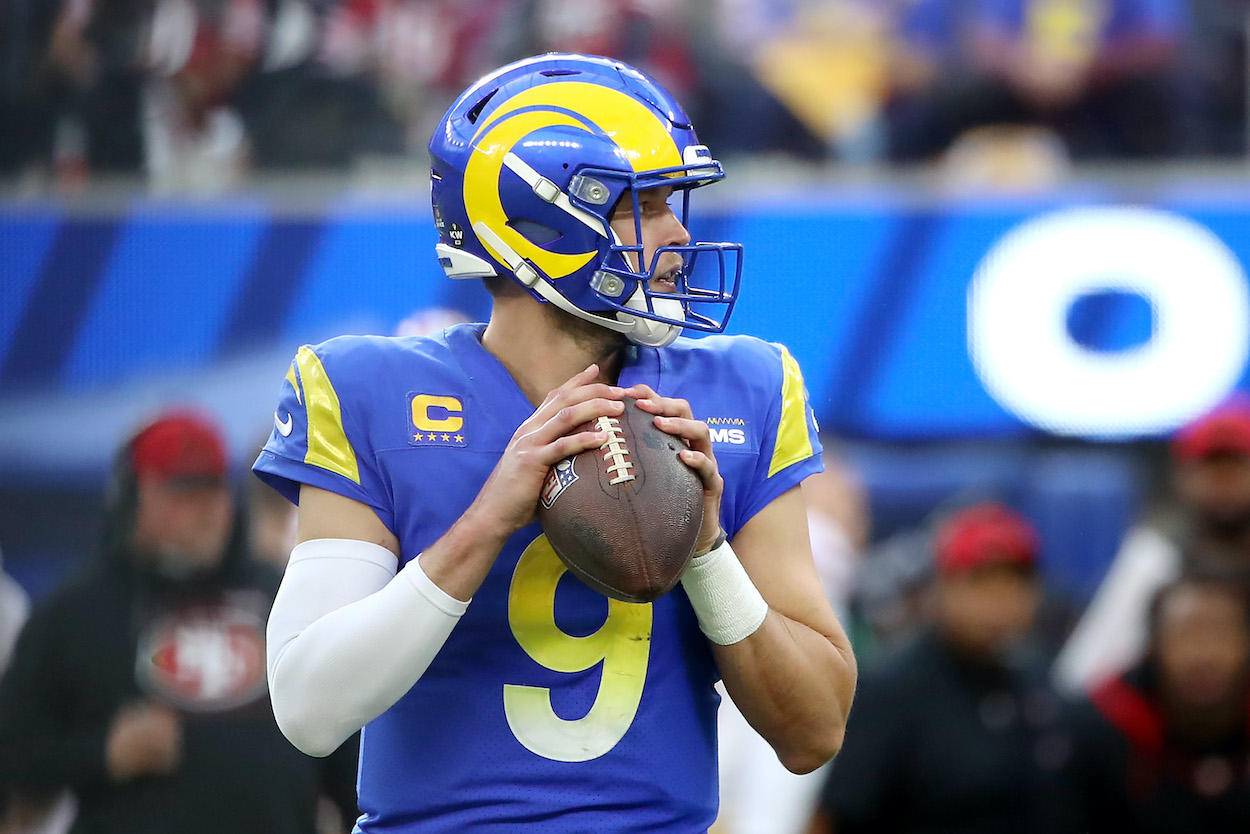 Stafford was dealt an unlucky hand when he landed with the Detroit Lions in the 2009 NFL Draft. Detroit was coming off the first 0-16 season in NFL history, and the franchise was going through a stretch of eight losing seasons in a row.
Incredibly, though, Stafford led the Lions to a 10-6 record and a playoff berth in just his third season as the starter. He powered Detroit to two more postseason berths in 2015 and 2017.
Over the course of his 12 seasons with the Lions, Stafford started just three playoff games and lost every one. However, those losses weren't entirely on him.
Breaking down Stafford's three playoff starts
2012 vs. the New Orleans Saints
Final score: Saints 45, Lions 28
Stafford's stats: 28-43, 380 yards, three touchdowns, two interceptions, one rushing touchdown, 97.0 rating
The most impressive playoff start of Stafford's career just happens to be his first.
In 2012, when Stafford was just 23 years old, he led the 9-7 Lions into the Superdome to take on Drew Brees and the 13-3 New Orleans Saints. The young QB got the Lions off to a 14-7 start with first-half touchdown passes to Will Heller and Calvin Johnson, but Detroit's defense couldn't hold up against Brees all night.
Despite Stafford's 380 passing yards and four total touchdowns, the Lions gave up six touchdowns and eventually fell to the Saints, 45-28.
2015 vs. the Dallas Cowboys
Stafford's stats: 28-42, 323 yards, one touchdown, one interception, two fumbles lost, 87.7 rating
Final score: Cowboys 24, Lions 20
This was Stafford's best chance to pick up a playoff win, and there isn't really a close second.
The Lions jumped out to a 14-0 lead over the Cowboys thanks to a 51-yard touchdown pass from Stafford to Golden Tate and an 18-yard scamper from Reggie Bush. They held a 20-7 lead late into the third quarter, but Dallas ended the game with 17 straight points, capped off by the game-winning touchdown pass from Tony Romo to Terrance Williams with 2:32 left.
Stafford again finished with over 300 passing yards, but he committed three turnovers and couldn't find any late magic in the 24-20 loss.
2017 vs. the Seattle Seahawks
Stafford's stats: 18-32, 205 yards, zero touchdowns, zero interceptions, 75.7 rating
Final score: Seahawks 26, Lions 6
Here's the one playoff game Stafford wish he could have back.
In a Wild Card matchup against the Russell Wilson-led Seahawks, Stafford threw for just 205 yards and didn't put a single touchdown on the board in the 26-6 loss. The only positive from Stafford in the game was that he didn't commit a single turnover for the first time in his postseason career, but it hardly mattered in the end.
A golden opportunity to get his first playoff win
In all three of Stafford's previous playoff starts, he was facing long odds as a road underdog of at least six points. He simply faltered against superior teams in all three games, but that's not the case this time around.
The Rams enter their Wild Card matchup with the Cardinals as 3.5-point favorites on their home field. There's no excuse for Stafford not to notch his first postseason win on Monday night with a more talented roster around him.
Let's find out if LA's massive offseason gamble can pay off.
All stats courtesy of Pro Football Reference.
Like Sportscasting on Facebook. Follow us on Twitter @sportscasting19.