Matthew Stafford Suffers Injury Setback That Should Raise Concerns For Los Angeles Rams Fans
The Los Angeles Rams clearly believe Matthew Stafford gives them a better chance to win a Super Bowl title than Jared Goff. After all, general manager Les Snead wouldn't have given up two first-round picks, a third-rounder, and the Rams' supposed franchise quarterback if he didn't think the longtime Detroit Lions star has what it takes to lead the team to a championship.
Of course, despite putting up rock-solid numbers for more than a decade, Stafford didn't exactly win many football games during his time in Detroit. And for all the credit he deserves for his toughness and character, that doesn't change the fact that the 33-year-old has some significant wear and tear on his body.
Unfortunately for Rams fans, Sean McVay's new starting quarterback already suffered a setback that should raise concerns about what lies ahead. Because even if LA avoided a disaster at this juncture, Stafford's injury highlights how quickly the Rams could go from Super Bowl contenders to falling completely out of the running altogether.
Matthew Stafford faces enormous pressure to lead LA to the playoffs and earn his first postseason victory
The Rams have made the playoffs in three of the first four years of the McVay era. However, they have yet to capture the Lombardi Trophy under the watchful eye of the offensive guru.
So, after suffering another crushing postseason defeat, LA decided enough was enough. Despite signing Jared Goff to a four-year, $134 million contract extension in April 2019, the Rams traded him to the Lions in a blockbuster deal that brought back Matthew Stafford.
By giving up such a huge haul for the 33-year-old quarterback, McVay and Snead obviously think highly of the veteran. However, Stafford faces tremendous pressure to justify the Rams' decision to part ways with Goff and valuable draft capital.
A one-time Pro Bowler with 45,109 passing yards and 282 touchdowns on his resume, the No. 1 overall pick from the 2009 NFL Draft has never won a postseason game during his 12-year NFL career. Stafford lost all three of his playoff starts, and he posted an underwhelming 74-90-1 record as a starter for the Lions. Of course, he didn't exactly get a ton of help from the front office or his coaches, who often made poor decisions that set Detroit up for failure.
Still, Stafford earned the respect of fans, teammates, and coaches for his toughness, leadership, and refusal to ever quit. But even though he checks the boxes from a character and talent standpoint, there are still obvious questions about his ability to be a championship-caliber quarterback.
Stafford suffers setback that should raise concerns for Rams fans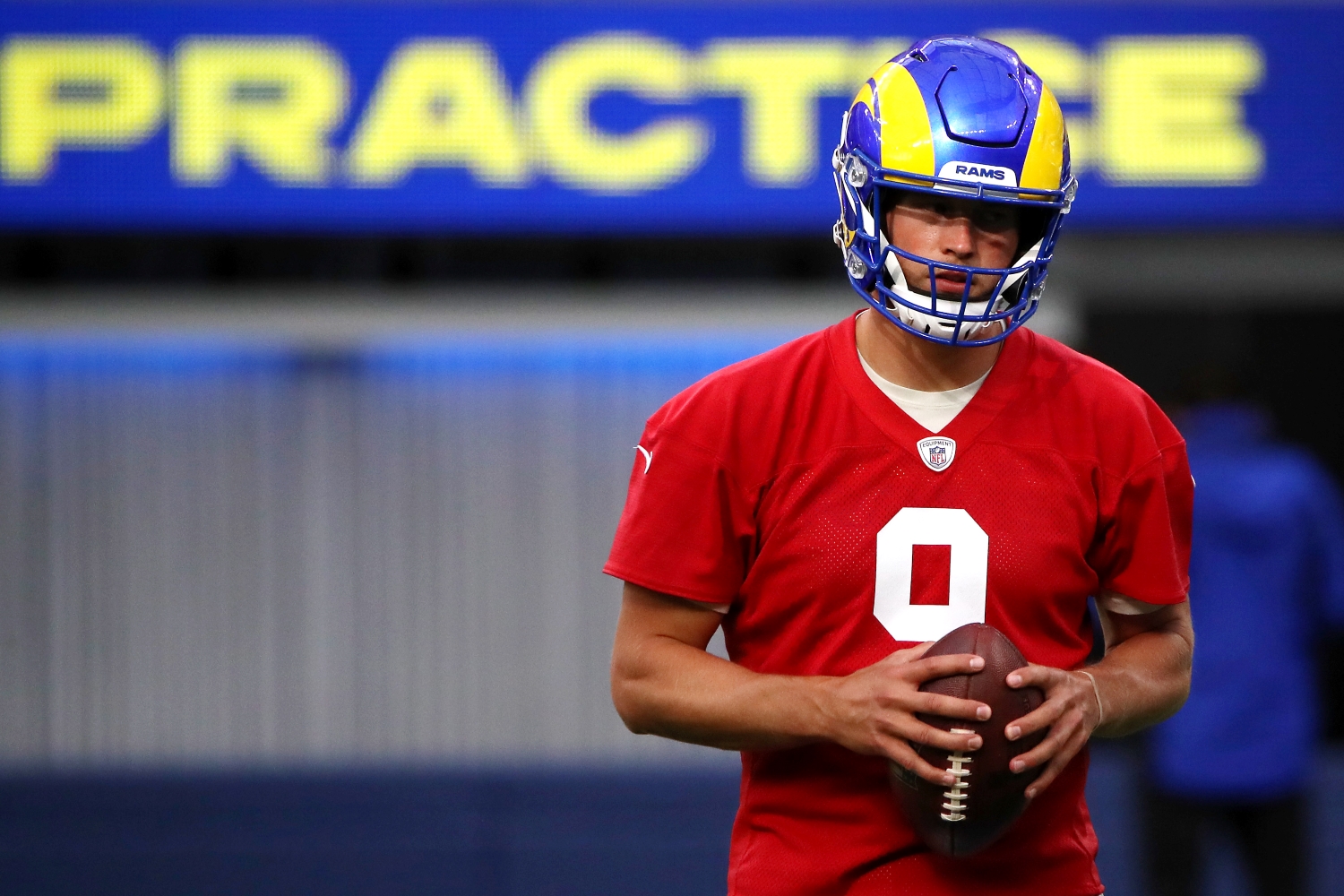 As he prepares for his 13th NFL season and first one with the Rams, Stafford needs to to get acclimated to a new system, new teammates, and a new coaching staff. Unfortunately for the longtime Lion, he suffered an injury setback on Monday when he hit his throwing hand on a teammate's helmet in practice.
On Tuesday, NFL Network reporter Ian Rapoport delivered an update via Twitter that although Stafford has a swollen thumb, his x-rays were negative. Later in the day, ESPN's Lindsey Thiry shared a video clip on Twitter of the quarterback throwing in practice with a small bandage on his right thumb.
While Stafford seemingly escaped what could have been a much worse situation, the incident should raise concerns for Rams fans for multiple reasons.
First, the team's new quarterback underwent surgery in March to repair a torn ligament in that same thumb. Obviously, injuring a surgically-repaired body part is never a positive development. Considering his importance to the offense, Stafford can't afford to have any issues with his throwing hand if the Rams want to make a serious run at the Lombardi Trophy.
In addition, LA fans shouldn't need any reminder about what can happen when a quarterback has to operate at less than 100%. Goff broke his right thumb in a Week 16 matchup against the Seattle Seahawks last season, and even though he returned for the playoffs and helped take down Russell Wilson in the opening round, the Rams couldn't get enough going in the passing game in the Divisional Round against the Green Bay Packers. Goff may have completed 21 of 27 attempts, but he finished the game with only 174 yards.
Moreover, Stafford has sustained some significant damage throughout his NFL career. He missed six games during his rookie season because of shoulder and knee injuries. His shoulder continued to give him problems in 2010, and he eventually underwent surgery after the season. He fractured his right index finger in 2011, tore ligaments in his finger in 2016, and fractured bones in his back during the 2019 season. So, even though his thumb injury doesn't appear too serious, it certainly should raise some concerns about his ability to stay healthy for a Rams team that needs to overcome their playoff woes.
Should Sean McVay's team be considered a viable Super Bowl contender?
Even if Stafford makes it through the summer unscathed, that doesn't mean the Rams will enter the regular season as viable Super Bowl contenders.
Why's that the case?
First, the team suffered a crushing loss with Cam Akers' season-ending Achilles injury. The downgrade from the dual-threat running back to 2019 third-round pick Darrell Henderson could come back to bite the Rams. Plus, whoever carries the ball has to run behind an offensive line that no longer ranks as a dominant unit like it did a few years ago.
As for the defensive side of the ball?
The Rams lost coordinator Brandon Staley, longtime starting defensive tackle Michael Brockers, dynamic safety John Johnson, and cornerback Troy Hill this offseason. While Aaron Donald and Jalen Ramsey are absolute studs, it remains to be seen whether LA can stop elite offenses without any other bonafide stars on that side of the ball.
Ultimately, the Rams look like a solid team, but not one that's capable of taking down the defending Super Bowl champions or Aaron Rodgers and the Green Bay Packers in the playoffs.
Of course, that's assuming they make it the postseason in the first place.
All statistics courtesy of Pro Football Reference.