Tom Brady Receives Well-Deserved 44th Birthday Gift From Bruce Arians That Ironically Goes Against Everything the GOAT Stands For
Tom Brady didn't win seven Super Bowl titles by taking it easy on himself.
Anyone who's crossed paths with the Tampa Bay Buccaneers quarterback can see he operates with a different mindset than most people. And by taking a somewhat obsessive approach to dieting and training, he's been able to extend his career longer than most NFL players could ever dream of.
Coming off a fantastic first season in Tampa, Brady has a golden opportunity to add ring No. 8 to his collection. And even though he turned 44 on Tuesday, his age doesn't seem like it will stop him from continuing to carve up defenses.
Ironically, though, Brady received a well-deserved birthday gift from head coach Bruce Arians that just so happens to go against everything the GOAT stands for.
Tom Brady is still playing at a high level thanks to his legendary work ethic and dedication to his craft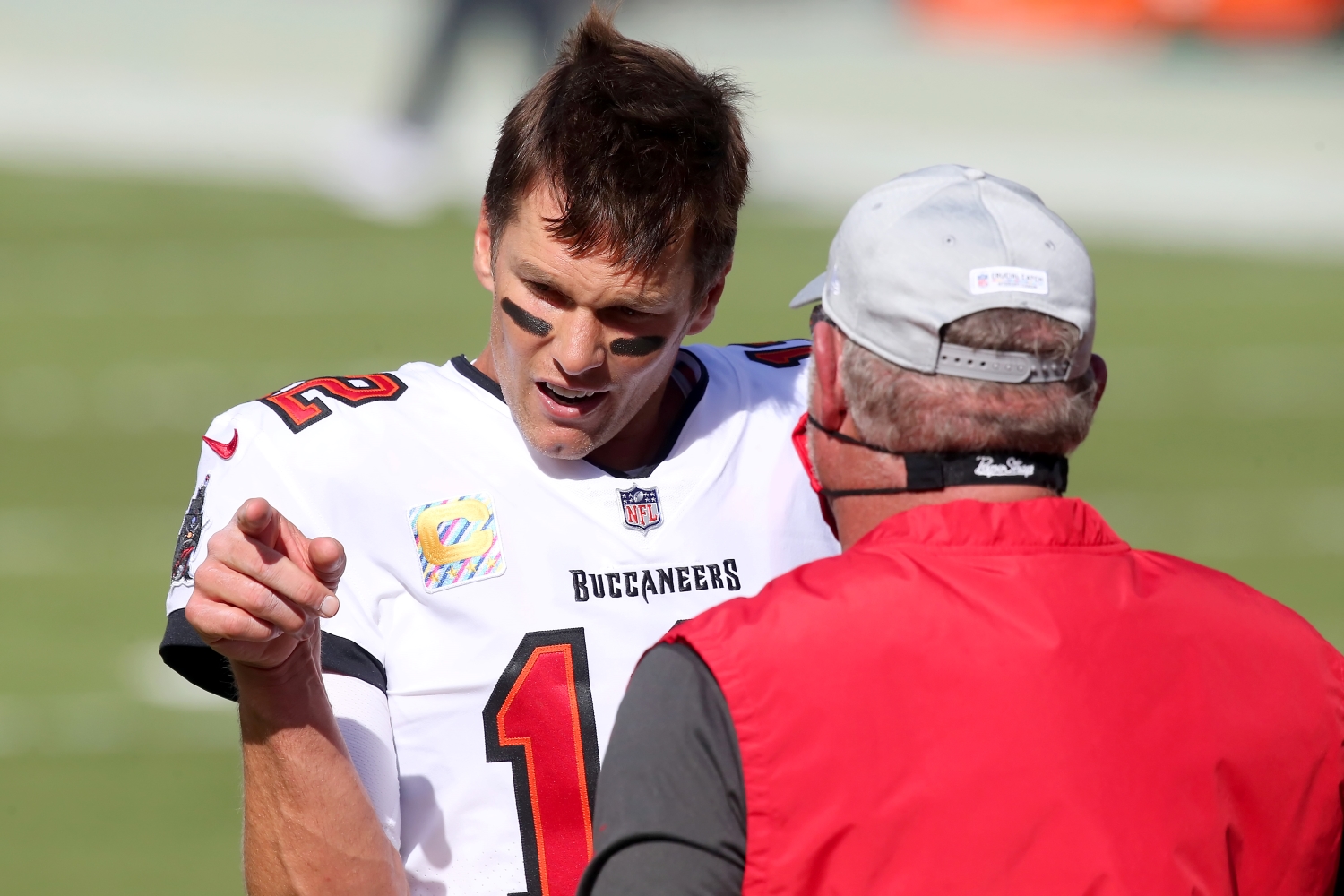 You don't become the greatest of all time at anything by sheer luck. In the case of Tom Brady, he entered the NFL as a sixth-round pick with little buzz and plenty of doubters. However, a much younger (and less fit) version of TB12 worked tirelessly to earn Bill Belichick's trust and respect. And by taking the first-to-arrive, last-to-leave mentality, the slow, skinny kid out of Michigan set himself up for long-term success.
Of course, a freak injury to then-starter Drew Bledsoe opened the door for Brady to get on the field. While he didn't blow anyone away from a purely physical standpoint, it became clear that the former Wolverine possessed an uncanny ability to fight through adversity, make plays in the clutch, and lead his team to victory.
Brady helped the Patriots win three Super Bowl titles in his first four years as a starter. He certainly benefitted from having some talented teammates and arguably the greatest head coach of all time, but the California native also earned widespread respect for his dedication to honing his craft, improving his conditioning, and studying film almost around the clock. As someone who always preached about the importance of putting in the work during the offseason, Brady undoubtedly helped Belichick establish a team-first culture through his lead-by-example approach.
And once he left New England after the 2019 season, the legendary quarterback brought that same attitude and intensity to his new team, too. Motivated by Belichick's decision to essentially let him leave, Brady even ignored medical advice in an effort to prepare for the 2021 season.
Considering the Buccaneers won their first Super Bowl title since 2002, it's safe to say their new leader's willingness to sacrifice his body and time for the good of the team paid off.
Brady receives well-deserved birthday gift from Bruce Arians that goes against everything he stands for
Given his lackluster final season with the Patriots, Brady certainly needed a big year in 2021 to show he still deserves to be called an elite quarterback. Needless to say, his age-43 season left no doubt that he remains one of the best in the business.
Part of that has to do with his natural gifts. At the same time, it's undeniable that Brady's success also stems from his attention to detail about what he puts into his body, how he works out, and what he does on the other six days of the week that don't involve squaring off against another NFL team.
Ironically, for someone who's made it known over the years that he's willing to make major sacrifices and subject himself to physical punishment for the sake of winning football games, Brady received a well-deserved birthday gift from Bruce Arians that goes against everything the GOAT stands for.
"It's amazing the fire that burns in him to do this," the Buccaneers head coach said during his Monday press conference. "We'll throw him a bone and give him a day off."
Brady celebrated his 44th birthday on Tuesday by not having to go to work. Considering he recently cursed out a few teammates during practice, it's clear he hasn't lost any of the competitive fire that helped him become the GOAT. However, the fact Arians gave Brady the day off as a birthday gift obviously doesn't match up with the 44-year-old's long-held mentality of leading by example and putting in extra time — not just the required amount.
It may have been tough for TB12 to stay home and not put on his helmet and shoulder pads on Tuesday, but it's not as if he really needs to practice on a daily basis. After all, he and the Buccaneers seem destined to make a legitimate run at back-to-back titles even if Arians' gift resulted in one fewer training session for the GOAT.
Can the GOAT lead the Buccaneers to back-to-back titles in his age-44 season?
After earning his seventh Super Bowl ring at the age of 43, Brady looks poised to add another one if the Buccaneers play up to their talent level.
With all 22 starters back, Tampa has a terrifying lineup that features Hall of Fame-caliber players like Brady, Rob Gronkowski, and Antonio Brown, in-their-prime stars like Mike Evans, Chris Godwin, Shaquil Barrett, and Lavonte David, and exciting youngsters such as Vita Vea, Tristan Wirfs, Antoine Winfield Jr., and Devin White. Plus, the Buccaneers boast big names like Ndamukong Suh, Jason Pierre-Paul, and Leonard Fournette.
Arians' team doesn't have any discernible weaknesses. And even though Green Bay Packers, Seattle Seahawks, and Los Angeles Rams all have strong rosters of their own, the Buccaneers still look superior.
Ultimately, don't be surprised if Tom Brady hoists the Lombardi Trophy for the eighth time in his unparalleled career.
Maybe then he'll change his tune about taking days off.
But until he accomplishes that mission, don't expect him to alter his thinking just yet.
All statistics courtesy of Pro Football Reference.