Tom Brady's Buccaneers Are Exposing Unvaccinated Players in a Colorful Way
The coronavirus (COVID-19) is still a major factor in professional sports more than a year after the pandemic first started to rage across the globe. With all the issues the virus caused in the NFL last season, the league is now cracking down on players and coaches who refuse to take it seriously.
It'll be interesting to monitor how NFL teams decide to approach this offseason with the new vaccination policy in place. As for Tom Brady's Tampa Bay Buccaneers, they've decided to expose unvaccinated players with a unique, color-coded system on the practice field.
The NFL's new vaccination policy has shaken the league to its core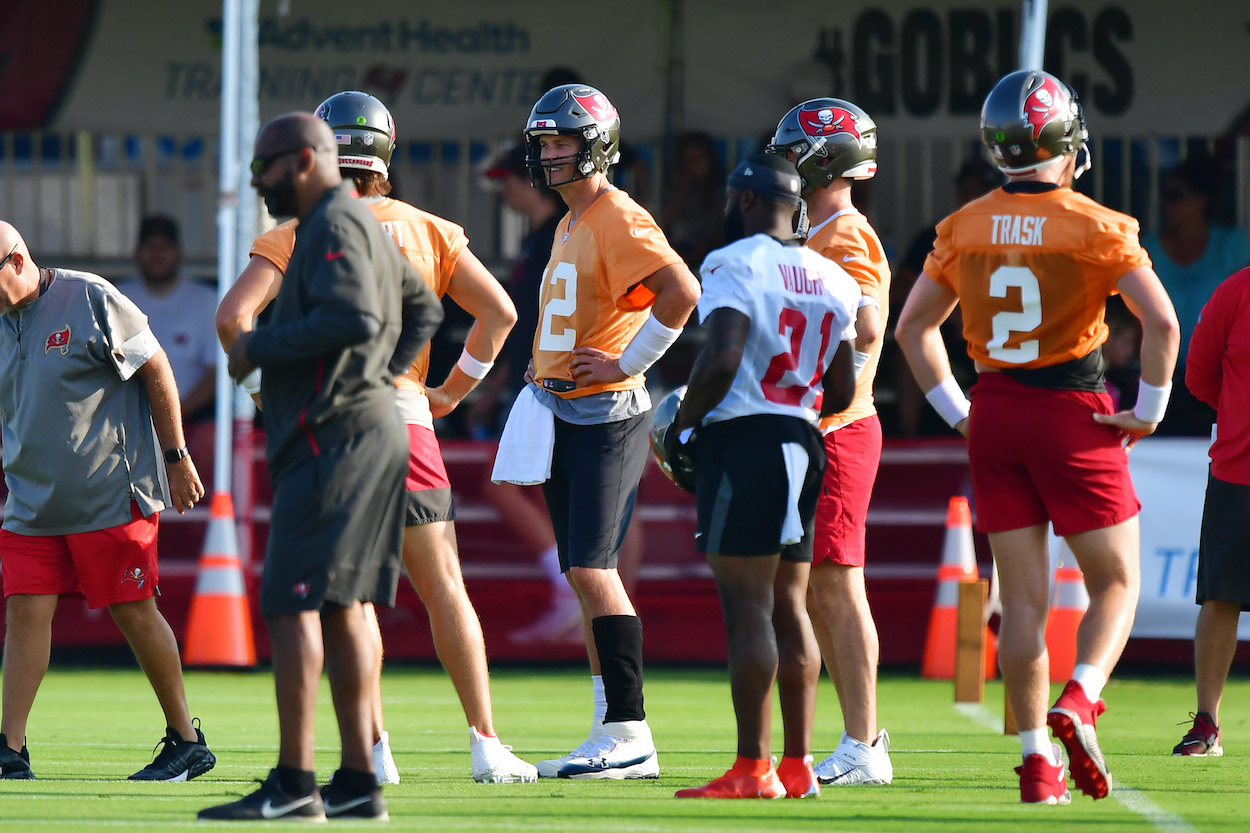 After numerous postponements and missed games from star players last season, the NFL has decided to crack down on COVID-19 in 2021. Late last week, the NFL sent out an explosive memo that said there will be no accommodations made to teams whose unvaccinated players or staff members might cause an outbreak in the locker room.
In the memo, which was first reported by Tom Pelissero of NFL Network, the league states that teams will forfeit and be credited with a loss if an outbreak among unvaccinated players causes a game to be canceled.
"If a game is canceled/postponed because a club cannot play due to a Covid spike among or resulting from its non-vaccinated players/staff, then the burden of the cancellation or delay will fall on the club experiencing the Covid infection," the memo states. "We will seek to minimize the burden on the opposing club or clubs. If a club cannot play due to a Covid spike in vaccinated individuals, we will attempt to minimize the competitive and economic burden on both participating teams."
"…We do not anticipate adding a '19th week' to accommodate games that cannot be rescheduled within the current 18 weeks of the regular season."
The NFL is essentially trying to force every player, coach, and staff member in the league to get vaccinated before the season begins. If they don't, they run the risk of causing a forfeit and possibly costing their team a playoff spot.
But the NFL isn't legally allowed to force players to receive the vaccine. All the league can do is make punishments for those who don't as harsh as possible, and that's exactly what it's done with the new policy. Now, it's up to individual teams to get their players on board.
Tom Brady's Buccaneers employ colorful way to expose unvaccinated players
Every NFL team will approach the league's new vaccination policy in a different way. Some have already let go of coaches who refused to get the vaccine, while others are willing to risk it for the entire season.
The Buccaneers aren't forcing anyone to get the vaccine, but they have come up with a way to distinguish and separate vaccinated players from unvaccinated players. According to Mike Florio of ProFootballTalk, the Bucs will utilize a color-coded wristband system to break up both groups.
While on the practice field, vaccinated players will wear red wristbands and unvaccinated players will wear yellow wristbands.
Get ready for the internet sleuths to start zooming in on pictures and videos from training camp to expose the unvaccinated players on the roster.
Buccaneers aiming for 85% vaccination rate
Buccaneers head coach Bruce Arians is a strong proponent of the vaccine. He received his shot back in February, and he's imploring his team to follow suit. Last month, Arians revealed his vaccination goal for the Bucs and didn't mince words while doing so.
"Well, if you want to go back to normal, get vaccinated," Arians told reporters in June. "85% is what we're shooting for… It's still a personal choice, but I don't see a reason not to be vaccinated."
Now, it's up to his team to flip those yellow wristbands to red.