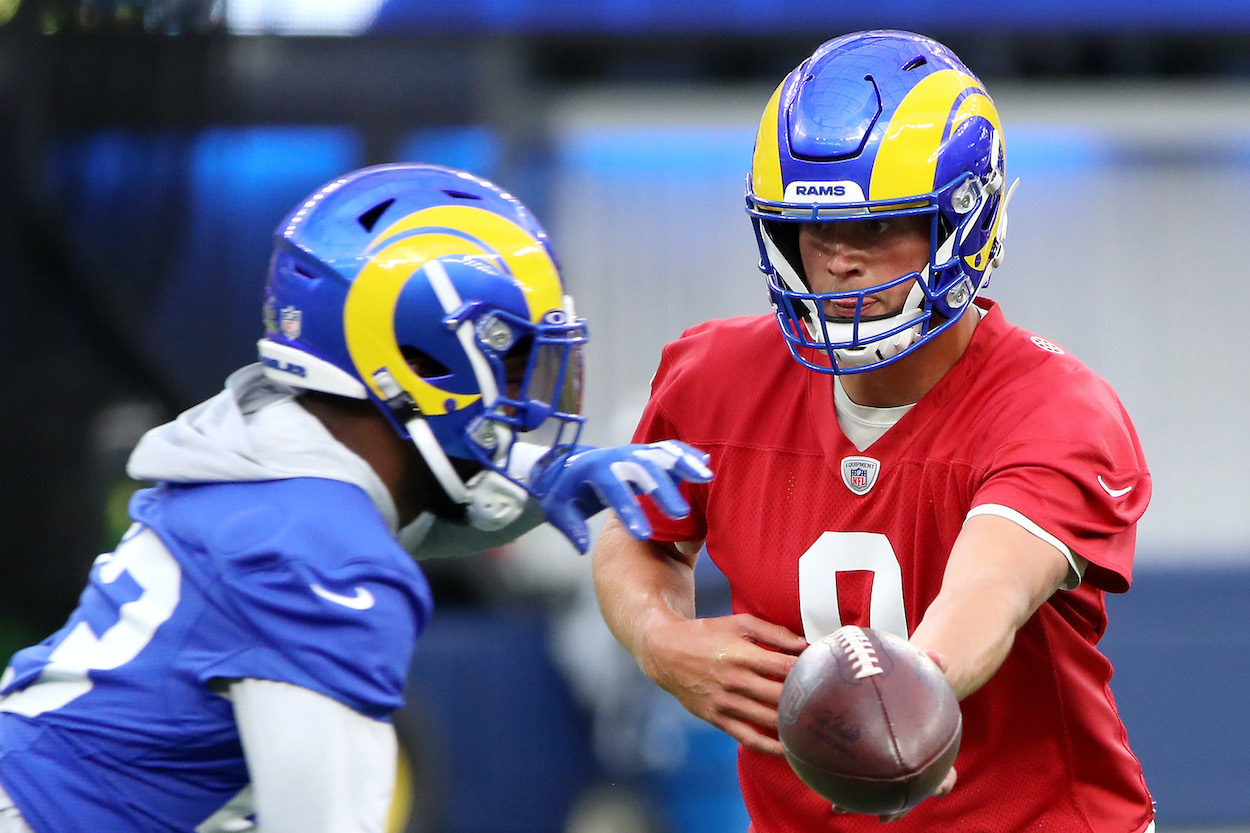 Matthew Stafford Just Lost One of His Most Dangerous Weapons for the Entire 2021 Season
Matthew Stafford came to the LA Rams expecting to have a bounty of offensive weapons. Now, one is already lost for the entire 2021 season. Running back Cam Akers ruptured his Achilles tendon and now the running back duties fall to his backup, Darrell Henderson, and a host of young, unproven backs.
After years of wasting away on Detroit Lions teams with little direction and even less offensive firepower, Matthew Stafford found his way to Sean McVay and the Los Angeles Rams. With one of the most innovative offensive minds in the NFL and a focus on skill-position talent, 2021 should be Stafford's year.
One week before training camp starts, though, Stafford and the Rams got some devastating news. A top draft pick from last year and a player expected to carry a large share of the offensive load in 2021 ruptured his Achilles tendon and will be out for the entire season.
Matthew Stafford is set to lead a loaded Los Angeles Rams offense in 2021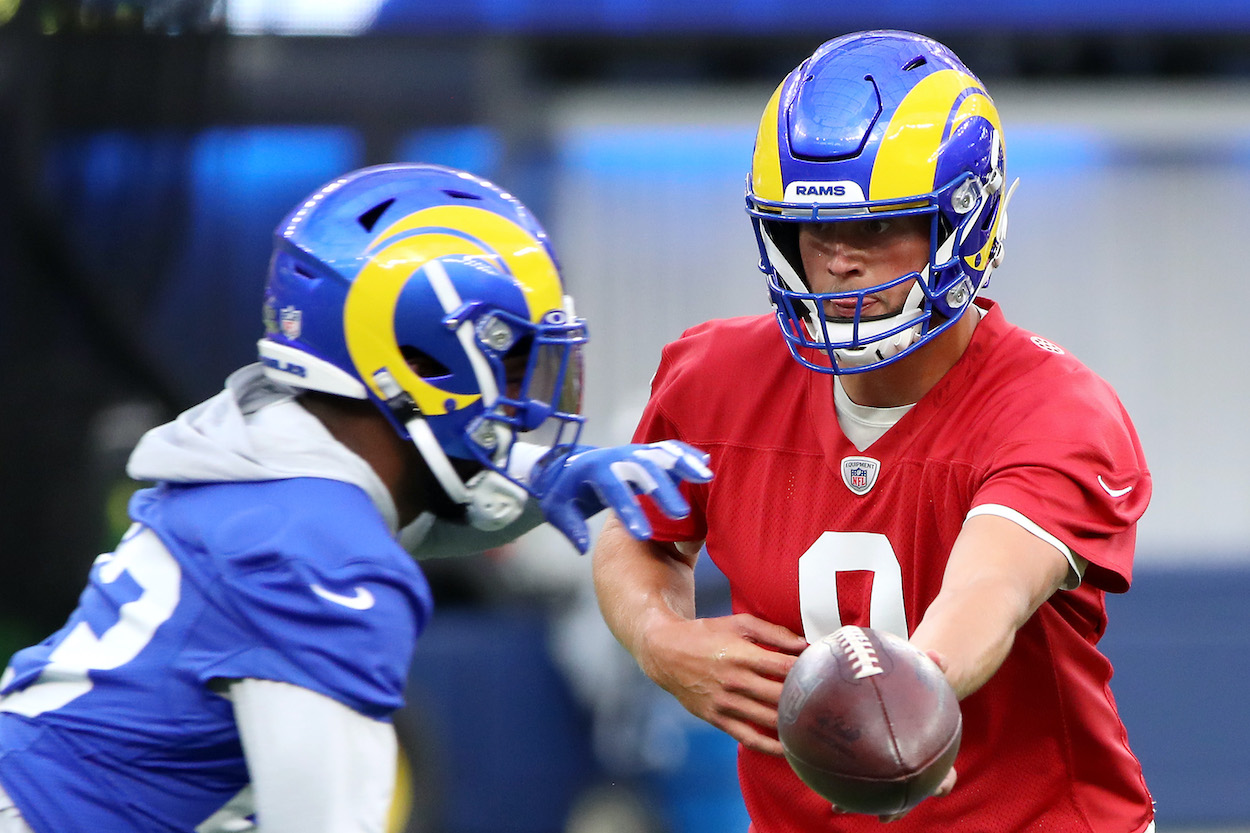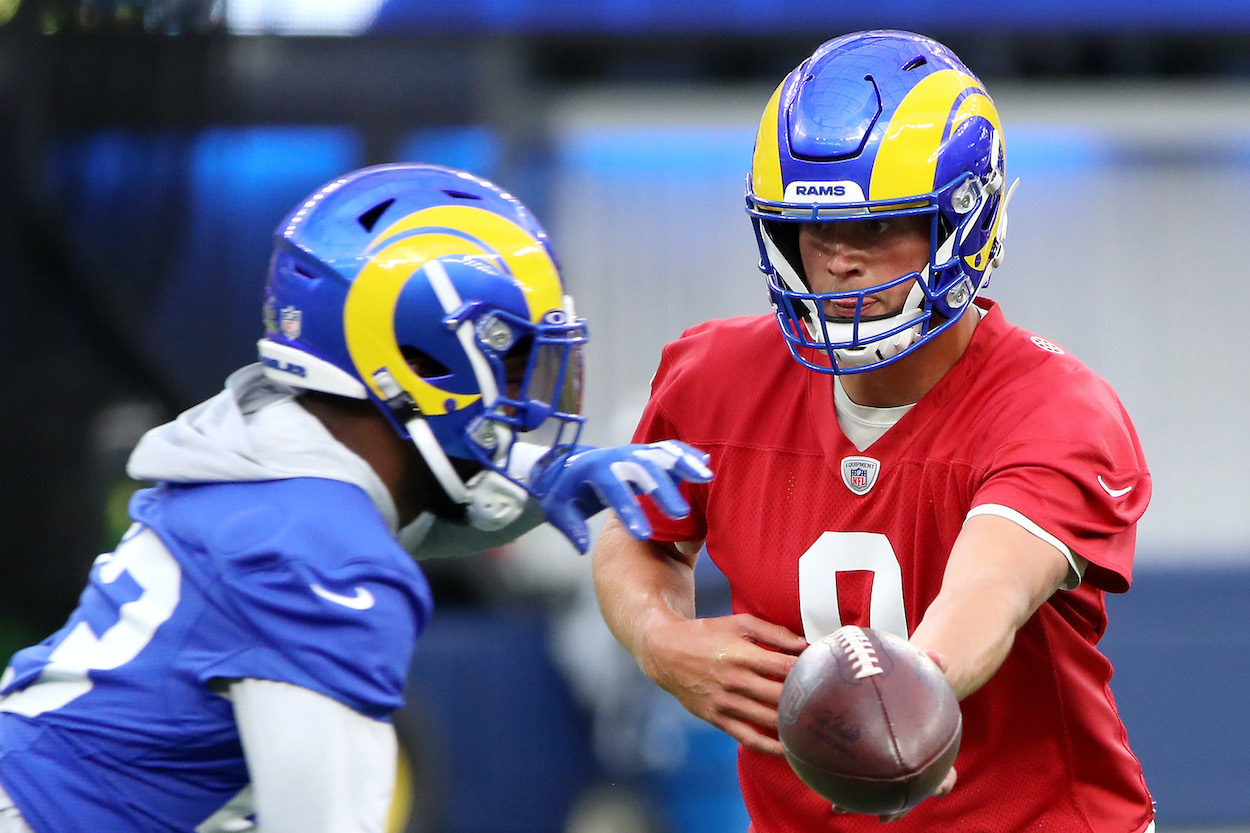 The LA Rams hired Washington offensive coordinator Sean McVay just days shy of his 31st birthday. In 2017, he became the youngest head coach in modern NFL history, besting Lance Kiffin by almost a year.
This creative and inventive play-caller took quarterback Jared Goff, the No. 1 overall pick from the previous season, and guided the Rams to their first playoff appearance in over a decade. The following year McVay piloted the franchise to the Super Bowl.
Even with the team success, Goff hasn't developed like a top QB should, and, in the 2021 offseason, McVay went searching for a new signal-caller. He traded Goff, a 2021 third-round pick, and the team's first-rounders in 2022 and 2023 to Detroit for the talented but underachieving Stafford.
Stafford joins a team loaded on the offensive side of the ball. In addition to a strong, veteran offensive line, the team has great skill position players. Wide receiver is the deepest position with Robert Wood, Cooper Kupp, 2020 second-round pick Van Jefferson, and free-agent acquisition DeSean Jackson. Tight end Tyler Higbee and running backs Cam Akers and Darrell Henderson are dangerous targets as well.
Cam Akers ruptured his Achilles tendon and is out for the 2021 season
The LA Rams drafted the 5-foot-10, 217-pound Akers No. 52 overall in 2020 out of Florida State. The talented runner projected to be the workhorse back for the franchise last season. While he did lead the team in rushing (by just one yard over Henderson), he didn't grab ahold of the starting spot like expected.
Many rookies struggled with the COVID-19-related weirdness of 2020, though, and, going into 2021, Akers was expected to be the starting back from day one. Unfortunately for the player and the club, Akers ruptured his Achilles while working out on his own just a week before training camp begins.
"You just feel so bad for him because he's doing everything right, he's working hard," McVay told ESPN. "It's a big loss, but it is an opportunity for others."
Like all NFL teams, the "next man up" mentality is strong for the Rams, and other running backs will now get a shot to line up behind Stafford.
Who is the LA Rams running back in 2021?  
The immediate replacement for Akers will be his presumptive backup, Henderson. The third-year rusher out of Memphis rushed for 624 yards and five touchdowns in 2020 in a rotation with Akers and veteran Malcolm Brown. He also has 16 catches for 159 yards and another touchdown.
There are talented but inexperienced backs behind Henderson as well. "What you do feel good about is you've got some young depth on the roster," McVay said. "And it will earn guys an opportunity to really see alright, how do they handle a little bit more of a workload, how are they able to handle some competitive opportunities we'll have."
This depth comes in the form of four backs in their first or second year. It includes second-year backs Xavier Jones (undrafted, SMU), Raymond Calais (seventh round, Louisiana-Lafayette), and rookies Jake Funk (seventh round, Maryland), and Otis Anderson (undrafted, Central Florida).
The team also has around $7 million in cap room, which would allow them to sign a free agent back. The best runners left on the market include former Rams star Todd Gurley, Adrian Peterson, Duke Johnson, and Le'Veon Bell.
Akers has the potential to be a star, three-down back in the NFL. The injury will definitely hurt Matthew Stafford and the LA Rams offense. Still, it happened early enough that McVay and the front office should be able to properly evaluate the talent they have and bring someone else in if necessary. It should seriously affect the Rams' status as a favorite in the NFC. 
All stats courtesy of Pro Football Reference