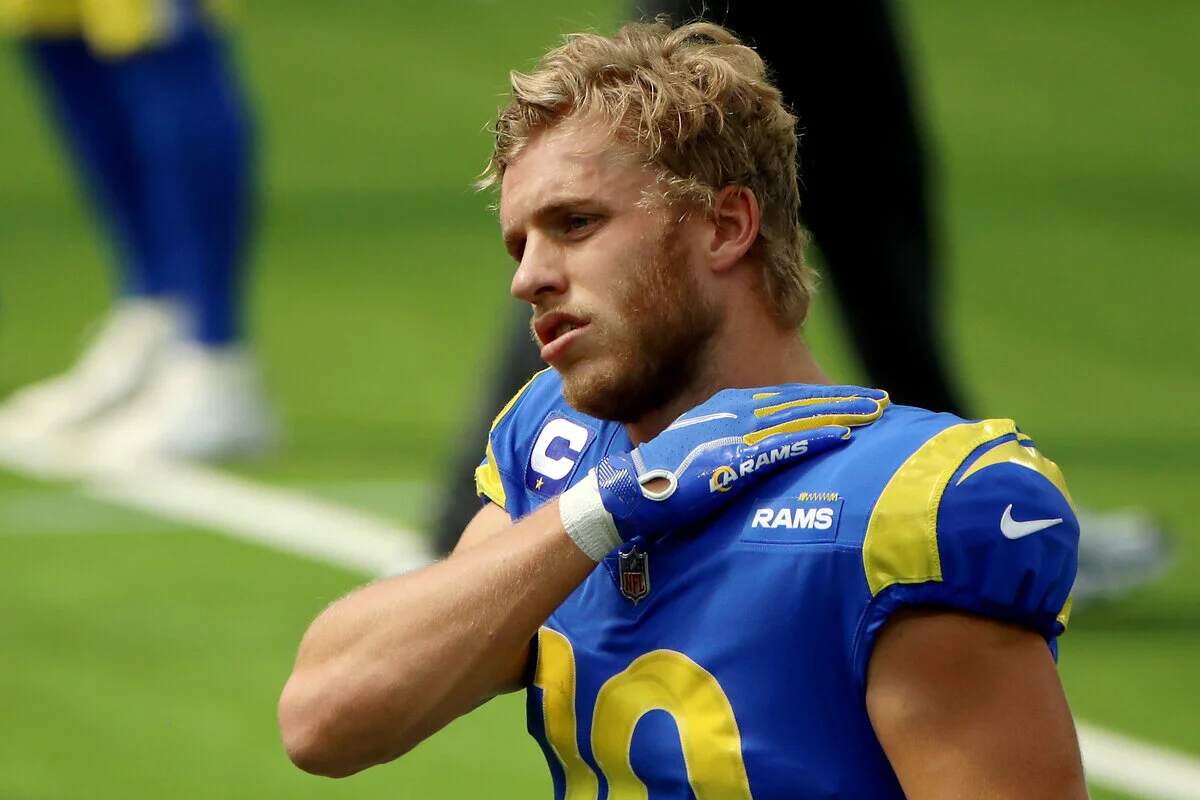 Rams WR Cooper Kupp's Grandfather Is a Forgotten New Orleans Saints Legend
Los Angeles Rams receiver Cooper Kupp is one of the league's most underrated weapons. His grandfather, Jake, is a forgotten New Orleans Saints legend.
Cooper Kupp has given Los Angeles Rams fans plenty of reasons to be excited about whatever the future holds. A third-round selection in 2017, Kupp has become one of the league's most dynamic weapons under head coach Sean McVay's tutelage.
Anyone who doubted Kupp's ability to produce at the NFL level should have taken another look at his genes and family background. Kupp's grandfather, Jake, is a forgotten New Orleans Saints legend.
Kupp's grandfather, Jake, is a New Orleans Saints legend
Cooper Kupp's grandfather, Jake Kupp, was a ninth-round pick of the Dallas Cowboys in 1964. Jake earned All-Rookie honors in 1964 after starting 10 games at left guard — and that came after the team converted him from tight end to offensive lineman.
After bouncing around several teams in the coming years, Jake caught on with the New Orleans Saints in 1968. The Saints kept him at guard — the Washington Redskins had experimented with him playing tight end — and the marriage paid off for both sides.
Jake earned Pro Bowl honors in 1969, the same year he served as one of the Saints' captains. He held the rank of offensive captain for four straight seasons from 1969-72, and then again in 1974.
The Saints inducted Jake into the team's Hall of Fame in 1991.
Craig, Jake's son, played quarterback for three teams from 1990-91 and backed up Troy Aikman on the Dallas Cowboys. And, of course, Craig's son is Cooper Kupp.
Cooper Kupp is the Los Angeles Rams' star receiver
Cooper Kupp entered the NFL as a third-round selection from Eastern Washington, an FCS program in Cheney, Wash.
Cooper burst onto the scene as a rookie with 62 catches for 869 yards and five touchdowns across 15 games and six starts. He hauled eight catches for 69 yards and a touchdown in the Rams' wild-card round loss to Matt Ryan and the Atlanta Falcons.
Cooper totaled 40 catches, 566 yards, and six touchdowns in eight games to open the 2018 season before he tore his ACL. If Kupp played all 16 games, he was on pace to finish the year with 80 catches, 1,133 yards, and 12 touchdowns.
Cooper bounced back in 2019 in a big way, turning 94 catches into 1,161 yards and 10 touchdowns.
Cooper Kupp: Super Bowl MVP
Before the 2020 season began, Cooper Kupp returned to his college roots and changed his number from No. 18 to No. 10. The jersey change appeared to pay off. Cooper caught 92 passes for 974 yards and three touchdowns in 15 games and 12 starts for the Rams.
In 2021, the Rams returned to the Super Bowl for the second time since 2018 after beating the 49ers in the NFC Championship Game. Cooper and Matthew Stafford excelled throughout Super Bowl LVI, culminating in the receiver's game-winning touchdown. He earned MVP honors and set a new NFL record for his 33 receptions over four playoff games.
In 2022, Cooper extended his contract with the Rams for three years and $80 million. He injured his ankle during Week 10, underwent surgery, and will return for the 2023-24 NFL season.
Stats courtesy of Pro-Football-Reference.