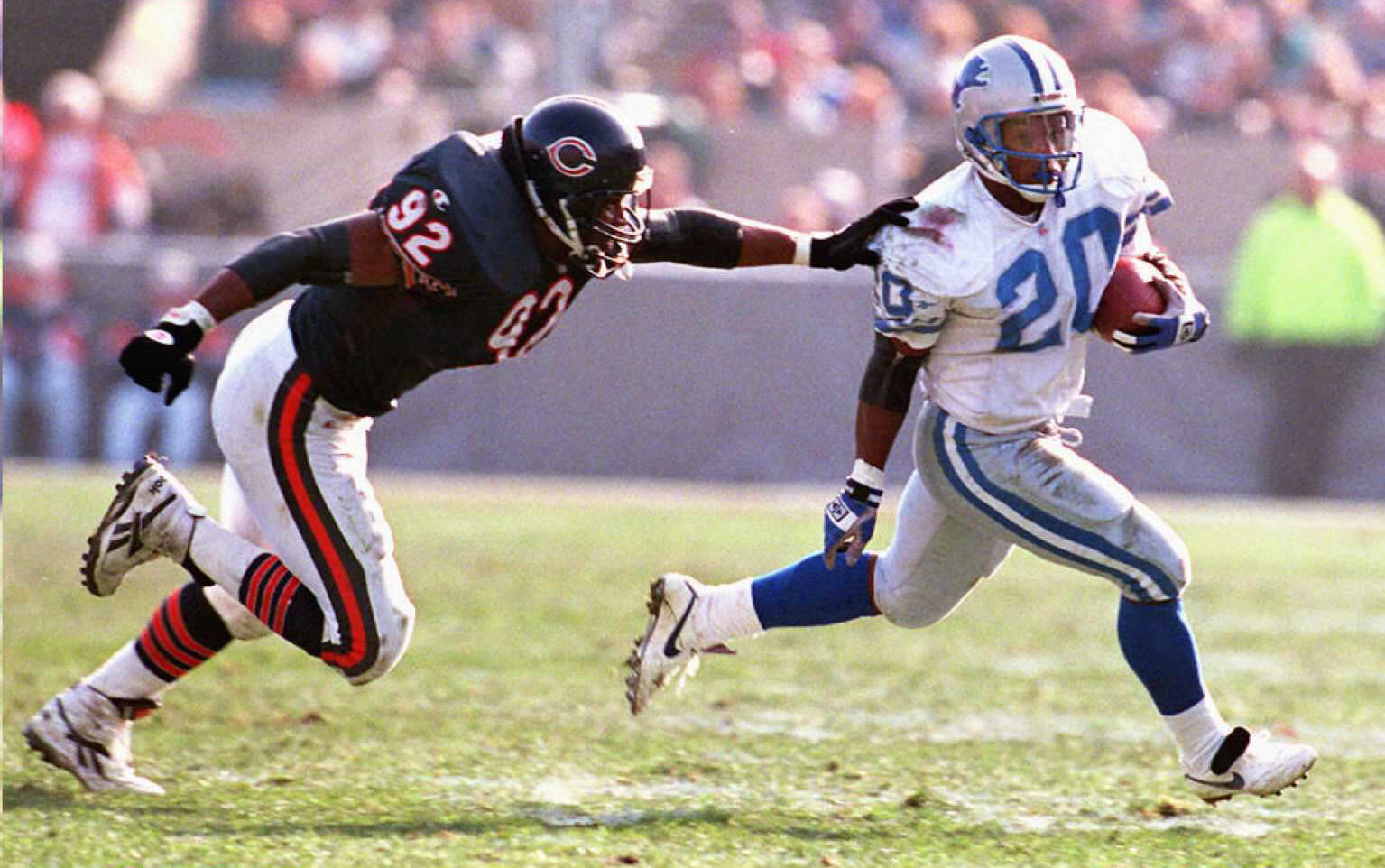 A Young Barry Sanders Got a Powerful Message From a Hall of Famer That Still Sticks With Him
Barry Sanders was one of the best running backs in the NFL.
Barry Sanders is one of the best running back to ever play in the NFL. It was evident from the first time he stepped on an NFL field that the Detroit Lions young star would eventually make his way to Canton. In just his second game of his pro career, he was approached by a future Hall of Famer who delivered a strong message that still sticks with Sanders today.
Barry Sanders was a humble Detroit Lions star
With Barry Sanders, you got the flash on the field, not off it. There was no celebrating a first down and no spiking the ball after a touchdown. Barry Sanders was all business on the football field and a refreshing player to watch.
Sanders was one of the most elusive, fun-to-watch running backs ever to play in the NFL. He was a star for the Detroit Lions, a 10-time Pro Bowler, and an MVP. Sanders played 10 years in the league – all with the Lions – and rushed for at least 1,000 yards each season. Four times, he led the NFL in rushing.
Sanders' best year came in 1997 when he rushed for a career-high 2,053 yards and added 11 rushing touchdowns. He added three more touchdowns through the air. Sanders finished his career with 15,269 rushing yards and 99 rushing touchdowns. He was inducted into the Pro Football Hall of Fame in 2004.
Sanders' shockingly retired in 1999
On July 27, 1999, Barry Sanders stunned the football world when he decided he no longer wanted to play football. Sanders, 1,458 yards away from the all-time rushing record, left football with a lot of gas still left in the tank. He was two years removed from a 2,000-plus rushing season and was fresh off a season where he rushed for 1,491 yards.
To Sanders, stats didn't matter. He always felt that way. In the final game of the 1990 season, Sanders needed 168 yards to win the rushing title. He had 158 with plenty of time left, but the Lions held a comfortable lead. Sanders asked coach Wayne Fontes to put in the backup, according to Forbes. Christian Okoye of the Kansas City Chiefs was the rushing champ by 10 yards.
After the season, Sanders was asked if he regretted the move to sit out and not go for the rushing title, Sanders said, "When everyone is out for statistics—you know, individual fulfillment—that's when trouble starts. I don't want to ever fall victim to that."
Sanders was given a message as a rookie and it sticks with him
After just his second game in the NFL, Barry Sanders was approached by future Hall of Famer Lawrence Taylor of the New York Giants. Taylor came over to the rookie and gave him some words of encouragement. Those words still sit with him today. During an interview on The Rich Eisen Show last year, Sanders shared the story.
"My second game in the NFL was in the Meadowlands against the Giants," Sanders told Eisen. "Like I said, we were running the run-and-shoot and I just remember (Taylor) coming up at the end of the game and just saying to me, 'You guys should scrap this run-and-shoot. You guys should get a fullback and you would be unstoppable in this league.' That's what I remember about that particular game.
"I don't know if he ever told our offensive coordinators that, but her certainly told me that. I'll never forget it."
All stats courtesy of Pro Football Reference.