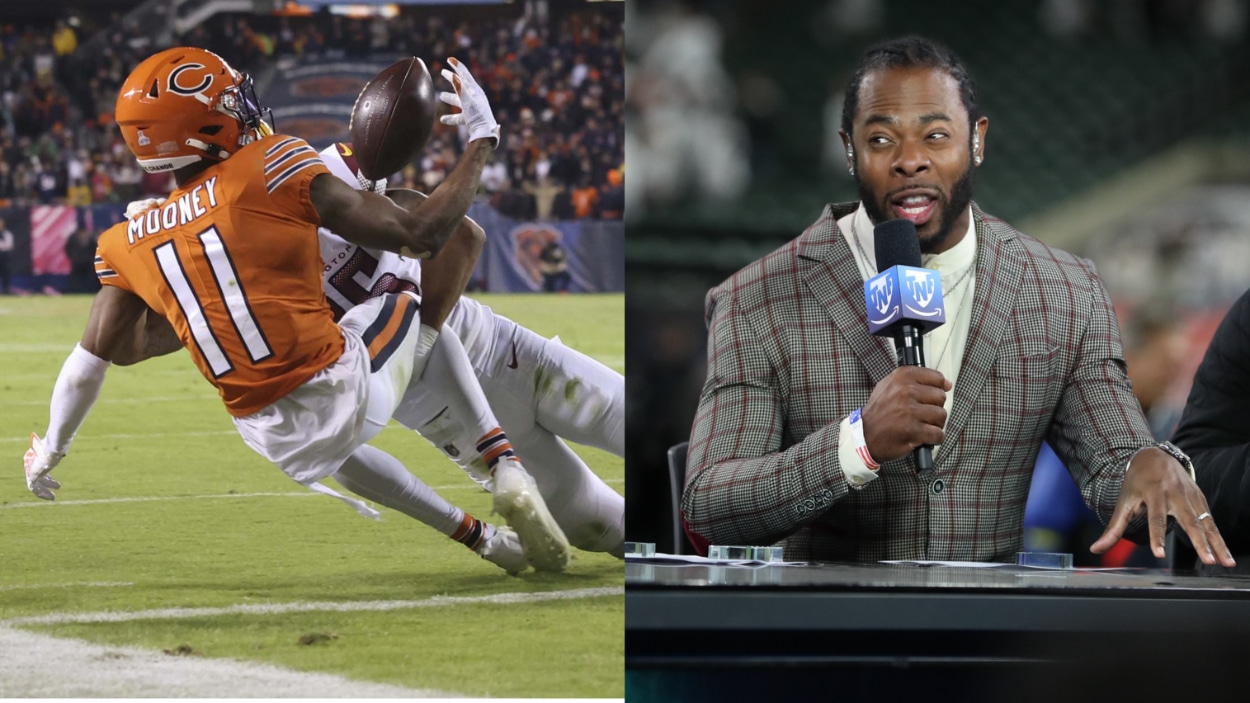 Richard Sherman Rips Bears Coaching Staff After TNF Loss
Amazon's Richard Sherman crushed Bears coaches after the team's TNF loss to the Commanders but the mess in Chicago is on the GM, too.
Another NFL week, another rough primetime matchup. In Week 6, the Thursday Night Football game on Amazon Prime was punt-fest between the Chicago Bears and Washington Commanders, which the visiting Commanders won 12-7. The game was a tough watch, but it did come down to a final Bears drive where the home team could have won it. However, Justin Fields' last attempts fell short, and both teams moved to 2-4 on the season. After the game, Amazon analyst Richard Sherman couldn't contain his contempt for the Bears' final plays, and he let the viewing audience — and the Bears coaching staff — know about it. 
Chicago's offensive coaching disgusted Richard Sherman 
A week after a poorly-timed pass play "triggered" Richard Sherman in the dying minutes of the Denver Broncos vs. Indianapolis Colts game, Justin Fields and the Bears set the three-time All-Pro cornerback off again. 
With the game at 12-7, the Commanders missed a 48-yard field goal with 1:48 to play. When the Bears got the ball back, Fields marched his team down the field, mostly courtesy of his own 39-yard scramble. 
With 1st-and-goal to go and plenty of time (0:52) left on the clock, it looked like the Bears would punch it in for the W. 
However, Fields scrambled again for just one yard, then had a pass knocked down by defensive lineman James Smith-Williams. Then wide receiver Dante Pettis dropped a ball in the end zone. Then, on fourth down, Darnell Mooney bobbled the ball after having it in his hands on the goal line, and the Bears turned it over on downs to end the game.  
That's what went down when Amazon threw its viewers to Sherman and company. 
After Andrew Whitworth and Ryan Fitzpatrick got to complain about the Bears offense and how head coach Matt Eberflus and offensive coordinator Luke Getsy don't give Fields the best chance to succeed, Sherman took his turn. 
"I don't understand it. It's like Luke Getsy is like, 'Hey, I want to challenge [Fields] to overcome my play-calling.' Don't make him overcome your play-calling! Put him in easy situations," Sherman started.  
"You know why the D-end had a chance to bat the pass down? Because he's in the pocket," Sherman continued. "You know why it's, 'Oh, he's late on throws?' Because he's in the pocket. It's not RPO action, it's not holding your linebackers, it's not putting him into positions he's used to succeeding in. No! You're like, 'Hey, let's make him be a pocket passer.' He runs 4.4! Make him race to the corner of the end zone. Make the defense chase."
And, just like last week, Sherman — prodded by host Charissa Thompson — punctuated his rant by yelling, "Run the damn ball!"
Bears losses aren't just the coaching staff's fault, GM Ryan Poles is to blame, too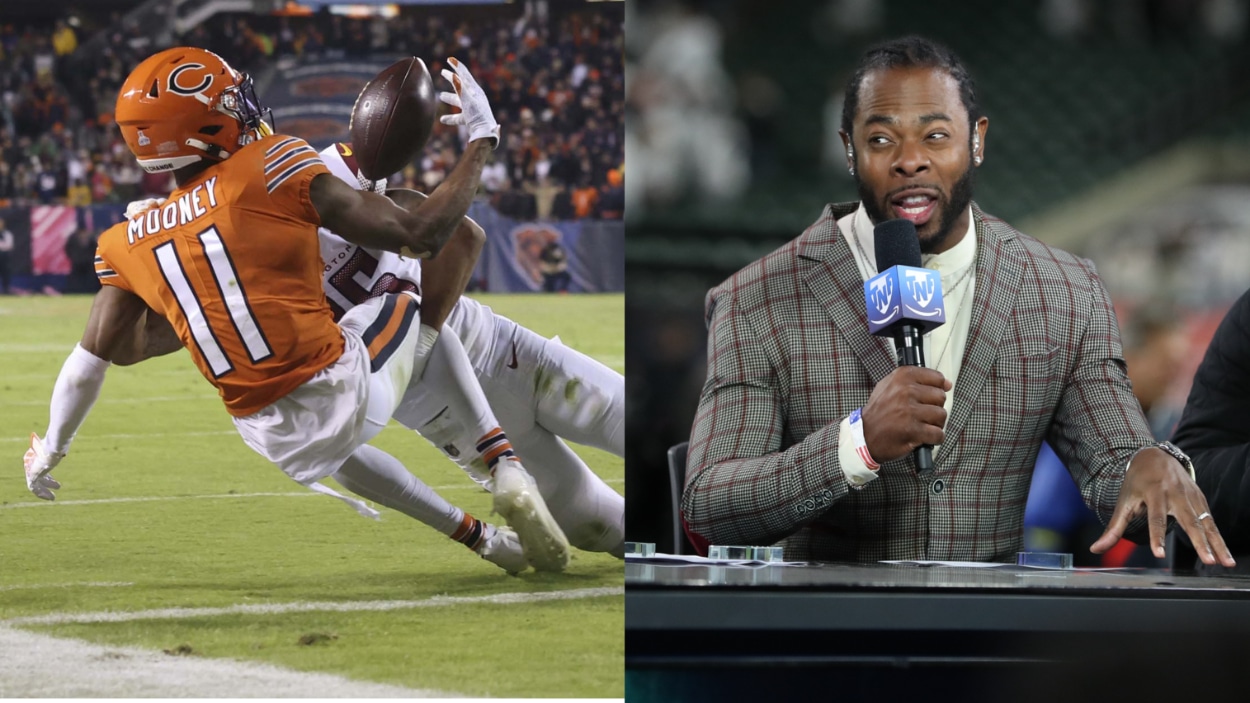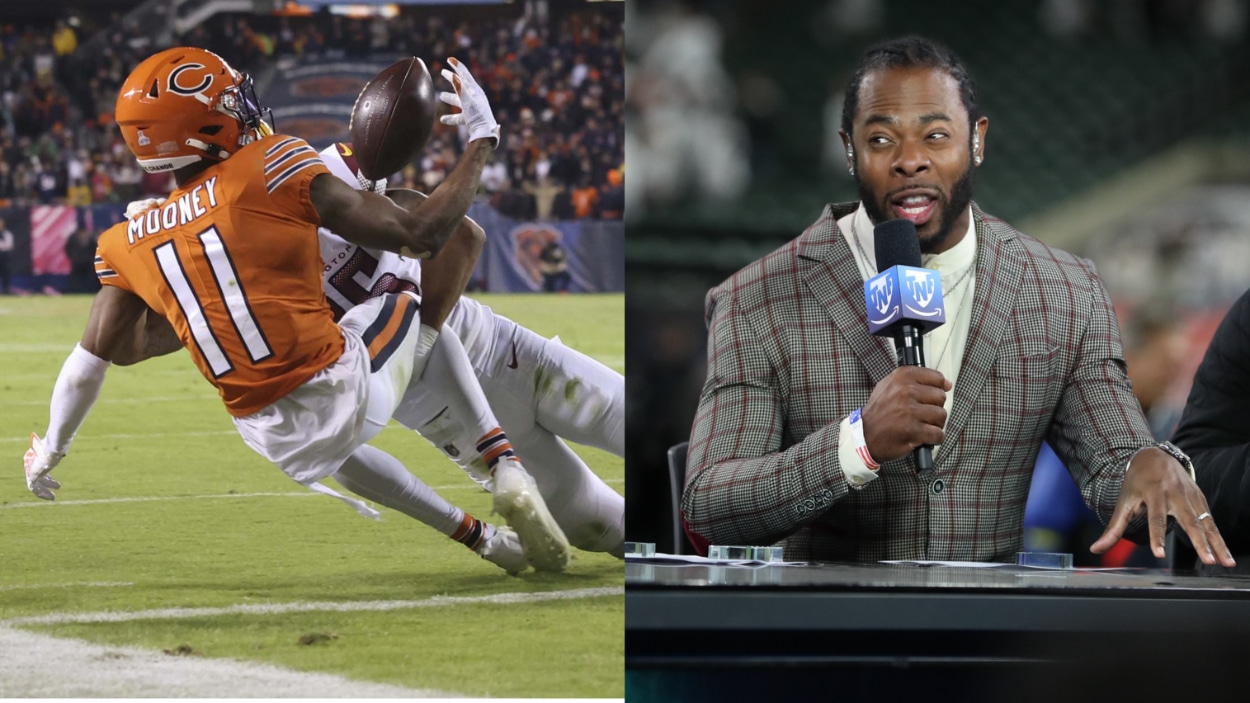 While Richard Sherman (and Andrew Whitworth, Ryan Fitzpatrick, and later Tony Gonzalez) all have a point that the Bears coaching staff, especially OC Luke Getsy, aren't setting up their second-year signal-caller to succeed, the Bears overall offensive ineptitude can't all be placed on the coaches. 
First-year general manager Ryan Poles failed in this year's NFL draft, too. 
Whether or not previous GM Ryan Pace should have traded up to draft Justin Fields in 2021 is up to debate. What isn't up for debate is that doing that just four years after doing the same thing with Mitchell Trubisky and whiffing on him got Pace fired. 
Coming into his first GM job, the 37-year-old, former Kansas City Chiefs executive director of player personnel Poles needed to try to fix Pace's mistake and do his best to build around Fields. 
What did Poles do instead?
He drafted defensive players with his first two picks and didn't address the team's two biggest needs — wider receiver and offensive line — until picks 71 and 168, respectively. 
The offensive line is one of the worst in the league and consists of two fifth-rounders and two undrafted players. 
The WR corps, however, might be even worse. 
Both Darnell Mooney and Dante Pettis made drops in the end zone that cost the Bears the game. But what really did the Bears in was Poles' third-round pick Velus Jones, who muffed a punt that the Commanders recovered on the 6-yard line, which led to their only touchdown. 
Getsy may not have done Fields right on Thursday night, but Poles did the entire team wrong back in April. 
Have thoughts on this topic? Keep the conversation rolling in our comments section below.