Ben Roethlisberger Scores a Touchdown by Helping a High School Quarterback Dealing With Cancer Fulfill an Awesome Wish for His Teammates
Pittsburgh Steelers quarterback Ben Roethlisberger helped a high school quarterback dealing with cancer fulfill his wish to gift his teammates new football uniforms.
Ben Roethlisberger has accomplished quite a bit over the course of his 17-year career with the Pittsburgh Steelers. He's a two-time Super Bowl champion, a seven-time Pro Bowler, a two-time passing yards leader, and holds several NFL records, including the most 500-yard passing games. And he's still playing at a high level as he completed 65.6% of his passes in 2020 for 3,803 yards and 33 touchdowns against just 10 interceptions. However, earlier this week, he had no problem calling himself the "second-best quarterback" in the Pittsburgh area as he helped a high school quarterback dealing with cancer fulfill his wish to gift his supportive teammates a set of new uniforms.
Freeport High School quarterback Garrett King was diagnosed with testicular cancer last year
A year ago at this time, Garrett King was preparing for his junior year at Freeport Area High School, which is located approximately 30 miles northeast of Pittsburgh. King was set to play both quarterback and defensive back for the Yellowjackets in 2020 but was forced to miss the entire season after being diagnosed with testicular cancer, which required surgery.
As he received consistent support and well-wishes from his teammates and the Freeport community as a whole, he hoped to one day give something back and was finally able to do so on Monday with a little help from Roethlisberger.
Ben Roethlisberger was on hand to help reveal Freeport's new football uniforms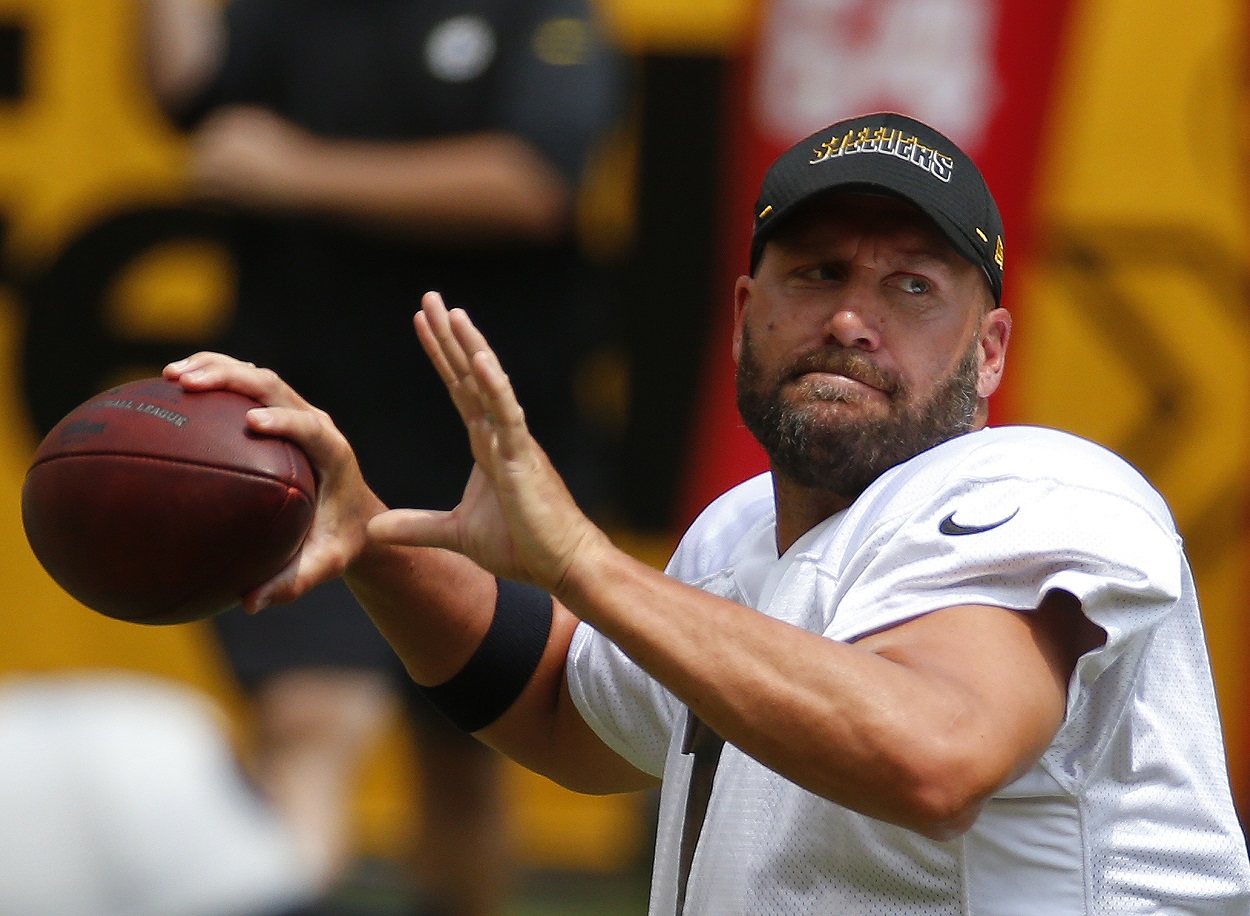 As King continued his recovery, he and his family set a plan in motion to thank the teammates who'd been so supportive during such a trying process. With the idea of getting the team new uniforms, they first contacted Freeport athletic director Shawn Stivenson, who then got in touch with the Make-A-Wish Foundation, who then made King's wish a reality.
On Monday, King and his teammates took a trip to Stage AE, a musical venue on the North Shore next to Heinz Field. While the rest of the team believed the trip was a team-building exercise as Monday was the first day of heat acclimation workouts, King knew they were there for the big reveal of the new unis, a secret he was forced to keep to himself for months, which he says was very difficult.
But not even King knew of the other big surprise: Ben Roethlisberger.
After a short intro from the Make-A-Wish Foundation, Roethlisberger was introduced to a huge ovation, and it was at that point when he called himself the "second-best quarterback" in the area, which was cool enough in itself. Big Ben then revealed the custom Nike uniforms, which King himself helped design. But he received another surprise as Nike had stitched "King Strong" on the back of the neck, which was another great touch to a great day. Nike will also be outfitting the Yellowjackets with new gloves and shoes.
And speaking of shoes.
Roethlisberger also delivered a custom pair of Nike shoes to King signed by Phil Knight
While the entire team received new uniforms, Roethlisberger had a couple of extra gifts for King. One was Nike co-founder Phil Knight's autobiography, which Roethlisberger called one of the best books he's ever read, and the other was a pair of custom Nikes signed by Knight, which Big Ben jokingly recommended he not wear to practice.
Afterward, King spoke on just how special the day was and how much he enjoyed meeting Roethlisberger (h/t Trib Live High School Sports Network).
"Seeing Big Ben [Roethlisberger] walk out from behind the curtain, my jaw dropped to the floor. Everyone went crazy and started clapping. He is someone I've looked up to my whole life and my whole football career. Being able to talk to him and shake his hand, he was so super cool. It was incredible for him to support me and think so highly of me."

Garrett King on Ben Roethlisberger
But the best news of all is that King has received good monthly reports from his medical tests and will return to the field this season. The Yellowjackets begin their 2021 season on August 27 against Armstrong High, and King says he feels "strong and fast" and that he and his teammates are "ready to go."
As for Roethlisberger, he and the Steelers begin their 2021 NFL regular season on September 12 with a high-profile matchup against the Buffalo Bills.
Stats courtesy of Pro Football Reference