Ben Simmons' Unannounced Arrival in Philadelphia Shocked the 76ers as Much as It Shocked Their Diehard Fans: 'Hey, Ben's Outside the Building'
The city of Philadelphia received an unexpected surprise on Monday night when Ben Simmons, after months of radio silence and intense drama, pulled up to the Wells Fargo Center to rejoin the 76ers.
It was a stunning development for Philly fans and NBA fans around the country, but no one was more shocked than the Sixers themselves. As it turns out, Simmons showed up to the arena without even telling the team he was coming back, and general manager Elton Brand only found out when he received a text that his All-Star point guard was outside waiting to be let in.
The Simmons saga just continues to get weirder and weirder.
Ben Simmons shockingly returns to the 76ers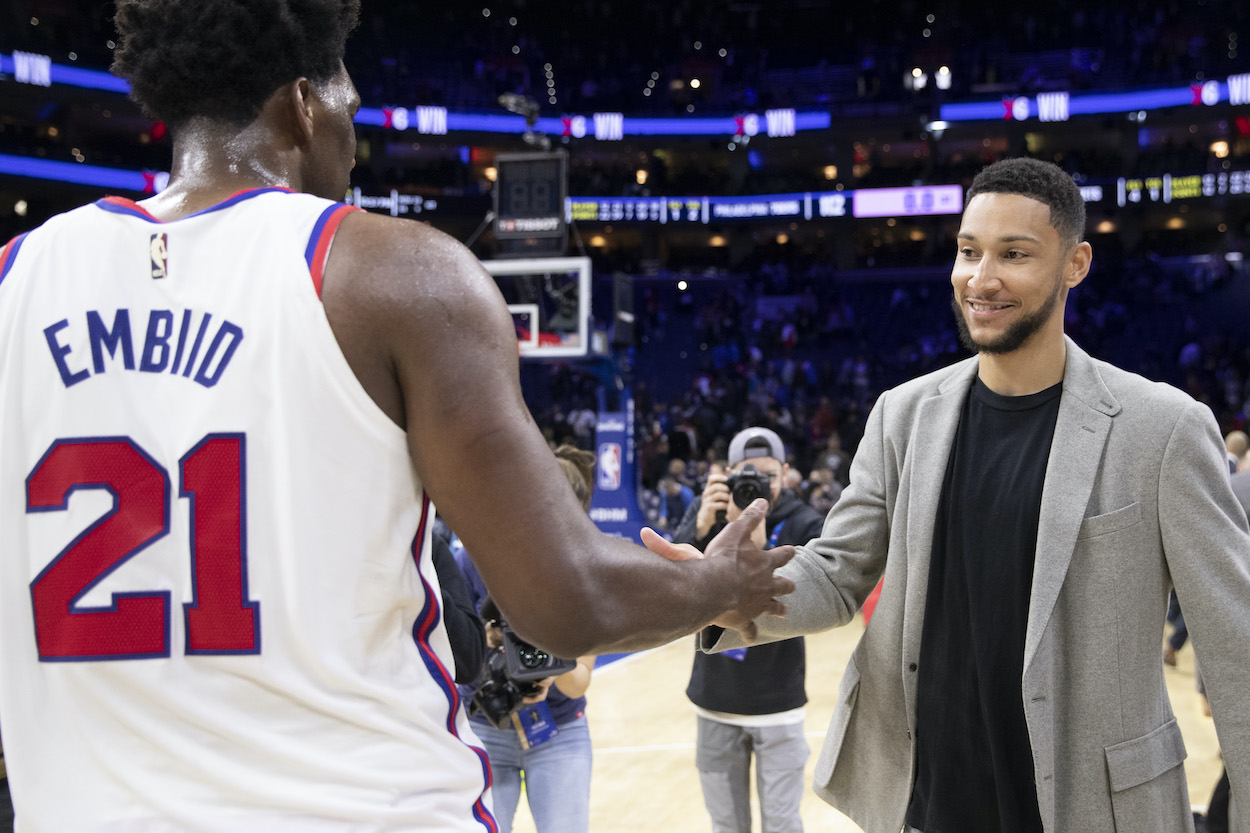 For much of the 2021 offseason, Simmons had been camping out in Los Angeles as he awaited a trade from the franchise that drafted him No. 1 overall in 2016. Simmons requested a trade from the 76ers back in June, and he hadn't been in direct contact with the front office ever since.
The three-time All-Star remained in California through the first two weeks of the preseason in hopes that a deal would come to fruition before the season. He reportedly stated that he wouldn't be reporting back to the team until a trade was in place. However, Simmons' trade value plummeted to such a low point that the Sixers would only be getting worse if they accepted even the best offer on the table right now.
So, president of basketball operations Daryl Morey called Simmons' bluff by deciding not to trade him at all. And after a lengthy staredown, Simmons finally folded his hand.
On Monday night, Simmons flew back to Philadelphia and took a COVID-19 test inside the Wells Fargo Center to start the process of rejoining the team for the 2021-22 season, as first reported by Adrian Wojnarowski of ESPN. Sixers fans thought Simmons' career in Philly was dead and buried, so they were understandably shocked by the breaking news.
Even the 76ers front office was caught off guard by his arrival.
Ben Simmons didn't tell the 76ers he was showing up on Monday night
In maybe the most stunning twist of this bizarre story, Simmons kept his Monday journey to Philadelphia a secret from everyone in the 76ers organization. The players and coaches were in the middle of a preseason game when Simmons showed up, so they didn't find out about the news until after the final buzzer.
In his postgame press conference, head coach Doc Rivers said his only knowledge of the situation came from Wojnarowski's report.
"I'm gonna call Woj and find out what's going on," Rivers joked.
Wojnarowski later appeared on SportsCenter with Scott Van Pelt and revealed that not even the GM knew Simmons was going to show up on Monday.
The morning started with the 76ers talking to Rich Paul, Ben Simmons' agent, about him coming in. Philadelphia thought he would probably come later in the week. And all of a sudden, near the opening tip tonight of that Brooklyn-Philly preseason game, I'm told that Elton Brand, who's the Sixers general manager, works with Daryl Morey and Doc Rivers, gets a text message essentially saying, 'Hey, Ben's outside the building. He needs to get in to come take his COVID test.' And that's how the Sixers found out that Ben Simmons, after two weeks away in the preseason, had returned to Philadelphia.

Adrian Wojnarowski
Incredible. Simmons just pulled off the NBA version of a George Costanza, and it actually worked.
A best-case scenario for the 76ers
The diehard Philadelphia fans who chased Simmons to LA with pitchforks in their hands might not be thrilled that he's back in the picture, but his return really is the best-case scenario for the 76ers.
Think about it.
No interested team was going to give the Sixers the star they wanted in return for Simmons in a trade. Any deal made this offseason would've set the franchise back in its quest for an NBA title. And if Simmons went through with his plan of holding out into the season, Philly would've started the year without a starting-caliber point guard and with $33 million in dead cap space getting its tan on in LA.
This doesn't mean Simmons is back for the remaining four years of his contract, either. It's quite possible he puts up another All-Star performance in the first half of the season, which the Sixers can leverage to make a blockbuster trade at the deadline that might not be available right now.
Whether 76ers fans want to admit it or not, Simmons being on the floor for the team's home opener on Oct. 22 is a dream scenario for the franchise. Just try not to boo him too much or he might hop right back on a plane and not come back this time.
Like Sportscasting on Facebook. Follow us on Twitter @sportscasting19.
RELATED: Ben Simmons is Reportedly so Fed up With Philadelphia 76ers That He'd Welcome a Trade to the NBA's Most Dysfunctional Organization