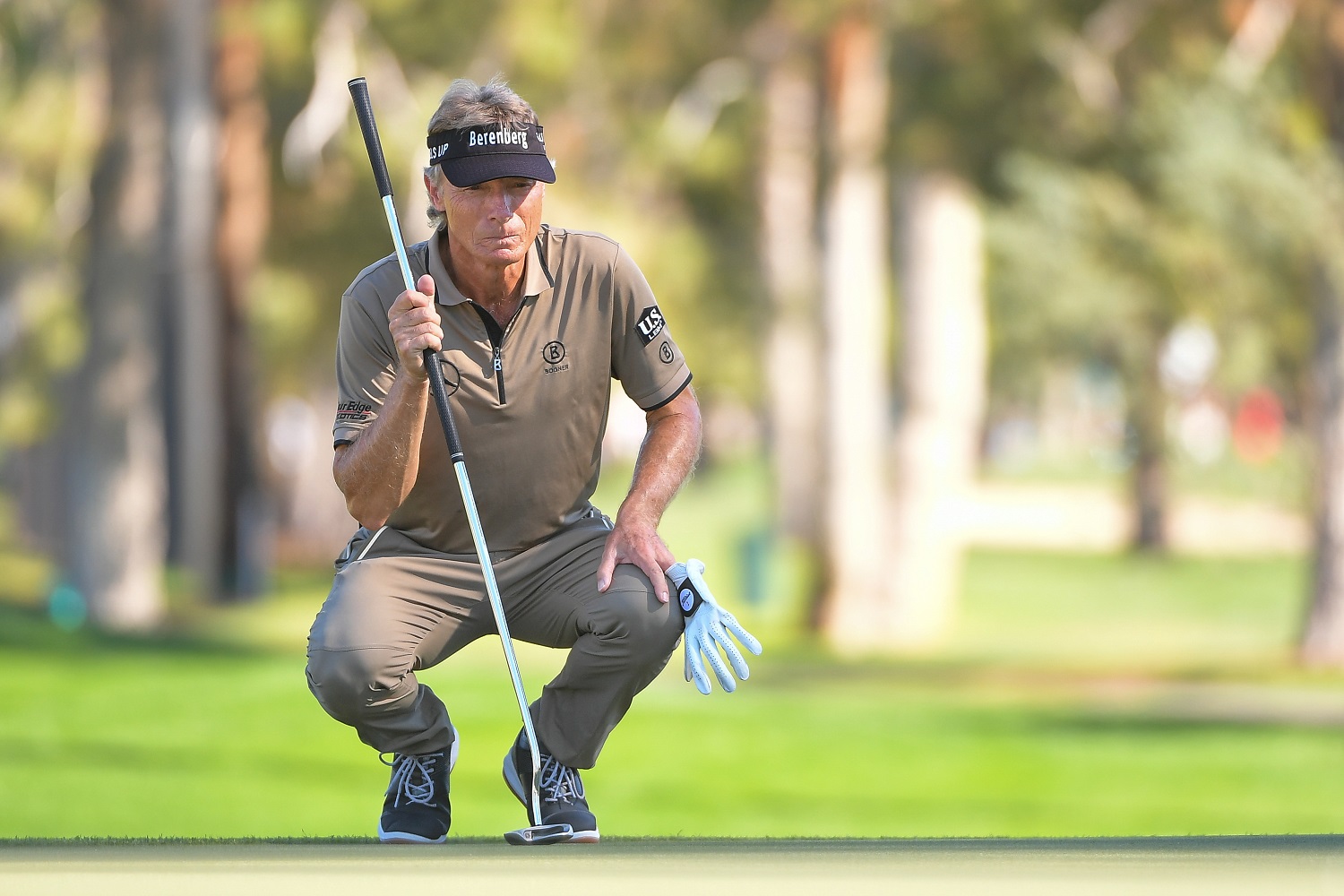 Bernhard Langer Is 64 Years Old, and the 2-Time Masters Champion Just Pulled off 1 of the Most Coveted Feats in Golf
Bernhard Langer already shot his age once this season. On Saturday, he went one better in the season-ending tournament while battling for another PGA Tour Champions title.
Article Highlights:
Bernhard Langer, 64, shot a 63 in the third round of the Charles Schwab Cup Championship on Saturday
Langer is in contention for the season title of the PGA Champions Tour
The season ends Sunday at Phoenix Country Club
Bernhard Langer is pulling off feats that golfers half his age can never hope to accomplish today. No, seriously, they can't unless they're only playing the front nine before calling it a day.
On Saturday in Phoenix, the oldest winner on the PGA Champions Tour scored an impressive accomplishment with the help of eagles on his first and last holes of the day.
Bernhard Langer has nothing left to prove in golf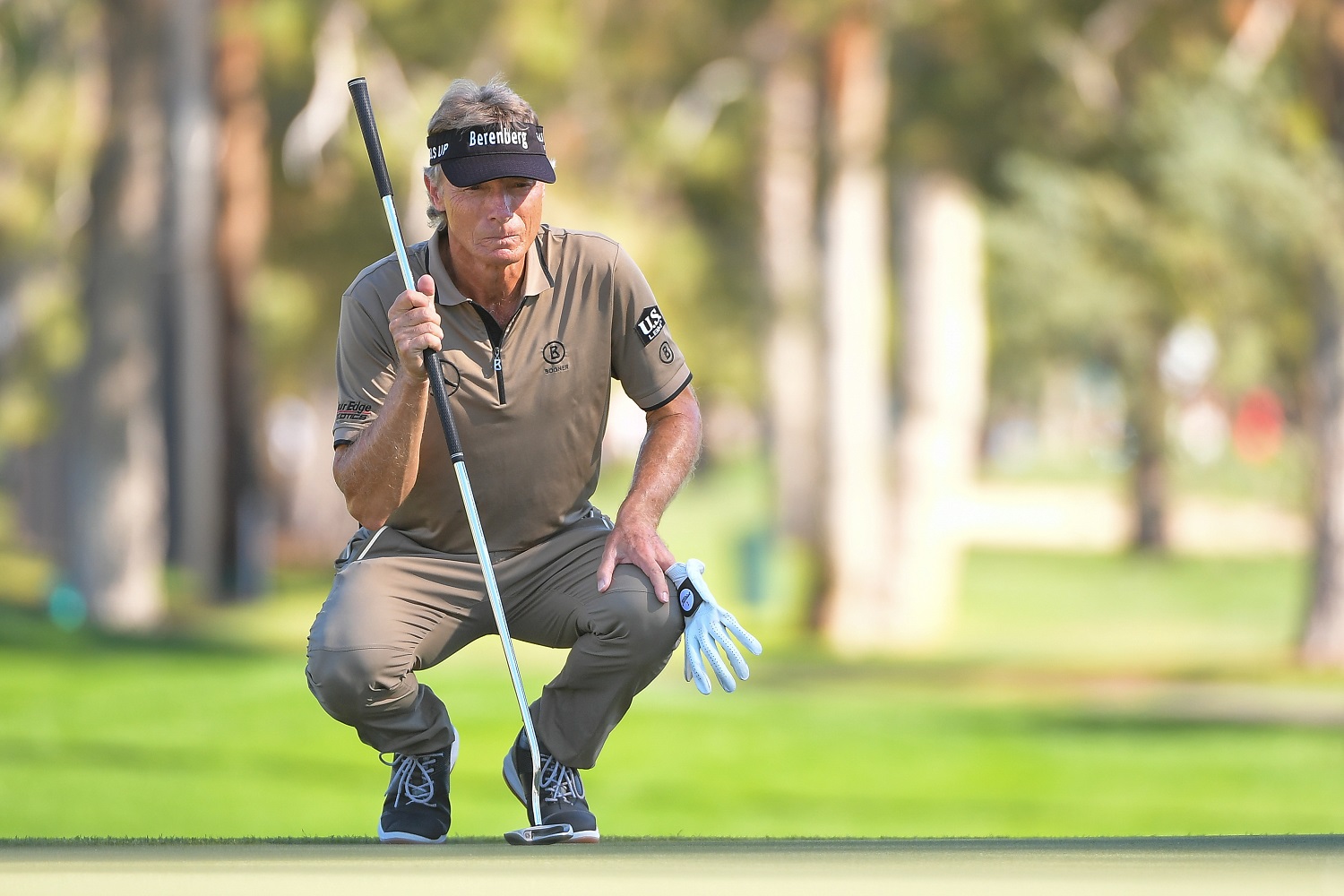 Bernhard Langer spent relatively little time playing PGA Tour events during the prime of his career, typically focusing on tournaments in Europe instead. Nevertheless, he won The Masters Tournament twice and put up 17 other top-10 finishes in the sport's four majors.
On the other hand, Langer, 64, has been a regular on the PGA Tour Champions circuit since turning 50. The Bavaria, Germany, native has been nothing less than prolific since.
In 293 seniors events, Langer has scored 42 victories (11 in majors) and 39 second-place finishes. His next top-10 finish, which could come this weekend, will be his 200th on the Champions Tour, where he is contending for his sixth season championship.
Bernhard Langer just pulled off one of the most difficult feats in golf
Golf star Bernhard Langer celebrated his 64th birthday in August by shooting his age on the big day during the Ally Challenge in Grand Blanc, Michigan. Shooting one's age has long been the goal of golfers ranging from retired PGA superstars to twice-a-month hackers on local municipal courses.
On Saturday, Langer one-upped himself by shooting an eight-under-par 63 in the third round of the season-ending Charles Schwab Cup Championship at Phoenix Country Club. Making shooting under his age even more impressive, Langer has been playing with a bad back all week. Langer is locked in a battle with tournament leader Jim Furyk for the season championship and decided to play after his doctor assured him doing so wouldn't make the condition worse, Golfweek reported.
"I've played in some severe pain when I was younger and that was probably a mistake looking back," Langer said. "But at the time, you know, you fly all the way to Australia, and you don't want to withdraw because you have back pain or something.
"I played a number of rounds of golf with a lot of pain, and I can stand pain fairly well, but I'm not sure it's the smartest thing to do.
Langer played bogey-free golf Saturday. Aside from the eagles on par-5 holes to start and end the day, he made birdies on Nos. 3, 7, 10, and 17.
The final 18 holes of the season will be full of drama
Jim Furyk will carry a one-stroke lead over Kirk Triplett into the final round of the Charles Schwab Cup Championship on Sunday. Phil Mickelson is alone in fifth place, three strokes back. Bernhard Langer, coming off his round of 63, will start the day six strokes back in ninth place.
If Furyk maintains his lead through the end of Sunday's action, he wins the season-long Charles Schwab Cup. He also wins the crown with a solo second-place finish as long as Langer finishes ninth or lower. However, Langer needs only to finish 18th or better if Furyk slips to third over the final 18 holes.
"I played probably more this year than I have in a number of years because my goal was to win the Schwab Cup and the more you play, the more chances you have," Langer said. "So, I gave myself the opportunity and now we'll see what happens."
Like Sportscasting on Facebook. Follow us on Twitter @sportscasting19.