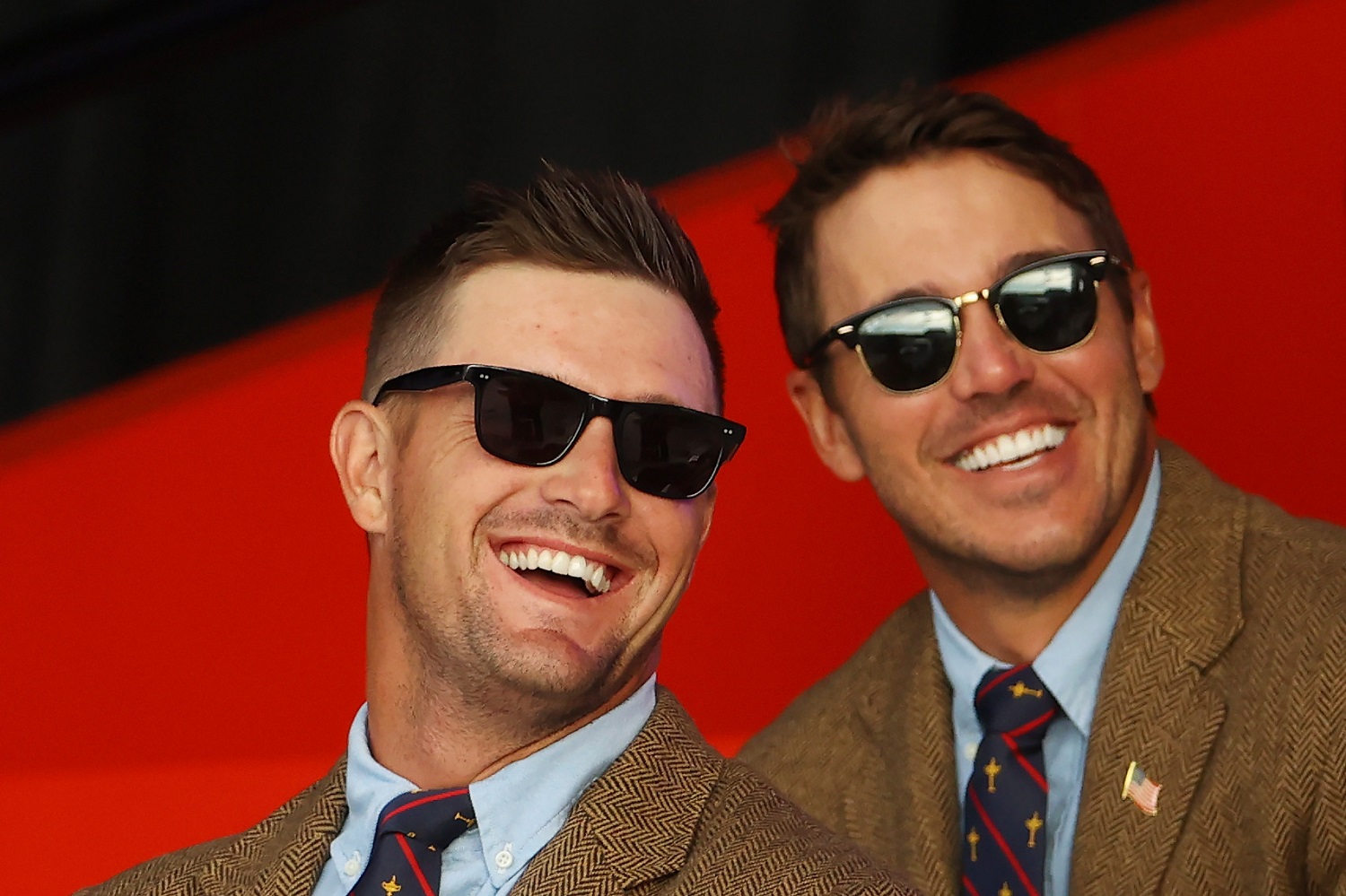 Bryson DeChambeau and Brooks Koepka Will Play in 'The Match' After Perhaps Playing Us All for 2 Years
Bryson DeChambeau and Brooks Koepka feuded for more than two years ahead of the Ryder Cup. Now, they'll cash in by battling in 'The Match' on Thanksgiving weekend.
Turner Sports is messing with success of The Match, which should lead golf fans to wonder whether Bryson DeChambeau and Brooks Koepka have been messing with them and the PGA Tour for a year.
DeChambeau and Koepka have agreed to go head-to-head in the latest edition of The Match, the made-for-TV golf event. They'll meet Nov. 26 at 4 p.m. ET at the Wynn Golf Course on the Las Vegas strip.
Another year, another format for 'The Match'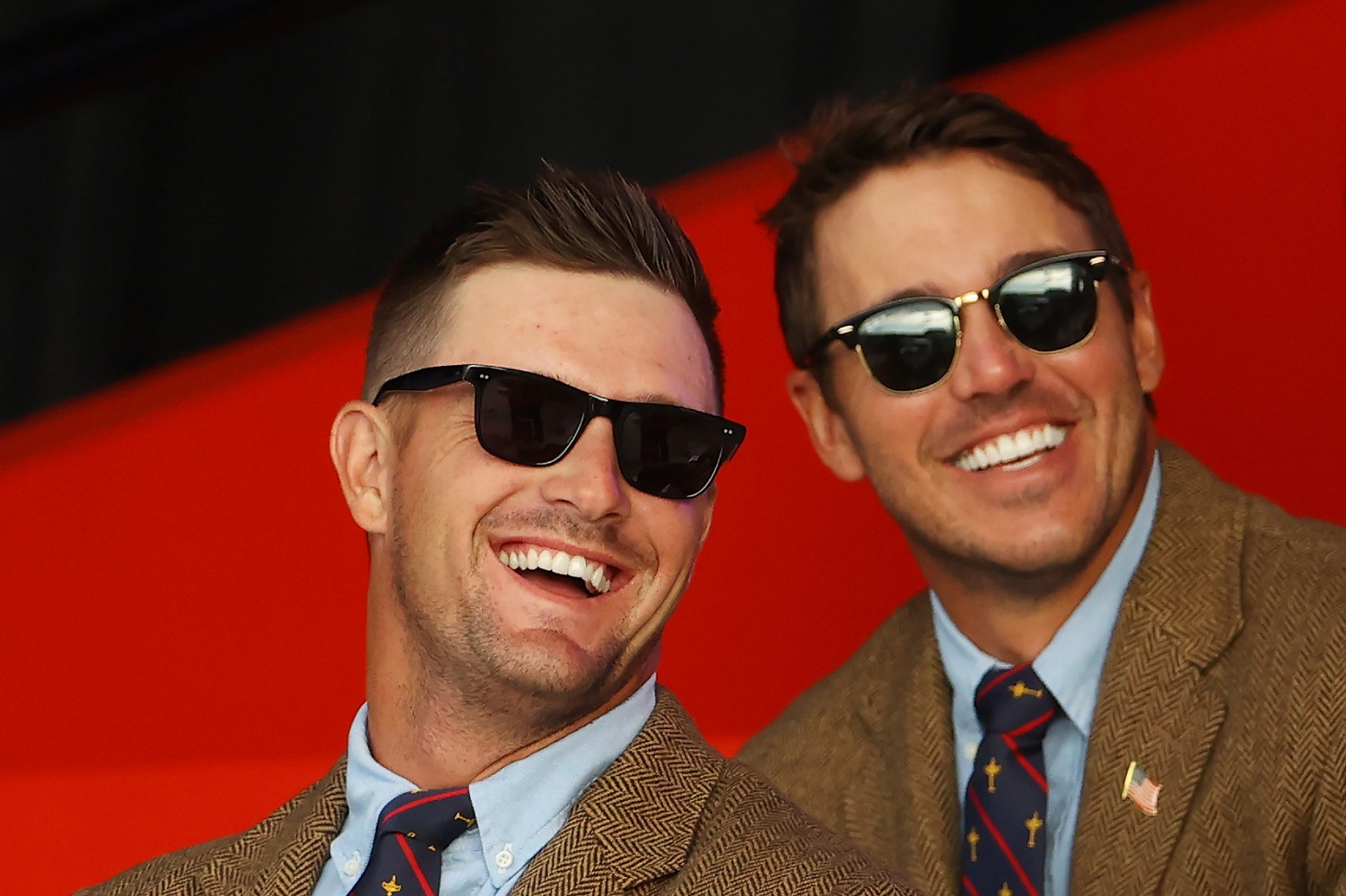 The Match began on Nov. 23, 2018, as a one-on-one showdown at Shadow Creek in Las Vegas between Tiger Woods and Phil Mickelson. Mickelson won the $9 million, winner-take-all purse on the fourth playoff hole.
Producers added a twist to the rematch on May 24, 2020, by giving the PGA Tour stars partners for a four-ball format. Woods teamed with Peyton Manning, and Mickelson partnered with Tom Brady. The Woods-Manning team held on for a 1-up victory.
The action moved to Stone Canyon in Oro Valley, Arizona, on Nov. 27, 2020. Mickelson and Charles Barkley rolled past Manning and Stephen Curry, 4-and-3.
The most recent edition was another team affair. Playing at The Reserve at Moonlight Basin in Big Sky, Montana, Mickelson and Brady fell to Bryson DeChambeau and Aaron Rodgers, 3-and-2.
The next outing, set for the day after Thanksgiving, will pit DeChambeau against Brooks Koepka, but it will be a 12-hole contest instead of the traditional 18. With just two competitors, the banter of the three most recent editions might be lacking. However, the buildup to the match ought to be fascinating.
Have Bryson DeChambeau and Brooks Koepka been playing us?
The producers of The Match obviously are banking on the feud between Bryson DeChambeau and Brooks Koepka to attract a huge television audience based upon mutual animosity (ESPN pulled together the definitive chronology), beginning with Koepka criticizing DeChambeau's slow pace of play at the Dubai Desert Classic in January 2019.
A year later, comments DeChambeau made mocking Koepka's appearance in ESPN The Magazine's The Body Issue went public. Koepka posted something on Twitter to the effect that he might not have DeChambeau's six-pack abs, but he did have four major championships.
Without naming his fellow PGA Tour pro, Koepka made a handful of remarks after the pandemic shutdown that seemed aimed at DeChambeau. And, of course, there were the events of the past season: Koepka rolling his eyes during a post-round interview as DeChambeau walked by, and his egging on fans who had started calling DeChambeau "Brooksie."
Again, animosity between the men existed, but they attracted a lot of media attention and fan interest. That's relevant because the PGA Tour rolled out a lucrative incentive this spring. Under the $40 million Player Impact Program, 10 players deemed to do the most to boost publicity and engagement cash in.
DeChambeau all but admitted at one point that the feud moved him that much closer to a payday.
"I'm happy that there's more conversation about me, because of the PIP fund," he said at the time, according to ESPN.
Bryson DeChambeau and Brooks Koepka are coming off a Ryder Cup triumph
With the Ryder Cup approaching and Bryson DeChambeau and Brooks Koepka sure to qualify for the U.S. team, captain Steve Stricker told them they must co-exist. Otherwise, they would be an unnecessary distraction.
"They said it's not going to be an issue, and I believe them," Stricker said. "I trust them. As far as I'm concerned, it's been put to bed."
The American squad routed Europe, 19-9, and Koepka and DeChambeau were on their best behavior. Minutes after the U.S. team clinched, cameras captured the adversaries shaking hands and briefly embracing.
As loud as the sniping got over two years, there were no known physical altercations. Meanwhile. Koepka and DeChambeau undoubtedly cashed in on the PGA Tour's $40 million marketing program, and now they stand to cash in again via The Match on Thanksgiving weekend.
If we didn't know better, we'd say they've played the money game every bit as well as they've golfed.
Like Sportscasting on Facebook. Follow us on Twitter @sportscasting19.