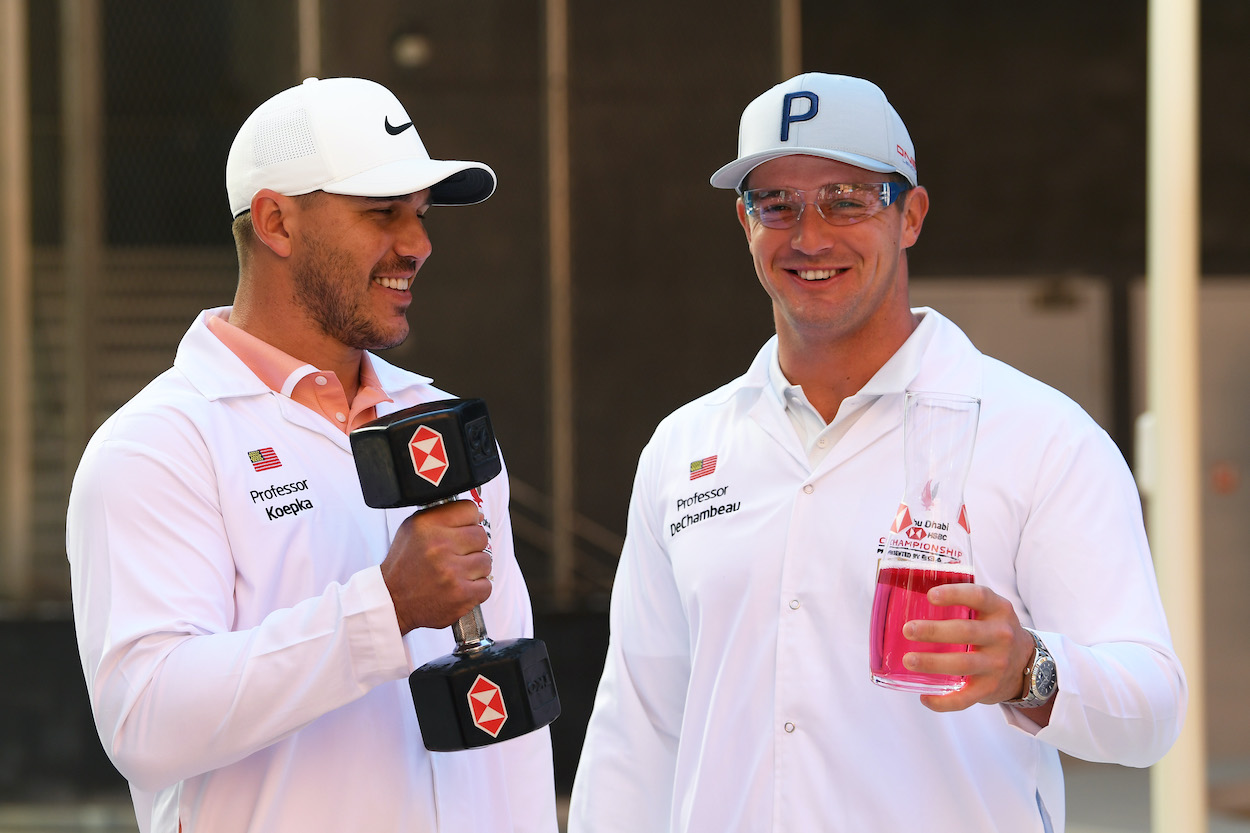 Mortal Enemies Bryson DeChambeau and Brooks Koepka Recently Went to Dinner Together and Somehow Didn't Rip Each Other's Heads Off
Bryson DeChambeau and Brooks Koepka played nice at a Ryder Cup dinner earlier this month.
Bryson DeChambeau and Brooks Koepka can't even be in the vicinity of one another at this point in their nasty feud. It's clear neither PGA Tour star has any interest in squashing their beef, and they're both totally content going on with their careers separately.
But this month will surely be a test for their deteriorating relationship, as both DeChambeau and Koepka will be representing Team USA at the Ryder Cup on the weekend of Sept. 24. Just recently, the two enemies were forced to play nice at a dinner with team captain Steve Stricker, and they somehow didn't poison each other's meals or start a food fight from across the table.
Bryson DeChambeau and Brooks Koepka are still feuding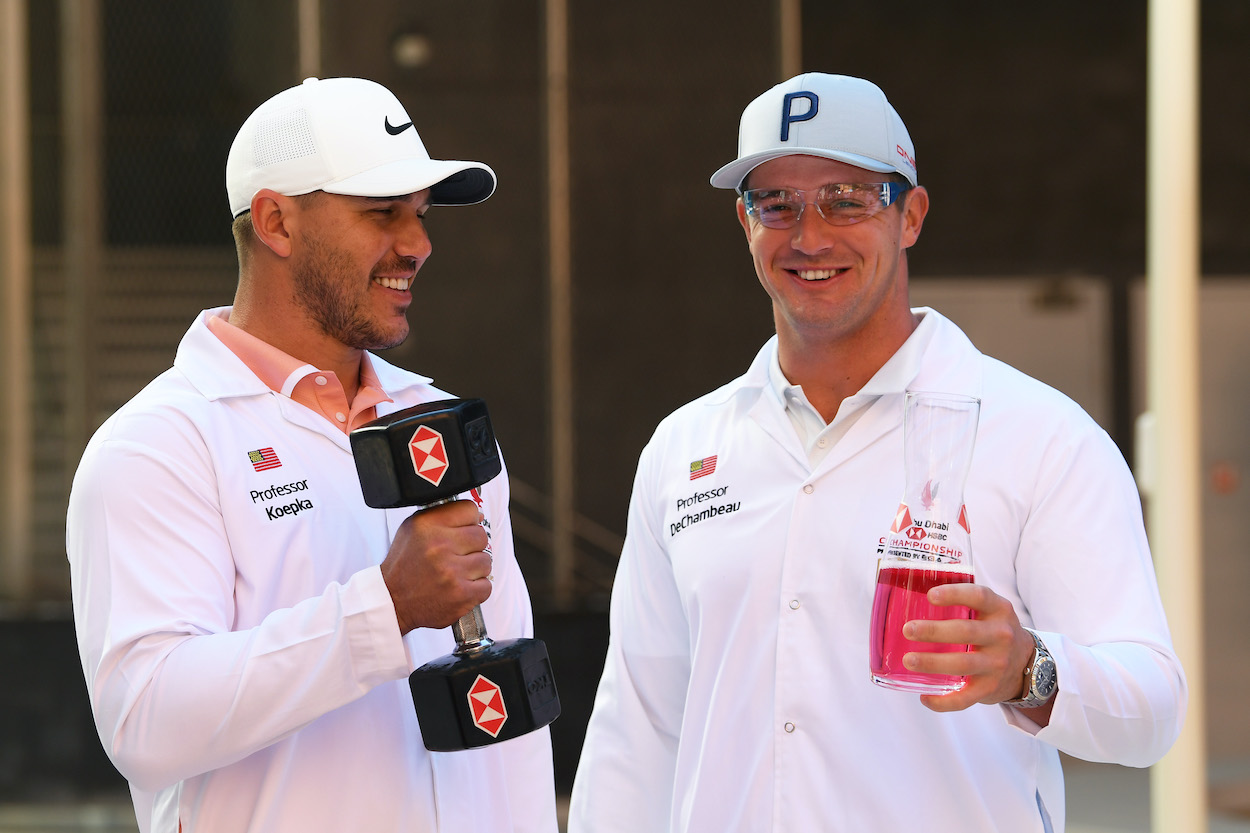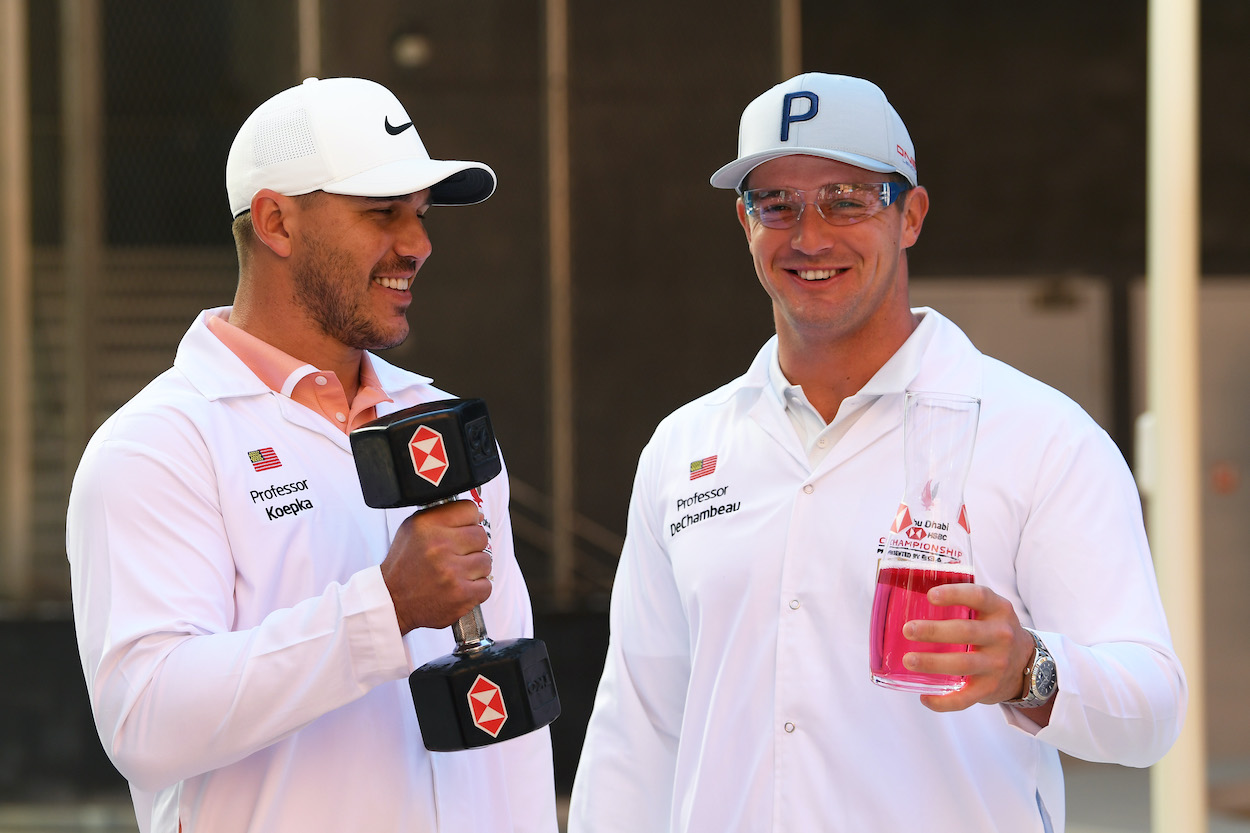 The DeChambeau-Koepka feud can be traced back to 2019 when Koepka complained about his rival's slow play. It escalated at this year's PGA Championship when a clip of Koepka rolling his eyes in disgust as DeChambeau walked behind him during a post-round interview surfaced online.
Since then, it's only gotten worse.
The two Americans began trading jabs back and forth on Twitter, which prompted golf fans to pick a side in the beef. Fans started mocking DeChambeau at tournaments by calling him "Brooksie," and that didn't sit well with the big-hitting scientist. Koepka continued to throw shade at his rival when DeChambeau split with his caddie and after he complained about his driver during the Open Championship.
The whole situation has turned into a major distraction for both players, but Koepka believes it's a positive for the sport.
"I think it's good for the game. I really do," Koepka said in June. "The fact that golf's on pretty much every news outlet for about two weeks pretty consistently, I think that's a good thing. It's growing the game."
The two have kept their distance all year, but they'll be forced to get along this month in preparation for the Ryder Cup.
DeChambeau and Koepka recently broke bread at the dinner table
DeChambeau and Koepka want nothing to do with each other, but that won't be an option this month, as both players automatically qualified for the U.S. team at the 2021 Ryder Cup. That means getting along during team meetings, playing practice rounds near each other, and supporting one another at Whistling Straits.
The two enemies recently had to get along at a team dinner Stricker set up for the six automatic qualifiers earlier this month before the TOUR Championship. So, it was Stricker, DeChambeau, Koepka, Justin Thomas, Patrick Cantlay, Dustin Johnson, and Collin Morikawa all at the same table talking strategy and building camaraderie. How much would you have paid for a table right next to that group?
But DeChambeau and Koepka were surprisingly civil at dinner considering the events that have transpired between the two this year.
"It was good," Koepka said of the dinner, per Golf Digest. "Food was good. We just talked about everything that's going on right now, what we're doing kind of leading up to it, … who we think might suit the team well if they would be there. It was a good dinner. We enjoyed it, and it was fun."
He might be sugarcoating it a bit, but Koepka is normally a straight-shooter when it comes to the media. If something had gone down that night, he likely would've told us all the juicy details.
Can the two Americans really survive as Ryder Cup teammates?
DeChambeau and Koepka won't become best friends or even speak to each other during the Ryder Cup later this month, but they will have to at least get along. Success at the biannual event largely depends on how well the team gels and supports each other on and off the golf course, so they'll have no choice but to put the beef aside for just one week.
Stricker is confident the two can survive a few days on the same team.
"They assured me that the team and the country and everything else that goes into this is their (top priority)," the team captain said last month, per Reuters. "They said it's not going to be an issue, and I believe them. I trust them. As far as I'm concerned, it's been put to bed."
As for a potential pairing between the two, we can assume that won't be happening. Either way, this is going to be a fascinating story to follow leading up to the Ryder Cup.