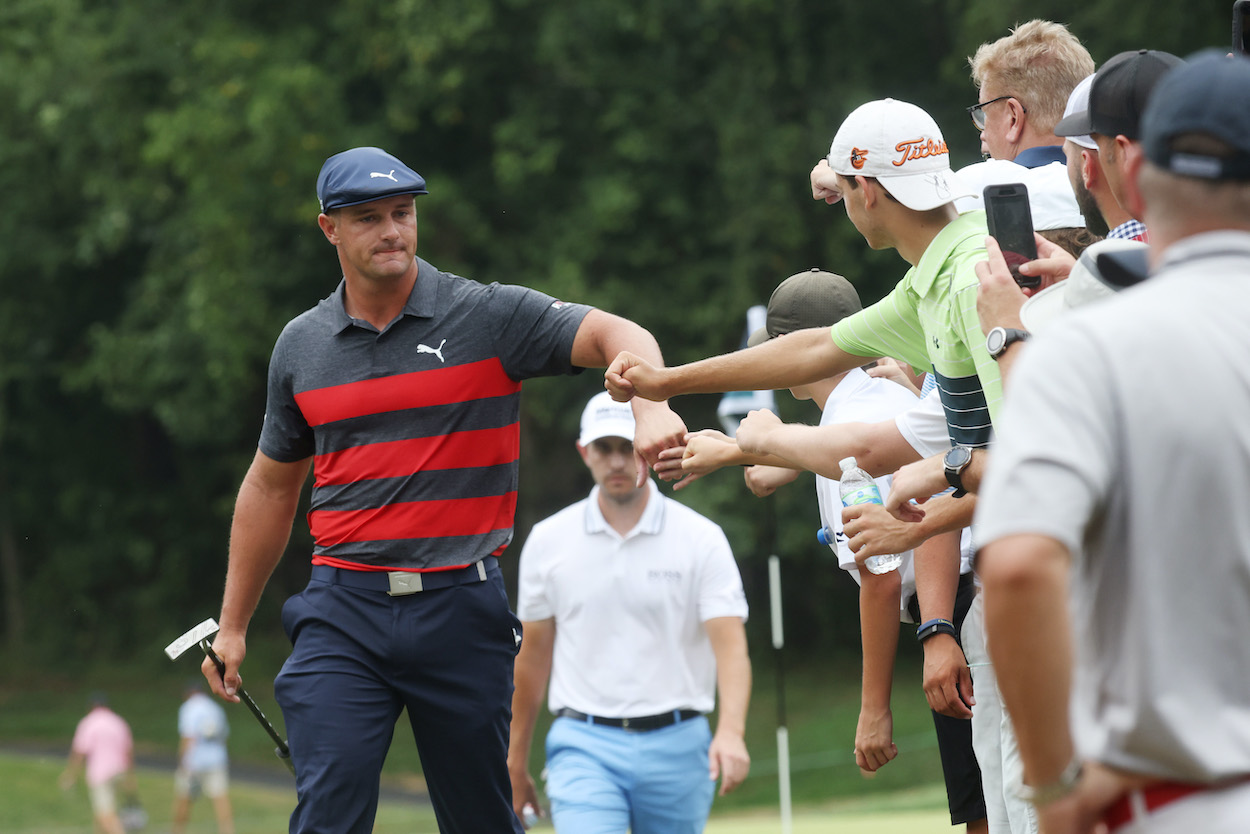 Bryson DeChambeau Quickly Fought Off the Excruciating Pain of His BMW Championship Loss and Presented a Heartwarming Gift to a Lucky Fan
Bryson DeChambeau gifted his hat to a young fan after his playoff loss to Patrick Cantlay.
Bryson DeChambeau suffered one of the most brutal losses of his professional golf career on Sunday at the BMW Championship. He had five chances to edge out Patrick Cantlay for the title and the top spot in the FedEx Cup standings, but his putter failed him when he needed it most.
After the tournament, though, DeChambeau somehow found the strength to make a young golf fan's day by gifting him his hat on his lonely walk to the clubhouse.
Bryson DeChambeau loses in devastating fashion at the BMW Championship
The BMW Championship was DeChambeau's to lose.
He fired a majestic 60 in the second round to take a stranglehold on the tournament, but the bomber faltered down the stretch and eventually lost to Cantlay in a six-hole playoff.
DeChambeau entered the 72nd hole of the tournament with a one-stroke lead over his American counterpart. After sticking his approach shot to 15 feet, he watched as Cantlay buried his longer birdie putt to tie the lead. A make would've locked up the title and the No. 1 spot in the FedEx Cup standings heading into the TOUR Championship, but his putt missed wide.
After both players tied the first five holes of the playoff, Cantlay made another long birdie putt on the 18th hole to put the pressure back on DeChambeau. But again, he couldn't find the bottom of the cup from short range, and Cantlay held on for the victory.
It was a brutal loss for the 27-year-old, but he still found a way to make someone else's day.
DeChambeau gifts his hat to a lucky golf fan
After a gutting loss like the one DeChambeau suffered on Sunday, all he wanted to do was sign his scorecard and get the heck out of there. Fans were heckling him all day — as they do every week — and it was clearly taking a toll on the PGA Tour's most hated figure.
But as he walked off the 18th green and started his journey to the Caves Valley clubhouse, a jolt of benevolence struck him right in his aching heart.
DeChambeau walked toward the raucous gallery, took off his patented, dark blue scally cap, and tossed it to a young fan in the front row. The lucky fan couldn't help but light up with a smile.
"I got Bryson's hat!" he exclaimed in disbelief.
DeChambeau's impressive act of kindness just goes to show that even if you're having a horrible day, you can still brighten up someone else's.
It wasn't all love for the fans on that walk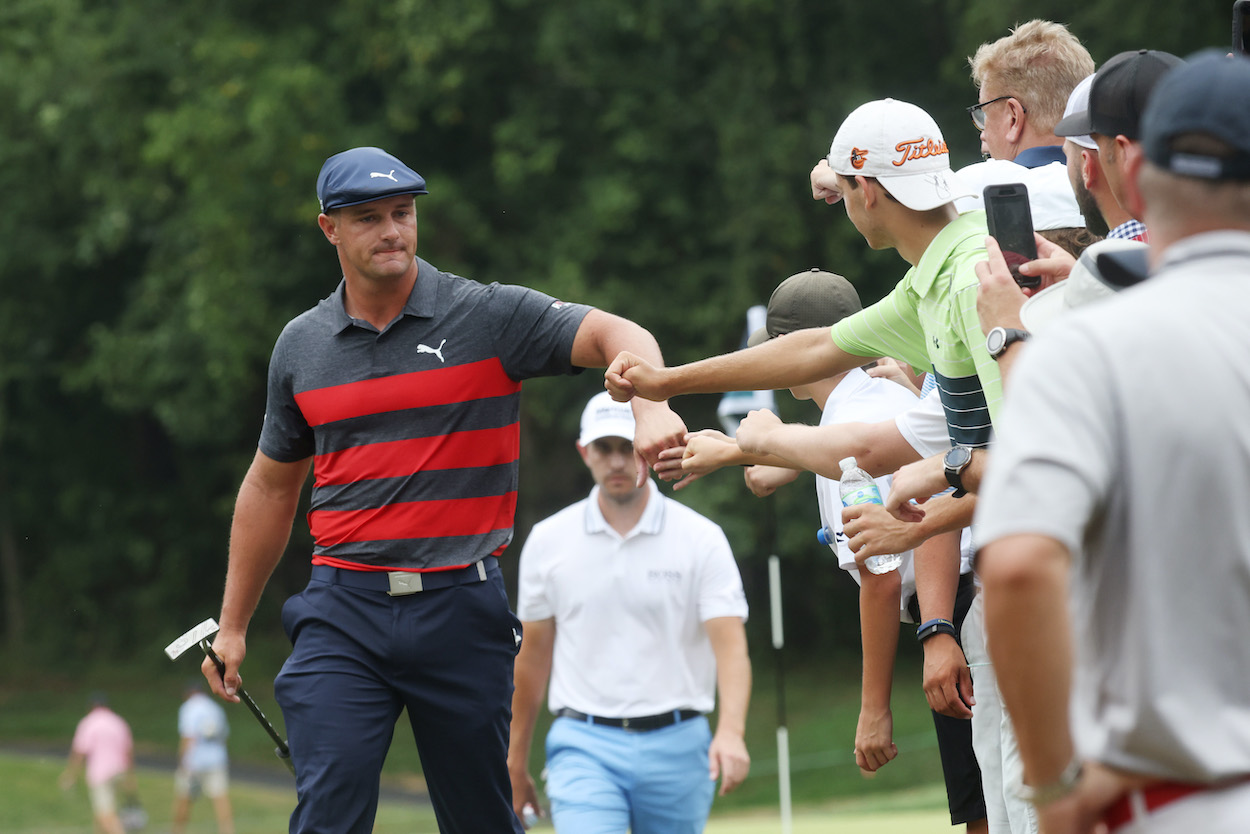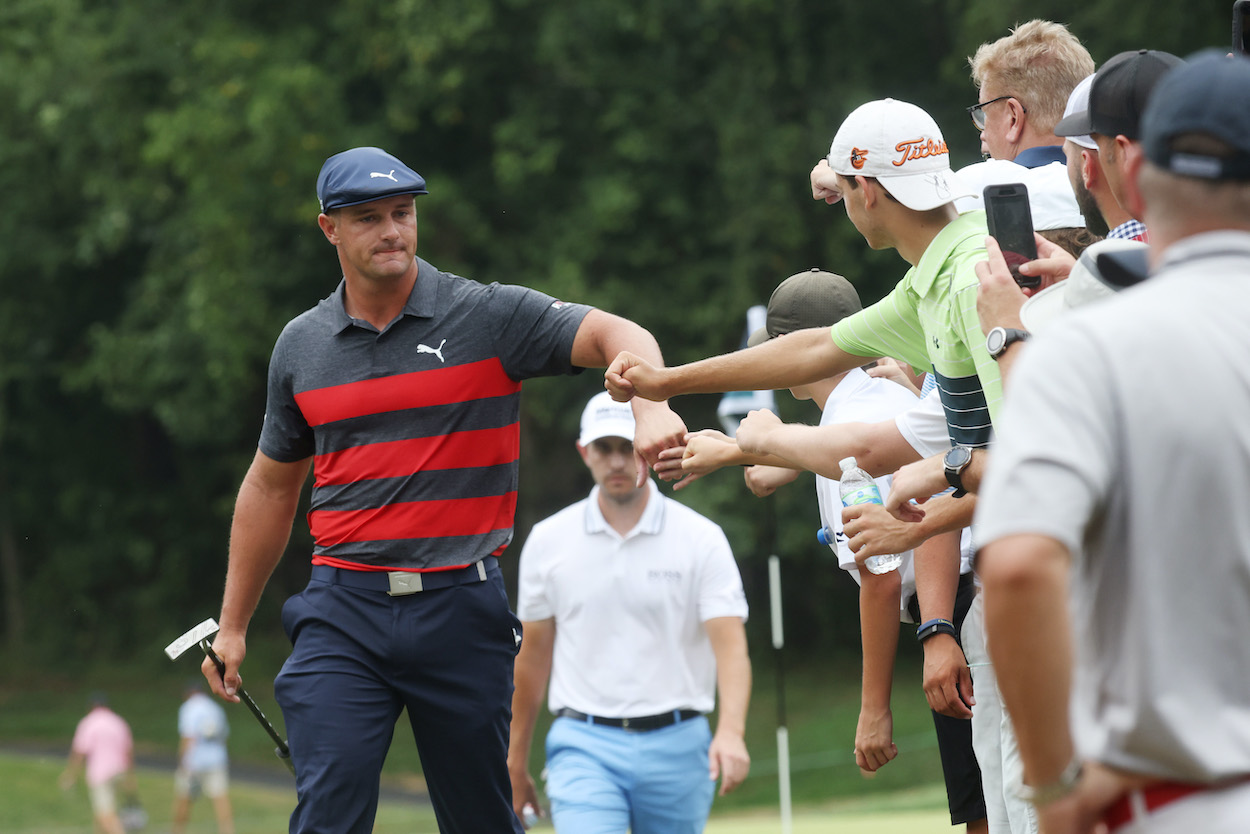 DeChambeau's walk to the clubhouse started about as well as it could've, but it quickly fell off the rails.
As Kevin Van Valkenburg of ESPN explains in his recent column, another fan on that walk decided to yell, "Great job, Brooksie," which is a jab DeChambeau has heard plenty of in recent months. He's been better at dealing with hecklers of later, but this one caused him to snap.
DeChambeau turned back to the fan and yelled, "You know what? Get the f— out!"
Things could've turned ugly from there, but DeChambeau controlled his anger and kept walking up the hill after calling over a police officer to handle the situation.
No matter how hard DeChambeau tries to restore his image and get golf fans back on his side, there will always be "Great job, Brooksie" guys on the grounds every week.