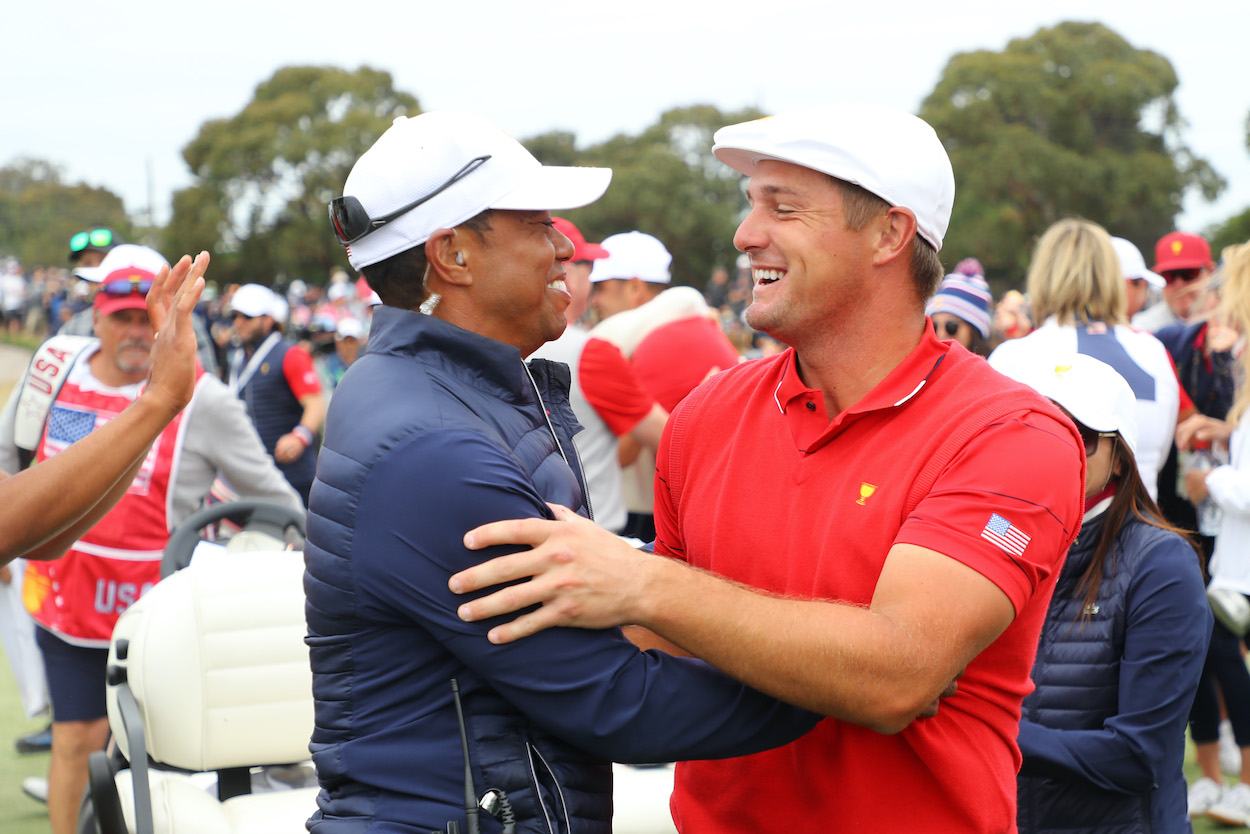 Tiger Woods Refuses to Leave Bryson DeChambeau's Corner as the Golf World Jumps Off His Bandwagon
Tiger Woods is one of Bryson DeChambeau's biggest fans.
Bryson DeChambeau doesn't have many allies left on the PGA Tour, but he may still have the most important one of all: Tiger Woods.
Earlier this year, Woods spoke about DeChambeau's journey to become the longest driver in professional golf history, and he raved about the 27-year-old's unique approach to the game. DeChambeau later said it was "inspiring" to hear his idol speak so highly of him. It's only motivating him to aim higher and reach heights he never thought he could before.
Tiger Woods has always been in Bryson DeChambeau's corner
DeChambeau has begun to alienate himself from the rest of the PGA Tour in the last few months. It all started with his childish beef with Tour favorite Brooks Koepka, and it's continued after he blamed his own sponsor for his driving woes and has refused to speak to the media in recent weeks.
His peers on the PGA Tour and golf fans around the world seem to have grown tired of DeChambeau's shtick, but one man has remained in his corner the entire way.
Woods has been a big fan of DeChambeau ever since he transformed his body and channeled his inner scientist to become the longest hitter in PGA Tour history. Just a few weeks after suffering multiple leg injuries in a scary car crash, the golf legend even texted some advice to DeChambeau before his win at the Arnold Palmer Invitational.
DeChambeau might be losing allies and fans left and right, but it's a nice consolation to know the greatest golfer to ever live is still by his side.
Woods sees a bright future ahead for the "courageous" bomber
During a Q&A earlier this year with Bridgestone Golf, Woods gave a glowing review of DeChambeau's unique approach to the game of golf.
"I think what Bryson has done is unprecedented in the game," Woods said. "No one has changed their entire philosophy and how they've approached the game of golf. And he came into it with a different mindset to begin with. He came in with more of a technical science type of attitude, and he's now expounded on that and has been able to utilize all the different types of technology that's available to him.
"What he's done, he's proven that it works. And to go out on that limb is very courageous."
Woods also said he sees greatness inside of DeChambeau. While others might find his approach arrogant and exasperating, Tiger actually admires it.
"He can take this game to levels that we would've never guessed," he continued. "We've never guessed that someone would be hitting the ball as far as he does, or approach it with the attitude that he does, to morph his body into what he has. And he's proven it. He's won a U.S. Open. And now, the future is so bright, and he's right in his prime. He can win so many events and win so many more majors, and it's gonna be fun to watch."
DeChambeau was "inspired" by Tiger's kind words
Bridgestone Golf showed DeChambeau the video of Woods' raving Q&A, and the World No. 6 was floored by the words of his golf idol.
"From the greatest of all time, that's pretty special," DeChambeau said. "He's been right on a lot of things. I hope he's right on that one.
"It's inspiring," he continued. "There's not many times where you have people — especially Tiger — talking about another player like that. That's special. And again, I still gotta do it. It's still something I gotta go out there and get. So, there's gonna be a lot more work to be done, but it's great that I have support like that, and I always appreciate his words.
"He has inspired me to do this if I'm being upfront with you. And there's more to go."
Woods doesn't throw out compliments like that willy-nilly, so it just tells you how special he believes DeChambeau can be. But with the entire golf world seemingly turning against him, there will be even more pressure on the 27-year-old to live up to Tiger's sky-high expectations.