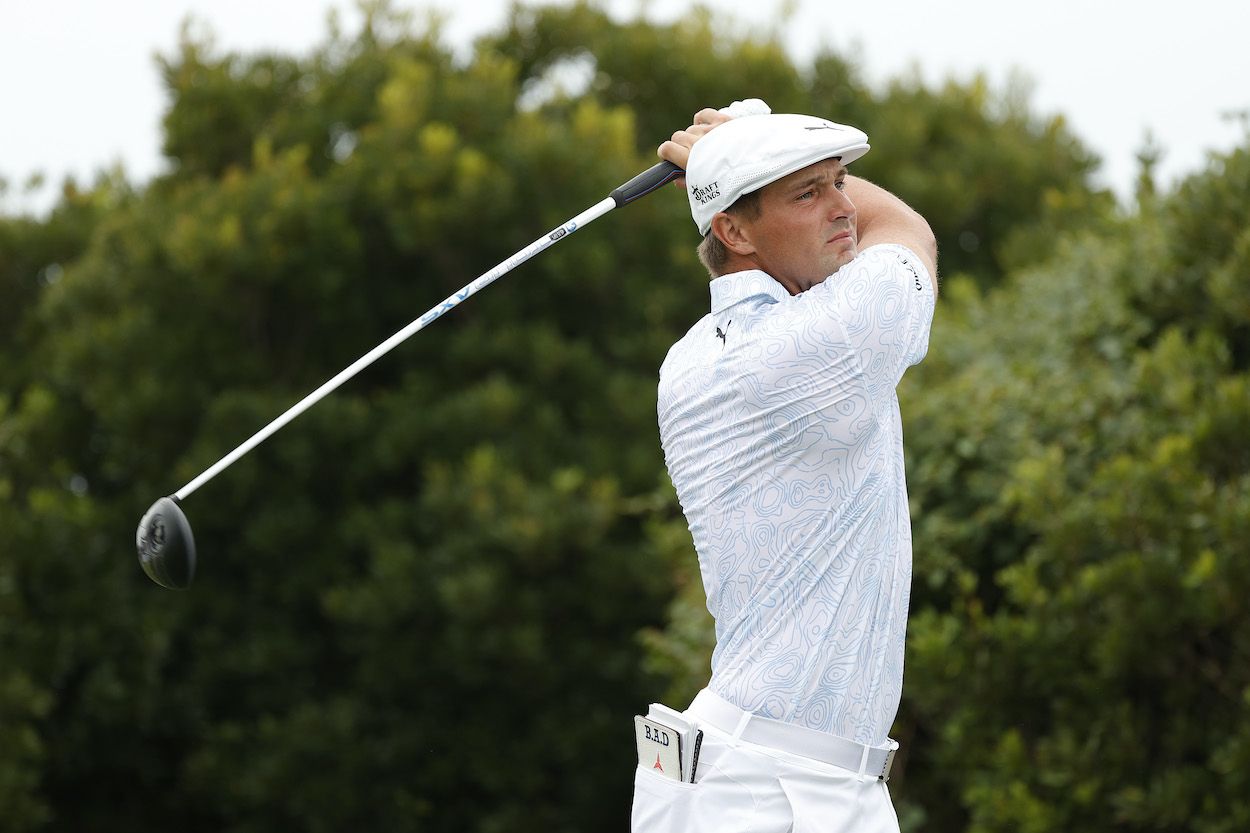 Bryson DeChambeau Continues to Embarrass Himself With Latest Ploy to Flaunt His Historic Driving Distance
Bryson Dechambeau still can't get enough of himself.
There's nothing Bryson DeChambeau loves more than hitting bombs on the golf course.
Actually, check that.
The only thing DeChambeau loves more than hitting bombs… is watching others goggle at them in awe.
So, the long-hitting American is venturing outside the PGA Tour for an event in which he only needs to bring his favorite club. DeChambeau will be competing in next month's Professional Long Drivers Association World Championship, and he'll either find some much-needed self-fulfillment or scarf down a big ol' slice of humble pie.
Bryson DeChambeau continues to alienate himself from the PGA Tour and its fans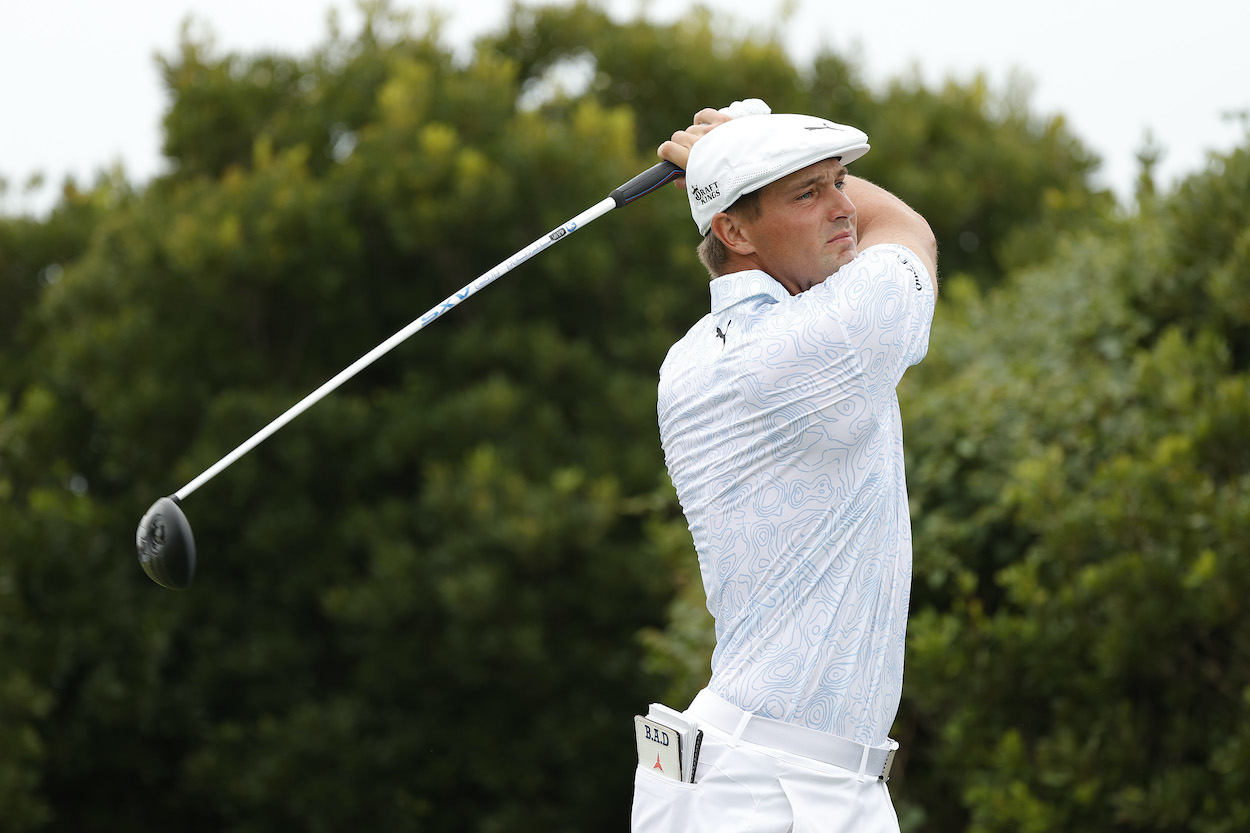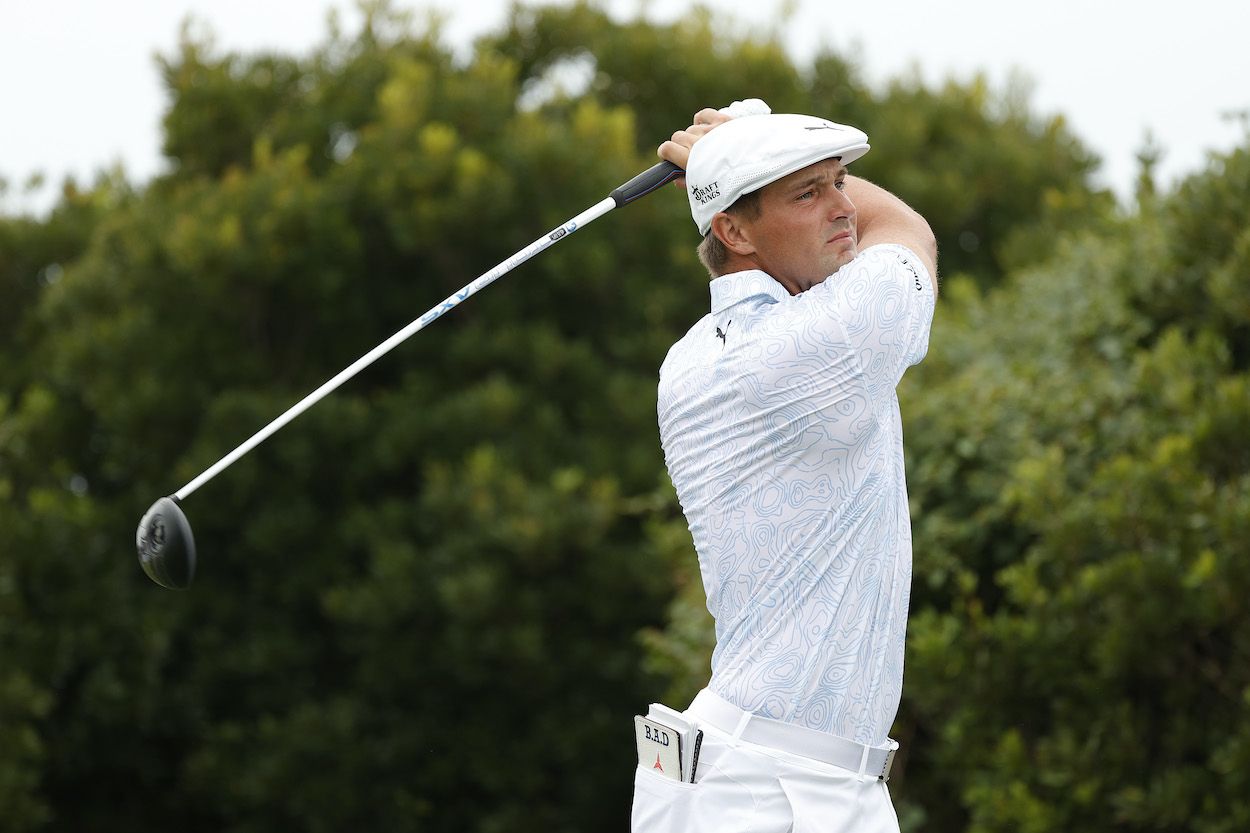 DeChambeau was never the biggest fan-favorite on the PGA Tour, but his public image has dropped to career-low levels in 2021. His never-ending beef with Brooks Koepka, targeted criticisms of his own sponsors, and irritating antics on the golf course have turned the 27-year-old into one of the most disliked golfers on Tour.
On top of all that, his caddie recently quit the night before a tournament to step away from the "very intense relationship" the two shared.
Ever since DeChambeau decided to go all-in on becoming the longest driver in PGA Tour history, it's seemed as if that's all he really cares about. Obviously, we know he wants to win tournaments above all else, and that's why he started bulking up and speed training in the first place — but his obsession with distance has seen other parts of his game suffer and cost him some valuable allies on Tour.
DeChambeau seems to be losing more and more fans every day, and his newest venture isn't going to help gain them back.
DeChambeau to compete in the world long drive championship
DeChambeau has been the longest driver on the PGA Tour for two years now, but he's always wanted to test himself against the biggest bombers in the world.
Well, he finally has his chance to do just that.
On Monday, DeChambeau announced he'll be competing in the Professional Long Drivers Association World Championship in Mesquite, Nev. next month.
"This is an amazing opportunity to grow the game and the sport in general," DeChambeau wrote on Instagram. "I want to show the world how incredibly talented and hard-working these athletes are. I've been working hard to get my game up to their speeds, so I have a chance, but will still continue to play my best golf with my regular day job."
Considering professional long drivers can smash golf balls over 450 yards, DeChambeau has little to no chance of beating this field. But it should be an entertaining watch either way.
The problematic timing raises questions
Golf fans normally wouldn't care if DeChambeau wants to use his time off to get embarrassed by the longest drivers on earth, but the date of the competition is already raising questions. The championship event will begin on Sept. 27, which is just two days after the final session of the 2021 Ryder Cup.
Will DeChambeau be able to focus on his obligation to the U.S. team when his dream competition is less than 48 hours away?
"It will not take any of my attention away from the Ryder Cup," he told Golf.com this week. "I am fully dedicated to the Ryder Cup, and it's something I really care deeply about. Representing Team USA is something I've dreamed about since I was a kid. It's something I get really amped-up thinking about. I want to help bring home the trophy this year, and like I said, I wouldn't be doing any of this if I didn't truly believe it would make me a better golfer."
We'll see how this all shakes out, but if DeChambeau struggles in the Ryder Cup next month then puts on a show in the long drive championship, fans will start to wonder where his priorities lie.