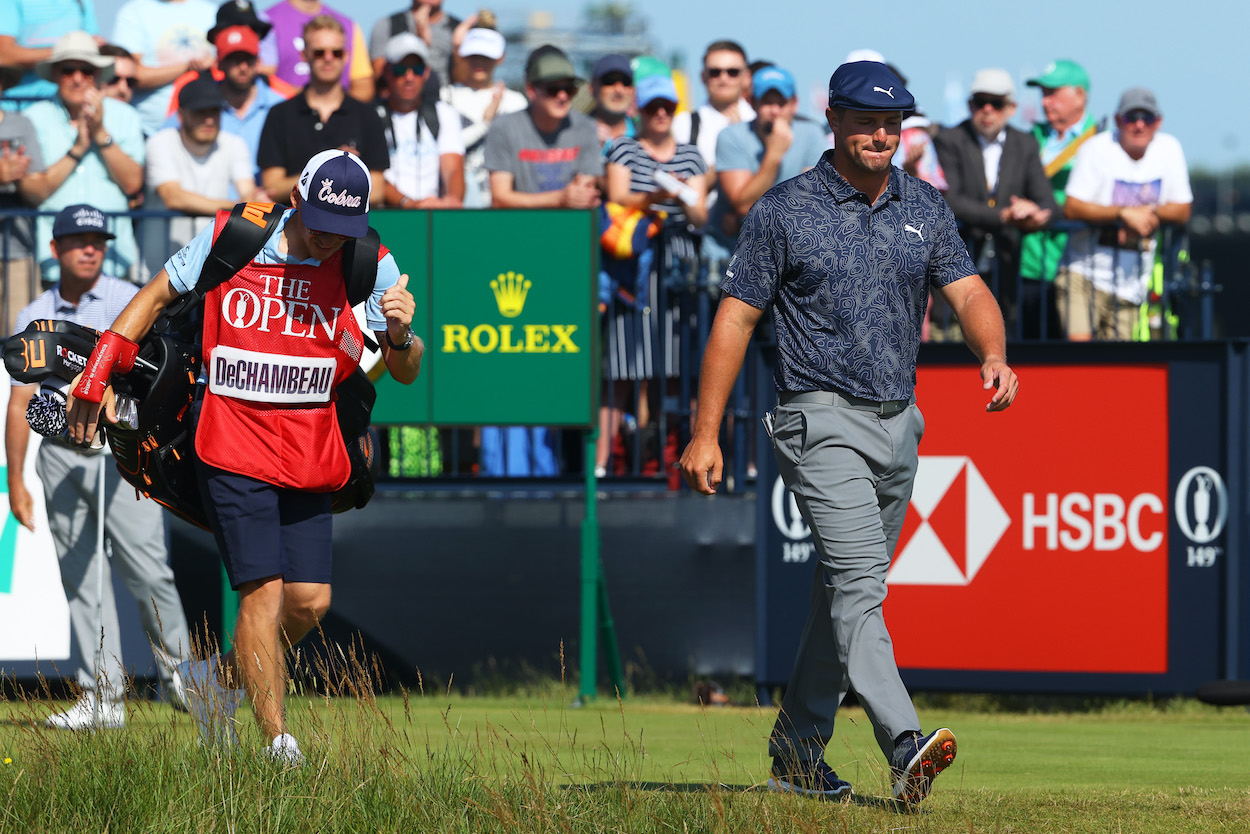 Bryson DeChambeau has 'Surrounded Himself With Yes Men Who Hype Him Up' According to PGA Insiders
Bryson DeChambeau is having a rough time the last few months. Several PGA insiders think it may be because no one in his circle tells him no. Speculation is this is what is causing his recent PR blunders. His former caddie Tim Tucker might have been the one person who was, and now he's gone.
Bryson DeChambeau is having a rough few months. First, he crossed Brooks Koepka, and the two got into a feud that most believe Koepka is winning. Then, his long-time caddie Tim Tucker broke up with him on the eve of a tournament. During the 2021 British Open, he disparaged his driver in a post-round interview, and his club sponsor clapped back at him.
Why is one of the top golfers in the world floundering so bad with his public relations? Maybe it's because he has one around him to tell him no or stand up to him. That's what at least one PGA insider thinks.  
Bryson DeChambeau's British Open was a debacle
Coming off several months of PR nightmares, Bryson DeChambeau finally got a win with The Match. This made-for-TV event with Phil Mickelson, Aaron Rodgers, and Tom Brady allowed the former SMU star to come off better than he had in quite a while. Although, some fellow golfers still took a few mostly-in-good-fun (?) shots at him.
This could have been a good sign heading into the last major of the season, The Open Championship at Royal St. Georges. The tournament turned out to be mostly negative for DeChambeau, however. The 6-foot-1 native Californian did shoot a final round 65 to salvage a -2 final score and a T33-place finish, but outside that, it was a rough week.
The biggest kerfuffle of the week came when DeChambeau proclaimed, "the driver sucks," in reference to his Cobra club. Following the outburst, a Cobra rep slammed DeChambeau, saying:
Everybody is bending over backwards. We've got multiple guys in R&D who are CAD'ing (computer-aided design) this and CAD-ing that, trying to get this and that into the pipeline faster. (Bryson) knows it. It's just really, really painful when he says something that stupid.
The incident is seemingly one more in a long line of incidents where DeChambeau says or does something without conferring with any wise counselors first. This issue is precisely what an ESPN reporter and a golf podcast host speculated about leading into The Open.
What's DeChambeau's problem? 
ESPN Senior Writer Kevin Van Valkenburg joined Fairway Rollin' podcast hosts Joe House and Nathan Hubbard prior to The Open to discuss a wide range of PGA topics, including Bryson DeChambeau.  
Discussing DeChambeau's sensitivity to media questions, Van Valkenburg said of the 2020 U.S. Open winner:
Sometimes I want to both give Bryson a hug because I think he needs friendships but also tell him 'you're being a d*** on some things, you're really clueless about a lot of this stuff,' and I don't think you have anyone in your life to tell you that because everyone around you seems to kinda be on the payroll or on the take
Nathan Hubbard, whose brother Mark Hubbard is a PGA Tour pro, built on Van Valkenburg's assessment saying about DeChambeau, "You can see that he wants [to be loved], and he keeps trying doubling-down on the wrong things." He then asked the ESPN writer the big question:
You introduced this notion – almost like this Trump-ian notion – that the guy has surrounded himself with Yes Men who hype him up and get him to swing an extra mile-an-hour in his house but don't tell him that the video of that is the wrong thing to post. Do you think there's anybody in his orbit who tells him he's wrong?
Van Valkenburg speculated that, other than his former caddie, there aren't many people around the golfer giving him sage advice, and the fact that Tucker may have been the one person who was, led to the duo's demise.
Is DeChambeau playing this week?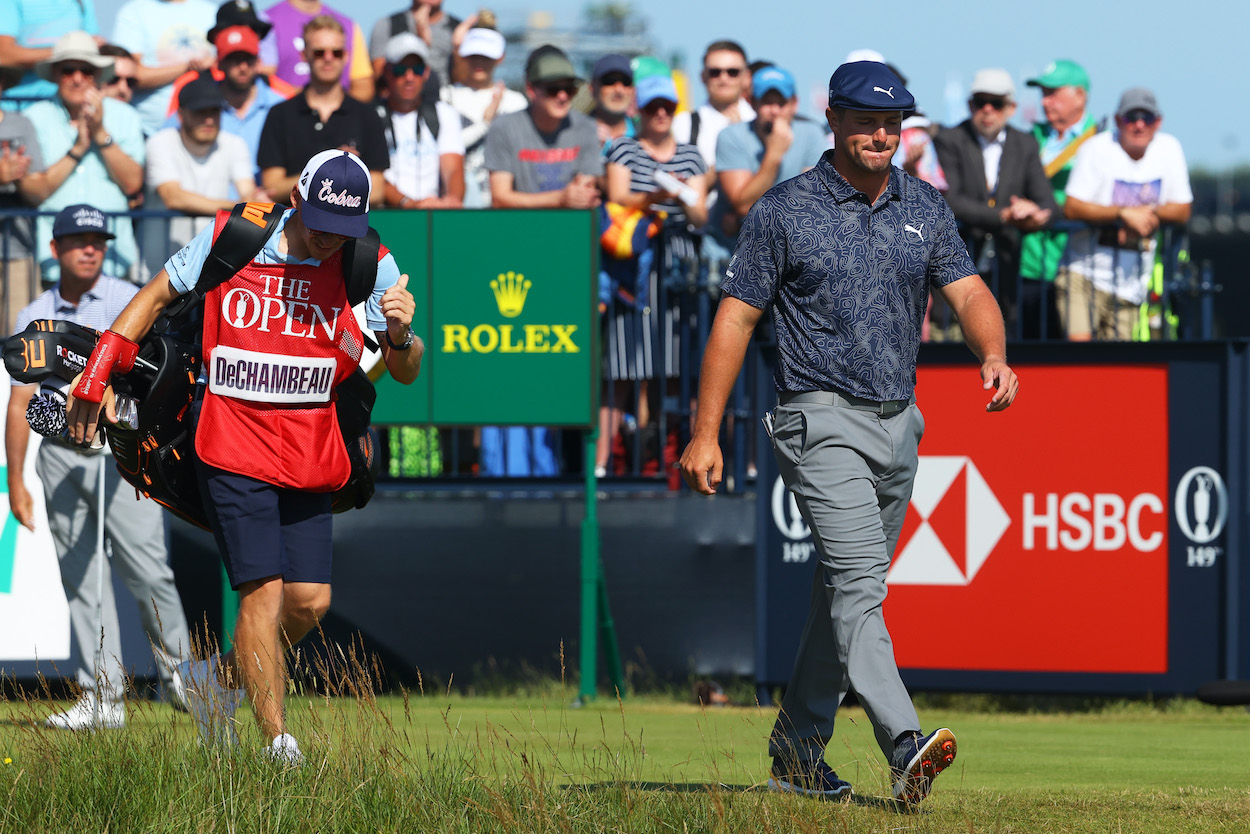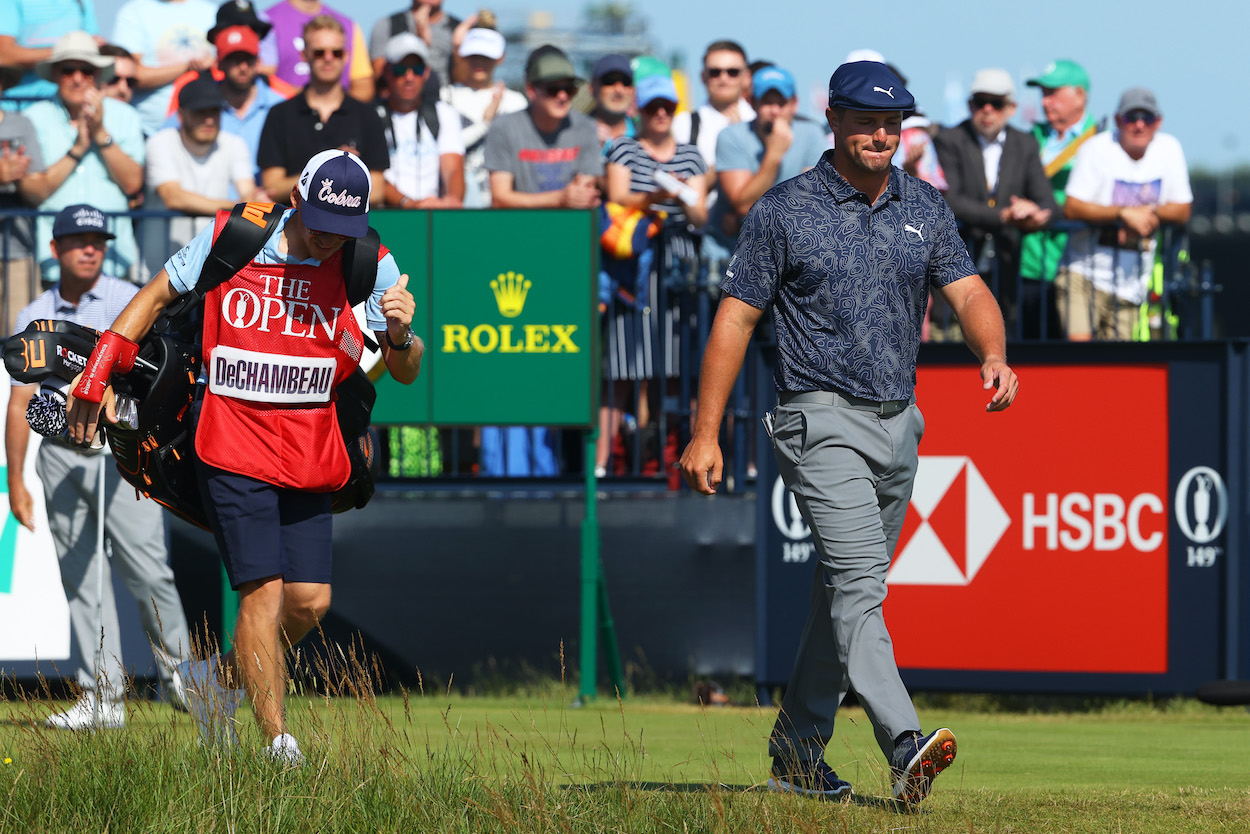 Coming off the British Open, the PGA Tour heads to The 3M Open at TPC Twin Cities in Blaine, Minnesota. The field is a much less star-studded one than many tournaments as players tend not to rush back from Great Britain after The Open.
Bryson DeChambeau is not playing in the 3M Open. However, there are a few big names in the event. This includes Dustin Johnson, Louis Oosthuizen, Tony Finau, and Bubba Watson.
The next big-name PGA tournament will be the 2021 World Golf Championships-FedEx St. Jude Invitational at TPC Southwind in Memphis, Tennessee, but DeChabeau will not play there either.
The golfer will play his next competitive in Japan as part of the 2020 (2021) Tokyo Olympics. He will compete for Team USA, alongside the 2021 British Open winner Collin Morikawa, Justin Thomas, and Xander Schauffele.
Spain's Jon Rahm is the gold medal betting favorite at 5-1, per CBS Sports, but the Americans aren't far behind. Schauffele and Morikawa are 10-1, Thomas is 11-1, and DeChambeau is 12-1. Also playing in Tokyo are Ireland's Rory McIlroy (11-1) and Japan's reigning Master's champion, Hideki Matsuyama (20-1).
Like Sportscasting on Facebook. Follow us on Twitter @sportscasting19