Collin Morikawa Just Won His Second Major Championship, but He Has Little Time to Celebrate Before the Most Important Golf Tournament of His Life
Collin Morikawa is a star in the making on the PGA Tour.
The 24-year-old phenom just won the 2021 British Open for his second major championship victory in only eight starts. After an enthralling performance at Royal St. George's this past weekend, Morikawa deserves to take some time celebrating with the Claret Jug. Only, he won't have much time to do so.
Morikawa will have just a few days to relish his Open Championship triumph before heading off to Tokyo to compete in the most important golf tournament of his life: The Olympics.
Collin Morikawa wins his second major at the 2021 British Open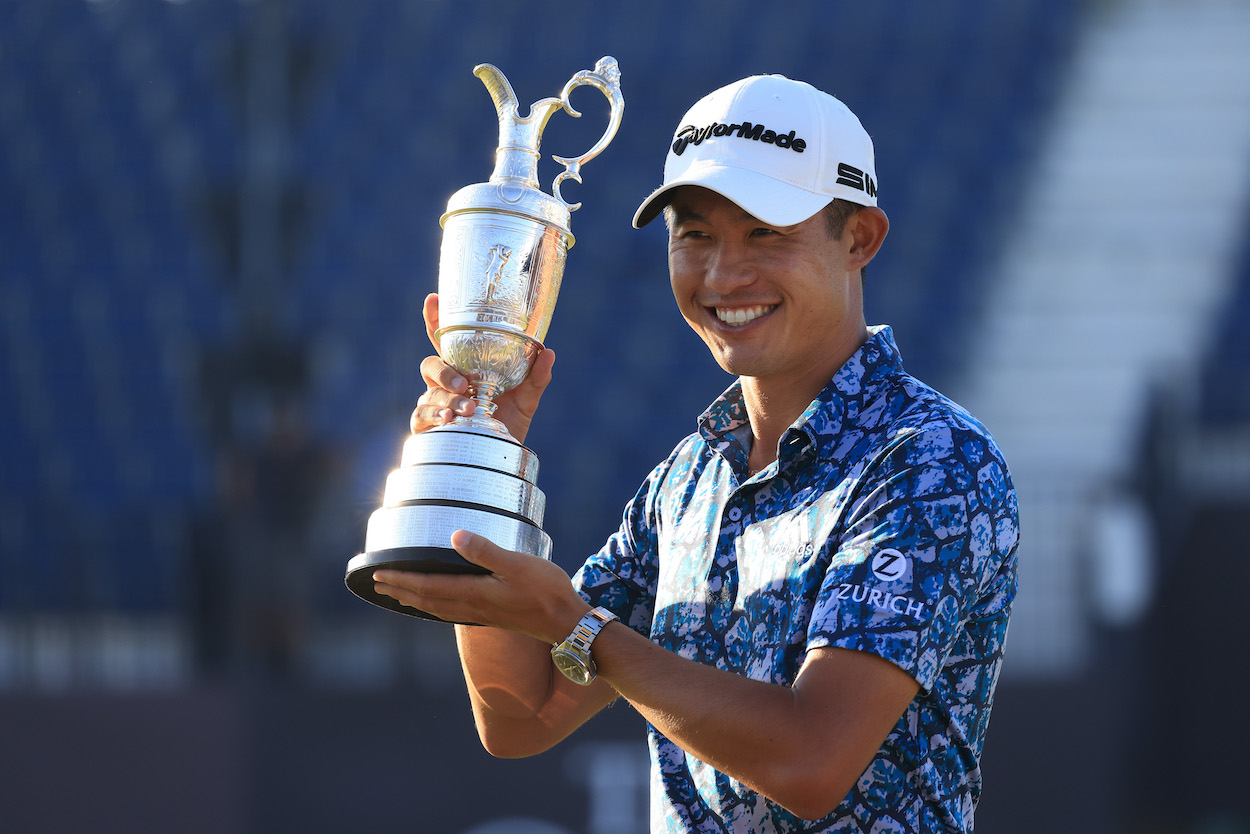 Morikawa arrived on the PGA Tour scene two years ago with sky-high expectations, but not many believed he would be having this much success so early in his professional golf career.
After winning the PGA Championship at TPC Harding Park last year, Morikawa notched his second major victory at this past weekend's British Open at Royal St. George's. The smooth-swinging righty fired a bogey-free 66 on Sunday to win golf's oldest major by two strokes.
Morikawa, who's still only 24 years old, has now won two majors in just eight starts. He has five PGA Tour victories just two years into his pro career, but he still isn't satisfied.
"When you make history, it's hard to grasp. It's hard to really take it in," he said after Sunday's final round. "At 24 years old, it's so hard to look back at the two short years that I have been a pro and see what I've done because I want more."
That's the mindset that's made Morikawa a prolific champion so early in his career, and he's only getting started.
Morikawa has little time to celebrate
Normally, players coming off a major championship victory like to take some time to relax and bask in the glory of their accomplishment. You never know if it's going to be the last time you hold up a major trophy, so enjoy it while you can.
But Morikawa only has a few days to celebrate his Open Championship triumph, as the opening ceremony for the Olympic Games Tokyo 2020 is scheduled for this Friday. The two-time major winner will be competing for the first time in red, white, and blue, and he can't wait to represent his country on the biggest stage in sports.
"Hopefully, I can recuperate over the next week," Morikawa joked to Golf Channel on Sunday. "But, you know, the Olympics are the same goal — it's to win. But it's also to make memories. I'm gonna be called an Olympian for life. It's gonna be the coolest experience, and I'm very happy that the Olympics are in golf now because it just adds that extra incentive to just add something to your resume that not a lot of people have the opportunity to do. Anytime you're able to represent your country, the USA, it means a lot."
Team USA should be the favorite to bring home Olympic gold
Back in 2016, Team USA picked up a bronze medal in the Olympics courtesy of Matt Kuchar, but it has even more firepower this year. Along with Morikawa, Justin Thomas, Xander Schauffele, and Bryson DeChambeau will be repping the red, white, and blue at next week's Olympic golf event.
If you're keeping track at home, that's Nos. 3-6 in the OWGR representing Team USA in 2021. The World No. 1, Jon Rahm of Spain, will be the man to beat in Tokyo, but the United States enters the event with a stacked roster and hopes of a gold medal.
Morikawa can stamp his name in the golf history books by winning gold at the Olympics just a week after bringing home his second major championship.