Trae Young's Olympics Snub Should Motivate Him to Terrorize NBA Opponents Next Season
NBA fans have witnessed the Trae Young who plays the game happy and uninhibited, and it's a sight to see. The guard out of Oklahoma took the Atlanta Hawks deep into the NBA playoffs this year.
But the guy who usually plays with a spring in his step figures to play next year with a chip on his shoulder after two snubs in his bid to play in the Tokyo Olympics.
Prepare for Young to be murder on future NBA opponents because of it.
Team USA needs help with the Olympics just days away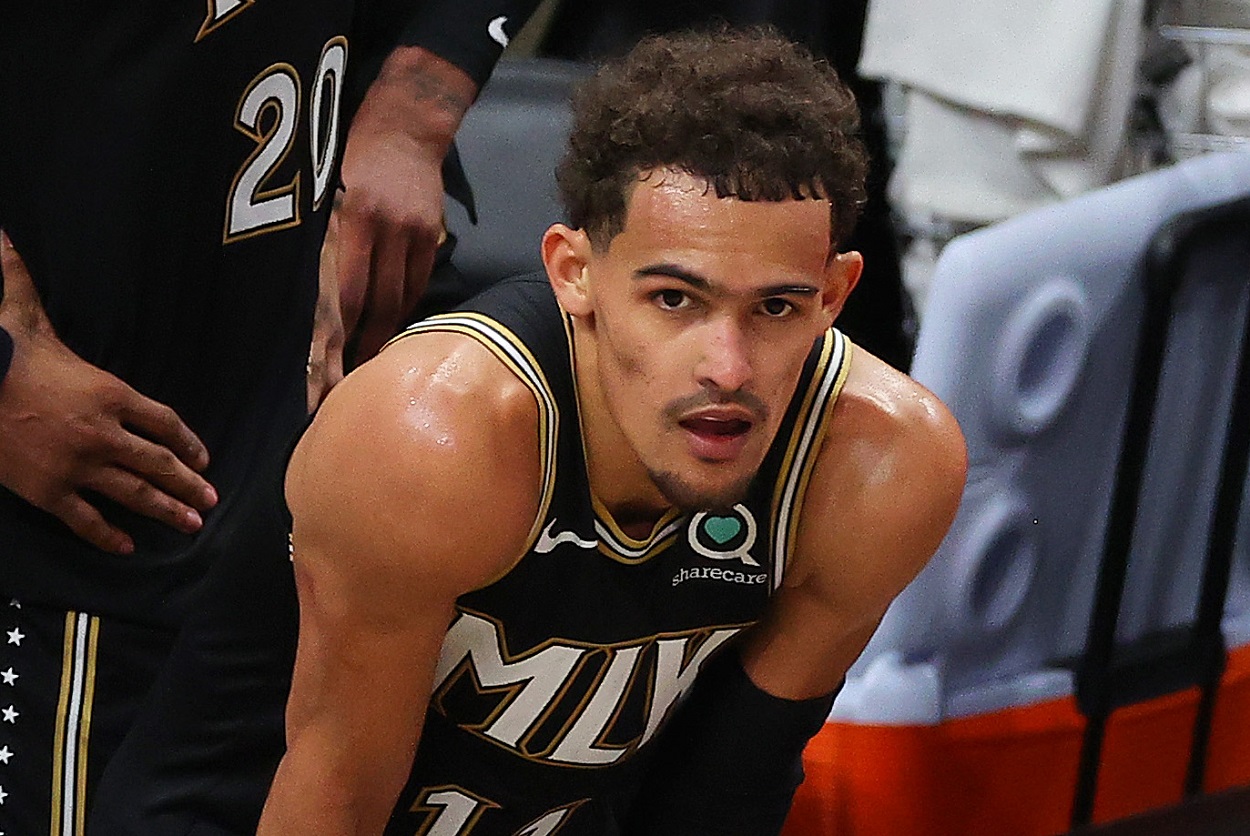 The United States is heading for a train wreck in the men's Olympic basketball tournament in Tokyo because of a roster that is disintegrating.
Team USA already faced potential problems straight out of the gate because some candidates bowed out early in the selection process, primarily because the COVID-19 pandemic left so little downtime between the past two seasons, particularly for players whose teams made long playoff runs both years. For every Trae Young disappointed at not making the final cut, there were two NBA stars looking forward to maximum time off this summer.
Coach Gregg Popovich finally was able to convene practice last week, just a few days before the first exhibition contests, but he did so without the luxury of his full 12-man roster. A knee problem limits Boston Celtics star Jayson Tatum. Meanwhile, Devin Booker, Khris Middleton, and Jrue Holiday remain tied up with an NBA playoffs series that is threatening to go the full seven games.
On top of all that, USA Basketball announced Bradley Beal is now officially a scratch for the Olympics under the COVID-19 protocol, and Jerami Grant might not be far behind him.
Trae Young expressed his frustration
Damian Lillard is the only true point guard on the Americans' Olympic roster for now. With Beal now out and Holiday and Booker still not available, the backcourt is the primary concern. USA Basketball officials were meeting Thursday to assess who might still have their game legs and be available.
CBS Sports assembled a potential list that includes Young. However, the Hawks star hopped onto social media to indicate that he has been passed over again. He tweeted a soundbite for ESPN's The Last Dance documentary in which Isiah Thomas lamented missing out on playing for the 1992 Dream Team.
Thomas' personality grated on fellow NBA players, and that roster was so loaded even without him. But, if there are issues with Young that have nothing to be with his skills, then USA Basketball would do well to remember that beggars can't be choosers.
Young's foot injury during the loss to the Bucks in the Eastern Conference finals may be an issue. However, here is a plausible conspiracy theory floating around. Team USA assistant Lloyd Pierce coached Young in Atlanta, and The Athletic reported that Young lost faith in him. The Hawks fired Pierce midway through the 2020-21 season.
Pierce will work on the Indiana Pacers' staff next season. Figure on Young wanting to go off on the Pacers and whichever peers get called on as Team USA emergency replacements when the new season rolls around.
Young isn't the only disappointed NBA star
Another guy who won't be replacing Beal in the Tokyo Olympics is Ja Morant. The Memphis Grizzlies guard made that abundantly clear with a social media post of his own on Thursday.
Morant was a somewhat curious omission on the original list of 57 candidates from which the Team USA roster started. While he hasn't been a strong perimeter shooter in his first two NBA seasons, Morant is a solid ballhandler.
He should have at least been in the conversation as a replacement, but that isn't going to happen after he wrote that USA Basketball "wasn't hitting me up before, (so) don't hit me up now … I'm cool."
That take makes Young look diplomatic by comparison and adds to the Olympic team's predicament.
Like Sportscasting on Facebook. Follow us on Twitter @sportscasting19.