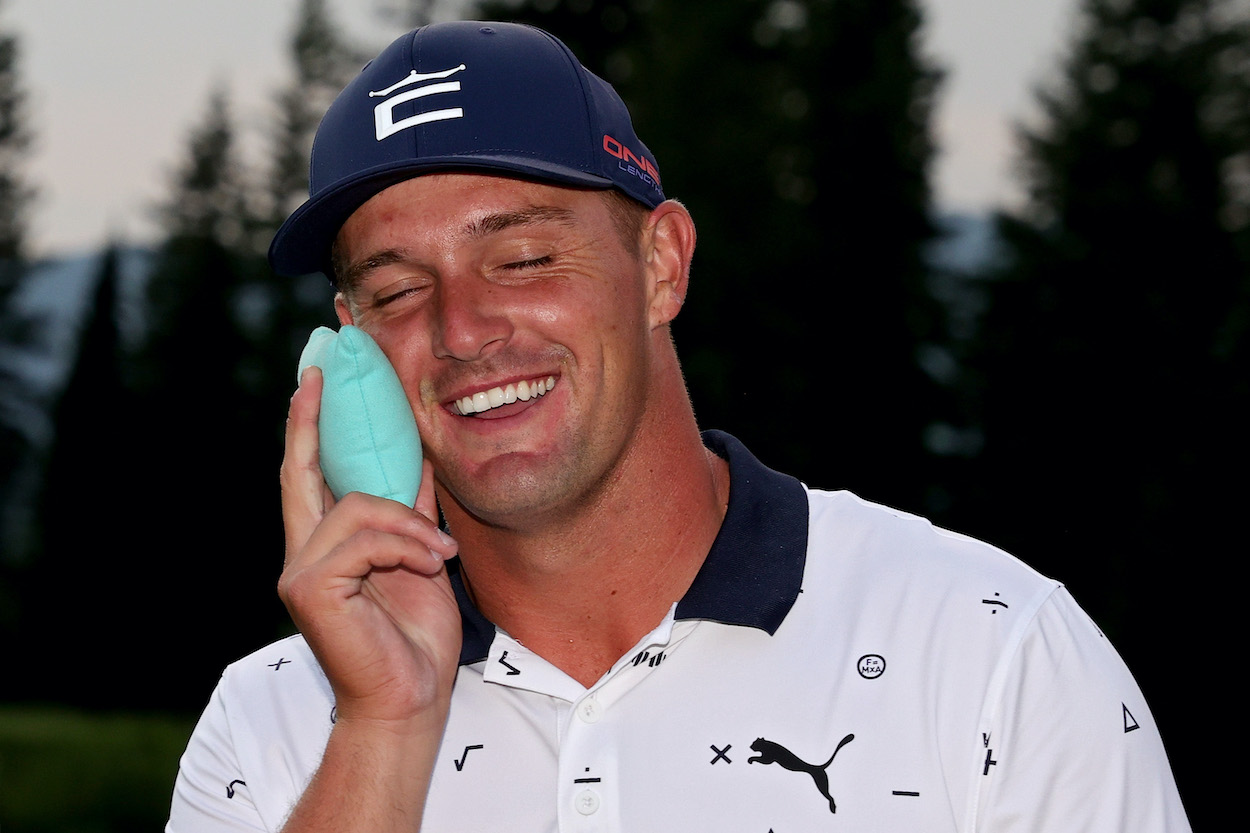 Bryson DeChambeau Can't Win as He's Attacked on Twitter by yet Another Pro Athlete
Bryson DeChambeau is riding high ahead of the 2021 British Open. He's playing good golf and won 'The Match' with Aaron Rodgers against Phil Mickelson and Tom Brady. For some reason, though, he can't seem to stop getting harassed on social media by other athletes. This week PGA golfer Max Homa jumped on the pile.
The Twitter-verse is crushing Golfer Bryson DeChambeau all the time these days. Whether it's about his feud with fellow PGA pro Brooks Koepka, his caddie quitting right before a tournament, or just general mockery of DeChambeu's overall demeanor, he does draw quite a bit of online fire.
At the end of a week where his bitter rival, a seasoned PGA pro, and the greatest QB of all time, took shots at DeChambeau, it probably shouldn't come as a surprise that one more pro athlete jumped on the pile.
Bryson DeChambeu has been taking some abuse on Twitter
The week started for DeChambeau with his caddie quitting on the eve of the Rocket Mortgage Classic. This drew a shady subtweet from his Brooks Koepka, who the golfer has been feuding with for months.
Following the news of DeChambeau's split, Koepka slyly tweeted, "Couldn't do it without my guy Rick! Best friend and greatest caddie to do it [100 emoji] @RickyElliott appreciation day!
Then, ahead of The Match, a charity golf round featuring DeChambeau and Aaron Rodgers versus Mickelson and Tom Brady, Mickelson took every opportunity to needle the 27-year-old. He even tweeted a video of himself bending DeChambeau's eight iron when he wasn't looking.
Finally, after The Match concluded with a 3-and-2 DeChambeau/Rodgers victory, Brady waded into the fray, tweeting a series of memes featuring Koepka rolling his eyes at DeChambeau.
PGA Golfer Max Homa came after DeChambeau following 'The Match'
The latest pro golfer to go after DeChambeau is Max Homa. The California native who attended Cal-Berkley known for his witty and usually self-deprecating social media presence. However, this time, he took aim at his fellow Tour-mate, DeChambeau.
A video posted on Twitter showed the winner of The Match getting on a helicopter post-victory. Before he jumped in the chopper, the former SMU Mustang did some quick shadow boxing.
This display was apparently too much for Homa to take. "This is why I say professional golfers shouldn't ever fight," Homa wrote. "We're barely considered athletes as it is. We can't be giving people any more ammo against us."
This isn't the first time Homa's got after a fellow PGA Tour pro. Just a few days earlier, he took to Twitter to shame his Tour buddy Joel Dahmen into paying up on a bet. In addition to tweeting that, "A gentleman always pays his bets," he also added, "My dog is braver during fireworks than @Joel_Dahmen," and "@Joel_Dahmen pours the milk in the bowl before he pours the cereal."
Homa's had a good year so far in 2021, and not just on Twitter. He doubled his career win total by winning The Genesis Invitational at his hometown Riviera Country Club in May. Since then, he's added three top 10 finishes to his record. 
'The Match' 4 produced was fun but won't beat last year's version
DeChambeau and Rodgers' victory over Mickelson and Brady was a fun night of golf content that fans usually don't get. It also provided viewers with interesting insight into the personalities of DeChambeau, Rodgers, and Brady, who are typically guarded with the media (Mickelson is an open book, so no added insight there).
As successful a night as the 2021 version of The Match was, it will likely not come close to the rating for its 2020 predecessor.
The third incarnation of The Match also featured Mickelson and Brady, but Tiger Woods and Peyton Manning also joined in. The result was an average of 5.8 million viewers, making it the most-watched golf event in cable TV history, per Deadline.
In addition to the added star power of Woods and Manning, The Match 3 had a few other things going for it as well.
It happened in May of 2020 during the height of the COVID-19 pandemic in the U.S. Also, it didn't have the competition its 2020 peer had. This year's charity match went up against Game 1 of the NBA Finals and a semifinal soccer match at Copa America.
The ratings will come out next week, but don't expect Bryson DeChambeau's round to eclipse last years'.
Like Sportscasting on Facebook. Follow us on Twitter @sportscasting19