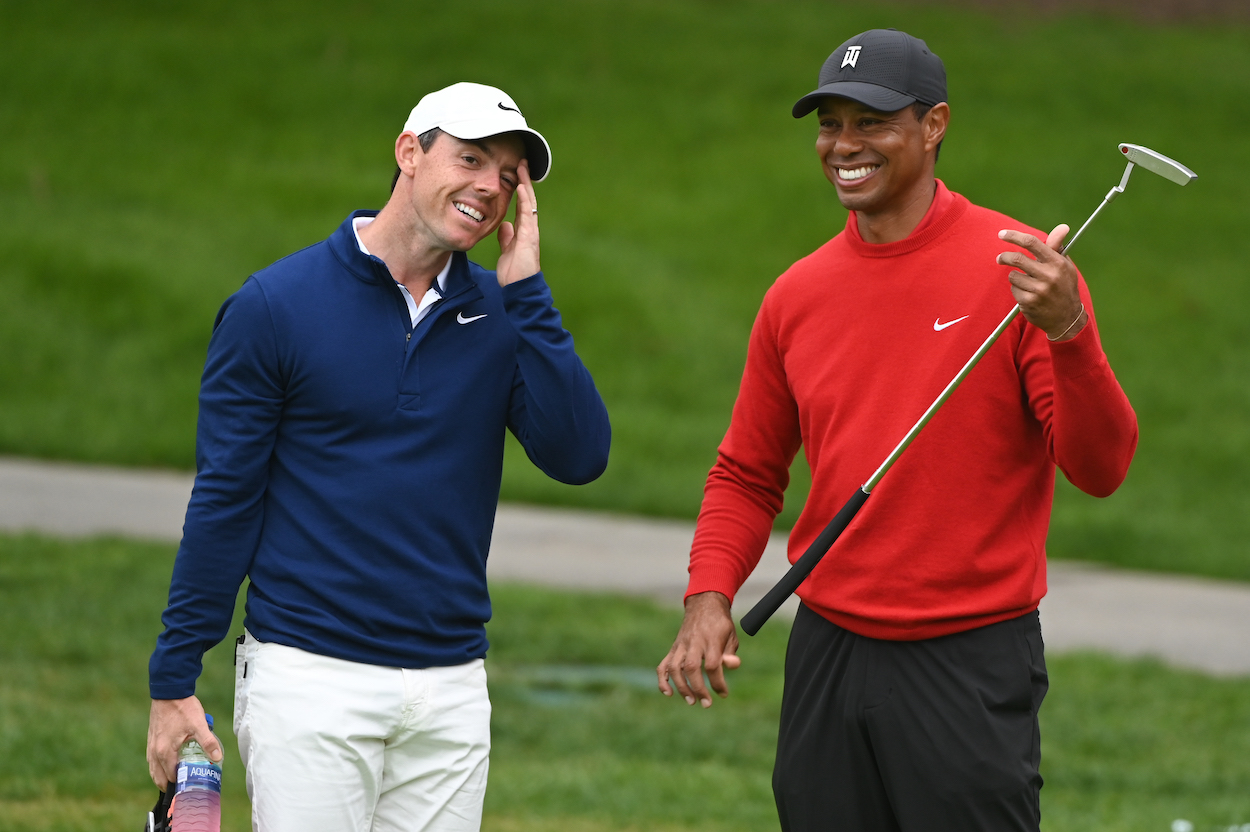 Rory McIlroy Contemplated Stealing From Tiger Woods the First Time He Saw the Golf Legend Play Live
Rory McIlroy was so excited to watch Tiger Woods for the first time that he nearly stole the golf glove right out of his pocket.
Rory McIlroy is great friends with Tiger Woods on and off the golf course, but that might not be the case today if he acted on a dangerous impulse the first time he saw the golf legend play in person. The Northern Irishman recently admitted to nearly swiping Woods' golf glove out of his back pocket during a tournament when he was just 13 years old.
Tiger won't be very happy hearing this one.
Rory McIlroy idolized Tiger Woods growing up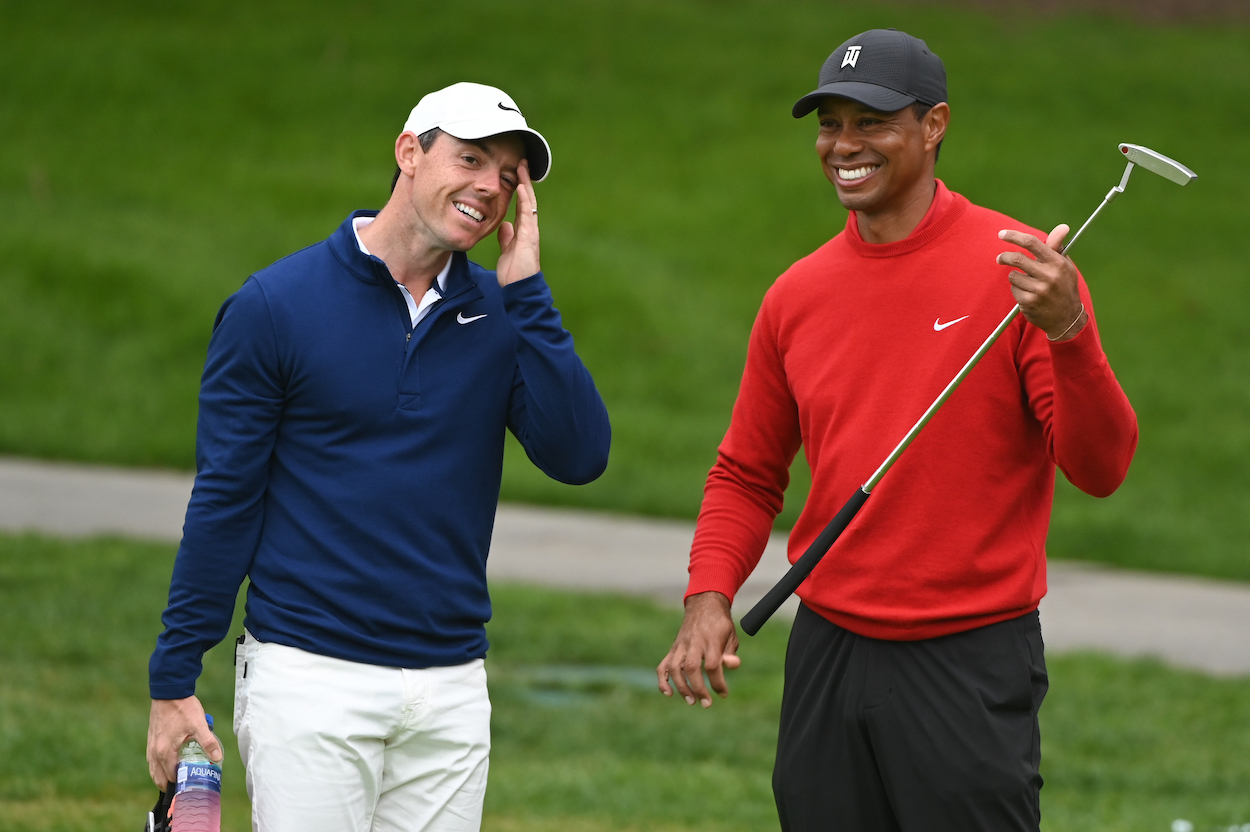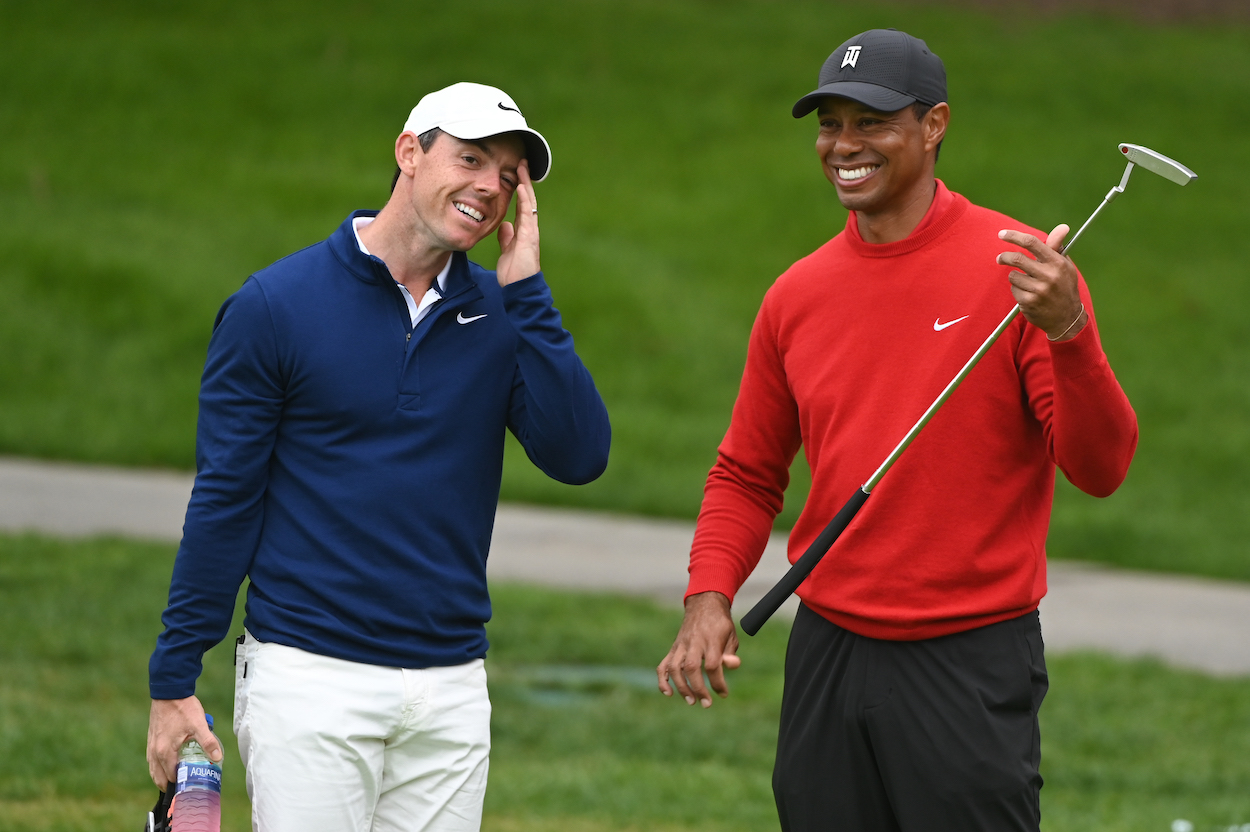 It's rare anyone gets to grow up and not just meet their childhood sports idols, but compete against them on the biggest stage. That's exactly what McIlroy has done with Woods.
McIlroy grew up in Northern Ireland with dreams of becoming a professional golfer, and he wanted to emulate Woods later in life.
"I'm probably one of the biggest Tiger fans you will ever come across," McIlroy told the Irish Independent back in 2017. "I grew up watching him play and know all of his records. I remember going to play at Doral when I was eight or nine — my first tournament over there — and being on the 18th fairway of the 'Blue Monster' thinking: 'Wow! Tiger has been here. He's been on the same fairway!' That sort of stuff. And all of a sudden you are shooting a commercial with him."
McIlroy has gone from a Tiger superfan to one of his hero's best friends on the PGA Tour today.
McIlroy nearly stole from Woods the first time he saw him play
Growing up in Northern Ireland, McIlroy was only able to admire Woods from afar. The Hall of Famer primarily played in the United States, and he really only ventured to Europe for the Open Championship and the Ryder Cup.
But when McIlroy was 13 years old, he finally got a chance to watch his idol play in person when Woods visited Ireland for a World Golf Championships event. Woods won the tournament, of course, and a young McIlroy got an up-close and personal look at his favorite player during the trophy ceremony.
So close, in fact, that he could've swiped Woods' golf glove from behind if he wanted.
"I somehow sneaked my way like under the rope onto the back of the green, and I was standing right behind him and his glove was still in his back pocket," McIlroy told reporters Wednesday, per PGA Tour. "And like I could have reached and got it and ran. It would have been a good story to tell him, but I obviously didn't."
Nice restraint, Rory.
"It was the first time I ever watched Tiger play live," he continued. "I remember the first shot I ever saw him hit was a drive off the 5th hole, the par 5, and he hit a 2-iron into the green. It was really cool. I idolized him growing up and to actually see the man in the flesh was pretty exciting."
McIlroy is playing at the same golf course where the childhood incident went down
The course where McIlroy first saw Woods play was Mount Juliet Golf Course in Kilkenny, Ireland. Ironically, McIlroy is back at Mount Juliet for this weekend's Dubai Duty Free Irish Open, and he's hoping to build some momentum for the Open Championship next month.
"Getting myself into contention at The Open would be great," he said. "I think having a chance to win both the FedExCup and The Race to Dubai; I think they are two pretty good goals of mine I'd like to try to achieve."
Maybe he can channel his inner Tiger and blow away the field this week. Just keep an eye out for touchy fans behind you.