Brooks Koepka Adds Fuel to the Fire in Heated Rivalry With Bryson DeChambeau: 'I've Definitely Gotten the Better of Him'
The Brooks Koepka-Bryson DeChambeau rivalry has engulfed the PGA Tour over the last few weeks as many golf fans have been more interested in seeing which bomber performs better in a tournament than praising the actual winner. Some might find the feud distracting, but it adds an extra layer to a sport in desperate need of more fans with Tiger Woods sidelined for the foreseeable future.
If you're not a fan of the beef, too bad. Koepka has no intention of ending it anytime soon. In fact, he even added more fuel to the fire this week with some damning comments about his biggest rival.
The Brooks Koepka-Bryson DeChambeau feud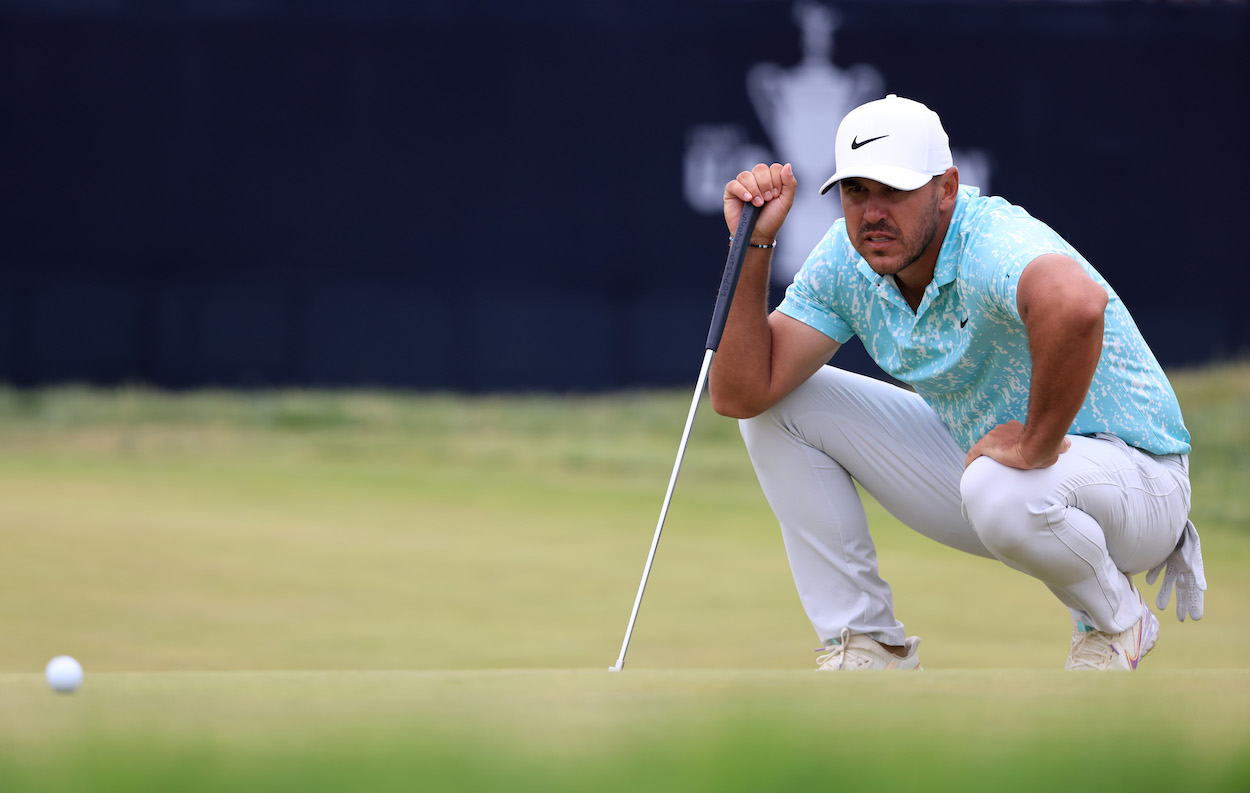 Ever since the PGA Championship last month, Koepka and DeChambeau have been the talk of the PGA Tour. It all started with the viral video of Koepka scoffing at DeChambeau as the longest hitter in golf walked behind him during an interview. Koepka looked visibly irritated by the mere presence of the Mad Scientist, and it was then that a bitter rivalry was born.
Soon after the video blew up on the internet, the two golfers took their beef to Twitter. The major champions traded playful jabs back and forth and sparked rumors of a potentially explosive U.S. Open pairing at Torrey Pines, but the USGA ultimately decided against it.
Both Koepka and DeChambeau have been asked ad nauseam about the feud in various interviews and media appearances, and from the looks of it, golf's greatest quarrel is only heating up.
Koepka adds fuel to the DeChambeau fire
Ahead of the Travelers Championship at TPC River Highlands, Koepka made an appearance on ESPN's SportsCenter with Matt Barrie to speak about his strong U.S. Open finish, playing alongside his brother, and, of course, the ever-evolving DeChambeau saga.
The four-time major winner took the opportunity to send another shot at his rival.
"I've definitely got a few more texts from some of the guys maybe in the NFL, NBA things like that," Koepka said. "These guys love it. It's drawn them into golf a little bit more, and it's making it more fun for everybody, so look, I've enjoyed it. I've definitely got the better of him, and I've enjoyed that."
He's not wrong about that.
After finishing above DeChambeau in the U.S. Open last weekend, Koepka has recorded a better finish in 15 of the 17 major championships in which both have played. He also has four majors to his name while DeChambeau only has one. Now that's domination.
Koepka went on to say the fight has been good for the game of golf.
"There's been a few laughs. A few 'I can't believe you did that, I'm glad you did.' But it's been fun," he said. "I've gotten a good response from most of the guys on Tour. It's been something I think everybody's enjoyed. Definitely changing up the game a little bit."
Golf's favorite feud isn't going anywhere
Fans might've figured the Koepka-DeChambeau feud was going to be short-lived, but it hasn't slowed down a month after the infamous video surfaced online. Is there a chance the two golfers could eventually bury the hatchet and start over?
In short — no.
"There's not much to talk about," Koepka said. "Everything that's going on, it's been one of those things, you know, this whole thing started basically because of him, so I'll leave it at that. I don't see us having dinner or drinks just to settle it."