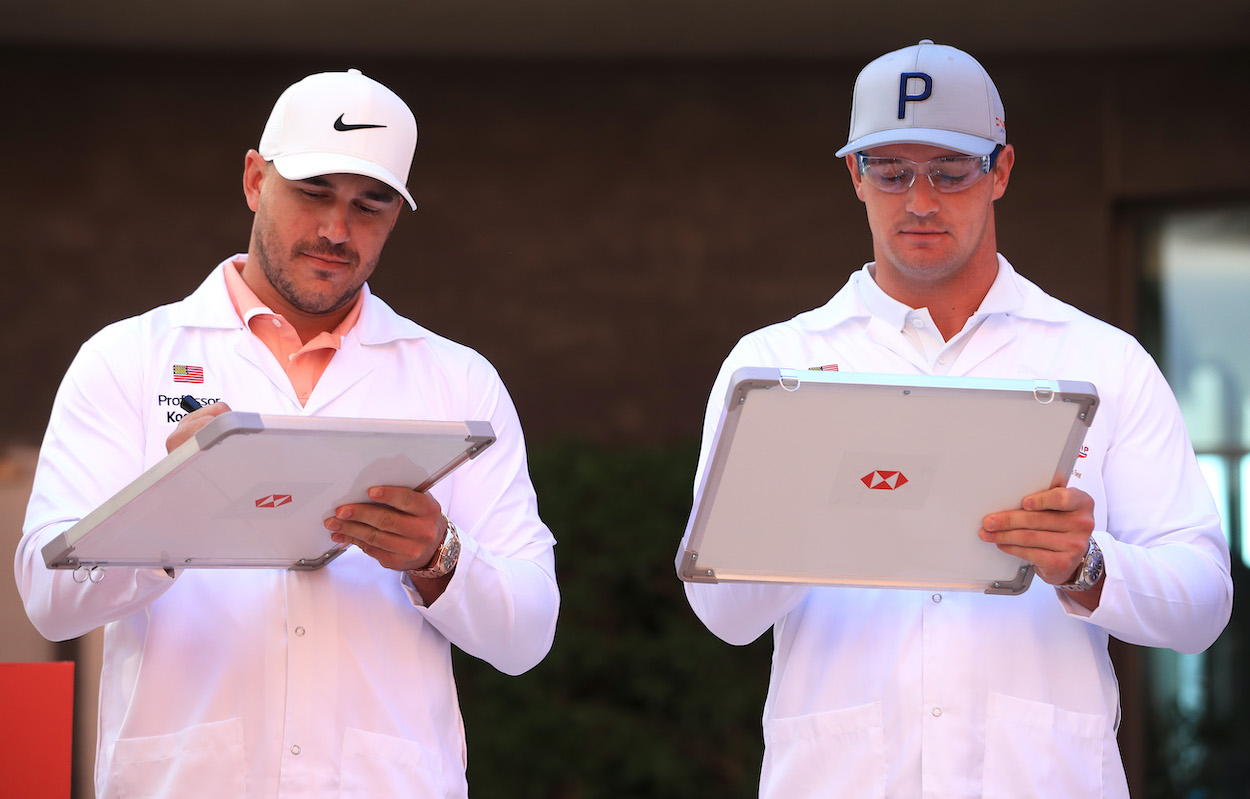 Bryson DeChambeau Isn't the First PGA Tour Star to Butt Heads With Brooks Koepka
Bryson DeChambeau and Brooks Koepka are in the middle of a hilarious beef, but this isn't the first PGA Tour star Koepka has targeted as an enemy.
Phil Mickelson stole all the headlines last weekend by becoming the oldest player in PGA Tour history to win a major at the 2021 PGA Championship, but what transpired between Bryson DeChambeau and Brooks Koepka after the final round might've been even more entertaining.
In a leaked Golf Channel interview from after the PGA Championship, Koepka watches in absolute disdain as DeChambeau marches past him and seems to utter something under his breath. The video immediately went viral online, and the nasty beef between the two bombers was reignited.
Although DeChambeau seems to be Koepka's new nemesis on Tour, he's far from the first star golfer to butt heads with the four-time major championship winner.
Bryson DeChambeau and Brooks Koepka reignite epic beef with viral video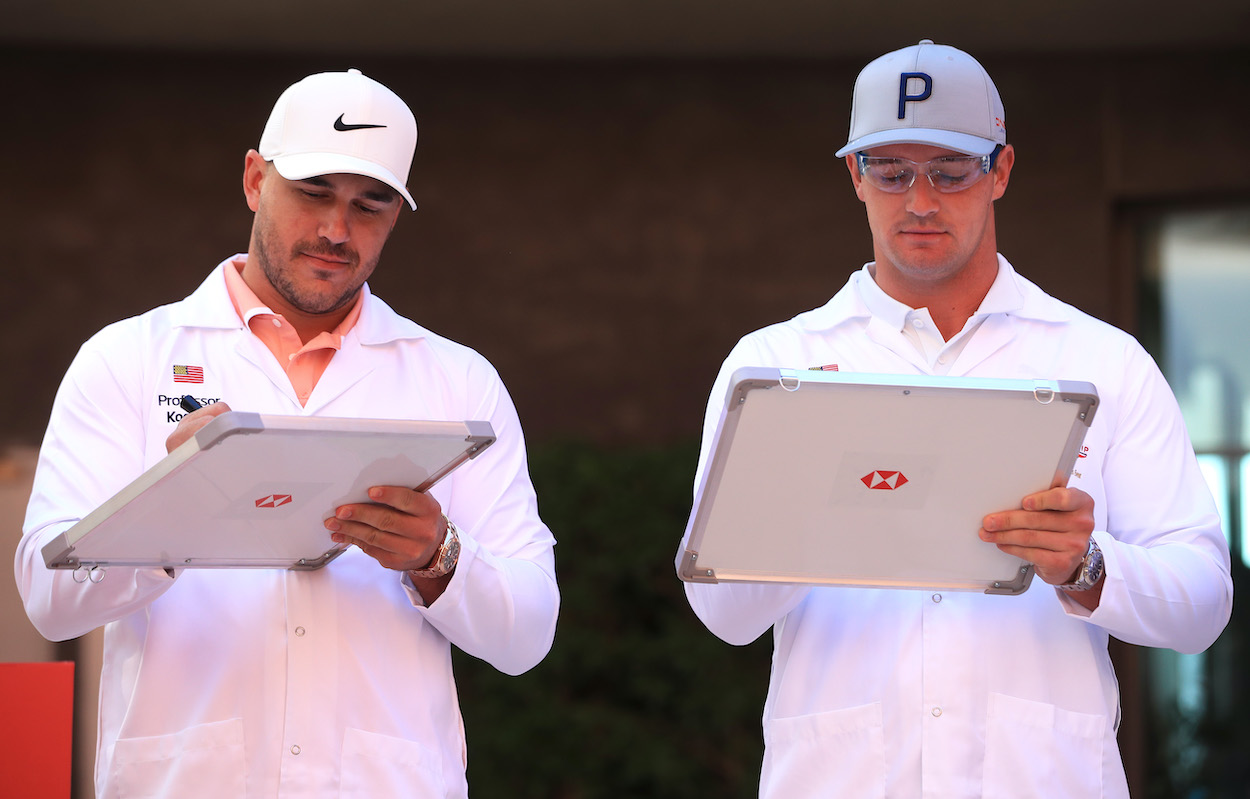 DeChambeau and Koepka are two of the most polarizing stars on the PGA Tour today, and now they've become mortal enemies.
It all started with a leaked video of Koepka speaking with Golf Channel after the final round of the PGA Championship last weekend. While he's being asked a question, Koepka is looking off in the distance in utter disgust. Soon enough, DeChambeau comes strolling by from the same direction and crunches by in his metal spikes. Koepka stops dead in the middle of his answer as if DeChambeau muttered something behind his ear, and he can't even finish his thought because of how annoyed he is at DeChambeau's presence.
The video immediately went viral after it leaked, and everyone who was gushing about Mickelson's historic triumph immediately shifted their focus to the DeChambeau-Koepka drama. But almost as quickly as it blew up online, the video was wiped off the face of the internet by the PGA Tour. Still, the clip was already ingrained in every golf fan's head, and the image of Koepka's disgusted face with DeChambeau in the background had already turned into a popular meme.
The two bombers continued the fun on Twitter afterward by taking jabs at each other from their official accounts.
"It's nice to be living rent free in your head!" DeChambeau replied to a Koepka diss. Koepka immediately responded with a video of Dechambeau getting mad at a fan for calling him Brooks.
Who said golf isn't fun?
Koepka has been critical of PGA Tour players for their slow play
The PGA Tour is usually a happy-go-lucky place where everyone gets along and roots for each other to succeed. But Koepka doesn't subscribe to that notion.
The eight-time winner on Tour has become famous for speaking his mind and never sugar-coating his thoughts on other players. He's called out DeChambeau in the past for his slow play on the course, as he's done for numerous other players.
After the final round of the 2019 Open Championship, Koepka had some choice words for playing partner J.B. Holmes for his sloth-like pace of play.
"I'm ready to go most of the time. That's what I don't understand," Koepka said. "When it's your turn to hit, your glove is not on, then you start thinking about it, that's where the problem lies. It's not that [Holmes] takes that long. He doesn't do anything until his turn. That's the frustrating part. But he's not the only one that does it out here."
Koepka has also called out stars like Rory McIlroy and Dustin Johnson
Koepka is a refreshingly honest personality on the PGA Tour. When he isn't bashing golfers for their slow play, he's sending veiled shots at some of the best players in the world to get in their heads.
Back in 2019, Koepka fired a burn at Rory McIlroy by saying the Northern Irishman doesn't belong in the same conversation as him.
"I've been out here for, what, five years. Rory hasn't won a major since I've been on the PGA Tour. So I just don't view it as a rivalry," Koepka told the AFP. "I'm not looking at anybody behind me. I'm No. 1 in the world. I've got open road in front of me and I'm not looking in the rearview mirror, so I don't see it as a rivalry."
Now that just didn't seem necessary. Neither did this jab at his old workout partner and friend, Dustin Johnson, before the final round of the 2020 PGA Championship.
"I like my chances," Koepka told reporters at TPC Harding Park. "When I've been in this position before, I've capitalized. I don't know, he's only won one [major]. I'm playing good. I don't know, we'll see."
Koepka has inexplicably ostracized players from his inner circle in the past for no other reason than simply… because he feels like it. DeChambeau is the newest golfer on that exiled list, and we can't wait until the PGA Tour pairs them up in a tournament soon.