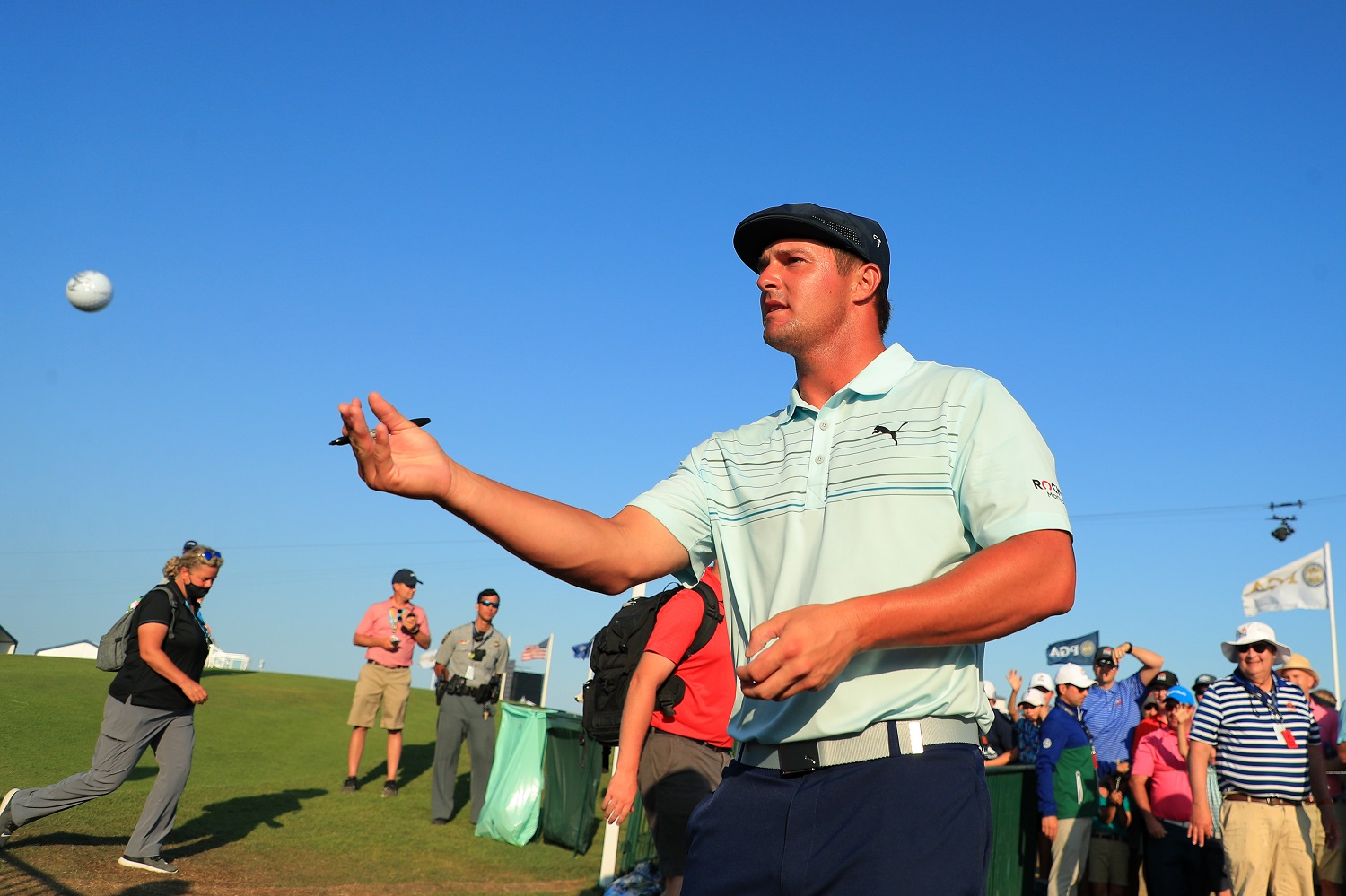 Bryson DeChambeau Won the U.S. Open and Lost What Remained of His Peers' Respect
Author John Feinstein says many PGA Tour pros think reigning U.S. Open champion Bryson DeChambeau, who'll play in 'The Match' with Phil Mickelson, Tom Brady, and Aaron Rodgers, is 'phony.'
Phil Mickelson? Yes, we get it. Tom Brady? Yeah, him, too. Aaron Rodgers? Eh, we think weekend golfers can get into watching him play 18 holes. As for Bryson DeChambeau, well, his participation in "The Match" will certainly attract an audience.
Half the golf world seemingly hates DeChambeau. Still, you know they'll all be watching.
The PGA Championship aftermath reminded us that Bryson DeChambeau is a polarizing figure
The memes started flying on social media after the video of DeChambeau living rent-free in Brooks Koepka's head started making the rounds a day after Mickelson's historic victory in the PGA Championship at Kiawah Island.
The comedy soared to new levels Wednesday when organizers of "The Match" revealed that Mickelson and Brady would team up against DeChambeau and Rodgers in the fourth edition of the made-for-television event on July 6.
At this point, it almost feels as though Mickelson winning his sixth major championship at the age of 50 is secondary to the feud between Koepka and DeChambeau, which has been simmering for a couple of years.
The video of Koepka, who has won four majors already, losing his train of thought as DeChambeau, the reigning U.S. Open champion, walked behind him on camera only added to it.
However, DeChambeau doesn't need an escalation with Koepka to remain the hot topic in the clubhouse. Fellow PGA pros have had him on their radar for a long time, and a noted journalist says he rubs his peers the wrong way.
DeChambeau won the U.S. Open, lost some respect
Short of capturing one of the three other majors to cap a career grand slam of golf, winning the U.S. Open might qualify as the greatest achievement an American-born star can register. DeChambeau earned his U.S. Open title on Sept. 20, 2020, winning by six strokes at Winged Foot in Mamaroneck, New York.
DeChambeau's seventh PGA Tour victory left no doubt that he rates with the likes of Dustin Johnson and Justin Thomas as a threat to win any time he tees it up. However, author and columnist John Feinstein says something DeChambeau did shortly after that U.S. Open victory caught the attention of fellow pros.
"I think there's a sense among players in the locker room that he's phony. And you see that side of him," Feinstein told Damon Amendolara on CBS Sports Radio, "I get along fine with him. He's never been anything but nice to me. But players don't care about that. But you see that side.
"When he wins the U.S. Open … (Golf Channel reporter) Steve Sands asks him a very legitimate question about changing his body and how difficult it was to make that decision. And he literally ignores the question and starts listing his sponsors. 'I want to thank blah, and blah, and blah.'
"And players look at that and go, 'What is that about?'"
Feinstein says there's more to it than that
Had it been just one episode, other pro golfers would presumably give DeChambeau a break. But there's all the hype about bulking up to become a terror off the tee — and his reputation for slow play is a killer all by itself.
"Playing with Bryson is like being in a dentist chair, because he pulls out his greens book when he's got a one-foot tap-in," Feinstein said in the interview transcribed by Audacy.com. "Seriously, I mean, it's ridiculous. … The guy who goes on television and smiles for the cameras and talks about his corporate sponsors is different than the guy they see on the range or in the locker room."
Koepka is one of the guys most vocal about DeChambeau's slow play. The fact that DeChambeau caused Koepka to lose his train of thought during an interview just by walking past him reflects the level of animosity that exists.
If Green Bay Packers executives think they're at wits' end dealing with Rodgers at the moment, then maybe they should try DeChambeau on for size.
Like Sportscasting on Facebook. Follow us on Twitter @sportscasting19.