Bryson DeChambeau Turned a Potentially Disastrous Blunder Into a $228,000 Payday at the Wells Fargo Championship
Bryson DeChambeau sure had an eventful weekend at the Wells Fargo Championship.
After shooting a second-round 74 on Friday, he found himself close to 90th place on the leaderboard. With just the top 65 golfers moving on to play the weekend, DeChambeau was pretty convinced he would be missing the cut, so he hopped on a private jet and headed back to his home in Dallas, Texas. But by the time the second round came to a close, DeChambeau had jumped all the way up to 64th place.
His journey back to Quail Hollow in Charlotte, N.C. was a fascinating one, and he even went on to finish the weekend $228,000 richer.
Bryson DeChambeau flew home to Dallas after thinking he missed the cut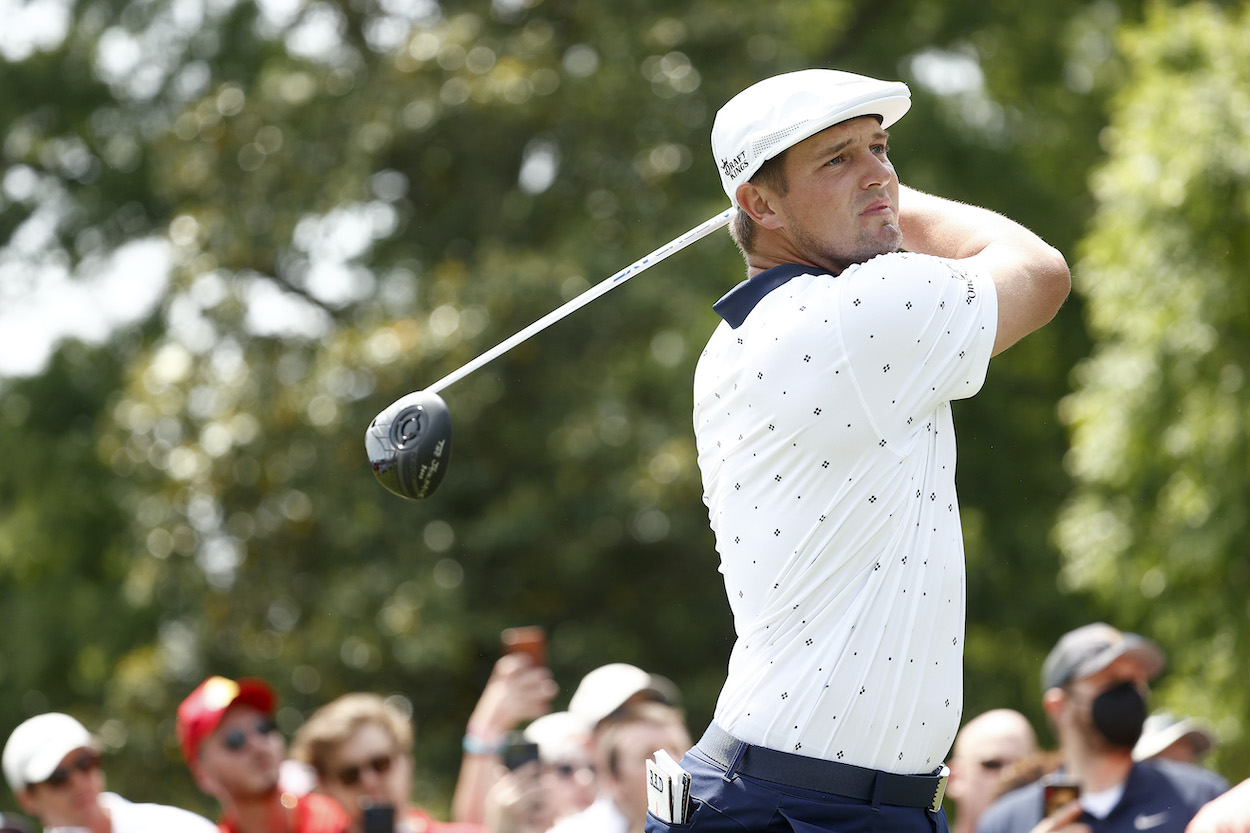 After finishing the second round of the Wells Fargo Championship well outside the cut line at 2-over par, DeChambeau decided to save some time and fly back home to Dallas early. He thought there was no chance he could jump up into the top 65, but the course conditions heated up in the afternoon, pushing a slew of players to 3-over par or worse.
DeChambeau somehow finished the day in 64th place. The problem? He was halfway across the country with no way of getting back to North Carolina on Friday night.
So, he got a quick bite to eat, went to bed early, and hopped on another private flight back to Quail Hollow early Saturday morning.
"It was funny," DeChambeau told reporters on Sunday. "We did a lot of scrambling last night to get back. One of the scenarios was like turning right back around, but the crew couldn't, you know, refuel and their hours were out. So we had to get a new crew, if anything, and it just didn't work out.
"So we're like, 'Well, let's just go in the morning.' So I left at 2:45 on a flight and I got here at 6:20 a.m, drove 30 minutes to the golf course, put on my clothes in the locker room, and headed out to the putting green. I did get a workout last night, though."
Of course he did.
DeChambeau incredibly finished the tournament in ninth place
DeChambeau shouldn't have even made the weekend at the Wells Fargo, but he definitely made the most out of his second chance. The 27-year-old bomber fired a third-round 68 and followed it up with another 68 on Sunday to finish the tournament tied for ninth place at 4-under par.
Rory McIlroy won the event at 10-under.
DeChambeau didn't just rack up some unexpected FedEx Cup points with the strong finish, though. He also earned a fat paycheck for flying back in time.
DeChambeau turned his blunder into a $228,000 payday
Thanks to his ninth-place finish, DeChambeau earned a $228,825 payday over the weekend. Not too shabby for where he was on Friday night.
But was the trip back worth it?
"It was worth it. It no doubt was worth it," he said. "That's what I was hoping to do this weekend when I was on that plane at 2:45 a.m. Yeah, I wanted to make it worth it. I didn't want to come out here and finish 60-whatever, close to last. Even at that, it's still FedEx Cup points, it's still world ranking points. I was pleased to have come back and finished. Hopefully, I can get inside the top 10 and be there and keep moving up the world rankings."