A Former U.S. President Used Mind Games and Aliens to Beat Jordan Spieth in a Golf Match
There aren't many golfers outside of the PGA Tour who could beat Jordan Spieth in a match. In fact, there aren't even many professionals who can beat the three-time major winner on the course, but former U.S. President Barack Obama can say just that.
During a friendly match in 2017, Obama pulled out every trick in the book — including aliens — to get inside Spieth's head and score the upset.
Jordan Spieth played a star-studded round of golf with Barack Obama in 2017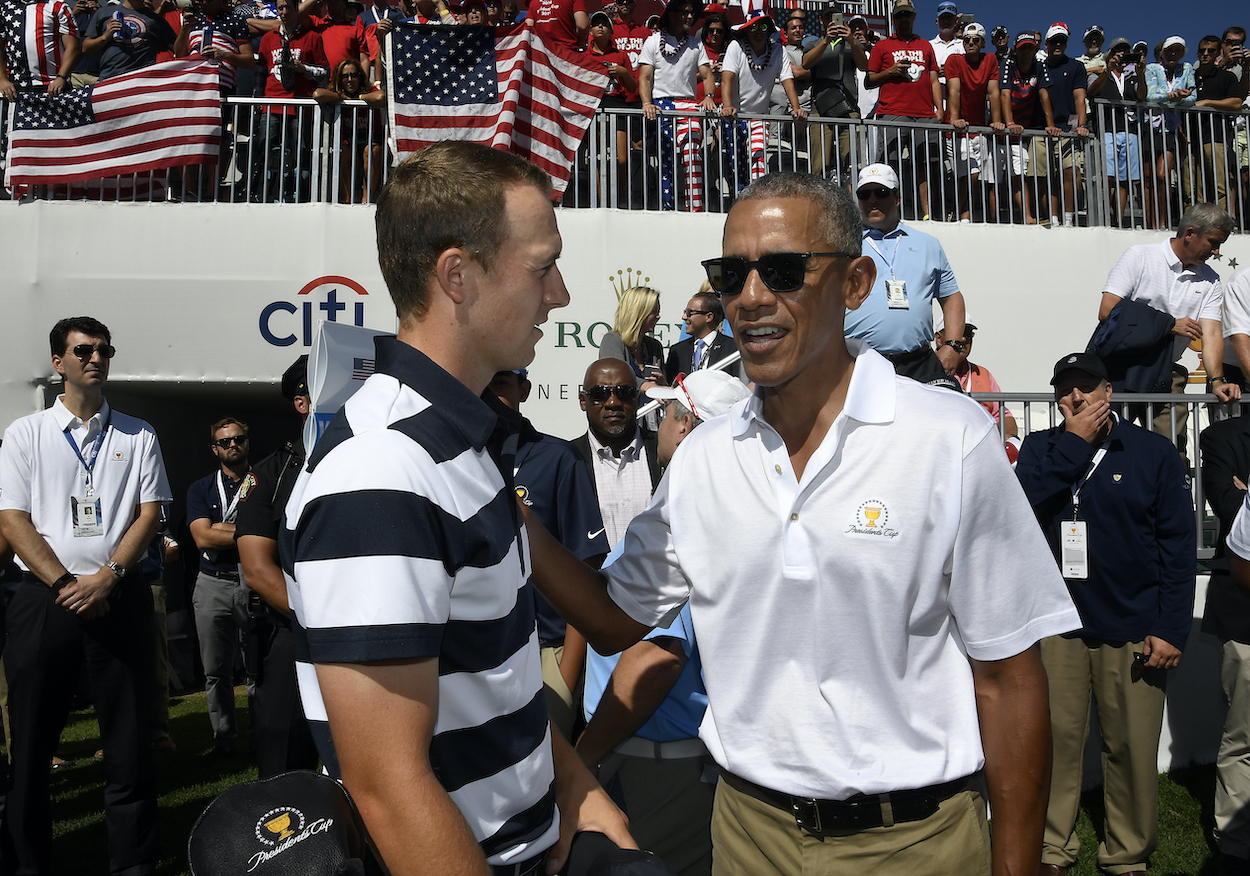 President Obama is notoriously a huge sports fan. He filled out an NCAA Tournament bracket every year while he was in office, and he has a smooth jump shot for a 59-year-old.
When Obama isn't perfecting his jumper on the court, he can probably be found on the golf course. He's a sweet-swinging lefty on the links, and he has a knack for making clutch putts on the 18th hole.
In 2017, Obama joined Spieth, Stephen Curry, Seth Curry, and Under Armour CEO Kevin Plank for a round of golf and a friendly match in Dallas, Texas.
The match even came down to the final hole.
Obama used mind games and aliens to get into Spieth's head
After the star-studded round, Spieth appeared on The Late Late Show with James Corden and spoke about playing with the former U.S. president. He said Obama acted like just a normal guy, but he did have a few tricks up his sleeve.
"He was incredibly cool. We had a great time," Spieth said on the show. "If you were a former president, one of the highlights would be once your presidency is over, you can kind of mess with everybody, right? I asked him a question, I said 'President Obama what's the one thing you would tell a President-elect, what's the one thing you weren't prepared for in your two terms that you had to learn on the go?'"
Spieth said Obama went in-depth about the day-to-day duties of the Commander in Chief and what advice he would give to new presidents about the job. Then, he started playing mind games with the PGA Tour star.
"So he goes through this whole serious spiel," Spieth continued. "And then right before he goes up to hit his putt he goes, 'And you won't believe what the aliens look like.'
"He goes, 'they're freaking crazy looking.' And then he walks up, he makes his putt, turns back, walks off the green, leaves it at that, and gives me a wink. And I'm sitting there, 'I'm not going to sleep for a week!"
President Obama sunk the winning putt to beat Spieth
Spieth was asked on the show whether he took it easy on the former president, but he said that was never an option.
"No, quite the opposite," he said. "You can't lose to him, or else he's gonna go tell people 'I beat Jordan when we played.'"
Eventually, the match came down to the 18th hole, and Obama was faced with a pressure-packed putt to win it.
"So we had a two-on-two match. It came down to the last hole, and the president had a 10-foot, double-breaking putt," Spieth said. "This is my home course, and I've never seen anybody make that putt. A small crowd had gathered like you would expect, and he said, 'You know when there's a crowd on the last hole I never miss.' He steps up, and he knocks in this double-breaker. Perfect speed, right in the middle of the hole. I had a putt that would've been to tie the match after, but it didn't matter.
"He won the match on that putt, and he said, 'Told ya.'"
Spieth was shocked that Obama had that much game and enough trash talk to back it up, but it was a round he'll never forget.
"What a neat experience it was," he said. "He couldn't have been kinder."