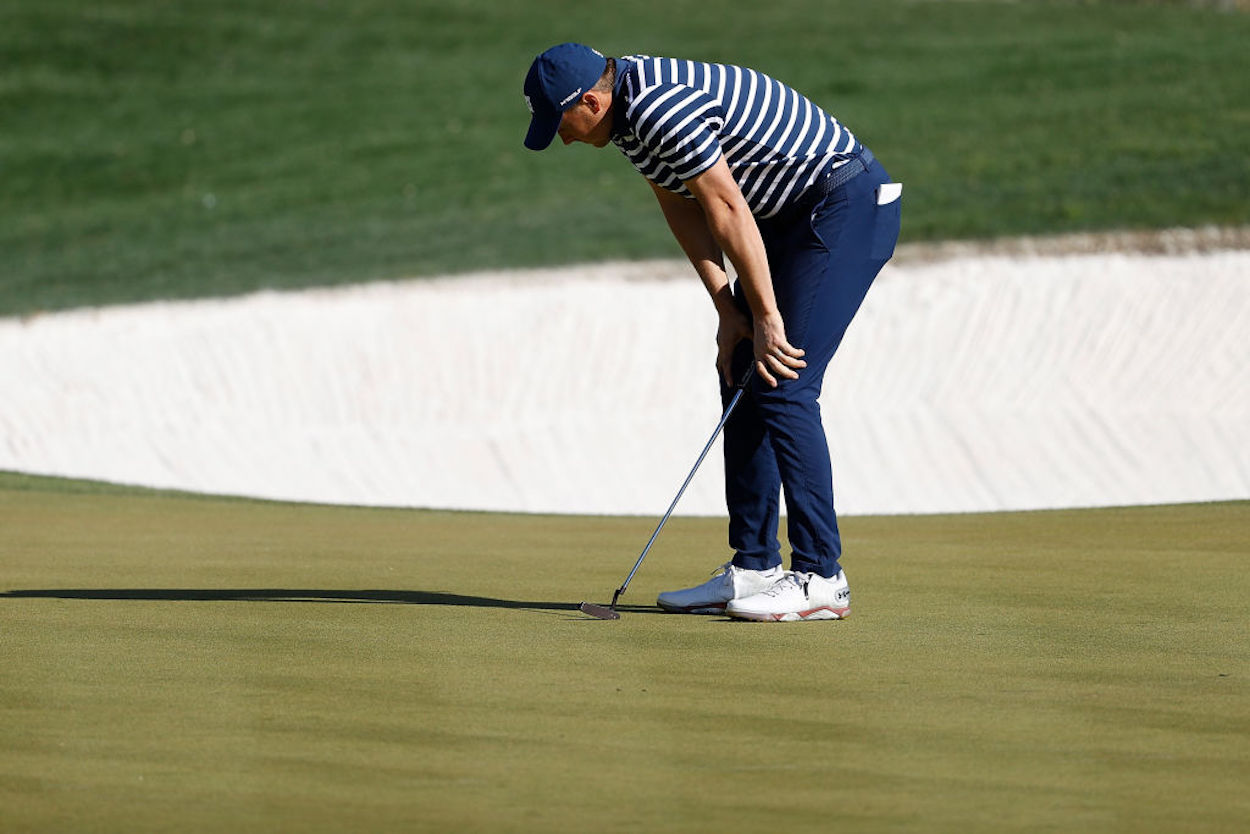 Golf Channel's Brandel Chamblee Sends a Grim Message About Jordan Spieth's Declining Career, Believes He's 'Headed Into Oblivion'
Jordan Spieth hasn't been trending up lately, and Golf Channel's Brandel Chamblee doesn't see him getting out of his funk soon.
Jordan Spieth is no longer the Jordan Spieth we once knew.
The three-time major championship winner and former No. 1 golfer in the world hasn't won on the PGA Tour since 2017, and he's now slipped to No. 69 in the Official World Golf Rankings. His driver has gone haywire, his once-automatic putter is now just praying to make simple 10-footers, and his clutch Sunday magic has completely evaporated. Spieth has lost his game, and Golf Channel analyst Brandel Chamblee believes he might not be able to find it again.
Jordan Spieth's recent struggles
Just six years ago, Jordan Spieth was on top of the golf world. The 22-year-old boy wonder won the 2015 Masters and 2015 U.S. Open while breaking numerous PGA Tour records along the way. He was the No. 1 ranked golfer in the world at the time, and he was simply unbeatable when he was on his 'A' game.
But that Jordan Spieth has disappeared.
Since winning The Open Championship in 2017 for his third career major, Spieth hasn't won a single event on Tour. He slipped to No. 92 in the OWGR last week, which placed him behind Michael Thompson, Talor Gooch, Chan Kim, Aaron Rai, and a handful of other names casual golf fans probably have never even heard of.
In eight PGA Tour events played this season, Spieth ranks 236th in driving accuracy, 219th in strokes gained: off the tee, and 129th in scoring average. He missed four cuts and finished outside the top 38 in his first seven appearances of the 2021 season.
Spieth did have a solid T4 finish at the Waste Management Open this past weekend, but that was incredibly his first top-five finish since the 2019 PGA Championship. The former No. 1 ranked golfer in the world now sits at No. 69, and he's truthfully playing even worse than that.
Brandel Chamblee says Jordan Spieth is 'headed into oblivion'
Brandel Chamblee has been around the game of golf for over four decades. He played on the PGA Tour for 18 years before moving to the booth to become an on-air analyst for Golf Channel, and he's seen his fair share of players fall from grace over the years.
Chamblee recently spoke to Alan Schupak of Golfweek about Spieth's recent struggles, and he had an extremely honest assessment about where his career could be is headed.
"Spieth is headed into oblivion," Chamblee said. "That's hard to turn that ship around.
"If you go back and look at Ian Baker-Finch and David Duval's ascent and descent in the game of golf, they track a similar path to Jordan Spieth. When they get to a point where they are really searching and they get desperate there's not only the insecurity of whether or not you're ever going to find it again, there's also that psychological scar tissue. It's like a physical wound and some of them will heal up and some of them will kill you.
Ian Baker-Finch or David Duval, no disrespect to them, but the only reason I picked them out is they made the game look so easy for a period of time, as did Jordan Spieth. Their descent is a reminder to all of us that it is ephemeral. You can lose it in the blink of an eye. He seems to be searching every single week, spending lots of practice swings, over the ball a long time."
Chamblee doubles down on his comments after Spieth's T4 finish
Maybe Spieth saw Chamblee's comments before teeing it up at the Waste Management Open this past weekend. He shot a blistering, 10-under 61 in the third round en route to a T4 finish in Phoenix, but Chamblee isn't convinced Spieth has turned the tides.
"I guess I would say I'm a little more optimistic than the last time we talked," Chamblee told Golfweek. "I still need to see him drive it better than he does. I don't see how he can come back and play anywhere near the type of golf he used to play unless he drives it better. There's a difference between driving it poorly and driving it terribly. There's generally not much hope to contend when you're driving it terrible."
Chamblee didn't rule out the possibility that Spieth can straighten his game out again, but he's not holding his breath.
"The only thing I'll say is when you see someone drive it as inaccurately as he did, it's a trip to oblivion," Chamblee said. "Henrik Stenson and Steve Stricker came back from there. If I'm Jordan Spieth I'd look at what they did and use that as positive reinforcement that he can dig his way out of this hole."