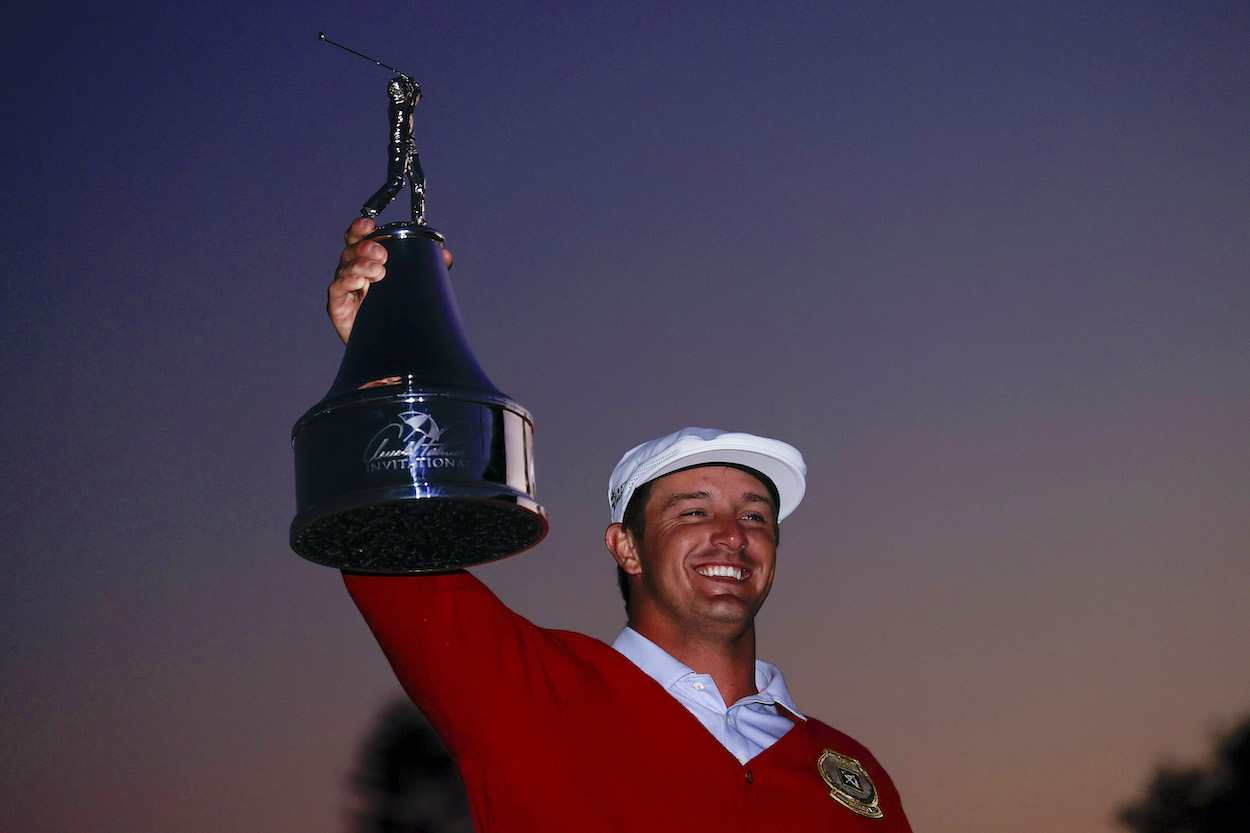 Bryson DeChambeau Used an Inspirational Text From an Ailing Tiger Woods to Win His 8th PGA Tour Event
Bryson DeChambeau just won his eighth PGA Tour event at the 2021 Arnold Palmer Invitational, and he has a text from Tiger Woods to thank.
Bryson DeChambeau is a winner on the PGA Tour once again. The 27-year-old bomber conquered Bay Hill on a grueling Sunday to win the 2021 Arnold Palmer Invitational by one stroke. The victory might've been the most emotional of DeChambeau's career thus far, and not only because it came at the late Arnold Palmer's tournament.
Before his Sunday round, DeChambeau received a text from none other than Tiger Woods encouraging him to be bold like Arnie, and that's exactly what he did.
Bryson DeChambeau wins for the eighth time on the PGA Tour
For the last year, Bryson DeChambeau has been the talk of the golf world. The hard-swinging linebacker of a golfer has taken the PGA Tour by storm with his mammoth drives and unique, scientific approach to the game.
But DeChambeau isn't just changing the sport as we know it. He's winning along the way, too. Since last March, DeChambeau has three victories on Tour, one of which being his first career major championship at the 2020 U.S. Open. He's vaulted himself into the No. 6 spot in the Official World Golf Ranking and stands at the top of the 2021 FedEx Cup leaderboard.
Over the weekend, DeChambeau won his eighth career PGA Tour event at the Arnold Palmer Invitational at Bay Hill. He shot an impressive final-round 71 in U.S. Open-like conditions to capture the victory by one stroke over veteran Lee Westwood.
"It's beyond my wildest dreams to win Mr. Palmer's event," DeChambeau said after his final round. "I came here as an amateur, he (Palmer) gave me an invitation and I loved this golf course the minute I arrived. I loved the atmosphere and I love the fans. I loved what Mr. Palmer did with this place and what he's done and his legacy he's left here."
Bryson DeChambeau received an inspirational text from an ailing Tiger Woods
Tiger Woods might still be recovering from the horrific car accident that hospitalized him two weeks ago, but he made time on Sunday to offer some words of encouragement to DeChambeau ahead of his final round. DeChambeau told the story of their back-and-forth after he secured his eighth PGA Tour victory.
"I got a text from Tiger [Woods] this morning … We just talked about 'Just keep fighting, no matter what happens' and play boldly like Mr. Palmer," DeChambeau said in a post-round interview with NBC.
"When I got that text, I'm like, 'Wow, that's pretty amazing that he is thinking of me when he's in his tough times that he's going through right now,'"
Bryson DeChambeau offers Tiger Woods some words of encouragement
Of course, DeChambeau wasn't going to let the text conversation slip by without offering some encouraging words of his own to one of his golf heroes. After Woods gave him the advice he needed to secure his eighth win, DeChambeau returned the favor.
"One of the things that we talked about was, it's not about how many times you get kicked to the curb or knocked down, it's about how many times you can get back up and keep moving forward," DeChambeau said after his final round. "And I think this red cardigan is not only for Mr. Palmer, but I would say it's a little bit for Tiger as well, knowing what place he's in right now."
Get well soon, Tiger.