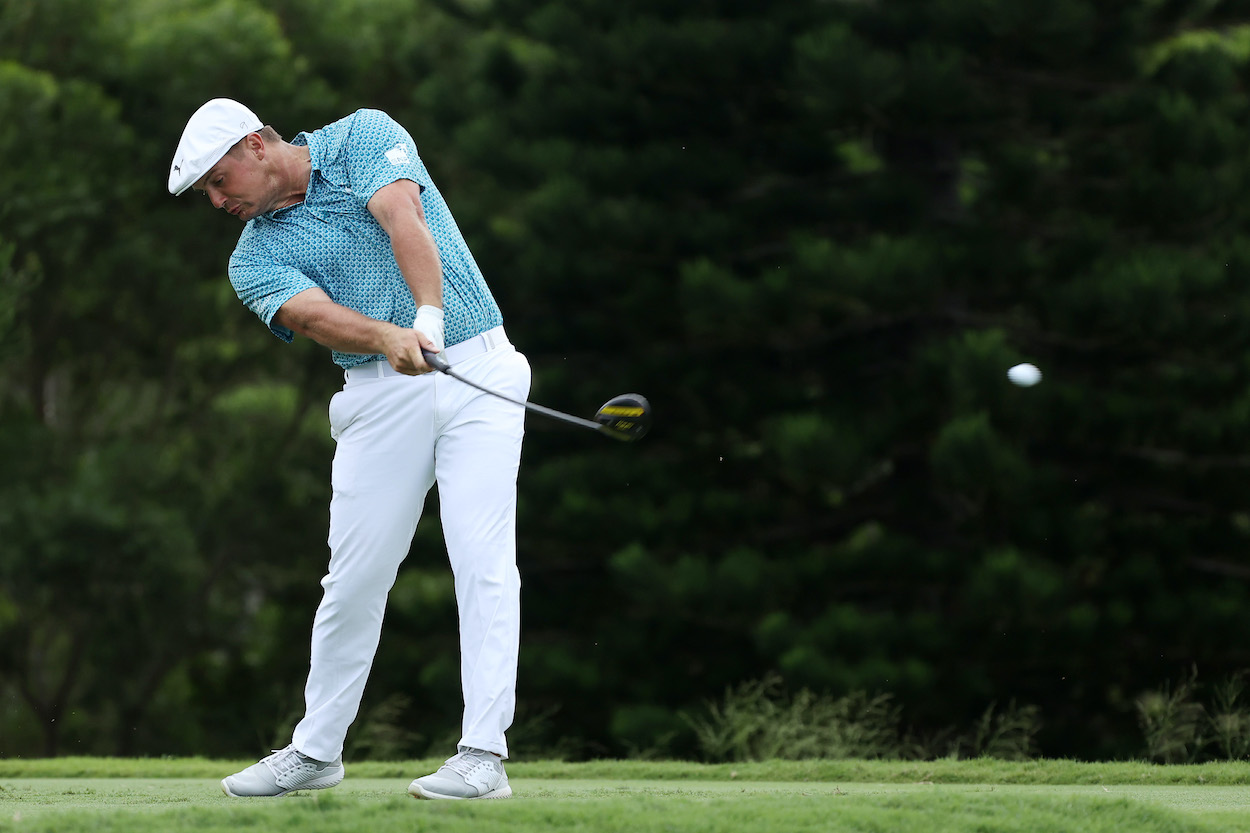 Bryson DeChambeau Claims He Will Attempt Mind-Blowing Feat of Driving a 590-Yard Par-5
Bryson DeChambeau has become the strongest man on the PGA Tour, but does he really believe he can drive a 590-yard par-5 in one swing?
Bryson DeChambeau has become the talk of the golf world lately with his bulging muscles, mammoth drives, and quirky putting stroke. The 27-year-old bomber is setting distance records seemingly every week on the PGA Tour, but his latest goal might be too ambitious, even for him.
Bryson DeChambeau and the PGA Tour power surge
Golf used to be a game of precision and accuracy. PGA Tour players used to put an emphasis on finding fairways and greens, staying out of trouble, and putting the lights out. For the most part, players still stick to that strategy. But not Bryson DeChambeau.
Over the last year or so, DeChambeau has transformed his game into a home run derby. He pulls driver on every hole he can and tries to get as close to the green as possible to make scoring easier. It's a brilliant strategy on the surface. If DeChambeau can keep his driver in play and putt at an average to above-average level, he'll be at the top of the leaderboard every weekend.
DeChambeau has risen his driving game to historic levels. During the 2020 season, he averaged 322.1 yards per drive, which is the PGA Tour record for a single season. But he's been even longer in 2021. DeChambeau is averaging an absurd 329.2 yards per drive over 12 rounds in 2021.
The bulky bomber is just getting started in his quest to become the most prolific driver of the golf ball in PGA Tour history. This season, he has a mind-blowing distance goal that seems impossible for a mere human.
DeChambeau claims he can drive a 590-yard par-5
For Bryson DeChambeau, he believes there's nothing he can't accomplish with a driver in his hand. But his latest goal might be a tad ambitious.
In a conversation with Golf.com last month, DeChambeau claimed he wants to attempt to drive the green of the par-5 6th hole at Bay Hill Club and Lodge. The hole measures 590 yards from tee to green and meanders along a lake.
"If I play this year I will definitely do it," DeChambeau told Golf.com. "No. 6 at Bay Hill is one of those I've been eyeing. I think I can do some pretty cool things on it."
Because of the layout of the hole, DeChambeau can accomplish the feat by going straight at the green from the tee box. He would still have to carry his drive about 340 yards to clear the water, but he believes it's possible.
"It would be some effort," Tyrell Hatton, the reigning champion at Bay Hill said when asked about DeChambeau's claim. "I know that's not anywhere near my locker. If he can do it and he pulls it off in tournament … fair play to him.
There's not really a bailout. It would take a very brave man to do it and it would be interesting to see if he can pull it off."
The annual Arnold Palmer Invitational at Bay Hill is scheduled for March 4-March 7 this year. Hopefully, we see DeChambeau there next month to attempt the daring shot.
John Daly once made an 18(!) going for the 6th green at Bay Hill
If DeChambeau wants to go for the green on the 6th hole at Bay Hill, he might want to check with former PGA Tour player John Daly first. Daly attempted to drive the same green in 1998 and wound up with a 13-over 18 after putting six balls in the water.
Maybe DeChambeau will have better luck in his efforts.