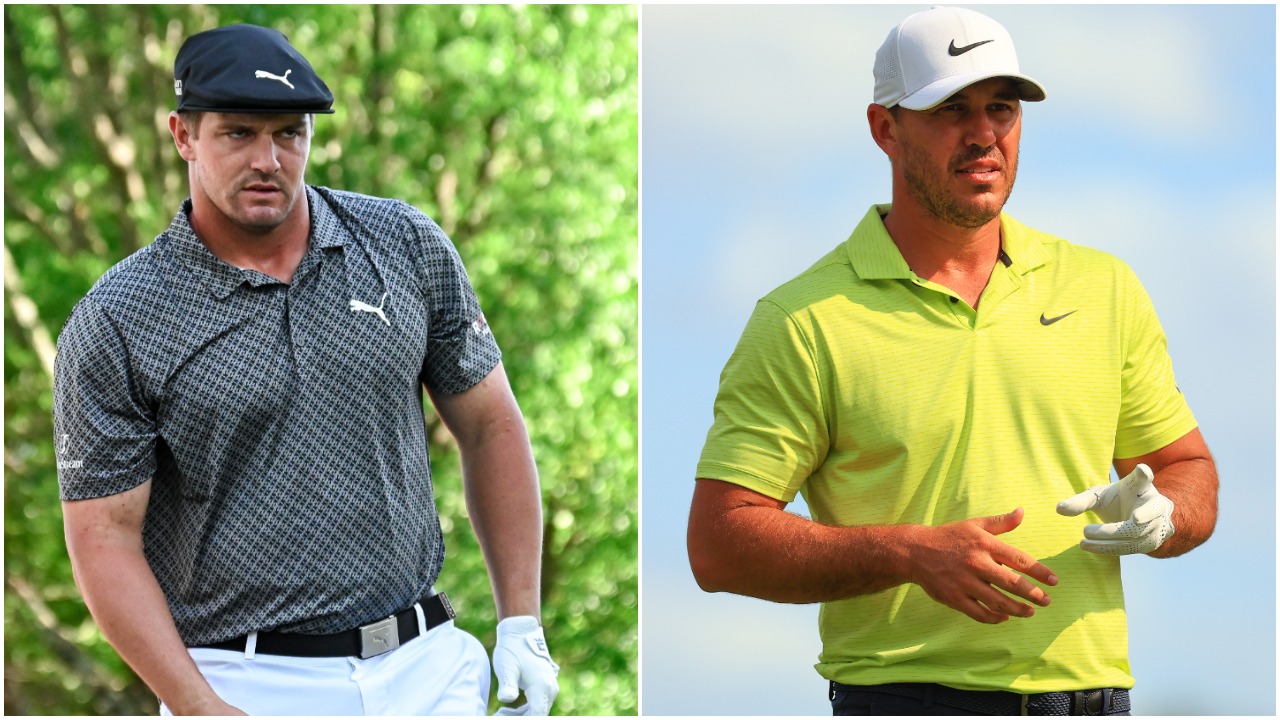 Bryson DeChambeau Admitted Brooks Koepka Would Take Him in an Actual Fight…But There's a Catch
Bryson DeChambeau once admitted that he'd lose a fight against Brooks Koepka.
The ongoing feud between PGA Tour superstars Bryson DeChambeau and Brooks Koepka is the most intense it's ever been, and there are no signs of it slowing down anytime soon. The feud has certainly intensified over the last month or so following Koepka's now-famous eye roll and NSFW language as DeChambeau walked past while Brooks was giving an interview following the final round of the PGA Championship.
But that's not our main focus here.
What we're doing today is focusing on a chapter of this saga that's seemingly been mostly forgotten. And it's an early chapter as it took place just after the two got into it over pace of play, which is what most consider to be the beginning of the Bryson-Brooks rivalry. The duo appeared together on a radio show to discuss the matter, and it was then that DeChambeau admitted he would lose to Koepka in a fight.
But there's an obvious catch to that admission as Bryson then certainly isn't Bryson now. Here's a quick recap for those who haven't heard of this previously.
Bryson DeChambeau and Brooks Koepka got into it over pace of play in 2019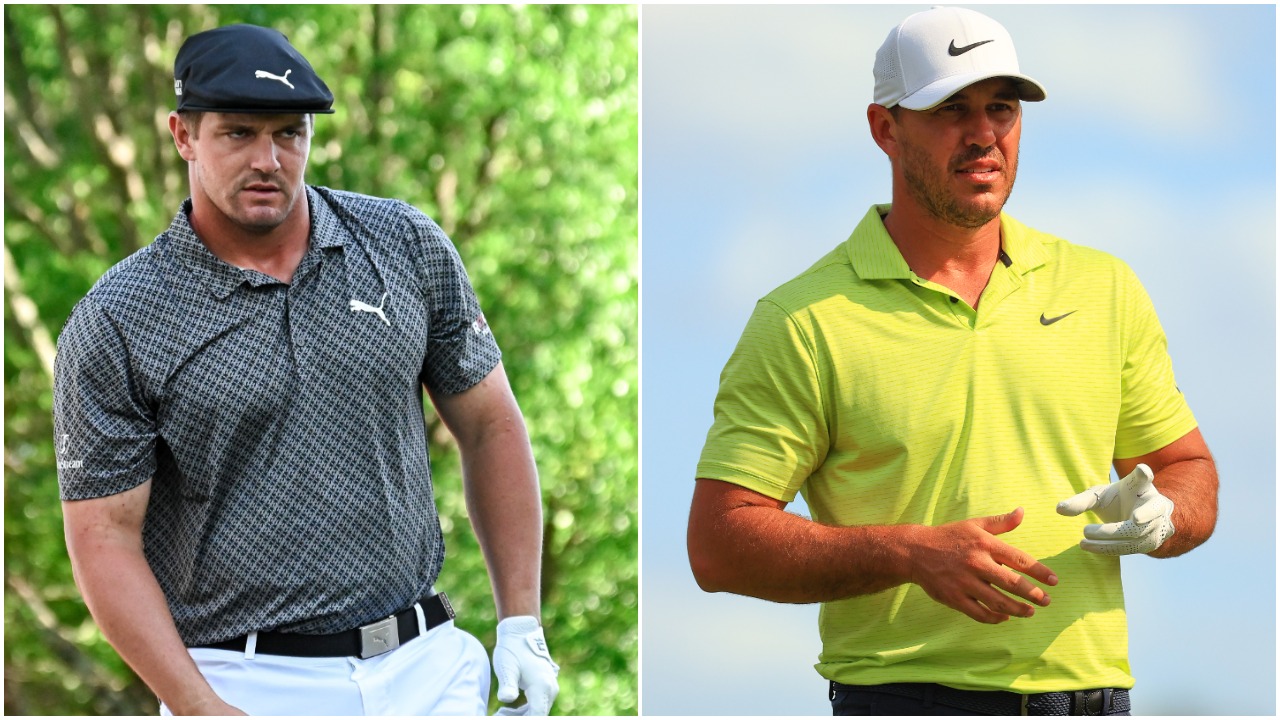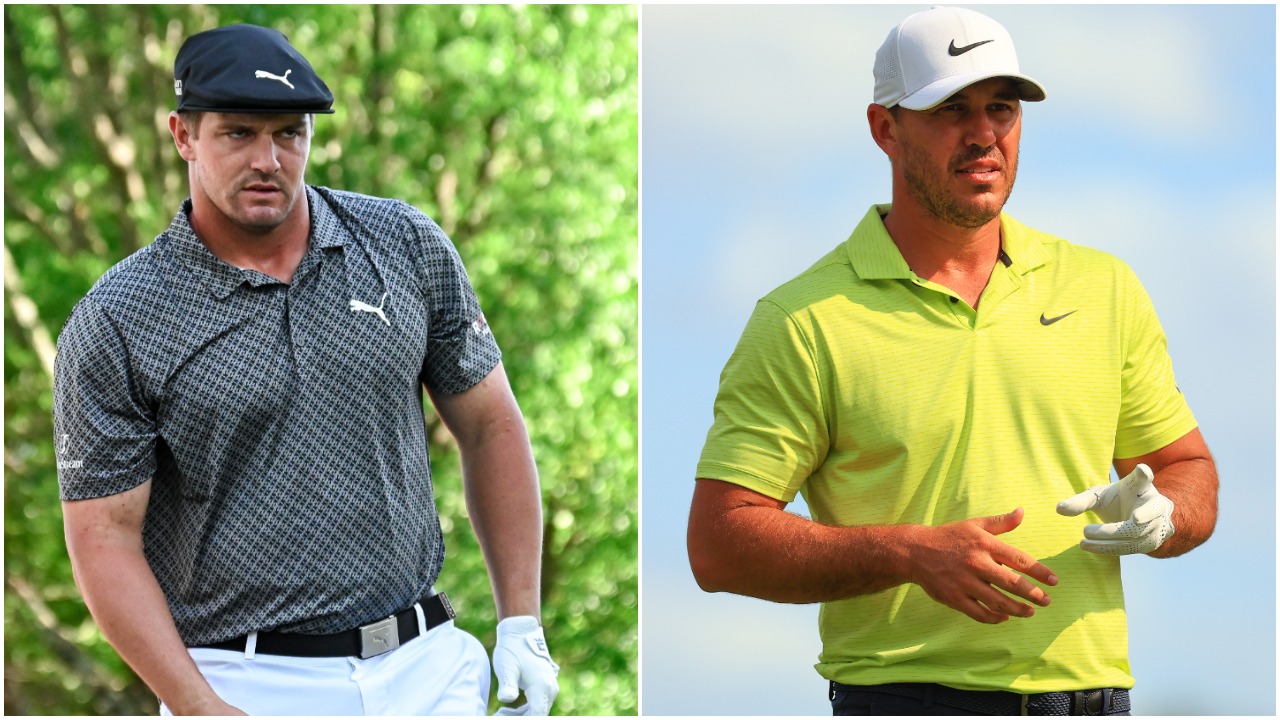 During the first event of the 2019 PGA Tour FedEx Cup playoffs, The Northern Trust at Liberty National, DeChambeau, a notoriously slow player, took a lot of heat for a couple of shots during his second round. On the seventh hole, he took more than three minutes to hit a 70-yard shot as he paced it off by walking all the way up to the green and then back to his ball. One hole later, he took more than two minutes to read and hit a putt inside 10 feet (which he missed), clearly annoying playing partners Justin Thomas and Tommy Fleetwood.
Following the round, a number of PGA Tour pros took to social media to complain, but Bryson defended his pace of play the following day, saying he walks to his ball faster in between shots, which makes up for the time he takes to run through his deliberate pre-shot routine.
Koepka has long had an issue with slow play and had actually made some comments about DeChambeau earlier in the year, but nothing really came of it. But it's not as if Brooks always specifically targeted Bryson when discussing slow play as he'll blast anyone if he feels they're not playing quickly enough, just as he blasted J.B. Holmes after the two were paired together during the final round of The Open Championship in 2019 at Royal Portrush.
But DeChambeau seemingly saw it that way. Ahead of the final round of The Northern Trust, Bryson approached Koepka's caddie on the practice green and told him to inform Brooks that if he had anything to say about slow play, he should say it to his face.
Certainly not one to back down from anything, Koepka received the message and actually did say something to DeChambeau's face. And how did that chat go? According to Golf.com, the conversation was amicable and Bryson even called it "awesome," saying he had a lot of respect for Brooks for coming to him personally. Koepka downplayed the discussion a bit but said he'd be open to discussing things further, which the two did together in a podcast appearance a short time later.
DeChambeau admitted Koepka would take him in a fight
Two days after their meeting at The Northern Trust, DeChambeau and Koepka appeared together on SiriusXM's PGA Tour Radio show Out of Bounds, hosted by Michael Collins and PGA Tour pro Pat Perez. Bryson and Brooks continued their conversation on slow play, and while the two agreed that slow play is a big problem, they continued to disagree on what should be done to fix it, each offering up different solutions.
But another thing they could agree on was who would win in a fight between the two, which came up when Collins brought up the conversation the duo had at Liberty National. And here's how that hilarious exchange went down:
Michael Collins: "When everything went down and you guys spoke, it was funny because people acted like the two of y'all was going to fight."
Bryson DeChambeau: "Let's be honest, we know who would win that fight. And it's not me. Let me tell you right now, he'd kick my ass."
Brooks Koepka: "I do know that. You got that right."
Now, what one has to remember is that this admission from Bryson took place in August 2019, nearly a full year before he packed on 35-40 pounds of muscle. Wonder what he'd say now.
The feud escalated in 2020 and intensified following the PGA Championship
Since that joint interview in which the two seemed to at least be cordial with one another, the relationship between DeChambeau and Koepka has obviously gone downhill.
In January 2020, when Brooks was featured in ESPN's Body Issue, Bryson took a shot at him, saying "he doesn't have any abs," to which Koepka responded brilliantly with this gem of a tweet.
So good.
When the PGA Tour returned last summer after a three-month layoff due to COVID-19, DeChambeau had hulked up, and Koepka appeared to take a shot at the new physique after Bryson got into it with a cameraman at the Rocket Mortgage Classic.
About a month later at the FedEx St. Jude Classic, DeChambeau asked for a drop as there were fire ants near his ball. The next day, Koepka joked about seeing ants near his ball. Sure, it's a bit petty, but it was harmless enough.
Then, of course, there was the viral video (which has since been taken down) in which Koepka was giving an interview to Golf Channel following the final round of the PGA Championship, where Brooks finished second to Phil Mickelson. Just as Koepka was getting going, Bryson walked by in the background, causing the now-famous eye roll and a few curse words from Brooks.
Then, as trash talk began in the upcoming Phil Mickelson-Tom Brady vs. Bryson DeChambeau-Aaron Rodgers match, Koepka inserted himself into the conversation, which led to some interesting back-and-forth tweets. At the Memorial, DeChambeau had a few patrons ejected for calling him "Brooksie," to which Koepka responded by offering those same patrons free beer.
And that brings us back to the present. Fans were clamoring for a DeChambeau-Koepka grouping at the U.S. Open, which the USGA chose not to do for the first two rounds. So now we just have to wait and see if the two can somehow find their way to one another over the weekend to add yet another chapter to this ongoing saga.