Brooks Koepka Publicly Speaks on His Rivalry With Bryson DeChambeau for the First Time, Addresses the Viral Video and Ryder Cup Concerns
The feud between PGA Tour superstars Brooks Koepka and Bryson DeChambeau has been ongoing for the better part of two years now and is showing no signs of slowing down. What began as a simple argument over slow play back in 2019 has intensified and evolved into one of the biggest stories in golf. And Koepka doesn't see that as a problem whatsoever.
Ahead of this week's Palmetto Championship at Congaree Golf Club in Ridgeland, South Carolina, the final stop on the PGA Tour before the U.S. Open, where DeChambeau is the defending champion, Koepka publicly spoke about the rivalry for the first time, and opened up on the highly-publicized leaked video following the PGA Championship, the concerns over the two being Ryder Cup teammates, and how the squabble is actually helping the game of golf.
A quick summary of the Brooks Koepka vs. Bryson DeChambeau rivalry
For those who may not be overly familiar with the Koepka-DeChambeau rivalry, here's the short version. As mentioned, it began in 2019 when Koepka was one of numerous PGA Tour players to take issue with DeChambeau's pace of play, which led to Bryson telling Brooks' caddie that if Koepka had something to say, he should say it to his face. Koepka did so, seemingly in a calm manner, and that seemed to be the end of it. Until it wasn't.
Since then, the two have engaged in numerous wars of words on social media, including one in which DeChambeau took a shot at Koepka's physique, which is ridiculous. Things intensified recently following the now-famous leaked interview clip following the PGA Championship in which Brooks rolled his eyes and dropped some serious NSFW language as Bryson walked behind him.
And seeing as we're on that topic, Koepka referenced it during a news conference ahead of the Palmetto Championship and simply said that he thought DeChambeau was just being a little too loud. Brooks actually even cut his rival a little slack, saying Bryson toned it down when he realized he was right behind him. So that's nice. Koepka says he obviously lost his train of thought for a moment, reacted how he reacted, and that was that.
Koepka says his rivalry with DeChambeau is 'good for the game'
The latest chapter in the Koepka-DeChambeau rivalry came just this past week at the Memorial as Bryson was being heckled by some fans calling him "Brooksie," fans he ended up having removed from Muirfield Village. In response, Koepka, who wasn't even playing the tournament, offered those same patrons free beer, which then led DeChambeau to say that perhaps the PGA Tour needed to get involved.
Again, there are no signs that point to this thing slowing down anytime in the near future, but Koepka only sees it as a positive (h/t ESPN).
"I think it's good for the game. I really do. The fact that golf's on pretty much every news outlet for about two weeks pretty consistently, I think that's a good thing.

"It's growing the game."

Brooks Koepka on his rivalry with Bryson DeChambeau
Koepka went on to say that he realizes that some traditionalists may have a problem with what's going on, but this rivalry with DeChambeau is getting golf in front of people that may not have been interested previously, and he sees that as nothing but a positive for the sport moving forward.
Brooks says being Ryder Cup teammates with Bryson won't be an issue at all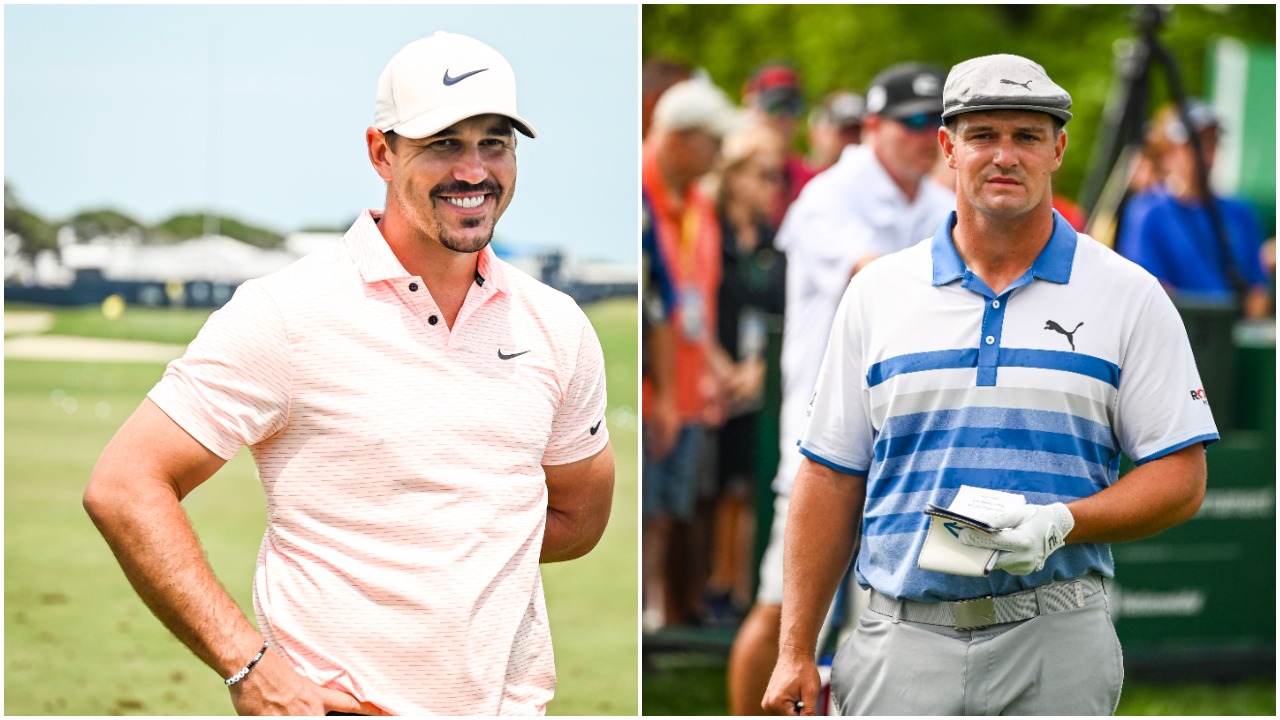 One of the biggest things that's been mentioned recently as this squabble has continued is the fact that Koepka and DeChambeau will almost certainly be Ryder Cup teammates later this year at Whistling Straits. People are wondering how the two will co-exist and how it might affect team unity, but, as he usually feels about most things, Koepka isn't concerned about it in the slightest.
"Let's say I don't play with Bryson or Bryson doesn't play with me, he takes care of his match, and I would take care of my match, and I don't know how that has any effect. What you do off the golf course doesn't have any effect on the golf course."

Brooks Koepka on being Ryder Cup teammates with Bryson DeChambeau
And Koepka is absolutely right here. As long as U.S. captain Steve Stricker never pairs the two together in two-on-two matches, which he likely wouldn't (although it would be phenomenal), the two never even have to speak. The final day of competition features nothing but singles matches so there's no problem there either.
Overall, Koepka is right. This rivalry is good for golf. But it's not as if this is the first rivalry the sport has seen, nor is it even close to being the most intense. Paul Azinger/Seve Ballesteros and Tom Watson/Gary Player were far more serious in nature but just didn't have social media or a 24-hour news cycle behind them. In the end, this isn't hurting anyone and it's certainly not hurting the sport as a whole.
All it's doing is giving fans something to look forward to, while also keeping things entertaining. You don't think NBC wouldn't love the ratings that would come with a Brooks Koepka-Bryson DeChambeau final pairing at the U.S. Open at Torrey Pines? In a post-Tiger Woods era, golf needs big stories and this is one of them. So keep it up, boys. We're all waiting to see what happens next.