Bryson DeChambeau Cost Himself a Potential $2.16 Million With Horrific Back 9 Implosion at the U.S. Open
Bryson DeChambeau was in position to win the U.S. Open and $2.25 million, but his horrific back 9 only netted him
Halfway through the final round of the 2021 U.S. Open at Torrey Pines Golf Course, Bryson DeChambeau looked destined to repeat his major championship triumph from last year. The big-hitting golfer took a one-stroke lead over the rest of the field with just eight holes remaining in his round, but they turned out to be eight holes he'll quickly want to forget.
After his embarrassing implosion down the backstretch, DeChambeau finished the championship in a tie for 26th place. He didn't just cost himself a second consecutive U.S. Open title with his back 9 blowup, though. He cost himself a potential $2.16 million in the process.
Bryson DeChambeau was in prime position to win the U.S. Open and $2.25 million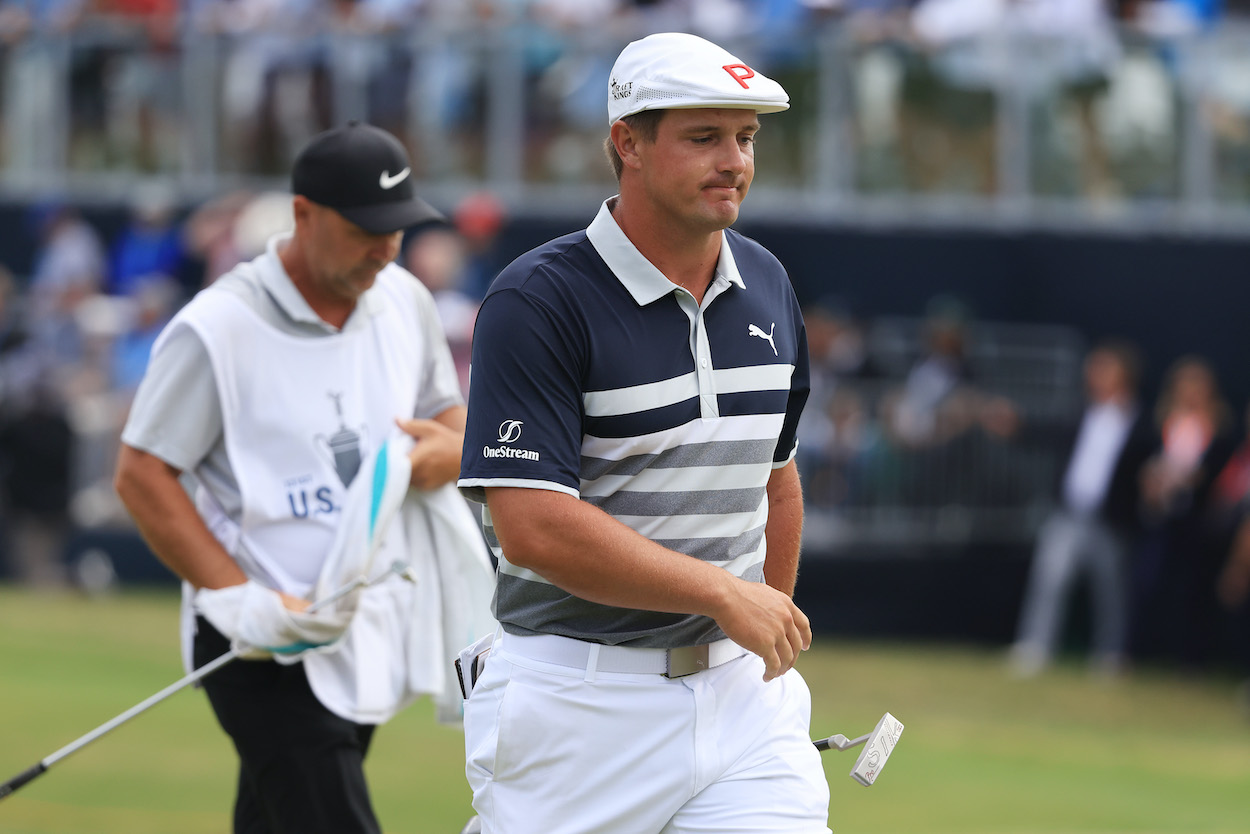 Just about 15 players entered the final round of the U.S. Open with a chance to take home the trophy. Louis Oosthuizen, Russell Henley, and Mackenzie Hughes held the lead together at 5-under par, but with just one combined major victory between the three of them, the trio was fully expected to fall back to the field on Sunday.
That's exactly what happened early on in the round, as Henley and Hughes quickly fell out of contention. Oosthuizen remained steady for most of the day, but the big names caught him fairly easily.
One of those big names was DeChambeau, who stuck his approach shot on the par-3 eighth hole to less than a foot. The impressive birdie pushed him to 5-under par and a share of the lead. After two pars on the ninth and 10 holes, DeChambeau found himself in the lead by himself.
The beefy bomber just needed a clean back nine with a few birdies and he would've clinched his second U.S. Open victory in a row.
DeChambeau cost himself a potential $2.16 million with back 9 implosion
DeChambeau walked to the par-3 11th hole with zero bogeys in his last 30 holes played. He was cruising along just about as carefree as anyone could ask for in a U.S. Open, but it all came crashing down on the back 9 on Sunday.
The 27-year-old surprisingly made his first bogey of the day on No. 11. Then another on No. 12. And then a double bogey on No. 13. In the span of just about 30 minutes, DeChambeau went from the outright leader to completely out of contention.
To make matters even worse, he shanked his way to a quadruple-bogey 8 on the 17th hole to plummet outside of the top 20. He finished the tournament tied for 26th place, which gave him a meager $87,941 in prize money.
The amount he would've won had he held on for the win? $2.25 million. DeChambeau's shocking back 9 implosion cost him a possible $2.16 million.
Woof.
"I didn't have the right breaks happen at the right time"
After his disappointing final round, DeChambeau didn't seem to think he even played that poorly. Forget nearly every one of his drives missing the fairway miles right. Forget shanking multiple chips on the 17th hole en route to a quadruple bogey. Instead, DeChambeau thought he just received some bad breaks.
"I didn't get off the rails at all. It's golf," he said Sunday from Torrey Pines. "People will say I did this or did that, and it's just golf. I've had plenty of times where I hit it way worse than today and I won. It's just one of those things where I didn't have the right breaks happen at the right time. I could have easily gotten to 7-, 8-under today. I just wasn't fully confident with the golf swing and just got a little unlucky in the rough and a couple other places."
I guess it's easy to shift the blame when you just saw more than $2 million evaporate out of thin air.